There have been many examples of actors and actresses who have played family members but were actually dating or married in real life, however, there have been very few cases of actors who were related in real life but played romantic partners onscreen – but it has happened. It sounds creepy – because it is creepy – but when it comes to Hollywood, there aren't many things that are off limits.
Offscreen, there have been many celebrities who have had vaguely incestuous relationships, such as Morgan Freeman with his step-granddaughter and Woody Allen with Mia Farrow's adopted daughter, Soon-Yi Previn, who he never adopted himself but he did help to raise. Creepy. After all of the secrets and allegations that have come out this year, it's not a surprise that there are many people in Hollywood with absolutely no morals at all.
These onscreen lovers/off screen relatives may be good at acting like couples, but it is very unsettling to watch once you know that they are blood relatives. They may be brothers, sisters, fathers, mothers, daughters, or cousins offscreen but you would never be able to guess once the cameras are rolling. You'll be shocked when you find out which Grey's Anatomy star smooched her brother in a 90s movie. You will also be surprised when you see which actors on Game of Thrones are actually cousins. These family members are a little too close for comfort and you'll have to see it to believe it.
15

Leigh And Lee
You may recognize Chyler Leigh from her work on Grey's Anatomy as Lexie Grey, but you may not recognize her from the 1997 movie, Kickboxing Academy. In this truly horrible movie, Chyler plays a teen boxer, Cindy, who falls for Danny who is played by Christopher Khayman Lee who is also her real-life brother. The two have the same last name but it's spelled differently, which is why it may not seem obvious that the two are actually related but they definitely are. Of course, you may not want to believe that the two are brother and sister when you see them making out in Kickboxing Academy – or in the TV show Safe Harbor in which they also play lovers. You may be wondering how on earth the two could be so comfortable making out with each other onscreen but there are some mysteries that will never be solved and, lucky for us, we may never know.
14

Two Lives To Live
Kristen Alderson and Eddie Alderson both appeared on the show One Life to Live as Starr and Matthew respectively; they didn't star as siblings and eventually, a storyline was introduced that involved the two having feelings for each other. It got weird. Luckily, their relationship never got physical and it wasn't anything more than a crush, but if you knew that the two were brother and sister, you would definitely be freaked out by it. There have been many celebrity siblings that have been offered roles in which they would have to play lovers onscreen but they turned down the role because it was way too weird. The siblings who have turned them down such roles are Warren Beatty and Shirley MacLaine, and Michael Madsen and Virginia Madsen. Thank goodness!
13

Brotherly Love?
Back when people still watched music videos, Michael Jackson appeared in Paul McCartney's music video for "Say, Say, Say", a song which they performed together. In the video, the former Beatle's love interest is played by his wife Linda McCartney – and who played Michael's love interest? His own sister, La Toya Jackson. Though the two don't have a make-out session like the Anderson twins (thank goodness!), the "Thriller" singer does give her flowers and sings the lyrics "Cos I love you" to her. Could this just be sisterly love? Probably not because there is a part of the music video where he appears to be checking her out at a bar. Even alluding to the idea that the two were a couple was too much and it's hard to watch the video without gagging a little.
12

Too Close For Comfort
We've seen cousins, brothers, sisters, mothers, and sons but what about fathers and daughters? Yes, unfortunately, that has happened as well. When Powers Boothe starred on the HBO show Deadwood, one of his love interests was a prostitute named Tess who was played by his daughter Parisse Boothe. Fortunately for us, we never actually see any evidence of a physical relationship on the show, but he does say some pretty disgusting things to her considering that he is also kind of her pimp. Powers Boothe is somehow able to tell his daughter to do some pretty disgusting sexual things with her clients and even talks about the things he wants to do to her as well. Sure, he is just acting, but that's still his daughter he's speaking to! Actors have got to draw a line somewhere, don't they?
11

Jason And Justine
Arrested Development always had a weird running gag involving incest, especially between cousins, George Michael and Maeby. In the third season, they continue to perpetuate the theme by casting the real-life sister of Jason Bateman. Justine Bateman plays a woman named Nellie who Michael (Jason Bateman) believes to be his long-lost sister. It turns out that she is really his father's prostitute. The episode is a comedy of errors in which Michael hires Nelly to work for his company, unaware that she is a prostitute and she is unaware that he is unaware that she is a prostitute. This ends with Nellie making a pass at him and Michael being horrified and realizing his mistake. The two don't really play lovers, but Justine does have to pretend to have a thing for her brother which is really weird but very on brand for the show.
10

Model Behavior
Stephanie Seymour went from being a famous supermodel to a virtual nobody, so she needed to find a way to get the spotlight back on her. One way to do this is by having a creepy relationship with your sons and that's the one she went with. The model initially made waves in the media when she was photographed at the beach getting a little too close with her sons and even shared a kiss on the lips with one of them. Harper's Bazaar decided to capitalize on the scandal and photograph her with her sons for a creepy, awkward spread. Though they claim that there is nothing inappropriate about their relationship, they always seem to play up the idea that there is something creepy going on. Sure it's weird but there's not much a celebrity won't do when they are desperately looking for press coverage.
9

The Lemon Song
While the relationship between Michael Jackson and his sister may have just been alluded to in the music video, the relationship between this singer and his own flesh and blood is made very obvious. "Lemon Incest" is a song that was written and performed by Serge Gainsbourg that not only glamorized incest but also pedophilia. Why? Because he sings the song along with his daughter, Charlotte Gainsbourg. Of course, this creepy song led many to believe that it was actually autobiographical and that Serge had romantic and sexual feelings for his daughter, but he denied it. Charlotte herself still defends her decision to record the track and claims that she did not have a physical relationship with her father. So basically the two only pretended to be in an incestuous relationship in order to release the  630th best-selling single of all time... in France.
8

Fonda And Fonda
When it comes to famous Hollywood families, there are few more prestigious and accomplished than the Fonda family. Henry Fonda was an actor whose career spanned 5 decades and starred in the classic film 12 Angry Men. Jane Fonda and Peter Fonda followed in their father's footsteps and became successful actors as well. Jane and Peter were both big celebrities in the 1960s and near the tail end of the decade, the two starred in a movie together. The movie was Spirits of the Dead and is comprised of three segments. The famous siblings starred in one segment as cousins who have a weird romance. Though the two never get physical with each other, there are a lot of long, romantic glances exchanged between them and it are very, very uncomfortable.
7

Red Carpet Weirdness
Angelina Jolie and her brother James Haven may have never starred in a movie together but whenever they have been in front of the cameras together, whether it's on the red carpet or caught by the paparazzi, they have always acted more like lovers than siblings. There has been talk of the two having an incestuous relationship since they shared a kiss on the red carpet at the 2000 Academy Award ceremony and the rumor still exists today. According to James, Angelina has "ruined" him for other women which is why he isn't in a relationship, and it turns out that he is the nanny for her kids. If the rumors are to be believed, her relationship with Haven actually had something to do with her divorce with Brad, but we may never know the truth. All we know is that these two are too weird.
6

Grosse Pointe Blank Is Gross
John Cusack and Joan Cusack are two of the most famous siblings in Hollywood and after decades of being in the business, they each have their own impressive filmography. The two are known for having appeared in many movies together and one such movie is Grosse Pointe Blank. In this movie, John Cusack plays a professional assassin and, lucky for us, his sister does not play his love interest and his romantic partner is instead played by Minnie Driver. However, while the two siblings don't actually play a couple, Joan Cusack does play his secretary and appears to have a pretty big crush on her boss. The movie definitely plays heavily on the trope of the secretary having a thing for her boss and it's creepy. They may not have a romance but watching Joan flirt with her brother is really weird.
5

Her Loneliness Is Killing Her
If you were a kid in the 90s, you probably remember Britney Spears' iconic music video for her song "Baby One More Time", but you may not remember her love interest who only appears in the video for about five seconds. Her love interest is actually her own cousin, Chad Spears, who only shows up near the end of the video in the gym. Britney gazes at him longingly and he looks over at her on the bleachers then disappears. It makes sense that he barely appears in the video considering that she sings over and over again that "her loneliness is killing" her and it wouldn't make sense if he was in the whole video – not that the music video makes much sense in the first place. Regardless, we are all glad that he disappears because it would be really weird if the two got physical. We really dodged a bullet with that one.
4

Sister, Sister
There are a lot of networks that have tried and failed to replicate the success of Game of Thrones by creating vaguely similar TV shows that have just as much sex, violence, blood, swords, and leather as the HBO mega-hit. Along with Wolf Hall, The Last Kingdom, and Vikings, The Bastard Executioner is one such show that is really just a GoT wannabe. Though it is nowhere near as successful as the show that it so obviously tries to copy, there is one way that it is similar: incest. It is revealed that two twin sisters are actually lovers in a graphic scene that involves the two having a make-out session. What makes it even weirder is that the twins are played by real-life twins Sophie Lovell Anderson and Eloise Lovell Anderson. Of course, in true GoT fashion, the two are interrupted during their love scene because one major theme of these kinds of shows is that people can never get it on without someone barging in on them.
3

It's In Their Blood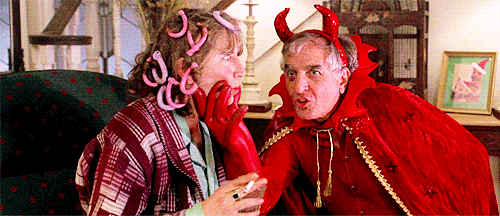 Hocus Pocus was not a commercial hit when it appeared in theaters in 1993, but it became a Halloween classic over time and now it's as synonymous with Halloween as It's a Wonderful Life is with Christmas. Though you may have seen the movie half a dozen times, you may not have realized that Garry Marshall and Penny Marshall have uncredited cameos as the old married couple. Garry Marshall is known for creating and developing shows such as Happy Days and The Odd Couple and also directed the films Pretty Woman and The Princess Diaries. Penny Marshall played Laverne on Happy Days which prompted the spin-off series Laverne & Shirley and she directed Big which was the first film directed by a woman to gross in excess of $100 million in the U.S. Oh, and they are also brother and sister.
2

Jon Snow Really Does Know Nothing
Though we wished that Jon Snow and Ygrette would have been able to be together on Game of Thrones, we're lucky that the couple is together in real life. Kit Harrington and Rose Leslie started dating after they were a couple onscreen and they got engaged earlier this year. But following in true Game of Thrones fashion, the two are actually related. No, they're not long-lost brother and sister, but they are distant cousins. We know this because they are both descendants of King Charles II, which means they are related in some way, though we don't know just how distant they are. We hope they check to see just how close they are before they get married though since Jon hooked up with his onscreen sister, maybe marrying an offscreen distant cousin isn't a big deal to him.
1

Six Degrees Of Kevin Bacon
Kevin Bacon and Kyra Sedgwick have been married for 29 years which makes them one of the longest lasting couples in Hollywood. The two have also appeared in multiple movies together over the past three decades, occasionally playing onscreen lovers. Though the two are actually married, they are distant cousins – 9th cousins once removed to be exact. Granted, it's totally legal to marry your 9th cousin and chances are, you don't even know your 9th cousin at all so it's not really weird but, still, they are definitely related. When the Footloose star found out that he was distantly related to his wife, he said, "It's a beautiful concept that we are connected." That is both totally adorable and a little creepy but, hey, whatever works.