If there is one sitcom that we all wish we could bring back in our lives, it is certainly Friends; being in front of the television at 4:00 p.m. everyday was a ritual for most of us (depending your time zone). This lovable and hilarious show made such an impact in the 1990s; it had all the best punch lines and jokes; the characters were all just right. And then we had the sassy Rachel Green, played by Jennifer Aniston, who everyone fell in love with. Men fell lustily in love with her too, but maybe that was because she was evidently not wearing a bra half of the time on the show; it became a fashion statement and a staple on the show. When Friends first hit TV screens, everyone was obsessed with Jen Aniston's fashion-forward hairstyle and natural look, but then came her adventurous, bold and trendy outfits. Fans of the show will recall that the spoiled Rachel Green landed fashion jobs later in the show; it actually seems like she was the only one in the crew who was working as we did not learn much about the other character's jobs, except Joey's endless efforts to land a stable acting job.
A couple years ago, binge watching the show and seeing [some] of Green's outfit choices made us cringe, but as of 2017, most girls started looking like miniature Rachel Greens with their outfits.  The '90s have made a serious comeback, and there's no better fashion icon of that decade than Rachel Green. Looking back, we realize Green was a fashion icon, and we are now going to pay homage to the preppy fashion muse.
24

The Layering
We can thank all the fashion Gods of 2017-2018 for bringing back the fashion trends of the 90s, because along with that our favorite sitcom of that era is coming back alive. If there is one thing Rachel Green did well, besides flirt, oh, and complain, it was dressing up. Let us right away make it clear that we are not going to include the Princess Leia costume that she wore in the infamous scene with the hilarious Ross.
Apart from being a rubbish waitress, Rachel's style was always very practical and ready-to-wear. Many of you may be putting your outfits together and do not even know that you are wearing something the trendy Rach blessed us with. Since the summer of 2016, there is a trend that still has not left us, and we are talking about the layered T-shirt under cami/slip dress one. Yes, do not deny it, we know you put that white t-shirt under your black loose-fitted slip dress at least once. Then came the A/W 2016 trends, and all we were seeing on the runway were long-sleeved tops and roll necks under formal dresses. Fast forward to 2018, and T-shirts are being deliberately sewn and put together under dresses for sale. Well guess what? That trend that has not gone away and Rachel made it a thing!
23

The Plaid/Schoolgirl Look
It is impossible to enter a clothing store at the moment, open up the pages Vogue, or see Instagram fashion blogger's photos without coming across plaid; plaid skirts and shorts of every shape and colour are splashed everywhere. Rachel Green was the ultimate fashion muse because she made all styles, whether foxy or preppy look easy and effortless. Some people, when thinking of plaid, think of Britney Spears and "Hit Me Baby One More Time," but fashion lovers immediately think of Rachel Green, who was the total babe in plaid. And which man does not love a tiny, flippy plaid skirt and crop top or unbuttoned white blouse on a woman?
The schoolgirl uniform does not only have to be a sultry costume that girls wear on Halloween because it is the go-to trend right now and we are not ashamed of it. Plaid pants have also made their mark this year, but there is nothing foxier than a plaid skirt that is short and worn with knee-high socks, or one that is midi length and subtly shows all curves. We do not know any woman who has not sported the plaid skirt look, and with it being the hottest trend for 2018, with thousands of variations, it will be as easy as 1,2,3 to emulate Rachel.
22

The Red Dress
Please handover Rachel's wardrobe to us and we will be set for babe status for the rest of 2018. We believe that Rachel Green's outfits will stand the test of time just because her outfit combinations were all so timeless, comfortable, simple and foxy all at once. And with fashion's current on-going obsession with all things '90s, all her looks are on replay at the moment. This year, red is the new black, and once upon a time in the '90s, Rachel Green replaced Audrey Hepburn's iconic little black dress with a red dress; she was way ahead of her time. Wearing a skimpy, but classic and elegant, knee-length dress in the '90s and earlier was a must; a wardrobe staple. Then came along our favourite comedic genius and Friends trend-setter Rach, and the red dress was born. Now, in 2018, we are seeing the striking colour red just about everywhere, and it is very daring to wear and pull-off the seductive colour. Leave it to Rachel Green though to pull off a fitted and red mini dress with a straight neckline and thin spaghetti straps. Rachel rocked that red dress and made it her own; she did not need to wear a skin tight bodycon dress like Kim K to look hot as hell. Amen.
21

The Sporty Striped Pants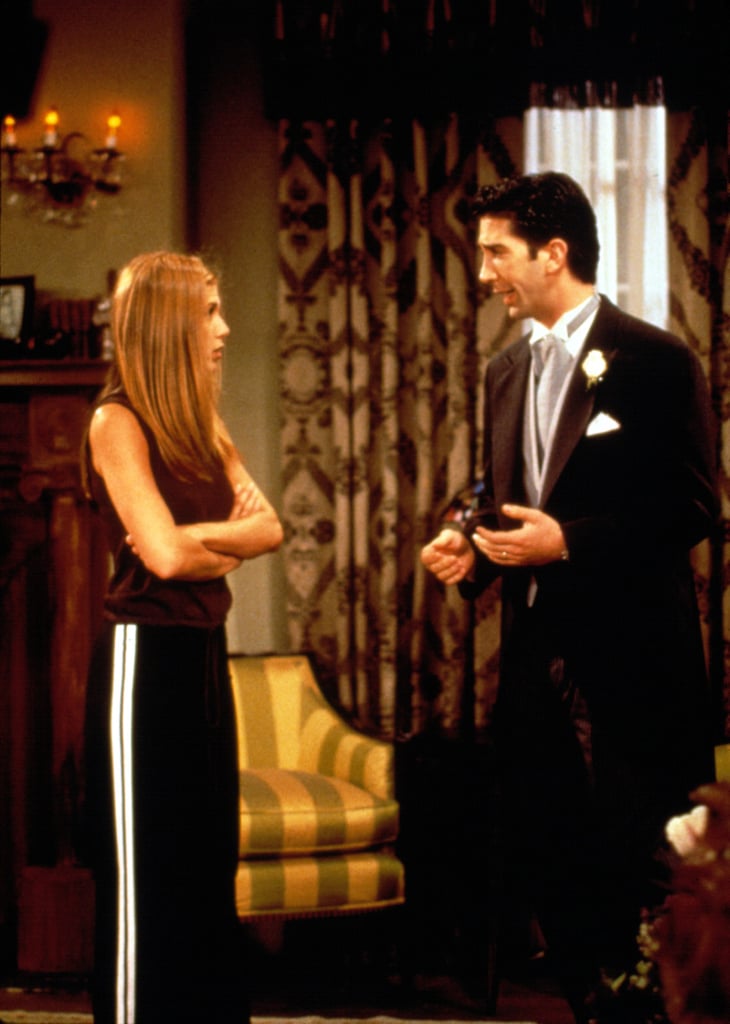 If you have not gave in yet and bought a pair of jeans, trousers, or a skirt with the sporty stripe on the sides, then you are disgracing Rachel Green. Seriously, this trend is just so awesome and obsessive because it could look classy and dressy but also casual all at the same time. We doubt you have missed the striped track pants look because the production of it in the fashion world has been off the charts. It first started with the track pants look, that we started to see women wear to go out to a nightclub or fancy restaurant, and then, jeans and dressy trousers started having the side stripes implemented on them.
But, the huge trend right now actually first started with Rachel Green; yes, you read right, it is Green herself who first rocked that trend.
Every fashionista should be thanking Rachel or Jennifer Aniston for allowing us to feel ultimately comfortable but foxy and fashion-forward at the same time. Her look is an absolute trend right now, but many of you must have forgotten that the free-spirited Rachel first put them on display and fashion bloggers around the world should be thanking her as she allowed the track pants to ultimate feminine item in 2018.
20

The Checkered Dress
Some think it looks like a picnic table cloth, while others rejoice over designers for making such a phenomenal print a desired fashion item. We are talking about the black and white checkered print that is everywhere since summer of 2016. The retro look, that has now transformed into numerous wearable variations will not be going anywhere for a while because it is hot, hot, hot right now — just about as hot as the time that Rachel Green wore the checkered shift. Rachel Green loved to put on dresses and she effortlessly strut through life with all her sass, but there was something about that picnic table looking dress that made Rachel look as appetizing as the food we eat on checkered cloths (men would definitely agree).
Anything that Rachel put on looked good — well, almost anything. There were a few fall-outs, but who remembers those? To us, throughout the whole Friends run, this look remains one of our favourite Rachel Green style moments because it was a print that not many dared to wear back in the '90s. What we mostly love about the checkered tank dress is that it taught us how to make a clothing item transpose; Rachel made this look classy for work and hot for a night out.
19

The Overalls
There is one look that has come and gone over the past couple of years, and it is a particular item that some simply love, while others loathe. Those who are not a fan, should take one look at how good Rachel looked in her denim overalls. We now know Rachel Green was the reason '90s babies were sporting the look as children; after all the hit sitcom was broadcast in most homes back then, it was hard to ignore the beautiful Rachel Green. We think the ones who hate the denim overalls were the children whose parents forced them to put them on because they were just "oh so cute" in them.
However, we are now in 2018 ladies and gentlemen, and all '90s babies are adults now, so it is time to slip back into childhood a little and slip into denim overalls. We are not ashamed to say that looking at the oh-so relaxed Rachel in her overalls makes us want to copy and paste this outfit onto us. People tend to stray away from the jean overalls look because they claim it makes them look like a farmer, but there are so many variations to this look that make it look foxy, just like Rachel.
18

The Tied Shirt
Who loves to wear loose, slouchy, and oversized men shirts because they are just so comfortable? We do. And of course, it is good ol' Rachel who taught us how to make it look sexy. Rachel Green was so badass at a time where not everything was conventional, she was pushing the borders and testing the limits in the fashion world. Did Rachel care if she showed more skin than usual? No, and that is why she made the oversized man shirt look a trend — a really alluring trend at that.
As a matter of fact, personal stylists nowadays are advising women to shop in the men's section because some items, like blouses, just look so much better and more fashionable when oversized.
The look we are going back to is the '90s retro look, that was sensual and revealing; we are talking about the loose men buttoned shirts that Rachel Green made her own by unbuttoning the top buttons to reveal some neckline and cleavage and unbuttoning the bottom buttons to knot it up and reveal the midriff. We could all agree that Jennifer Aniston would still look just as foxy if she wore that look right now — seriously, the bombshell still has killer abs and is slim.
17

The Mom Jeans
Considering she was the reigning queen of '90s fashion, we need to thank Rachel Green for mom jeans. There are so many outfits that Green slayed on the show that any woman could easily pull off now, as long as they remember Green inspired the look and make sure to add some Green sass to it, they'll be turning heads. This look is fairly simple, but Green nailed it like no other; she had the power to make anything look fly.
When Rachel Green put on those slouchy, mom fit jeans, all pressing issues in the woman's clothing department were resolved.
Seriously, those jeans are a blessing for all women who just want to go out and look sizzling in a pair of jeans but also want to be able to eat their favourite meal without being worried that their button might pop. Green was often sported wearing these jeans, that often looked like Levis, but now in 2018, these mom jeans are available in any clothing retailer. Rachel has always been so ahead of her time and we are certain that Jennifer Aniston is still channeling her Rachel Green and wearing those killer high-waist jeans. No, you do not need to be a mom or mom-in-training to pull this look off.
16

The Lacy Dress
If there is one outfit Rachel wore that all men would be nodding their heads yes to for Aniston to bring back, it would be the lace slip dress. This style of dress has the potential to look like lingerie, which people often mistaken it for, but since 2017, it has made a comeback on the runway, red carpet and in women's closets alike. And of course, who do we have to thank once again? The desirable Rachel Green. This lingerie dress looked divine on Rachel, if we walked in the room to her looking like that we would definitely slip her a "how you doin'?" (we promise not in a creepy way — probably with an eyebrow raise).
Seriously, in the '90s, Green was the ultimate fashion muse because she clearly did not care about the feedback she was to receive about her risky outfits. The riskiest of all though might have been the lacy cami dress, which might have got people whispering, but now, in 2018, the silk slip dress look is being sported by plenty of A-listers and normal women too. However, we have yet to see Aniston pull off this look again because no man could resist the beauty in a lace trim, spaghetti straps, and thighs revealing dress.
15

The Velvet Top
When the Holidays come around, the sequins come out in fashion, and so does velvet. However, velvet has not made a return in the time machine, instead it has been here for around 2 years now. Thank you, thank you, thank you Rachel Green. If we could wear velvet everyday, we are pretty sure we all would without a doubt. The material is so soft, and the shimmer in it makes any casual day look ready for a night out also. Velvet is always massive on the runway and on the shelves during winter time, but it is now widely being incorporated into spring and summer styles as well. And not all styles are like the one Rachel is seen wearing here, now, the cuts are a lot more revealing with V-neck dresses that have thigh high splits.
We are not certain that Aniston would want to wear this exact velvet top again, though we know she would pull it off the way RG did. The fashion muse also probably did not think she would ever see velvet again, because who knew it would make such a comeback? Heck, there are now even velvet knee high boots and booties. To make the look casual and Rachel Green-like, pair it with some mom jeans.
14

The Camo Look
One look that has been just about everywhere the past couple of months is the camo print. We seriously thought the army/camo print was done with a couple of seasons ago, but now it is back and better than ever. Honestly, we really want to see Jen Aniston wearing baggy camo pants with a neutral crop top, like the style is these days, because we know she would put all younger chicks to shame. Anything that Rachel Green has ever put on made her the ultimate fashion icon anyways. We are pretty positive, though, that Green did not think the camo look would make a camo-back (see what we did there).
One quick scroll through Instagram though, and you will see a bunch of women and fashion bloggers wearing the camo print pants or tops in various eccentric colours.
What we love about Rach, is that when she wore this camo top, she did not wear the typical green one, and we are sure that that made a fashion statement, and here we are years later, and the camo print is a trend that is flashing in other colours and not the original camo.
13

The Button-Down
Rachel looked good in anything she wore on the show; whether she was casually in sweats, or in a stunning dress, she looked gorgeous. And let us make sure this is not an understatement — Rachel looked hot in pajamas as well — Ross knew it and we all did. Though Aniston is obviously older now, many of her looks on the show were toned down, and so, we believe that this tied button-down is one Aniston would still pull off effortlessly. The only difference is that now, the style that RG put in the fashion books was alternated to become a little more revealing.
Since bralettes became a visible fashion item, the button-down, the way Rachel wore it, became one of the biggest trends. It is worn the same casual way that Rachel wore it, but instead, with a bralette under so that almost everything of the woman's chest and abdomen is revealed — we wonder if Rachel would have approved of this look in the '90s? It is just not fair that she would still probably look hotter than us if she put it on right now. Rachel Green would have matched her button-down with mom jeans — oh wait, that is what everyone is doing too.
12

The Wrap Dress
Rachel Green's style is cemented in our hearts and is currently our fashion queen because everything she wore then is being worn now. We often find ourselves on Pinterest before a night out or a day at the office to look for outfit inspiration, and she made it so easy for us to follow in her iconic footsteps, even though no one can replace Rachel Green. Her outfits are all super easy to recreate, which we did not think of back then when the show was airing, because not many dared to pull off a Jen Aniston — except for those overalls apparently. The reason why we love this dress so much, and why we are so thankful for Rachel, is because it is a classy and gorgeous look that suits anyone and any body type.
The designer responsible for the wrap dress, Diane von Furstenberg should give some credit to Rachel because the Friends star made the dress what it is today.
And this is no lie, the sitcom was amongst the most popular on television at that time, and until this day, episodes are constantly replayed on television, and Netflix has the seasons too, so it is still very easy to be inspired by Green's outfits, like this one. Aniston's legs would still look amazing in this flowy dress too.
11

The Kimono Dress
The midi-length dress has made its comeback for a while now, but only recently did we start seeing particular flower prints and embroidery on the dresses that give them an oriental look. Yes, many designers have been inspired by the oriental look, and there was no shying away from the flashy flowered print; we hope they thanked Rachel at the same time for making this trendy way back in the '90s. This is one of the times where we liked Rachel Green's outfit more than her iconic auburn haircut —woah! We were not taught fashion in school, but we learnt a lot of style lessons from the show with the famous 6 friends.
Seriously, Rachel's kimono dress still amazes us until this day, more than any other casual dress Aniston has sported to red carpet events. The dress hugged her curves in all the right places, and just the little hint of skin showing of her legs was foxy. Women should take more notes from Rachel and her oriental dress; showing less is sometimes sexier than baring it all. And it does not end there, the fitted dress was paired with red strappy heels that are all the fashion buzz right now. Please Jen, wear it again for us.
10

The Bardot Top
There is something about showing off shoulders that is way sexier than showing off any other body part. Well, thanks to Rachel Green, once again, the off-the-shoulder look has made its comeback and is not going anywhere anytime soon. Why is it that everything she has worn looks so effortless on her, yet millennial's have so many complexes and complain that they do not look good? We are saying this because a lot has changed since Rachel Green made her debut on television, and women who grew up watching her are more insecure because of all the images they are flashed a day by women with so-called "perfect" bodies.
We have seen the bardot top in so many clothing retailers, but because the style is usually cropped and balloon-like, some who attempt the Rachel look do not seal the deal and make the purchase. This leads us to conclude that we need Jennifer Aniston to wear this off-the-shoulder striped bardot top again, so she could show everybody how it is done. Paired with jeans, this top is the perfect trendy "haut" to make an instant fashion statement; but it could also be styled a little more professionally with a fitted trouser. The tie is a little questionable, but who knows, it will probably make a comeback of its own too.
9

The Graphic Top
Can we get a hell yeah for comfortable and graphic shirts? Before, only men used to wear big and slouchy hoodies with cities, countries and other sayings on written on them, but recently, the biggest trend that has blown up has been women wearing graphic shirts. Before, only chicks playing sports would wear shirts like the one Green is sporting in the photo, but sporty mixed with fancy is now everyone's favourite go to look. Though women always want to look foxy, we also want to be comfortable, and we think it is so cool that the way Green dressed in the '90s, has carried on until now.
It is no longer casual and simple for a woman to wear a graphic T-shirt or hoodie because they are pairing them with skirts, jeans, and killer trousers. We love how the look until this day remains so effortless; slap on a shirt that has a saying on it, with jeans or something fancier on the bottom and your outfit is perfect for a night out. And Green's outfit in the picture above is the perfect example of a sporty but trendy look that will make all heads turn twice. There is a current lust for sports luxe, and we believe it is all because of Rachel.
8

The Tight Turtleneck
We thankfully live in an era where all the fabulous eras before are able to make a fashion comeback and we are thrilled in every way possible about the 90s being back — there are some cringe-worthy things that must stay there. We cannot stress enough how vital this outfit was to the fashion world! From the colourful rayon turtleneck to the black high-waist skirt and opaque tights, we are completely obsessed with this fashion moment on the show and the fact that it has since become a classic outfit that many women sport. There have been numerous variations to the turtleneck look since the '90s; there has been turtlenecks paired with jeans to pull off a more casual look, and turtlenecks paired with formal skirts for a night out.
What we love about the turtleneck and the way Green wore it is how foxy the outfit remains even though it is full on covered up. And because the top allows for no peeking, it is easy to make the combo look foxy and elegant on the bottom because of the many possible variations. After all, who could resist a woman in a tight turtleneck and a sultry skirt? Clearly Ross could not keep his hands off her.
7

The Fur Jacket
Fur has always been around, whether people are for it or not; at least there is faux fur that is trendy nowadays. However, what we are paying attention to in this outfit is the colour of Rachel's jacket. Nowadays, what is on trend is layering and the key piece, and Rachel has it all going on in this look. We love what she is wearing under the jacket, but the long fur coat is certainly the stand out piece of this outfit. It looks like Rachel just went to buy this jacket in any retailer right now because it looks like all the ones that are trending — it is actually so overwhelming how many fur coats can be found out there, fake or not.
It is hard to concentrate on anything else but the jacket because Rachel is working the pink fur coat. We are sure that it is Rachel who gave birth to this fashion forward look because she rocked the dyed fur coat before anybody. Seriously, who else could make a long, oversized and pink fur coat look as good? We know who you're thinking, Carrie Bradshaw right? But Rachel Green came before the Sex and the City fashion mogul, so Rachel is definitely the mama of this trend.
6

The Little Black Dress
Okay, Rachel Green may not have been the one to invent the classic little black dress, but we must give her credit for making us remember how important it is to own the staple item. Also, many women who are now in their 20s and 30s saw Rachel's style emerge and grow on the show, and everybody wanted to be and look like Rachel. If you came of age in the '90s, there is a good chance that Rachel influenced your style then, and now as you got older.
Though Audrey Hepburn is the queen of the little black dress, because of her great friend Givenchy that designed it for her, Rachel Green is responsible for carrying on the Breakfast at Tiffanys.
Her entire look was obviously inspired by the iconic film that made the LBD dress famous, but it takes Rachel Green to take a fashion item and reinvent it. The dress is perfection from top to bottom; from the neckline to the midi length, and the a-line fit; we would all love to see Aniston rock the dress again. We have so much to thank Rachel for, and the shorter version of the LBD is excellence.
5

The Combo
The monochromatic look that is breaking fashion barriers all started in the '90s, with Rachel Green. Rachel was a waitress for the most part of the show until she landed a fashion job, and boy are we ever grateful for that part of the show. Though Rachel always looked fashionable, even when she was at Central Perk, the real fashion mogul in her came out when she started her first real job in New York, and when she would go out. The real sassy Rachel Green is still in our lives because every outfit we wear now in 2018, was worn by Rachel in our favourite sitcom.
We doubt that Rachel knew that the outfits she wore in that moment would carry on until this day and would alter into a more provocative outfit. The matching blazer and matching pants are literally seen everywhere in the fashion world; we would call it a pant suit, but we won't because we are focusing on the head-to-toe same colour trend. Whether it be a sporty track suit or a classier blazer and trouser, what is important to retain from this outfit combo is how the same colour all over is the trendiest look at the moment. Forget the neutral beige, we would love to see Aniston come back with the outfit in lilac.
4

The Over-The-Shoulders Jacket
It is time to binge and watch Friends on Netflix again, so that Jennifer Aniston could remind you that she was the one to influence every girl's Instagram pose. If you do not know it yet, look at Instagram and visit fashion blogs, and the new "in" pose is the face looking downwards or away and jacket over shoulder. Now, the reason we say to watch Friends again and fast, is because we want to remind you that this was the Rachel Green pose.
Watch just a few episodes and Rachel will fast return as your style icon for today — sorry Kim K, but Aniston will always have the throne.
Many will argue that it is Kim Kardashian who came up with the outfit, the look, and the pose, which is why so many people have followed in those steps, but what they do not know is that Rachel inspired the badass look. Kim K was around when Friends was famous, so maybe she was quicker than us to take notes from Rachel. What remains true, is that no matter what Rachel wore, whether it was casual or formal, she always looked classy, and never trashy. Rachel's most fashion-forward outfits on the show are the most fashion-forward in 2018, though sometimes impractical — ahem.
3

The Double-Slit Dress
We love slits; they are seductive in sultry and all the right ways, but they also remind us of how powerful Rachel was as a fashion icon in the '90s and now. It is always hard to find the perfect dress, but nowadays it seems so much easier because clothing retailers are offering a lot of variations, and we can thank our 90s fashion muse for that. Throughout all the Friends seasons, Rachel pulled off many different types of dresses; embroidered ones, flowy ones, the LBD, bodycon ones, and a-line dresses, to name a few. There is something so hypnotizing though about a dress with slits that shows leg, and if anyone has awesome legs and could make it still look proper, slick and appealing without giving the wrong impression, it is Jennifer Aniston.
We think another reason we lust over this exact outfit and dress is because it is an exact hybrid of the other famous style we mentioned previously, the sporty trouser. Because the dress has a slit on each side, it looks like the Spice Girls inspired open button-up and flared pants that are the ultimate trend these days — kind of like those Champion pants we all used to wear in high school. Comfortable and chic — we say yes.
2

The Plaid Leggings
I, myself, have worn this exact outfit on numerous occasions, and even more so now since the '90s are back. Rachel wore plaid so often throughout the entirety of the show that when we saw plaid make its restless comeback the last couple of months, we knew we had to go on Pinterest to get some fashion inspiration from our new fashion icon. Well, there is nothing new about Rachel, we just now were reminded that we must give her our thanks for making us look good. We spoke about her plaid skirt look before, which she wore with swagger many times, but now we are moving on to her plaid leggings and runners look.
Yes, leggings were always in style, and there is nothing necessarily new about them, but what this outfit entails is every fashion piece that is currently on trend, as all the pieces distinctly are key fashion items. The look is thought-out, put together and fashion-forward, but effortless, which is what we love about it. It is a very basic style to replicate, which is why we probably see so many women in a similar outfit, but the simplicity of it will make any man named Ross approach you.
1

The Cargo Pant
Who else but Rachel Green could make midriffs look cool, foxy, and classy all at the same time? Jennifer Aniston. Yes Aniston, we are begging to see you in this outfit again, even though we will all feel totally ashamed that you still look hotter than us. The Friends star gave rise to an iconic outfit that has lasted way past a decade, and here we are today, sporting with confidence a loose cargo pant with a crop top. We recall dressing like that as children, just like the overalls, and years later, we are wearing the outfits, with a fresher style, and looking hot as hell — because we cannot say we look as good as Jennifer Aniston.
We have no doubt in mind that when she goes out for a stroll, or lunch, that she slaps on a pair of loose pants with a crop top and flees out the door, because she is Jen Aniston, and she still looks 25. Rachel sported this unpretentious look on many occasions, baring only a little bit of her stomach and making it cool to wear the loose pants accompanied by midriff. The outfit is basic, but leave it to Rachel to transform simple into a modern — she basically invented the cargo and crop trend.
References: vogue.com, elle.com, refinery29.com