Scarlett Johansson is considered to be one of the foxiest women in the world. It's not surprising considering she has a curvaceous figure and is a huge talent in Hollywood. She has been connected to many men over the years including Chris Evans who plays alongside her in the Avengers movies as Captain America — but those seem to be rumors. Her career started off on an upswing at the age of 18 and it's likely that she had to grow up fast in Hollywood. She has been considered a fox symbol over the years and it all started with Sofia Coppola's Lost in Translation.
She has been a force to be reckoned with in Hollywood and most recently, we know her as Black Widow in the Avengers franchise. She is now taking on more mature roles and it's pretty obvious that she's not going anywhere in Hollywood. We have found some of Johansson's best outfits over the years and some of them are pretty smoking. She has always had great fashion sense and when it comes to showing off her curves, she knows what looks good on her. Check out these 15 outfits Scarlett Johansson wore that would have Captain America blushing.
15

She says she's a normal girl
You may think that she's one of the most gorgeous women on the planet, but she has stated that she's a regular girl who doesn't always look polished, especially when it comes to being on set.
"When you spend a lot of time like I do, just standing around and waiting, or being moved from place to place, every minute gets consumed by something someone else has set up for you.
And it's not like I'm always in a beautiful place wearing something gorgeous." That's definitely hard to believe, especially when you see her rock the red carpet all the time.
14

She also gets lonely
Scarlett Johansson is a vision in this picture. When it comes to photoshoots, this girl is always hitting it out of the park. Her eyes are sultry and her hair is perfection. When it comes to her career, she knows that Los Angeles can be a hard place to live especially when you don't have a support system.
"LA's a very hard place to be unless you have people there that love you. It can be very, very lonely, and it can eat you up if you don't take care of yourself. In LA, nobody wants to talk to each other, everybody's giving each other catty looks."
We have heard plenty of times over the years how Hollywood and Los Angeles can be hard on young actresses.
13

She keeps some things private
We love the leather jacket here because it really shows off her badass nature and in this case, she is both a cool girl on and off screen. This is the kind of look that is sizzling and would certainly attract a guy. She's been pretty candid in public when it comes to her life, but she draws the line when it comes to talking about her relationship with the father of her child.
"As a devoted mother and private person, and with complete awareness that my daughter will one day be old enough to read the news about herself, I would only like to say that I will never, ever be commenting on the dissolution of my marriage."
It's always a smart way to go because when kids are involved, you want to protect them as much as possible.
12

Dressing Like A Rock Star
She is dressed like a total rockstar in this photo and Captain America would totally be impressed. She may be a fox symbol, but when it came to her 20th birthday, she didn't want to have a huge party at a bar. Instead, she chose to go to Disneyland. She has a childish side that she exercises when it suits her needs. She and her ex-husband, Romain Dauriac, often went on dates to Disneyland and it goes to show that there is more to her than the Hollywood babe we see onscreen. The two, of course, were only married for two years because their schedules just got in the way of their relationship. She still believes in love no matter what, though. "I believe in finding a soulmate."
11

She Always Dresses to Impress
She wore this outfit when she was on The Late Show With Stephen Colbert in 2016 and it was one of her best outfits. At the time, she was still married and looked completely chic in the tight ensemble. She may look like a formable character when she plays Black Widow, but Scarlett Johansson is only 5'3." She has always said that she has a hard time getting away from the paparazzi because of her size. She believes that she deserves to have her privacy even if she is a big star.
"Just because you're an actor or make films or whatever, it doesn't mean you're not entitled to your own personal privacy. If that is sieged in some way, it feels unjust. It feels wrong."
Unfortunately for her and many others, having no privacy is the price you pay for being in the limelight.
10

She's the Belle of the Ball
We can imagine that she thought this corset dress was really pretty when she needed to head to the red carpet, but it's also very steamy. It seems like no matter what style of dress she's wearing, her womanly curves will always shine through. When it comes to her figure, Scarlett Johansson doesn't worry about what anyone thinks. She doesn't want to be thin, she wants to enjoy herself. "I'm not anxious to starve myself. For me, it's not at all sexy to be ultra-thin." She will, however, stay away from certain fast food chains. "I don't go to McDonald's anymore. After I saw Super Size Me, no way!"
9

She's the Lady in Red
She looks amazing in this red dress that shows off her curves. This is the kind of dress that would make Captain America weak in the knees. While most men would love to date her, she's not a big fan of monogamy herself. She has been married twice now and she didn't have much luck with either one, so that may have tainted her view on marriage.
"I think the idea of marriage is very romantic; it's a beautiful idea, and the practice of it can be a beautiful thing, but I don't think it's natural to be a monogamous person.
I might be skewered for that, but I think it's work. It's a lot of work." Marriage is work, but a lot of people think that in the long run, it's worth it.
8

Her Black Widow Look

[caption id="" align="alignnone" width="575"]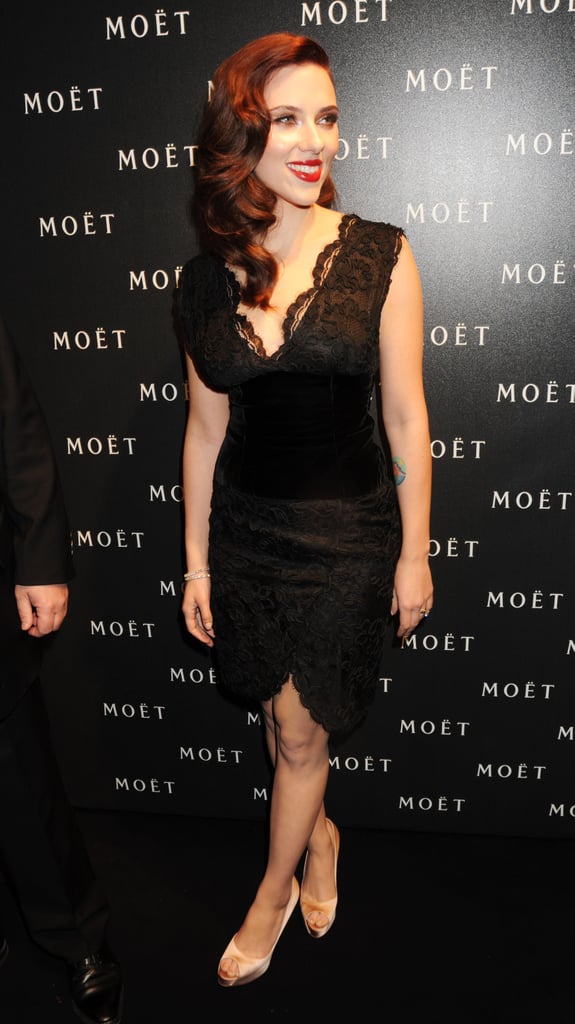 via popsugar.com[/caption]
One of the best looks Scarlett Johansson had was when she was sporting her Black Widow hairstyle. It suits her to a tee. She is smoking hot in this black-laced dress that she wore to Moet & Chandon's Tribute to Cinema in 2009. It had a tight waistline which is similar to the corset dresses that she favors and it had a plunging neckline. Some fans might be surprised to hear that she can also sing. She has actually released two albums over the years. She dropped Anywhere I Lay My Head in 2008 and The Telegraph newspaper called the alum "bizarre." They wrote a review that stated,
"There is certainly a hand-wound music box, massed banjos, birdsong, and the choral chirruping of detuned crickets."
That sure didn't stop Johansson from releasing a second album called Break Up.
7

She inspired Katy Perry 
The thing about Johansson is that no matter what she's wearing, because of her curves, she always looks feminine. And sometimes, like in this photo, she certainly shows off her femininity with a flowing red dress and sky-high heels. She is certainly a gorgeous woman who has the kind of body that guys dream about. Her lips are one of her best assets and Katy Perry stated once that it was Johansson's lips that inspired the song "I Kissed A Girl." We don't think that Johansson was impressed that her lips inspired such a song because when she was informed about it in an interview, she responded with, "That's flattering, but my lips are kind of taken."
6

She wants to stay looking young
None of us really like the thought of aging, and that include Johansson. Funny enough, as gorgeous as she is, she's admitted that she would consider going under the knife to help her stay looking young. "I definitely believe in plastic surgery. I don't want to be an old hag. There's no fun in that."  She doesn't seem like she's had any work done yet, but she is only 33 years old. Let's see if she'll get any work done in about a decade from now.
5

Johansson's relationship with her mom
She looks stunning in this blue form-fitting dream that is once again showing off her assets. She has a great figure and she definitely knows how to show it off. There have been reports over the years about how her mother took advantage of her and objectified her as a young girl. There was a time that she was once Johansson's manager, but she has fired her mother after some time. But Johansson has appreciated what her mother did for her during her career despite the fact that she had her daughter doing certain movies at such a young age.
"I have a lot of actor friends who worked with their parents closely and have had really horrible experiences. They end up suing or being emancipated.
The wonderful thing about my mom is that she completely respects my creative weirdness and supports any decision I make."
4

All about taking risks
When she's not on the red carpet, Johansson's style is very simple. Even in just mom jeans and a simple white T-shirt, Johansson radiates, especially when she spices up her look with red lips. She stated at the Variety's Power of Women Luncheon that her career is all about taking risks.
"I think I would say take risks and don't be afraid to fail because the upside of that is just so rewarding,"
she said. "I think a lot of times, there is so much pressure on women to be a specific way, to be a specific kind of partner, to be a specific kind of mom, to be a specific kind of person in the workplace. I think there is a lot of pressure to kind of uphold yourself to these impossible standards."
3

Learning how to be confident
Johansson is usually seen wearing mom jeans when she's out and about, running errands, but she really stepped it up here. She's a stunning woman that has had body issues just like every other woman in the world. But she has said that she has come to love herself and that is something that all women should learn how to do. "I think turning 30, having a child, and coming into my own kind of creative space has been really transformative in a lot of ways," she said.
"I think I'm probably learning more to accept that it's okay to want things and to verbalize that and not have to be defensive all the time.
Learning to be more accepting of myself and less harsh." That's the best that any of us can ask for.
2

Behind the Camera
This is one smoking hot dress. She might be short, but she's got killer legs. She wore this little number in Toronto during TIFF, but she clearly wasn't worried about the cold Canadian weather. These days, Johansson wants to do more work behind the camera than in front of it, though we doubt she will ever give up acting.
"I think, for me, it's a natural progression. I have been working as an actor for over 20 years, and I think I find at this stage in my career am probably one of the more experienced people in any given production that I am working on.
I don't mean to toot my own horn, but it just comes with working for such a long time. So I think it's more out of efficiency than anything else or the desire for that."
1

She Is Striking in a Gown
Johansson is striking in pretty much anything she puts on. One thing that we have found surprising about Johansson over the years is that she has become quite political. She has attended benefits on behalf of Planned Parenthood to speak about serious issues women face.
"As most of you know, Planned Parenthood has been under attack for many years now for another service they thankfully offer," Johansson said. "A women's right to choose what to do with her body shouldn't just be a women's rights issue — it's the year 2016 and this is a human rights issue. A women's right to choose is a deeply personal one and should not be a part of anyone's political platform. It has nothing to do with politics in the slightest. It is about honoring and respecting women and upholding the law. It is time we all stand united so this conversation is taken off the ballot, so to speak, and out of the mouths of politicians."
References:popsugar.com, brainyquote.com, foxnews.com