In a month or so, the time the greatest soccer fans have been waiting for for 4 years is going to arrive — we are talking about the World Cup. When the World Cup tournament comes along, nations across the world unite for the love of the game and for the love of their own countries. Whether a person is a fan of soccer or not, chances are, if their country is in the run for the ultimate prize, they will be loudly cheering along. However, across the world, especially in Europe, there are die-hard soccer fans, who bleed their country's colours and breathe the sport. What makes the race to win the World Cup more stimulating, is that we get to witness all the world's greatest players together competing for the greatest reward. But wait, there is something that makes watching and following the games even more appealing, and that is the WAGs. For those of you who are not aware, WAG is a specific term coined for the beauties who have their hands on the most prolific athletes; it stands for wives and girlfriends, and in this case, the wives and girlfriends of the world's greatest soccer players.
In Europe, because soccer is the most famous sport, the soccer players are the most infamous celebrities, and so, the wives and girlfriends of the greats become celebrities as well — which comes with good and the ugly sides to it. Evidently, the fanatics who follow their soccer idols, also know all about their hot girlfriends/wives. In June, during the world's most-watched event, make sure to keep an eye on these fabulous women.
25

Victoria Beckham
If you are a die-hard soccer fan, you know that these soccer couples become "it" couples; journalists and the paparazzi follow them everywhere, and some are more famous than actors and musicians. There is one couple, that until this day remains the world's beloved couple. They instantly gained the highest fame when they first got together, and now, they have God-like status; we are talking about English global superstar David Beckham and his former Spice Girls and fashion designer wife, Victoria Beckham.
The world's heart ached in 2013, when the English footballer announced his retirement from the sport unfortunately. However, fans and people knew that even if he was off the field, we would still be seeing a lot of him because of his obvious efforts that have managed to keep him and his gorgeous wife and family in the spotlight. Now, though this means Beckham will not be running on the field for the trophy, the superstar and evidently, his prolific wife, Mrs. Victoria Beckham, will be there rooting in the stands. We all know the infamous couple, and we love watching them and whatever they do because of their good looks. A lot of David Beckham's fame came from his marriage to the former Spice Girl and his bad-ass/pretty-boy looks. Therefore, it is no surprise that fans will rejoice when they see Victoria.
24

Shakira
We all know this next WAG, and she is impossible to forget because her "hips don't lie." Yes, we are talking about the sultry and seductive singer and dancer Shakira, who, if you did not know, is married to the Spanish professional soccer player and stud Gerard Piqué. The Spanish superstar confirmed that after this year's World Cup, he would be hanging his cleats; which means it is probably the last time we will get to see two of the hottest things at once; Shakira and Shakira at a soccer game. We do not even need to introduce her more than we already have, because when in Europe, the cameras do not shy away from the international pop star. Often enough, she outshines her husband because who could take their eyes off the zesty belly dancer?
While the World Cup is home to the greatest soccer players who are competing for the ultimate trophy, it also becomes home to glamourous WAGs like Shakira.
Sometimes, in the case of Piqué, and his wife Shakira, the cameras will mostly zoom in on her when together — men love to catch a glimpse of Shakira. Besides her good looks, fans love seeing her on camera because she also contributed twice to the World Cup when she made music for them.
23

Ann-Kathrin Brömmel
During the 2014 World Cup, this man, scored the winning goal for his country to take home the World Cup, but we may or may not see him on the field this World Cup because of injuries. We are talking about Mario Götze, and the World Cup trophy is not the only one to his name; let us introduce you to Götze's partner Ann-Kathrin Brömmel, who is a bombshell German model. We can confirm that when Germany won that World Cup 4 years ago, many could not take their eyes off the trophy and the successful model. We clearly do not blame Götze for showing off his girl as much as he boasts about his ultimate grand prize trophy.
The model loves to lay low, despite making a career out of posing in front of the camera, but because she is stunning and the soon-to-be wife of the German footballer, it is hard for her to remain out of the spotlight.
Her superstar lover often remains in the shadow, as seen in pictures, because European sports journalists love to capture pictures of the successful model that Götze is still smitten with since 2012. Everyone watching the event should keep their eyes on the talented young woman who also sings; oh, and her hobbies include jogging, cooking, and playing piano.
22

Antonella Roccuzzo
This might be the last time we're going to see the world's greatest soccer player take a chance at winning the most prestigious trophy with his country, Argentina, which means it may also be the last time we get to see the drop-dead gorgeous Antonella Roccuzzo so often. You do not need to be an avid soccer fan to know that Lionel Messi is currently the top soccer player, but did you know that his wife is his childhood sweetheart?
The Argentine woman, who he now calls his wife and is the mother of his three children, is a woman who is not only known for her beauty, but also her brains.
The woman who is responsible for making Messi's heart beat fast, now has her own shoe brand, but before, upon moving to Barcelona to be with her beau, she was studying nutrition in university. With a fairy-tale ending for the two of them, besides the fact that she is one of the most beautiful woman in the world and that Messi is the hottest player on the field, it is no surprise that media outlets and fans alike admire the couple and love to keep an eye on them. Roccuzzo is a private woman, but she uses her Instagram account to show off her most lovable friends and hobbies, like reading and Disney — she's a keeper!
21

Pilar Rubio
This Spanish top defender is a favourite among fans, and the women love him because of his charm, but Sergio Ramos does not only have his career going for him, as he is with a triple threat. Pilar Rubio is the woman who stole Ramos' heart, along with all men soccer fans. She is going to be one to watch when Spain takes the field as the cameras are sure to share the spotlight with the stunning and exotic beauty. It is difficult to take our eyes off the bombshell; her eyes are mesmerizing, and all her talents lend to that. What we love about most of these WAGs is that though they are famous and have celebrity-like status because of their partners, they do not rely on their soccer player men and are quite independent. Many knew of Rubio, who is now a mother to Ramos' children, before she started dating him because she was already a reputable Spanish TV reporter and presenter.
Evidently, she remained a familiar face throughout Europe because of her television career, and since she's been Ramos' lady, she has remained low key.
The television personality also appeared in several films and showed off her talents on a television series. With killer looks too, she also modelled for magazines — World Cup fans better watch out for this one!
20

Alex Curran
Steve Gerrard, who was once the England captain, retired from professional soccer but will always be remembered for his contribution to his country's team. He is also remembered by the English people who first coined the term WAG because of his wife Alex Curran. Curran, who has been the beautiful wife of Gerrard since 2007, is the whole package all on her own; now, we are not only talking about looks, but how powerful this woman is because of her hard work. Despite being married to a man who was a soccer great, Curran carved her own path. The tall, slim, and blue-eyed blonde just has so much more going for her that she cannot stop.
Curran is a woman who remains on top of her game; she is a fashion columnist for the Daily Mirror and is also a model.
This soccer wife has definitely got it going on; not only does she have two respected jobs, but she also has four children to take care of, and a husband to follow around the world. The former captain will not be participating, but that means we get to see Gerrard and his exceptional wife together in the stands.
19

Sam Cooke
It seems Leonardo Di Caprio has some competition! He is not the only man who constantly dates models, so do most of the world's greatest soccer players. Chris Smalling, a player for the English national team, has been married to a long-legged, blonde, and blue-eyed bombshell since 2017, and he is quite the lucky guy. The woman he is married to, Sam Cooke, has made quite the name for herself in the modelling world. Besides being beautiful and a WAG, Cooke has various accomplishments under her belt, with modelling being only one of them. To briefly mention her modelling career, Cooke has been on the pages of many gentlemen magazines; including FHM, FRONT, Maxim, Loaded, Zoo, and Nuts.
That, however, is only talking about her career in the UK, while this gorgeous lady has appeared on several magazines covers around the world.
Besides being widely known as a WAG, Cooke is also renowned for being a "page 3" girl in The Sun. It does not end there, Cooke is quite the philanthropic type as well; Cooke has devoted a lot of her time to charities, splitting her time between work, travelling with her soccer husband, and helping those in need. In 2016, Cooke and a fellow model colleague camped out to raise money for charities — she stole our heart, Smalling!
18

Leonita Lekaj
Leave it to the Arsenal ace, Granit Xhaka to snatch up and marry Leonita Lekaj, an astonishing brunette beauty. Sadly, there is not too much information about the now Mrs. Xhaka, as before marrying the Swiss national team player, she lived a more confined life.
Leonita is hopelessly devoted to her soccer player husband and the lavish lifestyle they lead together, posting photos of their travels and daily adventures on her Instagram. 
What we do admire about these two lovebirds, is that before getting married, they were together for a very long time, and if there is anything we truly respect in the world of the rich and famous, it is loyalty. We were able to get a taste of their extravagant wedding ceremony because of Mrs. Xhaka's (now her name on Instagram) Instagram page. However, Lekaj is mostly famous because of her relationship with the midfielder. Since her relationship with Xhaka, she has stolen the spotlight from him because of her dashing looks — the cameras do not forget to zoom in on this beauty. Two years ago, during the Euro 2016, Mrs. Xhaka stole a little bit of her spouse's limelight when she was pictured in the crowd supporting Xhaka. The secretive Leonita is definielty a distraction, that is one thing we know for sure.
17

Alexandra Ivarsdottir
It is no surprise that soccer players have the hottest wives alive; seriously, these women leave us no choice but to pick up our jaws from off the floor. The 28-year-old midfielder for Iceland, Gylfi Sigurdsson, who is going to compete in this year's World Cup, stuck to his roots and got himself a beauty from his mother country, AIexandra Ivarsdottir. There are many countries in Europe who have their own very famous stars that are not too known worldwide, and only their own country respectively, and Alexandra Ivarsdottir is one of them. Iceland's national soccer team are going in as underdogs this year, but eyes will be on Alexandra Ivarsdottir, who was once the beauty queen of her native country.
The former Miss Iceland gives a good name to her small country. Sigurdsson's other half is a trophy on her own and is going to take the World Cup to an entirely different level while she supports her man in the stands.
Besides the fact that the bombshell won Miss Iceland in 2008, and also Sigurdsson's heart, she also studied psychology in university. It is hard to keep your eyes off a woman who looks glamourous whether she is in a beauty pageant gown, or trousers.
16

Daniella Semaan
We are so grateful that Cesc Fabregas put a ring on Daniella Semaan's finger because this woman is just incredible. Seriously, there is just no way that you cannot fall in love with this Lebanese beauty. It is now time to meet the woman who stole the Spanish soccer player's heart, and the woman who has been dubbed the queen of WAGs. One thing we know, because WAGs are just as famous as their professional soccer player husbands and are always photographed too, is that
she shares a very close friendship with fellow WAG Antonella Roccuzzo; they are often posed together on nights out on Instagram and by the paps.
Though 12 years older than her partner, who is one of the world's best players, her enviable figure obviously caught his attention; it is hard to take your eyes off the sultry and exotic babe. Semaan, a divorcee and a mother of 5, spent 7 years with Fabregas before he popped the question, and she stuck around. Semaan is known to love all things luxury, but she is said to be a very independent woman who is passionate about life and is witty. Many know her because of her high-maintenance and posh lifestyle, but Semaan is a woman who takes nothing from no one — including her ex-millionaire-husband.
15

Georgina Rodriguez
The pretty boy of all pretty boys in soccer, Cristiano Ronaldo, has certainly landed various bombshell girlfriends — go figure. Any woman would drop to their feet for the Portuguese footballer, but it is now a woman who goes by the name Georgina Rodriguez who is making us do the same. The Real Madrid star, for a very long time, was with his long-term partner Irina Shayk, but since that did not work out, Ronaldo's most serious love yet is Rodriguez; news broke out just this week that he proposed to the Spanish 23-year-old beauty who is also a mother. We are so thrilled about the news, and we know that while we are sure to pay much attention to Ronaldo's skills on the field, that it also will not be hard to miss Rodriguez's ring.
Rodriguez, who appears much older than her age, is a model who is mostly known for her work with the admirable Gucci and her workout efforts.
We also love how humble, down-to-Earth, and gracious the sizzling hot Rodriguez is, though she is dating the Portuguese icon. We say this, because when asked in an interview about her drastically increased Instagram following, up to the millions, she said, "I do not know why [I have so many] because I do not pay much attention to social media." Who would not want to follow her?
14

Bruna Marquezine
So far, this list has been WAG-tastic, and it is not over yet! Everyone knows of the Brazilian soccer star, Neymar; not only is he considered one of the best soccer players in the world right now, but he is also a charmer. The 26-year-old forward has had girlfriends in the past, but he is not afraid to show off his new lady, Bruna Marquezine, as if she was the world cup. Neymar cannot keep his feet off the ball, but he cannot keep his hands off his girlfriend — the two are constantly seen being super affectionate with each other and they don't care who sees it. Why would Neymar be shy to lock lips in front of people when he has a model girlfriend anyways? With her model physique and pearly white smile, she is hard to resist. However, over a five-year period, the pair have split a couple of times; that is until Neymar gets back to his senses.
It's hard for them to stay away from the cameras because they are both very respected stars in their native country; Neymar is among the highest-paid soccer player, and Marquezine is a successful actress and model.
Rumour has it, that before rekindling their flame, the stunning pair split because Marquezine was not yet sure of getting married — oh we love an independent woman.
13

Edurne Garcia
Look around you, models, models everywhere — soccer players, who? David de Gea, Spanish goalkeeper, feels the same way about models as many of his fellow professional football players do. David de Gea's partner, Edurne Garcia, is a woman of her own; she not only stands tall and looks pretty for the cameras next to her man as she has her own success story. His stunning girlfriend has many admirers because she is talented, knows what she is doing, and is not afraid of what people think.
Garcia is mostly known as a Spanish singer, but she is also famous for her acting skills, along with being a TV presenter.
Now, though many WAGs like to keep their lives a little more private, this blonde Spaniard stunner likes to be a tease. We say this because last summer, the sizzling hot singer and actress strut her stuff on Instagram when she posted a daring picture of herself lounging around in bed with only the covers on. We find the picture modest, to say the least, but the singer, with an enviable figure, made many hearts melt the day she posted that picture and shared it with the world. She has a huge following not only because of de Gea, but because the bombshell blonde is famous in her homeland, where she works as a judge on the television show Got Talent, in Spain.
12

Ruby Mae
We believe it is every man's dream come true when a woman looks just as gorgeous in sportswear as she does in her lingerie — are we right? Dele Alli, is an English professional footballer who plays as a midfielder, and who is the boyfriend of Ruby Mae, a woman who can turn any man into a soccer fan with her hypnotizing eyes and stunning figure. Alli is definitely living the dream of any young man his age as he gets to run on the field during the day, and then crawl in bed at night with his model girlfriend. The star footballer is going to be the envy of young men when the World Cup starts in June after they see his girlfriend with a killer body, and the face of an angel; she looks as perfect as a doll with her plump limps and big eyes. After the tournament, we can guarantee you that she will be a pin-up in many men's rooms.
Despite being with a star player though, Mae is a star in her own right, as from a young age she landed contracts with infamous fashion houses Chanel and Dolce & Gabanna.
She continues to wow her beau and others around the world with her recent lingerie campaigns, and we love a woman who is confident in her own skin.
11

Rebekah Vardy
Jamie Vardy probably has high hopes for the World Cup, but we have high hopes on seeing his beautiful wife Rebekah Vardy. The English men are not only good at playing the field, the literal soccer field, we mean, but also the other field. The stunning WAG tied the knot with Vardy back in 2015, which means we will get to see a whole lot of her during the world's most-watched tournament. What we love most about the women on our list though, besides their charm, is that they are all women who made a name for themselves on their own and not simply relied on their husband's fame.
Besides being known as the wife of Vardy and a devoted mother, Vardy is also a TV personality who has received backlash because of how outspoken she is.
The curvy brunette, who we adore because of her fiery personality deserves a lot of praise; she has often raised tension on social media for firing back at trolls. This WAG knows how to work it, and she has had the opportunity to show us that side of her on the reality television show I'm A Celebrity Get Me Out Of Here! We can't wait to see what the World Cup has in store for us.
10

Perrie Edwards
Another player for the English national team, and for Liverpool, Alex Oxlade-Chamberlain, has his hands quite full. Upon qualifying for World Cup, which is evidently every soccer player's dream, we recently were informed of the unfortunate news that, due to a knee injury, the World Cup dream is over this summer for Chamberlain. However, luckily for him, he has a great support system, and that comes mostly from his talented girlfriend Perrie Edwards who is known worldwide as a singer for the girl band Little Mix. It is too bad Edwards cannot perform some "Black Magic" on her devastated boyfriend's knee. Edwards, who was previously engaged to the infamous Zayn Malik, has been photographed in great spirits with her new hunk, Chamberlain, and we cannot wait to see her cozy up with him in the stands as she comforts him, and they cheer on his team together.
With her new beau, she is one of the newest WAGs on the block and is taking full advantage of it.
We are gushing over this new couple; they are the perfect combo of cuteness and goals. We love how successful Edwards is on her own, and do not blame her for gushing over her new boyfriend. Hey, maybe she could sing "Shoutout To My Ex" to the cameras — take that Zayn!
9

Coleen Rooney
Russia is going to be blessed to have all these steaming hot and independent women around; to Russia with love, we say! One woman we, along with the paparazzi are excited to see, is Coleen Rooney, wife of Wayne Rooney who retired, but will be attending the matches. It is a shame that the record goalscoarer announced his retirement from international football, but we are thrilled that we still will catch a glimpse of the soccer star and his respected and beautiful wife. Mrs. Rooney, along with Victoria Beckham, is one of the original WAGs, as the term was initially coined by the British — and we are forever thankful. Also, we are sorry to break it to you Rooney, but do not be surprised if your wife steals the spotlight from you at the World Cup, as she long always has. Recently, Coleen celebrated her 32nd birthday by showing off her toned figure after recently giving birth to a baby boy.
However, what we truly gush over is the cheese-ball romance she has with Rooney, who she has been dating since she was 16 years old — aw.
8

Kimberly Crew
WAGs spend most of their time by the pitch, and that does not bother us, and die-hard soccer fans one bit, but we wish we knew more about the blonde beauty who managed to score a goal on England's goalkeeper Joe Hart. Hart certainly did the right thing when his now wife, Kimberly Crew came into his life; she is extremely stunning and looks like a real-life Barbie doll. The now Mrs. Hart, is no stranger to the game of soccer as she has been a WAG for several years, and we know that because she is always in the limelight as if she is a Hollywood A-lister. And when she gets to Russia, the cameras will not get enough as she is your ideal Russian beauty; long blond hair, beautiful tanned legs, and a toned body that defines her hard work.
Though many only focus on her beauty when she is on the sidelines in the stands, Crew makes a living on her own as a beautician.
We love this about her because it means that she does not rely on her husband's fame and is still passionate about one of her hobbies. Also, we will be rooting for Crew as much as Hart and his team because through Hart's bad days, she was there for him.
7

Katie Goodland
Who does not love a good old romance story? Harry Kane, another player for England, has had on his arms the same woman he has had for years, and her name is Katie Goodland.
Striker Kane, struck gold off the field too when he decided to spend the rest of his life with his childhood sweetheart, Goodland.
The two share a daughter together, and at the beginning of the year, broke the news that they were expecting another child, which means this bombshell WAG is going to have a baby bump while supporting her man and cheering him on — we cannot wait to see that! Now, a reason we admire Goodland so much is because she not only has got the beauty, but also the brains, and it falls hand in hand with her man's career. Goodland, who met Kane in school, graduated in sports science — how coincidental. Now, Goodland supports Kane and their daughter by working as a fitness instructor, which also lends to her man's career. The pair have been together since they met in school, and that is a lot for love. Interestingly enough, Goodland claimed that she was famously snapped alongside her partner and David Beckham as kid — wow!
6

Annie Kilner
We are not sure if England defender Kyle Walker will bag himself the World Cup, but he certainly bagged himself a real beauty with Annie Kilner. His delightful girlfriend has been featured in many magazines, in her lingerie, as she is a top model. This may be Walker's most exciting tournament in life, but we are certain that Russia is more occupied with welcoming his gorgeous and stunning other-half. What we find a little cruel is how people do not perceive models as intelligent people, or hard-working people, since it is their looks who are paying them, but being a model is extremely difficult and it could be peril at times. With that being said, we admire Kilner, the brunette beauty who is a full-time glamour model and is also a mother — and we know how tough it could be raising a child when your other-half is often on the road.
However, Kilner has always made the efforts to be two steps behind her husband as she is often seen cheering him on from the stands.
5

Amine Gülşe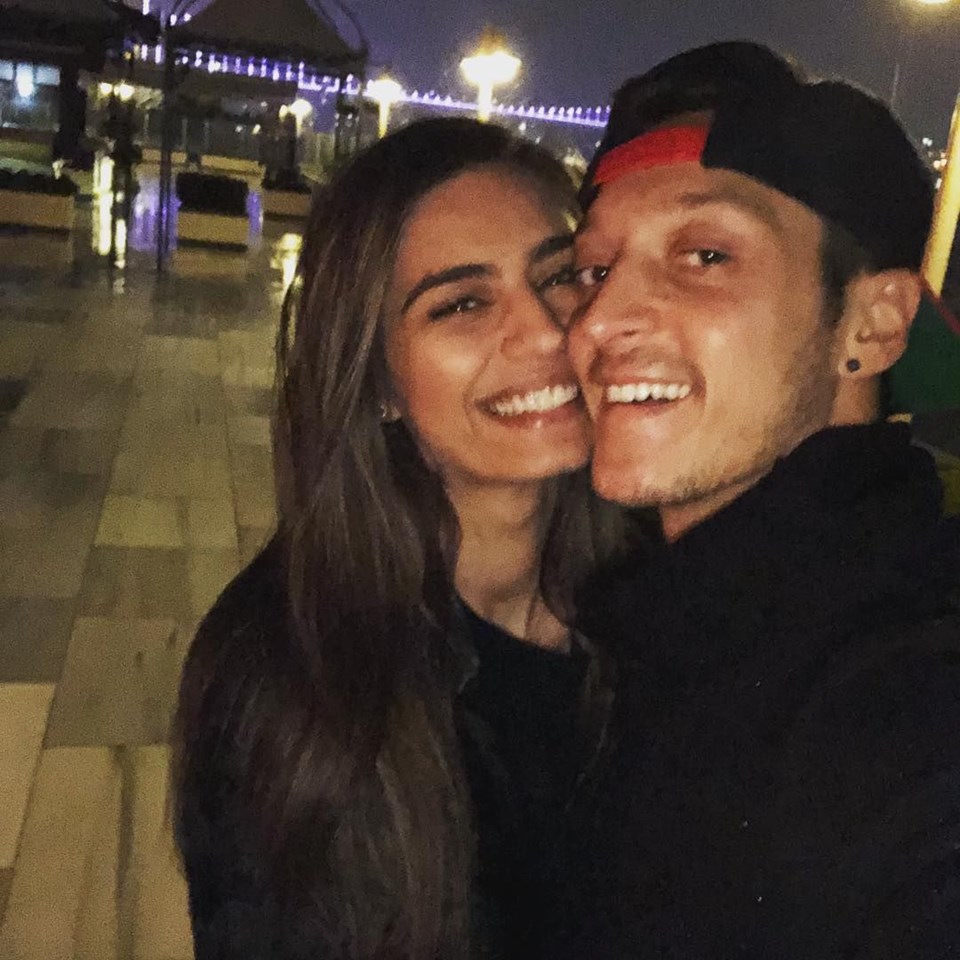 So far, this list of WAGs that we are going to see following their men, as Borat would describe, "is a nice!" Mesut Özil, who is a professional footballer for the German national team, is engaged to an exotic and foxy Swedish-Turkish woman named Amine Gülşe. This woman is literally a whole package in one; take a quick look at her resume and you will learn that this bombshell has nailed every aspect of the entertainment industry. We would not mind being romantically linked with the Swedish-Turkish actress, who has beautiful dark locks, and light blue eyes. Wait, that is not all, the woman who will steal the German soccer player's limelight is also a model and beauty pageant titleholder.
The Turkish model and actress recently flew to Istanbul with her fiancé so that they could celebrate together his newly-signed contract with Arsenal, so we confirm that she is also greatly supportive.
As innocent as the seductive model looks, there are some revealing pictures of her on the Internet that have caused a stir, but that is only normal since she is a model. And apparently, being a WAG is a job too, and those typical pictures always go around.
4

Sara Carbonero
We are starting to see a trend amongst the WAGs, and we may be building a stereotype, but we are taking what we are given. It seems like the typical WAGs are either models, TV presenters, or actresses — not that we are saying anything is wrong with that. One of our most admired WAGs, is wife of Spanish footballer Iker Casillas, Sara Carbonero. Anyone who is a die-hard soccer fan, probably roots for this couple as much as they root for the Spanish team, and we are not yanking with you.
Mrs. Casillas made a name for herself in sports before she met her star husband, when she became a very popular sports journalist.
In Europe, it has been quite a while that there are TV sports journalists that are women, and in the early 2000s, Carbonero started working as a Spanish TV presenter for Telecinco. One who follows the sport dearly will recall the moment that Sara was interviewing Casillas and he locked lips with her passionately at the end of it; until this day, it is our favourite couple video. Besides being oh-so-beautiful, Carbonero is a woman with brains; she got her bachelor's degree in journalism and got hired instantly. And now, with the competition approaching, we cannot wait to see more of her.
3

Yolanthe Sneijder-Cabau
"That's a spicy meat-a-ball!" said the Mask about this next WAG. Yolanthe Sneijder-Cabau, is a name that sounds completely exotic, and that is because she is a blend of Spanish and Dutch, and we are not sure if that is even legal. You may recognize the last name Sneijder, and that is because she is married to Dutch professional footballer, Wesley Sneijder. She is perhaps the most beautiful WAG — certainly the bombshell WAG in the Netherlands — we cannot take our eyes off her. Yolanthe, or Mrs. Sneijder started her career as an actress, and slowly climbed the mountain and worked her way up. We love a persistent woman, and clearly, until she became Mrs. Sneijder, she never stopped herself from going after what she wanted.
Not only is she an actress, but she is also a reputable model, television host, and now a reality star.
Yolanthe could now add WAG to her resume, because we confirm that is a job itself. With her looks, it is not hard to imagine how many job offers to be on television she receives because they cannot get enough of her charm. If you are impatient to see her in the stands with her husband, Yolanthe will be on the RTL show De Jongens Tegen De Meisjes this coming season.
2

Alice Campello
Sometimes, it takes a woman to keep a soccer player's feet on the ground — or to keep him grounded. This is where Italian model Alice Campello comes in; wife of Spanish footballer Álvaro Morata. Let us start off by saying that the "legs for days" bombshell, who appears much older, is only 23 years old — are you as shocked as we are? Alice, who is now pregnant, has recently helped her husband deal with some issues on the field by reminding him that they are expecting a children. Approaching the World Cup, it is a vital for a player to receive support and advice, and Campello has been his backbone throughout. Recently, when he arrived home to his beautiful lady, she questioned the star footballer and said:
— while reminding him that he is to be an exceptional role model. We adore how strong of a woman Campello is and how she is not shy to whip her husband back into shape. Nowadays, the young Italian, who is a model, is known as the hottest WAG; and even with her ever-growing baby bump, she still looks so toned and fit. By the way, they're having twins!
1

 Lorelei Taron
Though there are constantly new WAGs, there is still a fascination with the glamorous lives led by footballers' wives, and there always will be. Often, when players perform poorly, fans will quickly jump to criticize the WAGs, which we believe is completely unfair. And now, this year, for the World Cup, Colombia is making an appearance, and we wanted to be sure to include a WAG who is like no other. Lorelei Taron, who is the wife of Manchester United and Colombian player Radamel Falcao, has exceeded all our expectations. Taron, or Mrs. Falcao, broke a record amongst all WAGs, one that you may or may not guess.
To put it out there, the Argentinian beauty is the wealthiest WAG there is.
This piece of information became headline news, when Falcao signed his Manchester United contract; because as we said, the WAGs become stars as much as their professional soccer player partners do. The reason she has made the top of the list, is because she is as known as her husband, and if not more, as the singer has thousands upon thousands of fans on her very own. We would love to hear her sing the anthem in a Colombian jersey. Apart from that, she is very supportive of her husband, and for that, we cannot wait to see her turn heads soon.
References: freebets.co.uk, marca.com, wikipedia.com, thesun.com, bettingrunner.com