WWE presents the thirteenth Backlash event live from Chicago, Illinois this Sunday night and it proves to be an explosive affair, as Shinsuke Nakamura makes his official main roster debut against Dolph Ziggler.
The Superstar Shakeup has left SmackDown with a lacklustre roster so Backlash this year will be the biggest test for the current SmackDown Live roster that they have had in a very long time.
Raw has gained a lot of the much bigger superstars currently in WWE, and Payback a few weeks ago was thought to have been a little bit of a thrown together event following the Superstar Shakeup that was decided in the fallout from WrestleMania.
Backlash was once an ongoing thing in WWE and considering it has already had 12 versions of the event, there is a lot that has happened at the pay-per-view that many of the WWE Universe are currently unaware of, and who doesn't love a random walk down memory lane?
The following is a list of 15 things that Backlash will always be remembered for, as a way to fully prepare the WWE Universe for what is set to be an explosive event inside the Allstate Arena on Sunday night.
15

Backlash Once Followed WrestleMania
When Backlash made its debut on WWE TV, it was the first event following WrestleMania and it was called Backlash: In Your House. Backlash then remained as the fallout pay-per-view event after WrestleMania from 1999 up until 2009 when it was then decided that Extreme Rules would be a better option for a fallout event.
Backlash, however, did make a return in 2016 but at a much later time of year, when it was added to SmackDown's list of individual pay-per-views in September. It was then put back in its usual slot this year, as it is SmackDown's first pay-per-view event since The Showcase of The Immortals back at the beginning of April.
14

Final "In Your House" Event
WWE is fleeting. Some ideas work and manage to last for years, others are put on the scrap heap after a while. Even Backlash itself has become the victim of this, so it comes as no surprise that the first ever Backlash even back in 1999 signalled the end of the "In Your House" events.
"In Your House" had been a well-known addition to many events for more than two decades and it seems that as WWE reached the Millennium and the end of the Attitude Era, it was time for the company to focus on their big four and branching off into other pay-per-view events at the side of these and sadly it seems that "In Your House" just didn't make the cut.
13

The Rated R Superstar And The King Of Kings Share A Record
Two of the biggest stars in WWE history, Edge is an eleven time World Champion in his own right while Triple H's Royal Rumble win last year notched him his 14th World Championship in his career, it comes as no surprise that both men are tied when it comes to the most appearances at Backlash.
Both Edge and Triple H have appeared at eight of the twelve broadcasts and it seems that the duo also have similar win-loss records at the event as well. Both men first appeared at the 1999 debut of the show as Edge teamed with The Brood in a loss to The Ministry of Darkness, while Triple H managed to defeat X-Pac. Edge missed Backlash in 2003, and Triple H sat out the event in 2007 and both men made their final appearances at the 2009 version of the event.
12

God Makes His Debut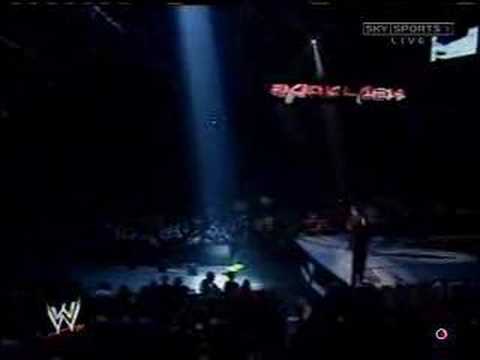 Shawn Michaels'entire storyline with Vince and Shane McMahon back in 2006, that was thought to have culminated at WrestleMania 22, seemingly found a way to reach a new low at Backlash a month later when it was decided that there would be a Tag Team match between Vince, Shane, and Shawn Michaels with HBK being forced to team with God.
Michaels is a very religious man, but it was still a harsh position for the McMahon family to put the former World Champion into. Michaels obviously lost the match and was then overwhelmed by The Spirit Squad and the McMahons after the match. Michaels later gained a much-needed boost when he was joined by his former DX partner Triple H when they decided to rejoin and gain the upperhand on the McMahons in the long run.
11

The Return Of Linda McMahon
As far as The McMahon family goes on WWE TV, Linda would have to be one of the least used members. She never played a huge part in WWE storylines and decided to exit from the company altogether in 2009 to concentrate on her role as a political candidate.
Back in 2000, in just the second annual edition of WWE Backlash, The McMahons were all well-known heel superstars who were ready to help Triple H as he defended his title against The Rock, but it seems that the final family member was forgotten until new babyface star Linda made her way down the ring accompanied by Earl Hebner so that she could dish out her own brand of justice, against her own family. Linda even made a statement against her own daughter en-route to helping the McMahon clan's arch enemy.
10

Chris Benoit's Remaining Record
Chris Benoit has been mostly forgotten by many wrestlings fans, while many of his records in WWE have also been wiped away as the wrestling world attempts to forget the man once known as The Rabid Wolverine.
One record that is remembered, though, is the fact that Benoit's record at Backlash is one of the best in history. His four wins and one defeat is on par with The Big Red Machine, Kane's record at the event. But it seems that Kane could be the sole benefactor of this record since it is highly unlikely that WWE is willing to approve any accolade in Benoit's direction any time soon.
9

Trish Stratus Injury
Trish Stratus famously dropped the WWE Women's Championship to Mickie James at WrestleMania 22, after what was one of the best women's feuds of the past generation. Trish decided to cash in her rematch against James at Backlash a few weeks later. It was at this Backlash event that Trish would be unceremoniously tipped over the top rope, causing her to dislocate her shoulder.
The injury caused Stratus to be out of action for a number of weeks but also allowed Beth Phoenix to finally make her WWE debut after months of waiting and training in OVW. Beth came in to replace Stratus in many matches before Stratus decided to retire from WWE later the same year as a seven-time Champion.
8

Heath Slater And Rhyno Shock The World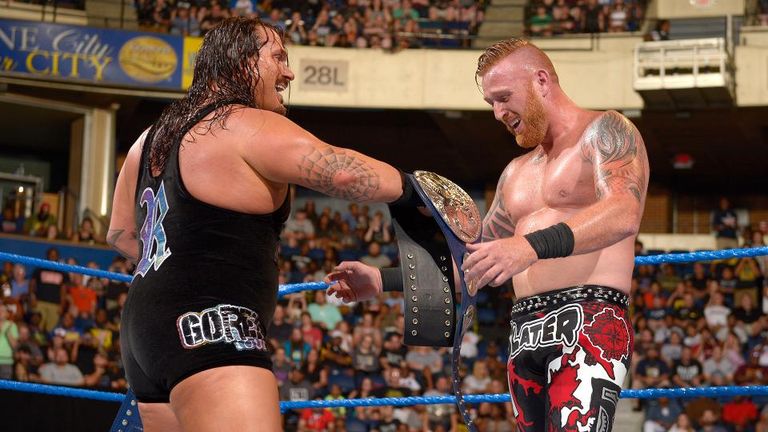 Heath Slater and Rhyno were shockingly decided as the winners of the SmackDown Tag Team Championship Tournament and the first-ever SmackDown Tag Team Champions. At the time, Slater was part of a storyline where he could only be given a WWE contract if he won the match and he had kids to support.
It became more and more obvious that Beauty and The Man-Beast would become the Tag Team Champions, but this meant that the likes of American Alpha, The Usos, and even The Ascension, who were much more deserving of the accolade, were once again swept aside in order to crown a newly formed team as Champions.
7

Vince McMahon Becomes ECW Champion
Backlash 2007 will always be considered a memorable affair since it was merely weeks after Vince McMahon was forced to have his head shaved when he lost The Battle of The Billionaires to Donald Trump, but it seems McMahon would have the last laugh.
Bobby Lashley managed to defy the odds and defeat Umaga at WrestleMania 23, but Stone Cold Steve Austin wasn't on hand this time as Shane and Vince McMahon partnered Umaga in a three-on-one handicap match for the ECW World Championship. It was a match that was won by Vince McMahon to allow him to become ECW Champion at the tender age of 61.
6

Scotty 2 Hotty's Big Break
Scotty 2 Hotty will always be remembered for his incredible dance moves alongside Rikishi and Grand Master Sexay, something that got him over with the WWE Universe for a short amount of time. Scotty was given something of a push following this and it lead to a match between Scotty and Dean Malenko back at Backlash 2000.
The match wasn't one that was expected to be anywhere near the level that it was. Scotty performed out of his skin and proved that he deserved to be put into these kinds of matches, while Malenko pulled it off, as only he could. It was Scotty's chance to prove his worth and prove it he did! He took that ball and ran with it. It's just sad that his career isn't full of more moments like this one.
5

The Women's Championship Is Decided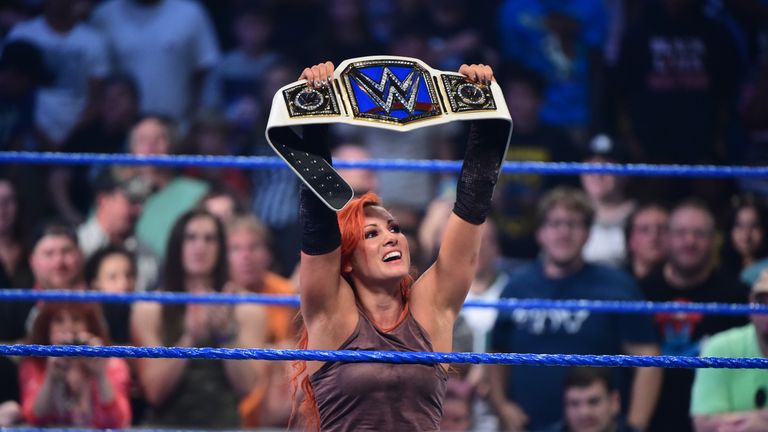 The WWE Draft of the summer of 2016 will always be a memorable occasion because it was when WWE decided it was time to re-split the two rosters and have two live weekly shows for the first time in history.
It was also decided that there would need to be two Women's Championships once again and SmackDown Live decided to crown a new Women's Champion at Backlash back in September. Becky Lynch managed to defeat five other women to become the inaugural Women's Champion on the blue brand. This was the beginning of change for the women of SmackDown, something that has continued ever since.
4

Brock Lesnar Arrives At Backlash 2002
Shinsuke Nakamura makes his WWE main roster debut this weekend at Backlash, but he definitely isn't the first person to make his debut at the event. And he isn't the biggest star either, as Brock Lesnar finally walked through that WWE curtain back in 2002 at just the fourth edition of Backlash that saw him destroy Jeff Hardy.
Lesnar was already considered to be a hot commodity at this point in his career and it seems that WWE knew the talent they had at their fingertips. There have been many other stars who have debuted at the event over the past few years, especially when it made its return last year after a seven-year break, but none as big as The Beast Incarnate and the current Universal Champion Brock Lesnar.
3

Backlash 2000 Broke Records!
The Game and The Rock had one of the biggest matches of the last generation back at WrestleMania 2000, but WWE decided that, rather than making that the end of their feud, they would allow it to continue after WrestleMania and allow the two biggest stars in the company to collide again at Backlash in 2000.
This was a huge gamble and one that paid off for WWE as Backlash became the biggest selling B-show in the company's history up to this point. The 675, 000 buys for the event made it one of the best sellers in WWE history, a record that has only ever been beaten by the WCW/WWE invasion later that year. Backlash that year actually managed to top both The Royal Rumble and Summerslam when it came to pay-per-view buys, which is usually unheard of.
2

Owen's Final Pay-Per-View Match
Owen Hart is one of the most famous wrestlers of all time. As part of The Hart Family, Owen made a name for himself in WWE before the tragic events that happened at the 1999 Over The Edge pay-per-view. It seems that Owen's last match was at the first ever Backlash: In Your House event in 1999.
Hart will be remembered for the defeat that he suffered when he took on The New Age Outlaws alongside Jeff Jarrett as they looked to become the new number one contenders for the Tag Team Championships that were held by X-Pac and Kane at this point in time. Luckily, Owens legacy is much bigger than this sole defeat on that Sunday night in Province, Rhode Island.
1

Hulk Hogan Sets A Record In 2002
The Immortal One is one of the most famous wrestlers in the world, but back in 2002, he set one of the best records of his career when Triple H opted to drop the Championship over to Hogan merely weeks after dethroning Chris Jericho at WrestleMania.
It was a nostalgic time for WWE and it seems that the win for Hogan meant that from winning his first Championship in 1984 until he lifted the title in 2002, Hogan had bookended his WWE career as Champion with an 18 year age gap, something that has never been done before. It's a record that could well remain for a long time, with the only person able to break it coincidentally being Triple H, who picked up his first gold back in 1999.
Give TheRichest a Thumbs up!
Looking for an AD FREE EXPERIENCE on TheRichest?
Get Your Free Access Now!