The Women's Revolution is in full swing in WWE, with the females in the company making history on a weekly basis. Despite the number of women who have come through WWE in recent years and became stars in their own right, there are still many who were forced to work as managers first to get a feel for the WWE Universe before they were allowed to go it alone. Some women were given this chance because WWE thought they could use the time to work on their promo ability as well.
Some of the best female wrestlers of all time were used as managers before they were given a chance in WWE to fight for the Women's Championship or even allowed to step into the Women's Division picture and fight in their own right. The following is a list of 15 of the most beautiful and talented women who were able to lend their management skills to male wrestlers over the course of their career so that they could be recognized as managers as well as the stars they would later become.
15

Ashley Massaro
Ashley won the 2005 Raw Diva Search and despite the fact that she didn't make much of an impact in WWE over the next two years, except being part of the only women's match at WrestleMania 23 after she posed for the cover of Playboy Magazine, she still gets a lot of attention.
Ashley was seen as one of the most beautiful women on WWE TV at that time and as well as working alongside Trish Stratus and Mickie James, she also was given the chance to manage Paul London and Brian Kendrick when they were in the hunt for the WWE Tag Team Championships against MNM back in 2006. Ashley was dating Paul London at the time but it seems that the trio's time together was short lived and Ashley moved on when the feud with MNM ended.
14

Lana
The Ravishing Russian has become one of the most popular female stars in WWE over the past few years as she stood by the side of her real life husband Rusev. Lana guided Rusev to the United States Championship and helped him to keep it for a lengthy amount of time.
When Rusev suffered a shoulder injury that required surgery, it was decided that Lana would instead become a superstar in her own right and was sent down to NXT to begin training to be a full-time wrestler. Lana has had just two matches so far, one was as part of WrestleMania 32, and her most recent one was when she fought for the SmackDown Women's Championship at Money in the Bank a few weeks ago.
13

Maryse
The former Divas Champion made her return to WWE back in 2016 to help her real life husband. It seems that she is exclusively managing The Miz now and has only been seen working with him over the past year.
The Miz has won the Intercontinental Championship a number of times under the management of Maryse and it seems that she always knows the right thing to do to help her husband to continue to win matches. Miz always seems so much more confident in the ring and on the mic when he has Maryse by his side. As a duo, their time together may be coming to an end, but it seems that they achieved a hell of a lot together and could easily come back together in the near future.
12

Maria
Maria is the latest addition to the WWE roster and has joined the SmackDown Live brand after she made her debut alongside her real-life husband Mike Bennett at Money in the Bank a few weeks ago.
Maria was the first lady of Ring of Honor and the first lady of TNA after she left WWE and decided to cast her net much wider. She has been by the side of her husband Mike for the past few years and it seems that the couple has struck gold by finding each other. Maria and Mike are yet to make an impact in WWE, but if their reputation in two of the biggest wrestling companies is anything to go by, it seems that the WWE Universe could be in for something huge.
11

Miss Elizabeth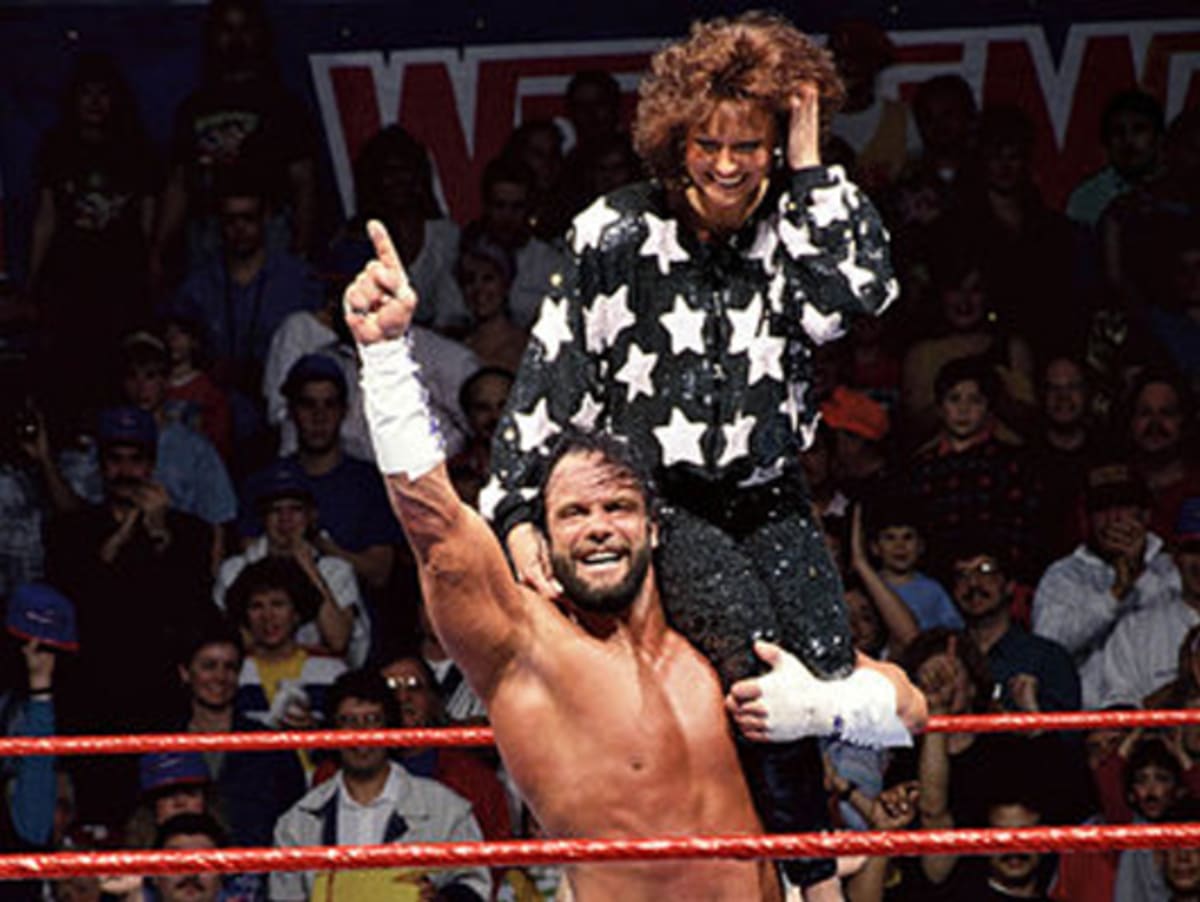 Miss Elizabeth and "Macho Man" Randy Savage were one of the biggest couples in WWE at one point. Elizabeth was the only person who could keep up with Savage both in and out of the ring and even managed to move on to manage The Mega Powers when Hulk Hogan joined the loved up couple, but their alliance didn't last very long.
Elizabeth set the bar for all female wrestlers who came into WWE after her. She is a rightful WWE Hall of Famer and even though the end to her story is a tragic one, the WWE Universe remembers her as the woman who was always at the side of Savage, holding the ropes open and holding her head up high.
10

Stacy Keibler
Stacy Keibler is a female wrestler who didn't achieve a lot in WWE when it comes to Championships and accolades. Her long legs are the most memorable part of her entire WWE career and it seems that she managed to achieve much more for the stars that she managed than while she was an active competitor.
Keibler was mostly recognized as a valet for the likes of Randy Orton, Scott Steiner, and Test. She would use the powers that she had, which included her famous legs, to help cause a distraction and allow her stars to win matches. Stacy also went through a phase where she was partnered with Gregory Helms, who was The Hurricane, and she then became known as Super Stacy.
9

Terri Runnels
Terri Runnels became known to the WWE Universe as Marlena and would valet her real-life husband Goldust for a number of years before she switched to managing tag teams like The Hardy Boyz and Edge and Christian. There was once a tournament between them to decide who Terri would go on to manage.
She even worked alongside the strange Perry Saturn who decided that a mop would be a much better replacement as a manager. Terri and Goldust remained married for a number of years after they worked together in WWE, but she stated that problems with Goldust's father Dusty Rhodes pushed the duo towards a divorce. Goldust has since moved on to remarry and it seems that Terri now has adopted a life outside of the public eye.
8

Lita
Lita is perhaps one of the most famous female managers of all time. She started her career as the manager of Essa Rios before moving on to manage her real life boyfriend and his brother, Matt and Jeff Hardy. Team Extreme was a crowd favourite for a long time and Lita then turned into a heel when it was made public knowledge that she had been cheating on Matt Hardy with Edge.
Lita went on to valet Edge until the end of her career when she bowed out in 2006 and also managed Kane for a while in what was one of the strangest storylines that WWE has ever decided to put on live TV. Lita managed to valet and wrestle at the same time and is a former four-time Women's Champion in her own right. The 2014 WWE Hall of Famer is deserving of her place amongst the elite of wrestling.
7

Melina
Melina Perez came into WWE with her trademark split entrance and the duo of Joey Mercury and Johnny Nitro. She led the duo to Tag Team Championships on the SmackDown brand before Joey became injured and Johnny and Melina then became a duo instead. This new duo led Nitro to Intercontinental Championship gold.
Melina later branched off on her own and won a number of Women's Championships on her own before she left WWE and began wrestling on the Independent Circuit. Melina and Nitro have even managed to link up again as part of Lucha Underground in recent years, but their romance is apparently said to be over right now. Melina is currently still an active wrestler on the British and American Independent wrestling Circuits.
6

Sable
Sable is remembered as one of the best known female valets in the world in the 1990s and was able to manage the likes of her real-life husband Marc Mero and Hunter Hearst Hemsley, as well as wrestling many of the females in the company at that time.
Sable was so much more than just a valet and she was one of the reasons WWE decided to bring back the Women's Championship in the 1990s. She then went on to win the Championship. Sable started a legacy alongside Sunny that would then open the door to many other females over the years. Despite the fact that Sable and Sunny didn't like each other, they still managed to make a difference during their time together.
5

Alexa Bliss
Alexa Bliss is the current Raw Women's Champion and a former two-time SmackDown Women's Champion in her own right. Alexa was promoted to the main roster as part of the WWE Draft back in the summer of 2016 and has since climbed the ranks in WWE and stepped up her game above all other female stars.
When Alexa first came to WWE she was sent down to NXT and aligned with Wesley Blake and Buddy Murphy. Alexa was in a real life relationship with Buddy Murphy, to whom she is now engaged, and she managed to guide the duo to the NXT Tag Team Championships. Alexa later turned on her former friends and decided to go her own way which led to the split of the popular duo.
4

Carmella
The former NXT superstar and first ever Miss Money in the Bank has been given a huge push on the SmackDown Live roster over the past few weeks, but Carmella got her start in WWE as part of the NXT roster when she was aligned with Enzo Amore and Colin Cassidy.
Big Cass and Carmella are currently in a real life relationship, and it seems that their chemistry helped her a lot in NXT until Triple H decided that he wanted Enzo and Cass on the main roster. But he didn't want to promote Carmella with them, instead he wanted to wait and give Carmella a push of her own which is why she was drafted to the main roster in the summer of 2016.
3

Sunny
Sunny may be one of the most memorable female stars of the 1990s for all the wrong reasons, but when it comes to her time as a valet, there is no question about how good she was at her job.
Sunny was the original diva but she was also one of the most successful managers in WWE history when it came to managing tag teams. Sunny managed The Godwins, The Bodydonnas, and The Smoking Gunns to Tag Team Championships as well as being ringside at WrestleMania when L.O.D 2000 won the number one contenders match. Sunny is also a WWE Hall of Famer and many fans now prefer to remember her as the person she was rather than the person she's become.
2

Stephanie McMahon
Stephanie McMahon is one of the best-known females in WWE history. Not only is she a majority shareholder in the WWE company itself, but she has also played a key role in WWE over the past few decades both inside and outside of the ring.
When Stephanie was much younger and first introduced to the WWE audience she was used as a valet for Triple H. The duo began dating around this time as well and she was one of the only reasons that Triple H was able to climb to the top in WWE as quickly as he did. She was even able to become the first female to main event Monday Night Raw alongside Jacqueline and didn't even have to wrestle to become the Women's Champion.
1

Trish Stratus
The former seven-time WWE Women's Champion began her career as a valet when she was aligned with Test and Albert. Trish was successful with the group but during the Invasion storyline of 2001, Test and Albert split which allowed Trish to move onto something new.
Trish would later go on to manage the likes of Triple H, Christian, and Chris Jericho and be part of the first ever female vs males match along with Lita against Jericho and Christian. Trish later decided to focus on a career of her own and began working her way up to being one of the most successful female wrestlers of all time. The 2013 WWE Hall of Famer deserves her esteemed place among wrestling's elite.