There is sadly no shortage of celebrities whose dangerous addictions and habits have cost them their career, marriage or in the most tragic cases, their own life.
Many of the 15 celebrities that we have listed below are lucky to be alive. Like Demi Lovato who used to be so addicted to a certain white powder that she would use every 30 minutes. Or Charlie Sheen who spent an unfathomable amount of money on drinks, drugs, and women over the years.
The damage of their addictions remains, even if many of them have cleaned themselves up. Matthew Perry may not use anymore, but you'll be shocked at how little of Friends he remembers filming.
Included are unforgettable photos of some of these celebrities, such as Angelina Jolie and Lindsay Lohan, in moments in which they were clearly under the influence.
These are the 15 celebrities who have the most dangerous habits in Hollywood.
15

Lamar Odom - Spent $75,000 At A Brothel
Lamar Odom was a solid basketball player but his celebrity status skyrocketed in 2009 after marrying Khloe Kardashian. Unfortunately part of that added spotlight came the realization that Odom was abusing both drugs and alcohol.
He was arrested in 2013 and charged with a DUI and later that year, the two started their separation.
Odom's biggest brush with death came in 2015 after suffering several strokes and kidney failure while attending a brothel in Nevada. It was reported that Odom had spent $75,000 and was hoping to stay for at least 5 days.
While we can't be sure, something tells us that probably wasn't his first trip to a brothel.
14

Mike Tyson - Huge Drug Problem, Beat Up 7 Women
Mike Tyson is one of the greatest boxers of all-time. He's also a pretty funny actor and has utilized those skills in a variety of mediums. But Tyson has also enjoyed using illegal drugs throughout his life. Back in 2012, Tyson also admitted that he only signed onto The Hangover because he needed money to fuel his drug habit and that he was actively using during filming.
Let's hope he didn't get extra amped up before the scene where he had to deliver the knockout punch!
Tyson's drug habits also caused controversy years ago when it was reported that he beat the sh*t out of 7 "ladies of the night" during an inebriated state.
13

Nicole Narain - Addicted To Self-Loving, Went To Rehab
Nicole Narain was starting to make a name for herself in 2002 when she was named as Playboy's Playmate of the Month. She was also cast in various music videos, but her main "claim to fame" (so to speak) came when a s*x tape emerged featuring Narain and Colin Farrell.
Narain has since admitted that her addiction to s*x has caused significant issues in her life. Narain also said that she did not necessarily have the drive to find other partners, but that she engaged in some self-love for literally the entire day at some points.
Narain received help when she appeared on the reality show Sex Rehab with Dr. Drew back in 2009.
12

Angelina Jolie - Would Spend Hundreds Every Week On Drugs
With the number of kids that Angelina Jolie has to take care of, you can be grateful that the photo you're seeing is from years and years ago. But if you're used to seeing the clean cut Jolie, you may be left horrified at how awful she looked at the height of her addiction to some serious drugs.
The video was taken in 1999 but did not see the light of day until 2014. Jolie's former dealer said that she would frequently spend a few hundred dollars a week and that she was also under the influence during an interview to promote Girl, Interrupted.
The role was massive for Jolie and won her an Oscar, but clearly, the success didn't slow down her usage.
11

Terry Crews - Addicted To Adult Entertainment
When you take a look at Terry Crews, your first guess may be that he's addicted to the gym! But back in 2016, Crews released several videos on Facebook highlighting the impact that his addiction to adult entertainment had on his life.
"If day turns into night and you are still watching, you probably have got a problem. And that was me...It changes the way you think about people. People become objects. People become body parts; they become things to be used rather than people to be loved,"
Crews went on to say,
"It affected everything. My wife was literally like, 'I don't know you anymore. I'm out of here.' I had to change. I literally had to go to rehab for it."
10

Demi Lovato - Used Every 30 Minutes
We're happy to open this blurb by saying that back in March, Demi celebrated her 5-year sobriety. Which is outstanding when you consider her rampant addiction to white powder could have nearly killed her.
"I couldn't go 30 minutes to an hour without [using] and I would bring it on airplanes. I would smuggle it basically and just wait until everyone in first class would go to sleep and I would do it right there," said Lovato when discussing the height of her problems.
Even when those around her knew she needed people to watch out for her, Lovato still found a way to use,
"I had a sober companion, somebody who was watching me 24/7 and living with me [and] I was able to hide it from them as well."
Lovato was able to get the help she needed after attending rehab, as well as choosing to live in a sober-living facility.
9

Katie Price - Addicted To Plastic Surgery
Katie Price is no stranger to throwing back some alcohol and partying it up, but her most dangerous habit may be her addiction to plastic surgery.
Katie has had not one, not two, but 8 breast augmentation surgeries and hasn't ruled out future plastic surgery. If that's not enough, she also recently admitted that she gets Botox every six months.
Reports are also starting to come out that her husband is concerned for her safety and future if she does not get this under control. With a net worth of $40 million, at least it's clear that Price will be able to afford as much plastic surgery as she desires; even if we're sure most people would agree she has had more than enough.
8

Robert Downey Jr. - Various Addictions And Arrests Got Him Fired
Robert Downey Jr. is one of the most successful actors in Hollywood, but that definitely wasn't always the case. Following some success in the earlier 90s, Downey was well on people's radar when his addictions became undeniable.
Downey was arrested several times from 1996 to 2001 on a variety of drug charges. The problem got serious enough that Downey lost his role on Ally McBeal as well as the animated series God, the Devil and Bob,.
He turned his life around following rehab and the realization that his next arrest could lead to significant jail time. His buddy, Mel Gibson, also helped pave his way back into the spotlight after agreeing to pay his insurance bond for Downey's big return film The Singing Detective.
7

Matthew Perry - Doesn't Remember Filming 3 Seasons Of Friends
There are some television series that no matter how many times I watch them, I'll always get a solid level of enjoyment out of. Friends is definitely on that list and it's due in large part to my love of the character Chandler Bing, portrayed by Matthew Perry.
But when you check him out in season 1 and 2, try not to be too sad that those paychecks fuelled a rampant drug addiction. One that got serious enough that Perry admitted to not remembering filming seasons 3-6.
We're glad he got his problems under control, especially considering the cast was making upwards of $1 million per episode towards the end.
6

David Duchovny - Addiction To Booty Bumping
David Duchovny's character was no stranger to getting into some intense booty bumping on the popular series Californication. The series earned Duchovny critical acclaim and the show ran for 84 episodes. But in real life, Duchovny was also apparently no stranger to getting his action on in the bedroom. Things got bad enough that he entered rehab for his issues
"I have voluntarily entered a facility for the treatment of s*x addiction, I ask for respect and privacy for my wife and children as we deal with this situation as a family," said Duchovny back in 2008 when the story came to light.
The issues put a wedge in between Duchovny and partner Tea Leoni. While the two reconciled over the years, they officially divorced in 2014.
5

Tiger Woods - Spent Upwards Of $40,000 On Call Girls Every Weekend
Tiger Woods is one of the greatest professional golfers of all-time, but in 2009 it also became clear that he was also one of the world's biggest lovers of call girls.
Not so good when he was married with two kids! Michelle Braun who frequently worked with Tiger in acquiring women to sleep with admitted that he would often spend upwards of $40,000 on a weekend and would typically request at least two girls. If you're curious, it was also reported that Tiger happened to be quite gifted in the bedroom.
While Tiger has kept himself clean of drugs and alcohol scandals, this was definitely not the safest addiction in the world and the revelation of his ways led to his marriage crumbling and cost him millions in sponsorships.
4

Charlie Sheen - Spent Thousands On Drugs And Women
The world became well aware of how dangerous of a lifestyle Charlie Sheen was living after his life spiralled out of control following his firing from Two and a Half Men. Among reports that came out was Sheen's love of call girls, including spending thousands on call girls and thousands more on drugs and alcohol.
"Charlie was out of control. He was living his fantasy, an almost X-rated version of his TV show. But these girls weren't his friends, Charlie was paying for companionship," said Rita Hernandez who helped organize the women that Sheen would sleep with.
We're sure Rita has no shortage of crazy stories or requests that Sheen has made over the years.
3

Lindsay Lohan - Drugs, Drinking And A List Of 36 Lovers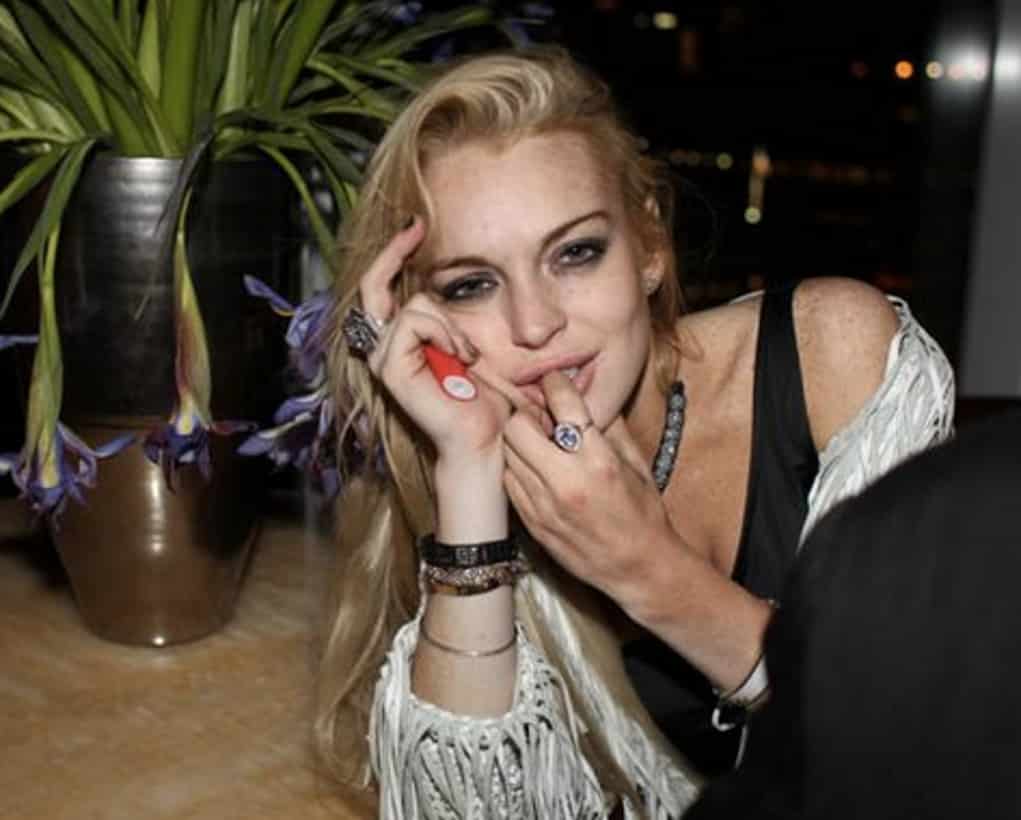 Lindsay Lohan is no stranger to tabloid headlines for a variety of reasons that could be deemed dangerous. Such as her drinking and driving or rampant drug use; the latter of which included photos emerging of her using a needle alongside Paris Hilton.
One of the more unsafe things that Lohan may have also engaged in was her frequent booty bumping in the bedroom, including sleeping with an alleged 36 different men. Many of whom were fellow celebrities such as Justin Timberlake.
Lohan has made several unsafe decisions in her life, but let's hope her bedroom was always a safe one! Thankfully she seems to have recently re-emerged in the spotlight looking better than ever, so hopefully her partying days are far behind her.
2

Artie Lange - Drugs Have Cost Him Several Jobs
Artie Lange has had success with a variety of shows throughout his career including spending some time on Mad TV, The Norm Show and a significant stint alongside Howard Stern on The Howard Stern Show on Sirius XM Radio.
But drug problems have often followed Lange, including getting him fired from Mad TV. History looks like it's going to repeat itself as Lange announced back in March that he was fired from the HBO show Crashing after being arrested with several drugs on him.
There may be a light at the end of the tunnel though, as HBO has released a statement
"HBO has not fired Artie Lange. 'Crashing' has completed production for season one and has been recently renewed for a second season. Scripts for season two have not yet been written."
We suppose only time will tell!
1

Jake Harris - Caught With Meth
If you were a fan of the television series Deadliest Catch, you may recognize who Jake Harris is. Unfortunately for fans of Harris, you can't expect to see him anywhere anytime soon though; except perhaps a jail cell. It probably won't be nearly as entertaining though.
Harris was arrested earlier this year after being found in possession of crystal meth and Xanax. Harris also got himself in some hot water when he took a friend's car without asking, who then reported the car as being stolen.
As if you needed a reminder, we hope this is a lesson to always make sure you have explicit permission before you take something from a friend.
Give TheRichest a Thumbs up!