Hollywood's most famous blonde, whose incandescent beauty and notorious affairs with some of America's most influential male figures earned her a well-deserved place in American history, Marilyn Monroe is the absolute female idol of the big screen. Born Norma Jean Baker in 1926, she married three times, the second time with baseball star Joe DiMaggio and the third time with playwright Arthur Miller.
She shone in classic films like Gentlemen Prefer Blondes, The Seven Year Itch, Some Like It Hot, There's no Business Like Show Business, and The River of No Return. However, she also caught the public's attention beyond the screen, as she shocked the world with her numerous extra-conjugal relationships with Frank Sinatra, Yves Montand, and John F. Kennedy. On August 4, 1962 she was found dead due to drug overdose, in unclear circumstances. More than 50 years after, she remains the absolute landmark of glamor.
Despite her short, yet intense and unpredictable career, her legacy will live on forever. Considered one of the sexiest and most fascinating women that ever lived, her most valuable asset is her name, a brand in itself, whose rights to use were sold for a whopping $30 million. Although it's very hard to put a price on an icon's memorabilia, some do, and sell personal items for ridiculous prices at auctions, either for charity or to avid collectors who wish to have a little something of their favorite celebrity in their home. Marilyn Monroe's belongings are both a hallmark and an inspiration for generations to come, while her movie costumes and gowns continue to fascinate women everywhere.
10

Marilyn's Makeup Case: $266,500
Sold by Christie's auction house in 1999 for a stunning $266,500, Marilyn Monroe's personally owned folding make-up kit includes a wide selection of make-up products. The star was a great fan of make-up brand Erno Lazlo, but she also loved Elizabeth Arden, whose eyeshadows, eyeliners, and pots of make-up are contained by the case. There are also three Max Factor lipsticks, two bottles of Revlon nail polish, a Leichner of London eyeshadow, two bottles of Shisheido perfumed lotion, an Anita d'Foged Day Dew cream, as well as a pair of false eyelashes and eyeshadow from Glorene of Hollywood , a collection of restaurant matchboxes, and a bottle of smelling salts. It is known that whenever the actress did not wear make-up, she would put on olive oil as a protective agent, but the rest of her beauty rituals remain a mystery to this day.
9

Gentlemen Prefer Blondes Pink Satin Gown: $320,000
Worn by Marilyn in the classic movie that made diamonds even more famous than they already were, Gentlemen Prefer Blondes in 1953, the lovely strapless pink gown was sold in 2010 during a Profiles in History auction for $320,000, despite certain rumors that it was just an unused prototype, and not the original worn on screen. Designed by famous costume designer William Travilla, some of the most memorable scenes in the movie were shot while she wore the pink satin dress. In the role of gold-digging Lorelei Lee, she sang Diamonds are a Girl's Best Friend, an often imitated Hollywood screen moments.
8

Marilyn's Black Cocktail Dress: $348,000
During a Julien's auction in 2011, a gorgeous black crepe cocktail dress that once belonged to Marilyn Monroe was sold for $348,000. With a generous V neckline and a low-cut back, the starlet wore the cocktail-length dress in 1958 during a Beverly Hills Hotel party she attended with husband Arthur Miller. The same dress was also featured on the cover of Marilyn Monroe-From Beginning to End, a photography book by Michael Ventura. From her personal wardrobe, the hand-tailored black cocktail dress with pouf hemline is one-of-a-kind, and collectors believe the price tag was quite a bargain.
7

There's No Business Like Show Business Heat Wave Tropical Outfit: $500,000
In the classic 1954 movie There's No Business Like Show Business, Marilyn Monroe played Vicky and performed Irving Berlin's "Heat Wave" song wearing a tropical outfit that soon entered history. Designed by the same talented Travillia, the tropical costume in bold colors she wore during the skimpy number is an interesting combination of pink, black, and white dress with high slit and bra. The costume was sold during a Debbie Reynolds Hollywood memorabilia auction in 2011, and is on display at the Hollywood Museum.
6

The River of No Return Saloon Girl Dress: $510,000
Worn by Marilyn Monroe in the 1954 classic Western The River of No Return, the green velour saloon girl dress was originally created in 1953 for Betty Grable. Designed by the same Travilla, it was given to Marilyn to wear in the musical number in which she sings I'm Gonna File My Claim. Playing the role of Kay Weston, a gambler's wife, the actress wore this lovely low-back saloon dress with two high slits revealing a red tiered underskirt, with ribbon and beaded trim at the shoulders. Like most of the star's personal items, it managed to surpass the pre-sale estimated price tag of $80,000 to $120,000, and was sold for half a million dollars to a private collector.
5

Marilyn's White Piano: $662,500
One of the starlet's most cherished possessions, this lacquered baby grand piano has had its share of adventures. It originally belonged to Marilyn's mother, which is probably why she loved it so much. After her mother's death, the piano was sold together with most of her personal belongings. Marilyn tracked down the precious instrument, until she finally bought it back. In fact, the first chapter of the star's posthumously published autobiography is entitled How I Rescued A White Piano, which stands as proof to her attachment to the instrument. The white piano was auctioned by Christie's in 1999, and was purchased by Mariah Carey for $665,500.
4

Marilyn Monroe-Joe DiMaggio Eternity Wedding Band: $772,000
Another one of Marilyn's controversial and tumultuous relationships, her marriage to baseball icon Joe DiMaggio was the second in her string of three brief marriages. Joe DiMaggio gave Marilyn a platinum and diamond eternity wedding band, which he slipped on the actress' finger on January 14, 1954. Featuring 35 baguette-cut diamonds, the eternity band recently became one of the most valuable rings in history. Eight months after the wedding, the couple separated, and two months later, the ring seemed to have vanished, only to make its reappearance during a Christie's auction in 1999, missing one diamond. It astonished everyone at the auction when it was sold for 15 times greater than the original estimate.
3

Happy Birthday Mr. President Gown: $1.27 Million
Everyone knows the legendary stage at Madison Square Garden where the beautiful blonde actress sang "Happy Birthday Mr. President" to president Kennedy on his 45th birthday, wearing a dashing sexy dress. The entire scene immediately caught the public's attentions, and rumors began to circulate. In fact, her relationship with president Kennedy began in 1959 at Palm Springs, when Frank Sinatra invited a few of his friends to spend a short holiday. Monroe and John F. Kennedy where among the guests, both recovering from failed relationships, Monroe from her divorce with Arthur Miller, while the president's marriage to Jackie was going through a rough patch. Perhaps the most significant dress in human history, with backless back, tight curves, created by John Louis especially for the occasion, was sold by Christie's in 1999 for $1.27 million.
2

Gentlemen Prefer Blondes Red Gown: $1.47 Million
It's not surprising at all that some of the most expensive movie costumes and celebrity gowns in history belong to none other than Marilyn Monroe. Sold during the Debbie Reynolds memorabilia auction in 2011, this dress was worn by the actress in Gentlemen Prefer Blondes, during the "Two Little Girls from Little Rock" musical number, when she sang alongside Jane Russell. Designed by Travolla, just like the pink satin gown worn in the same movie by the same blonde, it features thousands of hand-sewn sequins. In the role of Lorelei Lee, Marilyn wore one of the most iconic dresses in Hollywood history, made from heavy red silk-crepe, with a deep split that goes all the way above the thigh, closed by a diamond brooch.
1

Marilyn's White Subway Dress: $5.52 Million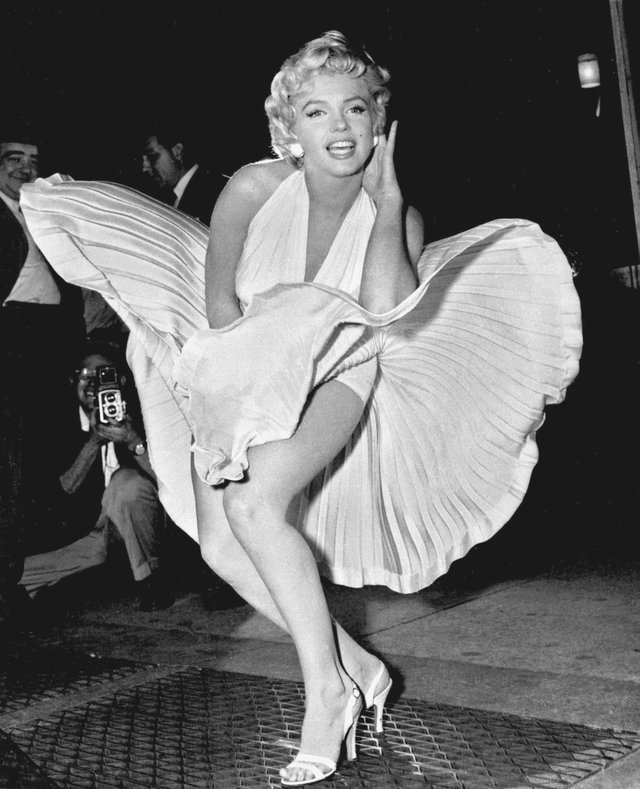 Worn by the starlet in The Seven Year Itch, this dress is probably the most representative piece of Hollywood clothing, as it was used to shoot an iconic image that will live on for centuries to come. The most expensive movie outfit ever was designed by costume designer William Travilla, who worked with the starlet in eight of her movies. The ivory colored dress was specially created for the renowned scene in which the blonde stands over a subway grate, her dress blown by the wind, while uttering the famous line "Ooooh, isn't it delicious?" While the designer was known for working with natural fabrics, he used man-made fibers in this case, rayon-acetate crepe, which allowed the dress to blow in the wind in a particular manner. Estimated at $1 to $2 million, it surprised everyone at the Debbie Reynolds memorabilia auction in Beverly Hills in 2011 when it sold for $5.52 million.