Don't you simply love the warm and cozy feeling of laying back by the fire, watching those playful flames dancing softly above the burning logs? Nothing draws people closer than a fireplace heating their cheeks during those cold winter afternoons. There's something of a priceless old world charm about the whole thing, gathering around the hearth and having a good laugh with friends and family. Fireplaces serve both decorative and room heating purposes, are a symbol of elegance and style, and they often have a greater sentimental value than their actual price tag. Lately, new models are becoming, cleaner, more efficient, and eco-friendly, all the while without sacrificing that lovely burning flame we all love so much.
Forget everything you knew about fireplaces. Some do not even require a chimney anymore. Or wood for that matter. The following ultra-luxury hearths are no longer reserved for rustic cabins in the woods. If you have enough money to burn, here's a list of the most expensive fireplaces for the rich, from classic and retro to contemporary, high-tech, gold plated, and Swarovski studded hearths that will add value and charm to your humble abode.
10

Wodtke Gold Fireplace: $8,000
Those classic built-in stone fireplaces burning wood and making mess are history. Covered in 24-karat gold leaves, this elegant tall and narrow fireplace burns bio ethanol, without any smoke or chimney. Made by German manufacturer Wodtke, the compact eco-friendly hearth features a rusted stainless steel frame, with an LED module mounted inside for an intensified fire-burning experience. There are several finishes to choose from, so you can be sure that you'll find one that matches your room. Narrow and lightweight, it is easy to move the gold leaf plated fireplace from one place to the other, and you can even take it out into the garden.
9

Solaris See-Through Glass Fireplace: $12,000
Proclaimed the thinnest fireplace in the world, the Solaris See-Through Fireplace seems borrowed from a sci-fi movie. With an intriguing futuristic look, it can be mounted directly on a wall, and does not take up too much space. This circular direct vent gas fireplace is a fantastic piece of contemporary art. Inspired by the setting sun, it is safe to say that there is no other hearth quite like it on the market. Made by Heat & Glo, the innovative fireplace boasts a levitating flame, made possible thanks to the high-tech specialized venting system.
8

Boomerang Fireplace: $13,000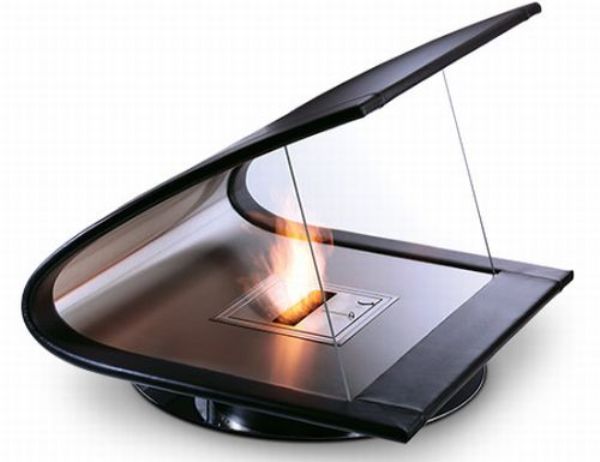 Definitely one of the most interesting fireplace designs, the boomerang-shaped hearth is the proud invention of EcoSmart Fire. The rather small curved frame is made from leather, wood, and stainless steel. The bio flame is enclosed by glass panels, which also separate the leather from the wood. With an out-of-the-box elliptical shape, the Boomerang Fireplace fits any contemporary living space like a glove. Plus, it is lightweight and sits on a stainless steel swivel base, making it easy to move around the house.
7

Swarovski Studded Fireplace: $13,000
Made by Napoleon, nothing reads glitter better than this limited edition Swarovski studded fireplace. The contemporary-designed hearth is one of the most luxurious fireplaces out there, fit for a king. Sitting on a bed of precious Swarovski crystals, the gas fireplace is available in white, black, and pewter finishes. The tray of precision-cut Swarovski crystals in front of the warm flames is the highlight of the limited edition fireplace, and it even comes with a certificate of authenticity. The thermostatic remote allows users to ignite the fire, adjust the flame and the temperature with great ease.
6

Swarovski Crystal Fireplace: $20,000
Designed by Justen Nadda, this lovely fireplace adorned with precious Swarovski crystals is the perfect fit for a house decorated in a 19th century style. If you want your livingroom to spell grandeur, you can't go wrong with this one. Custom-made from stainless steel, the hearth of this wood burning fireplace can be easily accessed through two doors in the form of bay windows. Above the hearth, royal red curtains inlaid with Swarovsky crystals seem to drop directly into the fire. If you already have a fireplace, Justen Nadda can custom-design a Swarovski crystal frame to fit your existing hearth, that will add unmatched charm to your home.
5

Pictofocus: $21,000
This enormous transparent fireplace with huge hearth stands as proof that simple equals elegance. The Pictofocus is a contemporary built-in fireplace with a full curved glass door making way for excellent views of the large fire burning inside the firebox. With an innovative look and clean lines, it stands to show that overwrought designs are no longer attractive, and that simple playful fire flames can truly embrace the entire room. Available in matt-black or and anthracite gray, the Pictofocus burns either wood or gas, and is also available with open or closed hearth.
4

Chesney's Beaumont Electric Fireplace: $22,000
High-end fireplace and stove manufacturer and established brand Chesney is seeking to dominate the market with its high-tech electric fireplaces combined with an elegant 18th century design. Hand-carved in Carrara marble, the fake logs and smoke Beaumont electric fireplace is quite realistic, and it doesn't even require a chimney or pipe work. Operated by remote control, it vaporizes water to create the effect of smoke rising from the fake logs, producing the Opti-mist effect, which uses ultrasonic technology to create illuminated mist resembling smoke and fire, all atop a glowing ash bed.
3

Vok's Multimedia Fireplace: $31,500
If you are looking for the ultimate entertainment experience for you and your guests, look no further. Equipped with an LCD television, BOSE sound system, DVD player, PC, and internet connectivity, all placed above the hearth, this Multimedia Fireplace incorporates the latest in entertainment technology in its cabinetry. The contemporary fireplace comes in several sizes, the largest with a price tag of $31,500, which can fit a 52 inch screen. Made by German manufacturer Vok, the electric fireplace comes in birch, oak, and rosewood finishes.
2

Aqueon Fireplace: $50,000
The first consumer hydrogen fireplace in the world, and currently the only one available for purchase, the Aqueon is a hi-tech, environmentally friendly, and modern fireplace. All it needs is access to tap water to produce a lovely open flame. Using electrolysis, a chemical process, the fireplace separates water into hydrogen and oxygen, burning hydrogen, and offering a clean flame. It doesn't even require a chimney. Designed and produced by Heat & Glo, with a rather metaphysical approach, the frame of the hearth comes in the shape of a burning flame.
1

Gold Iron Dog 05 Huraxdax: $4 million
Fireplaces were initially designed for heating and cooking purposes. While the manufacturers do claim that the Gold Iron Dog 05 Huraxdax is suitable for everyday use, I don't know if you'd want to burn wood inside a $4 million stove. Nevertheless, the relatively small fireplace, only 2.5 feet tall, can heat up to 1,000 square feet of space in your humble abode. Designed by sculptor Joseph Michael Neustifter, the fireplace is available in gold, silver, or cast iron. Of course, the gold version is the one that will cost you $4 million. Each one takes about two months to manufacture, and weighs almost 600 lbs. The word Huraxdax, written on both sides and back of the fireplace, actually means "decampment of joy." So how does staying warm by a $4 million fire sound?