Traditional and consecrated dessert recipes are undoubtedly delicious. However, the most enthusiastic haute cuisine gastronomes tend to lose their interest very fast, and are always looking for the most unusual ingredients. The finest rare chocolate, truffles, exotic fruits, marzipan, caviar, diamonds, platinum, and gold leaves are the key ingredients in the world's most extravagant and luxurious desserts.
It is almost impossible not to surrender in front of a delicious dessert, but how much would you be willing to spend for a mouthwatering culinary delight? Extravagance and glitter are the main attributes of the most expensive sweet temptations in the world and chefs enjoy focusing on presentation and details,it is the serving in itself that makes these desserts so luxurious. For those of you with a sweet tooth, the perfect dessert can be translated into delicate chocolate syrup flowing down Tahitian vanilla ice cream, served with a golden spoon in the company of a violinist or live jazz music. So check out these luxurious desserts that will simply leave you drooling and, if your wallet allows, indulge yourself into a sweet pampering and you'll soon find yourself asking for seconds.
10

The Sultan's Golden Cake: $1,000
At first glance, this dessert might seem like a gold ingot rather than a cake, but the Sultan's Golden Cake is quite a brick of gold, and can only be served in one place on Earth, at Ciragan Palace Kempinski Hotel in Istanbul. It takes 72 hours to prepare the extravagant cake infused with pears, apricot, and figs that have been marinated in Jamaican rum for over two years. Topped with caramel, black truffles, and an edible gold leaf, it is served in a handcrafted silver box, all for $1,000.
9

Golden Opulence Sundae: $1,000
Served in the beautiful Serendipity 3 restaurant in Manhattan, the Golden Opulence Sundae was first introduced on the occasion of the restaurant's 50th anniversary almost 10 years ago. The dessert consists of five cups of original Tahitian vanilla ice cream wrapped in 23-karat gold flakes, all decorated with the most expensive dark chocolate in the world, Amedei Porceleana and Chuao chocolate. What makes this sweet temptation so luxurious is the chef's mastery in combining the finest chocolate with edible gold flakes, sprinkled with crystals and precious gems that are the customer's to keep, all served with a 18-karat spoon.
8

Three Twins Ice Cream Sundae: $3,333
For exactly $3,333, you can treat yourself to a banana split topped with a fine syrup prepared from three rare wines: a 1960 Vintage Port, Chateau D'Yquem, and a German Trockenbeerenauslese wine. The Three Twins ice-creamery in Napa serves the most expensive sundae in the world in the company of a violinist, with an antique 1850's spoon. One third of the price is donated to a charitable organization, Napa Land Trust. The ice-creamery also offers a truly unique ice cream experience, prepared using ice directly from the glaciers of Mount Kilimanjaro. For $60,000, you will receive first-class transportation to Kilimanjaro, will climb the mountain with a specialized mountain guide, five-star accommodation, and all the ice cream you can eat.
7

Haute Couture Macaroons: $7,000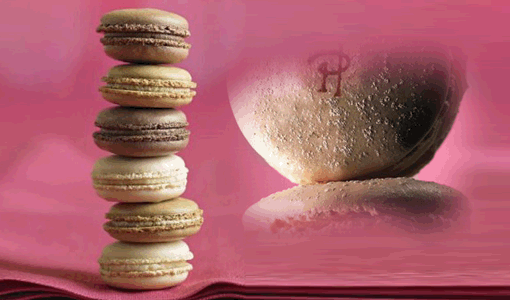 Macaroons are as popular in France as chocolate chip cookies are in the U.S. Master pastry chef Pierre Herme is renowned for his butter cream macaroons with various intricate flavors. However, the latest trend in luxury desserts is Pierre Herme's fabulous idea of allowing his customers to make their own macaroon recipes. You can put almost anything you like between the two meringue puffs. Of course, some ingredients simply don't blend in together, in which case the chef intervenes. Depending on the ingredients you choose, a box of Pierre Herme's Haute Couture Macaroons can set you back $7,000.
6

Fortress Stilt Fisherman Indulgence: $14,500
The luxurious Fortress resort in Galle, Sri Lanka has more than just lovely beaches and Ayurveda spas to brag about. The Wine 3 Hotel's restaurant proudly serves one of the most expensive desserts on the planet, the Fortress Stilt Fisherman Indulgence, which consists of a traditional Sicilian ice cream cake called Cassata, made from sugar, cocoa, fruits, almonds, vanilla, orange or cherry liqueur, Irish Cream, and marzipan. It is served in a leaf-shaped cup made of pure sugar, with a chocolate figurine on the side representing a fisherman, the resort's emblem. In this case, the icing on the cake is the 80-karat aquamarine gem, which is the client's to keep.
5

Frrrozen Haute Chocolate: $25,000
While the previous desserts on our list were simply decorated with gold, this extravagant dessert offers a quite serious portion of the precious metal. The frozen hot chocolate with the consistency of a fine ice cream is served in a golden goblet adorned with 1-carat diamonds, along with a golden spoon customers can take home. But that's not all. There's also a white diamond bracelet on the side, also for the customer to keep. Served in the same prestigious Serendipity 3 restaurant in New York, the Frrrozen Haute Chocolate dessert is prepared from La Madeline truffles is sprinkled with a syrup made from 28 rare cocoa beans from 14 different countries, adorned with no less than 5 grams of 24-karat gold.
4

Faberge Egg Dessert: $35,000
This fine culinary jewel is prepared by master chef Marc Guilbert and resembles a gold Easter egg. Inspired by a Faberge egg, it is an incredible blend of chocolate, gold flakes, and champagne, all seasoned with a diamond. Chocolate pudding made from four of the finest Belgian chocolate varieties infused with orange, peach, and whiskey is layered between a sponge layered base and delicious champagne jelly. Covered in a final layer of dark chocolate, it is topped with strawberry caviar, and adorned with real edible gold leaves. The cherry on top is a 2-carat diamond inside a hand-carved flower decorating the $35,000 pudding cake.
3

Platinum Wedding Cake: $130,000
Women often keep their jewelry in a jewelry box, but who would have imagined necklaces and pendants hanging from a cake? If you have ever wondered what platinum tastes like, here's your chance to try. Draped in platinum jewelry and edible platinum foils, this luxurious wedding cake is the creation of Japanese pastry chef Nobue Ikara, who wishes to encourage women to wear more pieces of jewelry made from this rare metal. The seemingly plain cake covered in white frosting is adorned with all kinds of platinum jewelry, from necklaces to pendants, pins, and chains, making it any platinum lover's dream.
2

Strawberries Arnaud: $1.4 Million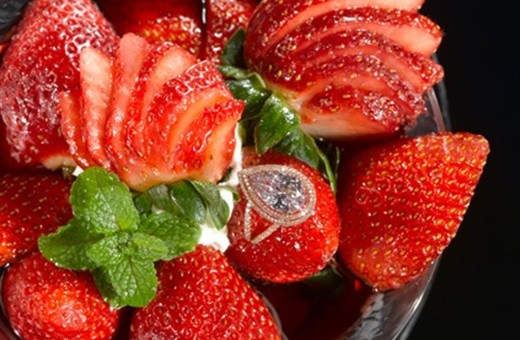 The second most expensive sweet temptation in the world comes with a whopping price tag of $1.4 million. The house specialty at the Arnaud restaurant in New Orleans seems like nothing more than a plain fruit salad. If you look closely, you will notice that, in addition to strawberries, whipped cream, ice cream, and mint, there's also a gorgeous 4.7-karat pink diamond ring which once belonged to a wealthy English banker, Sir Ernest Cassel. The extravagant piece of jewelry is the customer's to keep, and once the dessert is served, the ring will be replaced with an equally glamorous and expensive one. The lavish dessert is brought by white-glove servers, and is accompanied by a fine Port wine served in a $25,000 Charles X Crystal wine set, all assisted by live jazz music.
1

Diamond Fruit Cake: $1.65 Million
We all know diamonds are forever, but with such a price tag, this particular fruit cake might have a hard time finding someone willing to eat it. Created by a Japanese pastry chef, this ridiculously expensive desert is adorned with no less than 223 diamonds. Once you take all the diamonds off, it is completely edible. It took six months just to design the Diamond Fruit Cake, plus another month to make, and all other ingredients remain the pastry chef's well-kept secret. The most expensive cake and the most expensive food in the world to date is a lovely piece of food art that went on display for the first time in 2005 for Christmas.