Perhaps you don't feel like selling your car, jewelry, and house to buy the world's most expensive pair of shoes, but casting a glance never hurt anyone. Shoes are one of the greatest obsessions of women everywhere. I'm sure it happened to you more than once to go out shopping for a dress and return home with two pairs of pumps. You simply feel you must have all colors, materials, and heel sizes out there. Sex and the City's Carrie Bradshaw showed women everywhere that it's alright to have a shoe fetish. As long as you can afford them.
They say that all the clothes, diamonds, and shoes in the world are still not enough for a girl. You can have closets full of sandals and still spend days in a row shopping for new ones. It's any woman's dream to have her feet adorned with diamonds, crystals, and rubies. If you want to make something expensive, just cover it with as many diamonds as you can possibly fit on it. That's exactly what the following designers did. Their bejeweled stilettos are the fantasy footwear of the filthy rich.
Cinderella's glass slipper is perhaps the most recognizable precious shoe in the world, playing a substantial role in the fairytale. If she hadn't lost it when she ran away from the ball at midnight, her prince would have never found her. I'm sure all of you would dread the idea of losing one of the following iced up shoes. If diamonds are your poison, these eye-popping pieces of jewelry on high heels are just what you need.
10

House of Borgezie Stilettos: $216,000
House of Borgezie is a famous jewelry house in Great Britain, whose founder is designer Christopher Michael Shellis. These gold and diamonds stilettos with high heels are the creation of Shellis himself. They are made from pure gold encrusted with 2,200 diamonds. Talk about sparkle! Each pair required no less than 1,000 hours of work, spread across three years, as every piece was carefully handcrafted and each diamond was placed by hand. However, they do come with a 1,000 year guarantee, so you can easily pass them on to dozens of future generations. In that case, the money could be considered well spent.
9

Stuart Weitzman's Diamond Dream Stilettos: $500,000
Iconic shoe designer Stuart Weitzman is renowned for his opulent shoes and use of extravagant materials. His meticulously handcrafted stilettos have adorned the lucky feet of many Hollywood celebrities on the red carpet. Encrusted with precisely 1,420 30-karat diamonds, his Diamond Dream Stilettos as he called them are fit for a queen, boasting bright Kwiat diamonds. They are delicate, yet scream glam and bling all over. Two bands of diamond encrusted circles, inspired by Kwiat's collection adorn the ankles, while the delicate toe strap is made of silver. The stilettos were worn for the first time by Anika Noni Rose at the 2007 Academy Awards.
8

Original Wizard Of Oz Ruby Slippers: $612,000
If you have ever watched The Wizard of Oz as a child, you've surely noticed the delicate red slippers Dorothy was wearing. Most girls wished they had a pair of their own. There are only three remaining pairs of the original slippers Judy Garland wore in the 1940's classic movie. Their price tag is just as stunning as the classic movie itself. One pair was sold for $612,000 to an anonymous bidder by Christie's auction house. The second failed to sell, perhaps due to the outrageous starting bid of $1 million. The third is exhibited at the Smithsonian's National Museum of History, for everyone to see.
7

Stuart Weitzman's Retro Rose Pumps: $1 Million
These shoes are bound to bring a smile to your face. The bright golden pumps with spike heel are inspired by the 1940's Hollywood and the period's iconic T-strap. The centerpiece is a rose placed close to the toes made from 1,800 Kwiat diamonds summing up 100 karats. The deluxe gold leather pair of shoes boasts another 400 diamonds throughout the rest of their surface. Weitzman chose Cody Diablo, the screenplay writer of Juno to wear his creation at the 2008 Oscars, but she refused, making the headlines and raising much controversy around the glimmery retro pumps.
6

Stuart Weitzman's Marilyn Monroe Shoes: $1 Million
Diamonds are a girl's best friend, and these shoes are the very incarnation of Marilyn Monroe's boldest dreams. The centerpiece of these stilettos are the Swarovski crystals wrapped in a delicate satin rose. The shoes are named after Hollywood's most famous blonde for a reason. The crystals embellishing them are in fact a pair of earrings that once belonged to Marilyn Monroe herself, putting a whole new meaning to wearing jewelry on your toes. The opulent, elegant, and nude stilettos adorned the lucky feet of Regina King at the 2005 Academy Awards. After the Oscars, the gorgeous pair of shoes went under the hammer at the Celebrity Rags 4 Charity Riches auction, where they fetched $1 million.
5

Stuart Weitzman's Platinum Guild: $1.06 Million
These fascinating strappy stilettos are the very essence of perfection, boasting precisely 464 finely cut pear-shaped Kwiat diamonds. Their only flaw is the price tag, a whopping $1 million. The strap embellishing the ankle is actually inspired by a neck piece. What's even more amazing is that the precious straps of gems can be removed and worn either as a necklace or as a bracelet. The sexy sandals with pencil heels were worn by Laura Harring, the actress of Mulholland Drive. Hers were the lucky feet to unveil the Stuart Weitzman creation at the 2002 Oscars, when she was accompanied by three bodyguards.
4

Stuart Weitzman's Ruby Slippers: $1.6 Million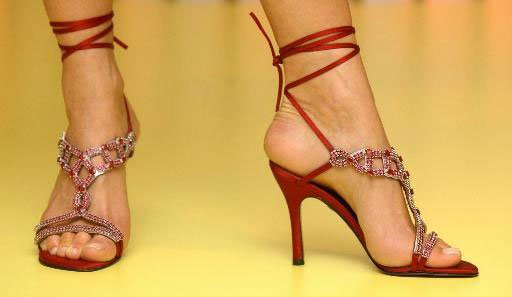 The legendary shoe designer breaks record after record. Stuart Weitzman is famous for his use of precious materials that come with matching price tags. These sparkling red platinum and rubies slippers are inspired by, you guessed it, The Wizard of Oz. They are the perfect shoes to wear for a romantic dinner. Who can resist them? Encrusted with 123-karat rubies set in platinum summing up to one pound, they count no less than 642 rare Burmese rubies. The gorgeous slippers were expected to make their debut in 2003 on the red carpet. Unfortunately, they were shelved due to the war in Iraq, and were unveiled later the same year when they were exhibited at Harrod's in London.
3

Stuart Weitzman's Tanzanite Stilettos: $2 Million
Tanzanite is a precious violet-blue colored gem, discovered by famous jeweler Tiffany in Tanzania. Designed by Stuart Weitzman himself, together with Eddie Le Vian of France, these stilettos are any woman's dream to wear. The high heels are encrusted with 595-karat Kwiat diamonds, while the straps boast 28-karat diamonds and 185-karat tanzanite stones, all finely set in silver. Weitzman's stilettos are an exquisite work of art, with their sparkling blue tanzanite and glimmering diamonds, all supported by a shining silver framework, topped by an ankle strap with 16-karats worth of tanzanite gems and a delicate toe strap embellished with diamonds.
2

Stuart Weitzman's Cinderella Slippers: $2 Million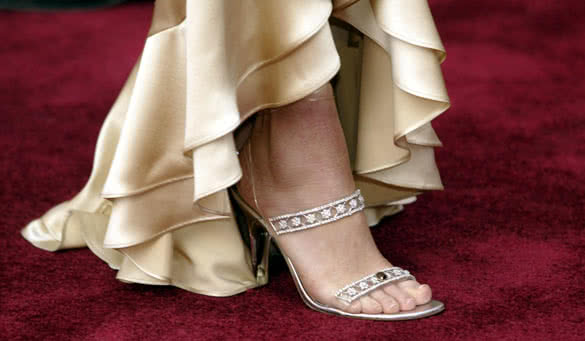 Weitzman's inspiration can be traced back to many fairy tales and the fascinating interwar period. Disney's most beloved princess, Cinderella's glass slippers could not be ignored. Made from fine Italian leather, no less than 565 Kwiat diamonds are carefully set in platinum. With a delicate lace-like design, they boast a rare 5-karat amaretto diamond which alone is estimated at over $1 million. It is the only spot of color on the slippers. The 4-inch stiletto pays a tribute to everyone's favorite heroine, Cinderella, it is almost transparent and seems to disappear completely, leaving only the glittering diamonds in the limelight. The slippers appear to be made of glass, but that's only an illusion that stands to testify to the high-end shoe designer's mastery. The fantasy world glittery creation was first worn by Alison Krauss at the 2004 Academy Awards.
1

House of Harry Winston Ruby Slippers: $3 Million
No, you're not seeing double. These are actually the faithful replica of the little red shoes from The Wizard of Oz. The only difference is that in this particular case, we are faced with a total of 4,600 sparkling red rubies summing up 1,350 karats, and that's not all. There are 50 carats worth of diamonds, too. The Wizard of Oz continues to fascinate and inspire designers. In 1989, on the occasion of the classic movie's 50th anniversary, the House of Harry Winston revealed a replica of the famed Ruby Slippers. It took two whole months of painstaking hard work to finish these opulent shoes, the most expensive in the world. Iced up is an understatement. There should be a whole new category invented just for these shoes. If you have enough money in your bank account, they can be yours for the "modest" price tag of $3 million.