Before World War 1, luggage sets were usually comprised of a bunch of wooden trunks and chests that could easily fit anything from garments to large objects. They were so heavy that they had to be handled and shipped by a professional. It wasn't until after the World Wars that luggage sets became lighter and smaller, making it possible for an individual to carry them around. That was about the same time when the first carry-on suitcases and wheeled bags were invented. However, we've come a long way since. Nowadays, luggage sets have taken a whole new form. Functionality doesn't play the primary role anymore. It has been replaced by elegance, style, and quality.
Often enough, the journey is more important than the destination, which means you must choose your travel companions wisely. The ultimate travel accessory, nothing reads elegance better than a high-end luggage set. Forget about struggling to discern your bag from all the other identical and dull ones in the baggage claim area. A luxury travel accessory will definitely make you stand out in the crowd. The following luggage sets might cost you more than the plane ticket, but you can't really put a price tag on traveling in style.
10

Hartmann Faux Alligator Luggage Set: $1,650
One of the best American luggage manufacturers, Hartmann's history can be traced back to 1877 in Milwaukee, when they began making handmade traveling cases. Nowadays, the luxury brand produces some of the best mulberry purses. Hartmann's Faux Alligator Luggage Set is a 4-piece trendy accessory with animal prints, plenty of zippers and pockets, in-line skate wheels, and locking handle system, perfectly equipped for the modern traveler. The chocolate brown alligator set with canvas covers is comprised of a small suitcase, a medium suitcase, a large suitcase, and a garment bag.
9

Mulberry's Scotchgrain Two-Piece Luggage Set: $1,700
Mulberry may be one of the newest companies on the luxury leather goods scene, starting out in 1971 in Somerset, England, but has since become the only British luggage manufacturer that produces luggage sets made exclusively in the UK. Mulberry's Scotchgrain Two-Piece Luggage Set is a multi-purpose vintage travel set, the very essence of timeless British luxury. The matching vintage suitcase with wheels and handbag are scratch-proof and weather-proof, and they come with a price tag of $1,700.
8

Bric's Tuscan Luggage Set: $1,800
This family-owned luxury goods company is one of Italy's most renowned travel luggage companies. The Briccola family began manufacturing travel luggage sets in 1952 near Lake Como in northern Italy. Their signature mark is their hand-stitched detailing, as well as plenty of space, pockets, and zippers for each one of their items. Bric's Tuscan Luggage Set is the company's best selling set, bringing comfort and safety to your travels. Trimmed from highest quality Tuscan leather or suede, the set is comprised of one suitcase with wheels, one large wheeled carry-on, one medium wheeled carry-on, and one handbag.
7

Bally's Weekender Turfyn-MD Collection: $1,950
One of the oldest luxury leather goods manufacturers in the world, with a history dating back to 1851, Bally is a Swiss fashion house that uses only the finest materials and hides out there. Combining durability with style, beauty, and functionality, Bally's leather products have been present during history's most noteworthy events. Bally's footwear had the honor of walking on the moon, as Neil Armstrong wore their special boots when he landed on the moon. It was the same Bally footwear that conquered Everest in 1953, as Sherpa Tenzing Norgay wore a pair of Bally reindeer-Himalaya Boots. Bally offers all types of luggage sets, from weekend bags to trolleys, but their most prized collection is the Weekender Turfyn-MD, made from calf-skin leather, with double handle, exterior and interior pockets, all in solid color.
6

Longchamp's 4X4 Cowhide Leather Luggage Set: $3,000
Named by its founder and owner, Jean Cassegrain, after the famous horse race track, Longchamps, the French luxury goods brand takes pride in its clean lines and design. Offering a rather continental choice when it comes to their luggage sets, Longchamps is all about roomy and durable handbags and suitcases. Longchamp's 4X4 Leather Luggage Set is a collection of black cowhide handbags of different sizes, excellent for business trips, but also for longer travels. The price tag for this trendy accessory? Around $3,000.
5

Tumi's Alpha Luggage Set Collection: $5,500
Tumi is an American luxury travel suitcases and bags manufacturer; the world's leading brand of travel and business accessories. Known for their quality nylon two-wheelers that are virtually indestructible, as well as for their numerous stylish classic luggage collections, it is safe to say that Tumi managed to master perfection. Tumi's Alpha Luggage Set Collection will definitely endure the test of time. The continental-style set is comprised of a zippered expandable carry-on, a wheeled carry-on garment bag, a wheeled expandable short trip suitcase, a large wheeled split duffel, and a tri-fold carry-on leather garment carrier, all with zippered compartments, interior pockets, and loops.
4

Swaine Adeney Brigg's Windsor Handmade Leather Luggage Set: $6,500
Swaine Adeney Brigg is one of the oldest luxury goods brands in the world, handcrafting luxurious luggage sets for royalty and aristocrats for over 250 years. Their most famous clients are Prince Charles and the Queen of England herself, and they even have two Royal Warrants to their name. Swaine Adeney Brigg's Windsor Handmade Leather Luggage Set is a a traditional English leather suitcase collection made from bridle leather and finished with brass locks. Each piece is cut, stitched, and finished in the company's workshop in Cambridge, and can be custom made to fit the client's needs and requirements.
3

Valextra's Avietta Luggage Set: $7,600
If you are looking for the most experienced leather craft in Italy, Valextra is Milan's most famous high-end luggage and accessory brand. With only the greatest details and quality, the signature of the Milanese luxury brand is the soft leather and the "V" cut of its compartments. Valextra's Avietta Luggage Set is comprised of different size trolleys, handmade from Kevlar fabric and coated with the finest hides out there. The trolleys can be distinguished by their perfectly balanced silhouette and the decorative "V". With Pirelli wheels and finished with exquisite details such as lacquered edges, each piece is handcrafted using an ancient saddlery technique.
2

Globe-Trotter's James Bond Special Edition Series Luggage Set: $12,800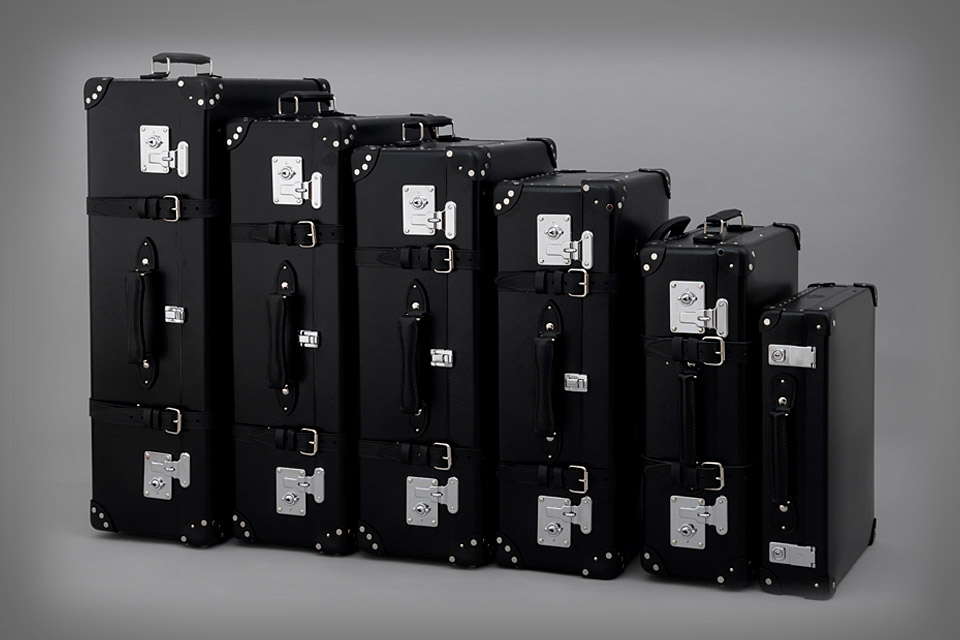 A British luxury travel luggage brand with a history of over 100 years, Globe-Trotter's handcrafted luggage sets accompanied the likes of Sir Winston Churchill and Sir Edmund Hillary in their travels. Globe Trotter's James Bond Special Edition Series Luggage Set was launched at the same time as Skyfall, on the occasion of the 50th anniversary of the first James Bond movie. The set includes a series of attaches, trolley cases, and suitcases, all in elegant black. A slim attache, two trolley cases, a suitcase, a suitcase with wheels, and two extra deep suitcases with wheels complete the set. The price for the entire set? Just a little over $12,800. Each one of the cases in the set is handmade using original Victorian machinery. For the finish, Globe Trotter used Black Box Grain leather trim and chrome locks.
1

Louis Vuitton Leather Luggage Set: $60,000
The most famous luxury travel luggage brand in the world, Louis Vuitton is all about style and excellent quality, all with a matching price tag. The company's history can be traced back to 1854 in Paris, when Louis Vuitton began making traveling trunks. Soon after, his son George took over the company and transformed it into the first designer label. A Louis Vuitton luggage set is a must-have for anyone living large. However, out of all the Louis Vuitton travel sets out there, the Leather Luggage Set stands out as the best designer luggage set in the world. The set includes an armoire, a wardrobe, and steamer trunks, four matching suitcases, a cruiser bag, a jewelry case, and a hat bag, all for the stunning price tag of $60,134.