Winter usually means shorter days and long hours spent in the comfort of your house. However, when it's snowing outside, everything is magically transformed into a winter wonderland. While some associate the cold winter months with relaxation and spending time with family and loved ones, others can't wait for the first snow fall. It provides people with an excellent opportunity to escape their comfort zone, hit the slopes, and put their stamina levels to the test.
Playing around in the snow, building snowmen, and throwing snowballs may be a lot of fun, but where's the challenge in that? Those with enough money to splurge prefer to venture off in search for the perfect powder on the steepest slopes and try on different winter activities, some more extreme than the others. There's nothing like spending the evening sipping a cup of steaming tea by the fireplace, looking back at the day you've just spent on those snow covered mountains, on the slopes or on the skating rink, in the dog sled or on the snowmobile. If you are prepared to keep your wallet open during your winter vacation, be sure to try the following winter activities. Be warned that they are not for the weak of heart.
10

Snowshoeing: $50+ for Snowshoes (additional costs for tours and excursions)
Snowshoeing is literally walking on the snow, but don't underestimate this already popular winter activity as it is not easy at all. Snowshoeing means hiking up the mountains, through forests, passing by glacial lakes, and reaching the highest peaks. Some trips can last for days in a row, and you will sleep in special man-made shelters on the mountain.
Snowshoes are designed to evenly distribute the weight of a person over a larger area, preventing your feet from sinking into the snow. Snowshoeing is becoming increasingly popular and besides the original investment in snowshoes and poles, there are no additional fees, unless you wish to book a guided tour. Snowshoes can be found for as cheap as $50 all the way to several hundred dollars. Snowshoeing tours cost between $100 to $200 per person, per day, depending on the size of the group and the difficulty of the trail.
9

Ice skating: $100+ For Skates (Additional costs for lessons and ice time)
Kids are not the only ones who love spending their days in the great outdoors and they are certainly not the only ones who find ice skating magical. There's something rewarding about gliding on the ice, feeling light as a feather. Recreational skating will not blow a whole in your budget as long as you do not skate for more than a few hours per week. You can buy skates for as much as $100, or you can rent them. However, unlike recreational skating, figure skating requires coaching and a lot of time, not to mention special skates and tailor-made outfits. You can expect to pay between $35 to $45 for half an hour of private lessons, which do not include the ice time, for which you can drop an additional $10 or more.
8

Bobsleigh: $150 per ride
Bobsledding is a winter sport in which a team of two or four partners race down a track covered in ice in a sled with skates that can reach the incredible speeds of 80 mph or more. Some tracks offer tourist rides, such as those in Calgary and Whistler, Canada, Lake Placid and Salt Lake City in the U.S., Lillehammer in Norway, Cesana Pariol in Italy, Innsbruck in Austria, and Sigulda in Latvia. One of the best bobsleigh tracks in the world is found at La Plagne in France and was used during the 1992 Winter Olympics. It also welcomes tourists. Prices start at $150 per person, per one ride in a bobsleigh with a professional driver, during which you'll be racing down the narrow ice corridor, taking tight turns at 60 mph.
7

Helibob: $500 per ride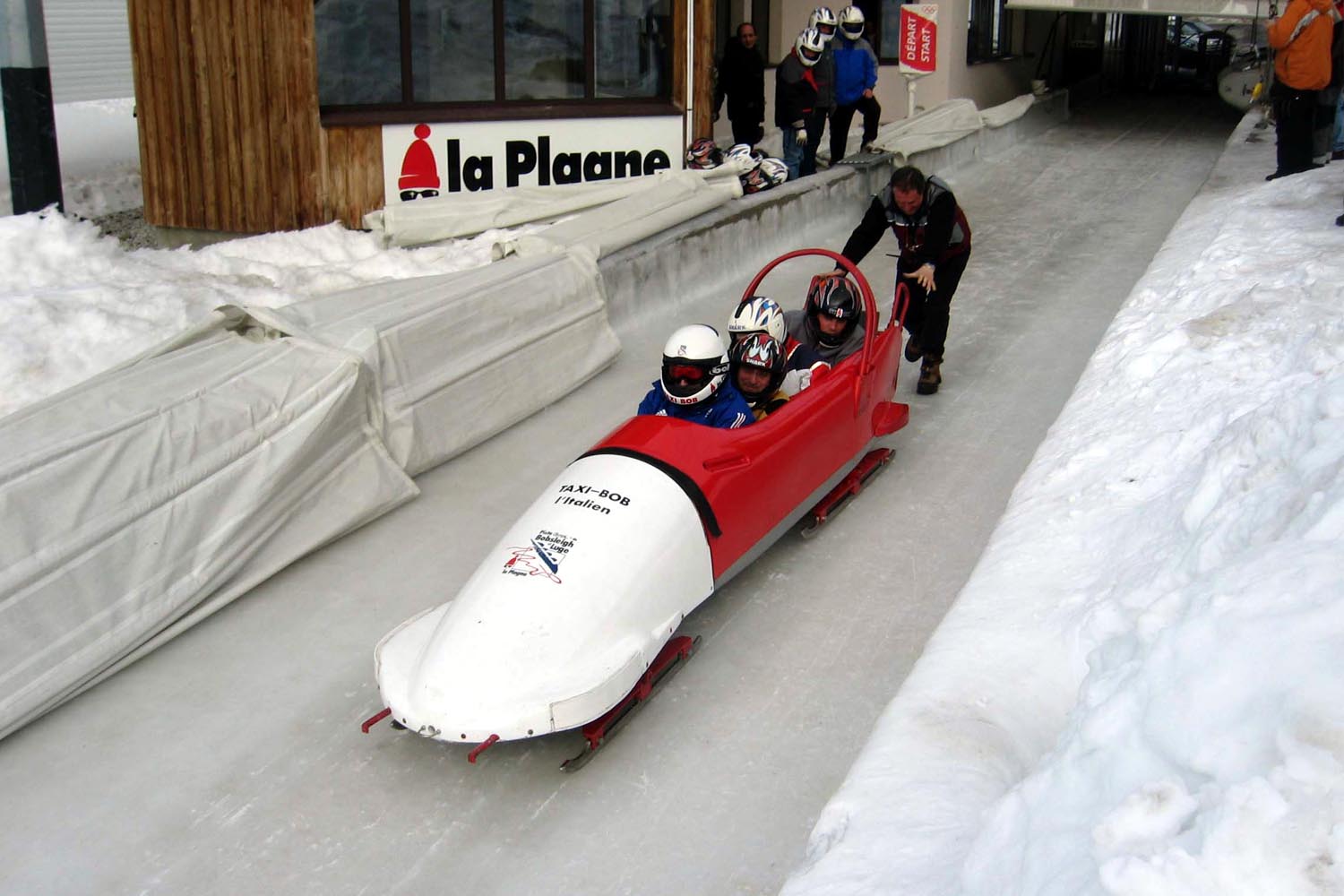 One of the most expensive means of entertainment in the mountains during the cold season is the helibob, a relatively new activity, an interesting combination between a helicopter flight and a bobsleigh ride. During a helibob ride, tourists are taken in a helicopter to admire the surrounding landscape, after which they are taken down to the bobsleigh track where they board a bobsleigh driven by a professional down the narrow track. One of the few places in the world where helibob can be practiced is Albertville, a town in the Rhone-Alpes region in France. Prices start at $500 per person per ride.
6

Spending the night in an Ice Hotel: $860/night per person
Spending the night in an ice hotel or an igloo is an incredible and unique experience that will surely make you appreciate the warmth and amenities in your home and understand how our ancestors once lived. There are several ice hotels around the globe, out of which the largest is Hotel de Glace, only a 10 minute drive from downtown Quebec, where prices start at $860 per person, per night. At the Kirkenes Snow Hotel in Norway prices start at $375 per person, per night. At the Icehotel in Jukkasjärvi, Sweden prices start at $200 per person, per night, and at the Ice Hotel in the Carpathians, Romania prices start at $130 per person, per night. The temperature in these structures remains below freezing, at about -5 degrees Celsius.
5

Dog sledding: $900 Per Excursion
Kids and adults alike dream of riding a husky driven sleigh. It is an adventure in the true sense of the word, this uncommon means of transportation remains the most effective throughout Antarctica. Tourists are offered rides in husky driven sleds throughout Alaska, some parts of Canada, and throughout many mountains of the world during the cold season when there's enough snow. While it is indeed an incredible, and out-of-the-box experience, it is more accessible than you might think. You can find dog sled rides for as low as $50-$80 per person, per hour all the way to $180 per person, per hour depending on the number of dogs, type of sled, and route. This means between $250 and $900 for an average five hour track through the mountains.
4

Hockey: $1,000 to Cover Basic Needs
Unlike the other sports on our list, hockey is more than just a hobby. While most winter activities can be either practiced as an amateur or as a professional, hockey demands dedication. You have to be a skilled skater and the sport will definitely put your endurance to the test. You need special skates and special outfits as well as safety gear, which will take you up to $1,000. If you want to take lessons, prices start at $1,000 per season, but they can grow depending on the location and whether or not you have all the necessary equipment.
3

Ice climbing: $2,000 to Cover Basics
There's something about attempting to conquer the dizziest heights and the most challenging slopes that attracts so many people. Maybe it's the feeling of complete freedom or the battle within. Nevertheless, ascending ice formations using special gear isn't easy at all. Not for yourself and not for your wallet either. Buying your own gear, comprised of a pair of ice axes, ice crampons, safety helmet, and special clothing can get you close to $2,000 and even more. However, if you are a beginner, you can book a guided tour which includes gear rental and the of an instructor. Prices start at $500 per day with a personal instructor. Remember that you also have to pay accommodation in a mountain lodge or resort.
2

Skiing: $3,000 for Accommodations and Slope Access
Skiing is one of the most expensive winter activities and is considered one of the most costly hobbies in the world. This is mainly because skiing implies going on vacation and, besides the skiing gear, you also need to drop cash on ski lifts, ski passes, and accommodations. Ski gear and skiing lessons are quite expensive as well. Skis, poles, boots, and special clothing can run from several hundred to several thousand dollars if you are going for established brands. If you want to learn to ski, you can expect to pay up to $700 for one day of private lessons. If you already have all the gear and know how to ski, you still have to pay the ski pass, accommodations, and transportation to the ski resort. The most expensive ski resorts in Europe are in Switzerland, where the most luxurious resort is Saas Fee. The most expensive ski resort in the U.S. is Aspen. Ten nights during the season at Aspen can cost you around $3,000. Ski lift tickets can go over $110 per day and equipment rentals can top $50 per day.
1

Snowmobiling: $10,000 for Professional Snowmobile
This type of activity requires that you stay at a winter lodge or resort. This involves dropping some cash on accommodation first. Once in the mountains, you can rent a snowmobile. Renting fees differ depending on the location. For example, in Maine, prices start at $220 for a full day on a single snowmobile. If you are not familiar with the vehicle, a guided tour is recommended, which implies dropping another $200 for the day. Of course, you can always buy your own snowmobile. You can find a professional snowmobile for around $10,000.
Give TheRichest a Thumbs up!
Looking for an AD FREE EXPERIENCE on TheRichest?
Get Your Free Access Now!