We all have something old in our house, something we cherish and which takes us back in time whenever we look at it. Whether it is indeed valuable or not, it remains to be seen. You might be the lucky owner of a precious gem, and not even know about it. Some may say these are nothing more than plain objects, but avid antique collectors and connoisseurs beg to differ. Such items remind us of both glorious and troubled times, preserving a little bit of their owners deep within them, and telling a whole different side of the history we think we know so well.
We've all wondered through antique shops at one point, but have you ever wondered why even the cheapest items still seem ridiculously expensive? Age and beauty, rarity and former ownership, make these collectible items so desirable. The past comes at a beastly price. Our life here on Earth may be short, but there are certain objects that continue to live on long after. Collectors who truly know how to appreciate a rare piece would pay millions to add it to their private collection.
10

Germain Royal Soup Tureen: $10.6 Million
The Germain Royal Soup Tureen is the closest as you can get to feeling royal when having dinner. It is the exact same tureen Louis XV served his soup in. Designed and manufactured by Thomas Germain, a talented French silversmith, this Rococo soup tureen boasts a lid that is acknowledged as a masterpiece, depicting vegetables, fish, and fowl. A rare item, it is one of the few surviving fine pieces of silverware that were not melted down to finance wars and battles like the French Revolution and the Seven Years War. Handcrafted in 1733 and weighing 30 pounds, the soup tureen was auctioned by Sotheby's in 1996 and was sold to an undisclosed buyer. It is the most expensive piece of French decorative art ever auctioned and sold.
9

Antique Secretary Desk: $12.4 Million
Handcrafted around 1760 by the Goddard & Townsend Families, seven to nine such desks were ever manufactured, out of which only one survived to this day, making this lovely desk unique and extremely valuable. Goddard & Townsend were families of Quakers living in a cabinetmaking community in America. This Chippendale style antique secretary desk is a 112 inches tall mahogany desk-bookcase, the most expensive piece of American furniture ever auctioned and sold. It was sold to the Brown family back in 1989, during a Christie's auction in New York.
8

Illustrated Folio of the Persian Shah: $12.5 Million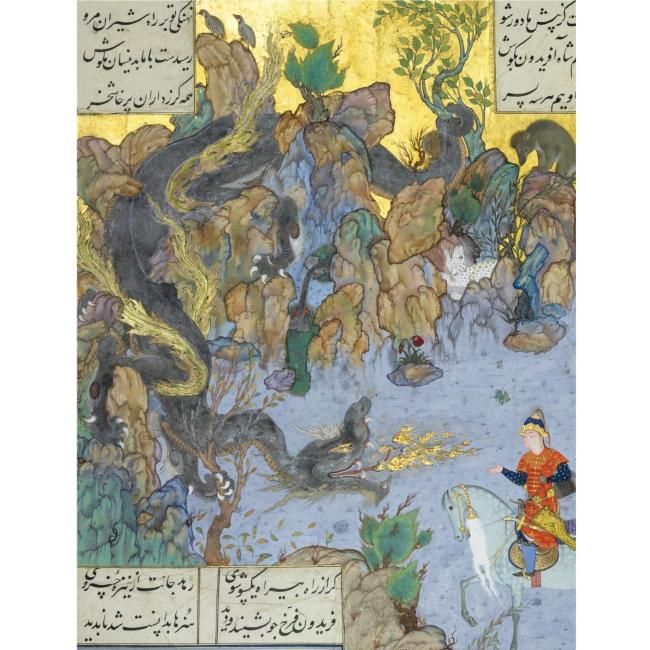 One of the finest examples of Islamic art and mastery, this illustrated folio dates from around 1500, and was specially made for the Shah of Persia. Painted in opaque watercolor, it has been acknowledged as the greatest illustrated manuscript of all time, and of from all cultures and literature. It is also considered one of the finest works of art in the world, depicting scenes from the Persian national epic. Auctioned and sold by Sotheby's in London in 2011, it is the most expensive piece of Islamic art ever auctioned and sold.
7

Emerald and Diamond Tiara: $12.7 Million
An exquisite antique piece of jewelry, this emerald and diamond tiara is even more valuable thanks to its past ownership. The tiara was initially commissioned by a German prince, Guido Henckel von Donnersmarck, for his wife Katharina. Later, it was worn by the wife of French Emperor Napoleon III. Manufactured around 1900, it is decorated with 11 rare Colombian pear-shaped emerald gems, all summing up over 500 karats. It is believed that the gems once embellished the neck of a Maharajah. This rare antique was sold to an anonymous buyer during a Sotheby's auction in 2011 in Geneva.
6

Ming Dynasty Gold Tripod Vessel: $15 Million
The Ming Dynasty period is the most famous period when it comes to Chinese artifacts. This 18-karat gold vessel dates from the Xuande period, and is decorated with natural pearls, rubies, sapphires, cabochon gems, cat's eye chrysoberyl, and turquoise. Featuring two dragons and flaming pearls, experts believe that it may be one of the eight such vessels that survived the Ming period. Auctioned by Sotheby's in 2008 in Hong Kong, it is the most expensive piece of Chinese metalwork ever auctioned and sold.
5

Moonflask in Pink and Blue Enamel with White Porcelain: $16.5 Million
Dating from the Qianlong Dynasty period, as it shows the Qianlong six character mark, this lovely moonflask was crafted sometime between 1736 and 1795, although its shape is characteristic to the 19th century style. With a remarkable combination of colors and porcelain, it features two phoenix birds and a flaming pearl, all skillfully portrayed in pink enamel. There is an identical moonflask in the Matsuoka Art Museum in Tokyo, and the two are believed to have initially been a pair. The moonflask in pink and blue enamel with white porcelain was sold during a Christie's auction in Hong Kong in 2010 to an undisclosed buyer.
4

Olyphant: $17 Million
An olyphant is a battle horn, used when charging into battle. An olyphant can also also be used as a hunting horn. It is traditionally handcrafted from carved ancient ivory, and decorated with fine motifs. This particular olyphant was crafted sometime in the 11th century in Scandinavia. An extremely rare item, it is one of the six such ornamental olyphants known to exist in the world. It is the most expensive antique item ever auctioned and sold in Scandinavia, fetching a stunning $17 million, the second highest price ever paid for a work of art.
3

Leonardo da Vinci's Codex Leicester: $30.8 Million
Named after the Earl of Leicester, who purchased the document in 1719, the Codex is a scientific document, and Leonardo da Vinci's most famous and most elaborate work of science. It gathers theories, sketches, and musings on geography, astronomy, the elements, and many other topics. All content is written in da Vinci's signature mirrored writing. There are a total of 30 scientific journals in the world, and the Codex is considered the most valuable of them all. Bill Gates was the lucky buyer to take the manuscript home during a Christie's auction in 1994. Bill Gates digitally scanned the document, which is now available on CD for everyone to have a look.
2

Badminton Cabinet: $32 Million
Considered one of the finest pieces of French furniture ever crafted, 30 craftsmen worked on the Badminton Cabinet, and it took them six years to complete it. Handcrafted in Florence during the Medici Dynasty, the cabinet is over 12 feet tall, and is decorated with colored polished stones and semi-precious gems, inlaid with ebony, amethyst, and lapis lazuli. The clock at the top of the Badminton cabinet is marked with fleurs de lys. It once belonged to the Prince of Liechenstein, and it was sold in 2004. At the time, it was the most expensive antique ever sold. Nowadays, it resides in the Liechenstein Museum, where it can be admired by anyone with a passion for the old and beautiful, unlike most valuable antiques who sit in private collections.
1

Pinner Qing Dynasty Vase: $81 Million
This lovely Qing Dynasty vase is the perfect example of how a random attic discovery can make you filthy rich. Dating back to around 1740, the vase was discovered in Pinner, and it is still uncertain how it got from China all the way to Great Britain. At the time of discovery, it was believed to be a good replica, and was evaluated at $1,000. During a re-evaluation, it was proven authentic, and its value was estimated at $1 million. However, the bidding during the auction in 2010 went crazy, and the superb vase fetched a whopping $81 million, setting a new record for Chinese artifacts. Decorated with gold banding, sky-blue, and pastel-yellow colors, with fish and flowers motifs, it is a classic beauty, and the most expensive antique aver auctioned and sold.