Anyone can collect coins. It's not difficult at all, and it does not take too much time, space, or money for most of us. Although, when it comes to flipping the coin, age and rarity make the difference between truly valuable collections and all the other child's play out there. There are currently 235 rare historic U.S. coins valued at over $1 million each in both public and private collections throughout the world, summing up an estimated value of over $550 million. More than 21 million rare coins from around the world have been identified and graded, with a total value of more than $20 billion. Most of these have been, or still are part of legendary collections, numismatic treasures and priceless pieces of patrimony, evidence of the world's cultural heritage.
It was the Lydians who invented money in Anatolia, on the territory of current day Turkey, minting the first coins around 600 BC. Since then, these small round pieces of metal have seen history as it was written, rulers in both victorious and troubled times. Gold, silver, copper, and nickel coins were often melted once they went out of circulation, and it's very rare that they come back to light. When they do, they are bound to fetch thousands, if not millions of dollars. Coin collecting was once referred to as "the hobby of kings." While for most it is no more than a childhood hobby, for all those avid collectors out there, king is actually an understatement. So let's take a sneak peek into the world's largest and most valuable coin collections, both current and past ones, that managed to assemble millions of dollars worth of numismatic pieces.
5

John J. Ford Jr.'s Coin Collection: $56 Million
Born in 1924, John J. Ford was predestined to make a name for himself in the world of numismatics. His first job was working as a delivery boy for a coin dealer in New York. However, it wasn't until the 1950's that he finally launched his career in numismatics, when he began publishing catalogs with detailed descriptions of rare collectible coins. He soon became a wealthy coin dealer and collector, renowned for his varied collection of colonial coins. He assembled coins from all 13 colonies, which include numerous early American copper coins, pioneer gold pieces, rare Confederate pennies, as well as unique pattern coins. In 2003, his children began auctioning his vast collection. A total of 21 auctions spanned over five years, fetching a total of $56 million. John J. Ford's meticulously written catalogs became the very references for the sale of his own collection, and many others to come.
4

Louis E. Eliasberg's Coin Collection: $57 Million
A Baltimore-based businessman and financier, Louis E. Eliasberg began collecting rare coins in the 1920's, and didn't stop until the late 1970's , when he passed away. On the overall numismatic scene, Eliasberg was known as the only person in the world who managed to assemble a complete collection of circulating U.S. coins by date and mint mark. His was the most complete collection in numismatic history, short of only one piece, the 1849 Double Eagle, currently held and exhibited by the Smithsonian Institute. He was the proud posessor of a 1913 Liberty Head Nickel, valued at $5 million, a 1873-CC Liberty Seated Dime, a 1804 silver dollar, a 1870-S three dollar gold coin, and a 1933 $20 Saint Gaudens Double Eagle, one of only a few that were not melted down under President Roosevelt's order, one of which was sold at auction for $7.6 million. Louis E. Eliasberg's impressive numismatic collection was sold in the span of several years, with auctions held in 1982, 1996, and 1997. It ultimately fetched a total of $57 million, but it is believed that it would be worth much more today, if all pieces would be tracked down and reunited once again.
3

Kazim Taskent's Coin Collection at Yapi Kredi Bank: $100+ Million
It might look like the usual bank vault, but the gigantic safe at Yapi Kredi Bank serves a different purpose, guarding Roman, Byzantine, and Ottoman treasures, from the first coins ever minted, all the way to the rarest issues from the time of the great sultans. Kazim Taskent, the very founder of Yapi Kredi Bank, is the one who began the collection in 1953, when, together with other Turkish numismatic specialists, decided to assemble a coin collection that would preserve the cultural assets of the country. There are now 55,000 coins in the safe at Yapi Kredi Bank in Istanbul, Turkey, divided into three groups, from the world's first coin, minted by the Lydians in Anatolia, to pieces minted under Suleyman the Magnificent, Alexander the Great, Sultan Cem, and the centerpiece, a unique gold coin from the reign of Tugrui Bey, founder of the Seljuk Empire. It is the third largest coin collection in the world, the biggest private collection to date, and the largest collection of Islamic Anatolian coins ever. While it is clear that the collection of ancient to modern times rare coins is worth well over $100 million, it is safe to say that it is in fact priceless, as it includes exceptionally valuable pieces of national patrimony, to which a great sentimental and historical value is of course added.
2

King Farouk's Coin Collection: $150 Million
King Farouk I ruled Egypt between 1936 and 1952, and entered history books for his ridiculously pricey spending sprees, and extravagant and opulent lifestyle. During the years he sat on Egypt's throne, he made it his purpose to acquire as many works of art, gold pieces, and rare coins as possible. In the 1940's, many American coin dealers traveled to Egypt to sell extremely valuable rare coins directly to the ruler. In 1952, he was overthrown by the Egyptian Revolution, and forced to abdicate. Two years later, Egypt's military government worked with Sotheby's to sell the king's collection, which included 8,500 gold U.S. coins and hundreds of U.S. pattern coins, many unique in the world. He was the proud owner of all five 1913 Liberty Head Nickel known to exist in the world, valued at $5 million each, the price for which the last one was sold in 2007. There was also the 1833 Proof Gold Dollar, which avid collector John Jay Pittman bought from Farouk's collection in 1954, worth over $1 million today. Although, the most valuable piece in the king's large collection was the only known complete set of $20 Saint Gaudens Double Eagle coins, including the rare 1933 issue, a gold coin produced by the US Mint, the most expensive coin in the world sold for $7.6 million in 2002. In 1954, Farouk's collection was auctioned, fetching over $150 million in today's money. The rare pieces landed in other famous collections, like Harry W. Bass' and John Jay Pittman's.
1

Smithsonian's Numismatic Collection: $200+ Million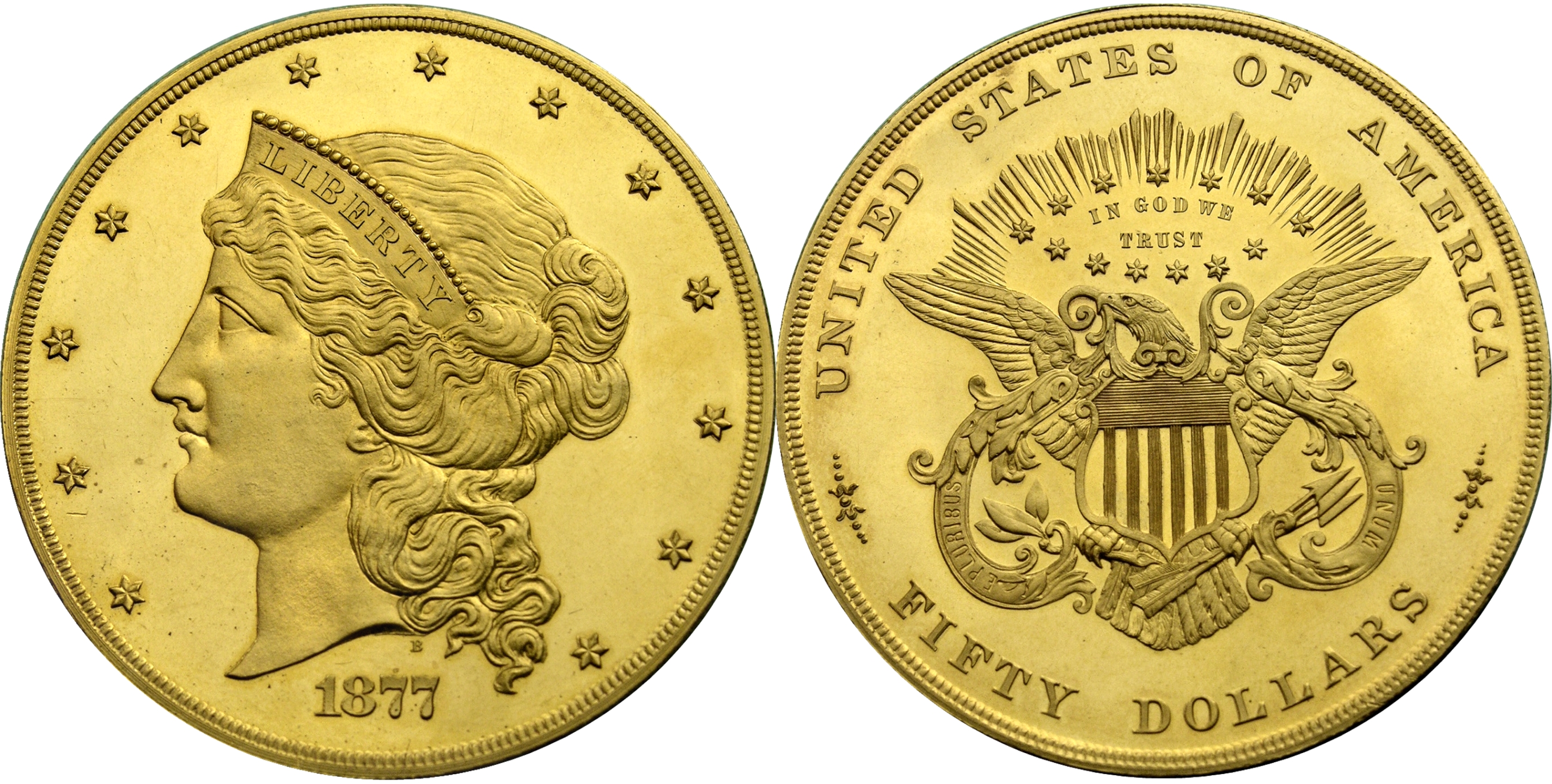 The National Numismatic Collection, or NNC, is housed by the Smithsonian Institution in Washington DC and boasts over 1.6 million rare numismatic pieces. There are more than 450,000 ancient, medieval, world, and U.S. issued coins. The collection was started in 1923, when the US Mint offered its collection of rarities to the Smithsonian Institute. The main attraction is the unique 1849 Double Eagle. Only one is known to exist in the world, and it was minted one year before the official issue went into circulation. Nowadays, it has an estimated monetary value of $20 million. Visitors can also see two 1877 $50 gold pattern coins worth $15 million each, two 1907 Double Thick Extremely High Relief Saint-Gaudens $20, worth $8.5 million each, and two 1933 $20 Saint Gaudens Double Eagle. The last time a 1933 Double Eagle piece was auctioned, it fetched $7.6 million. There is also one 1913 Liberty Head Nickel, the finest of five known ones, estimated at $4.5 million, three 1804 silver dollars estimated at $4 million each, a 1787 Ephraim Brasher Half Doubloon, also known as the United State's first gold coin, two 1877 One Dollar patterns pieces, a 1804 Draped Bust Silver Dollar, and a 1974 Aluminum Lincoln cent. The Smithsonian's unique collection includes the world's rarest and most valuable coins ever minted, as well as the biggest assembly of the world's earliest coins, almost 2,700 years old.