Silver is one of the oldest precious metals known to man, used to make some of the first tools and coins in the history of our civilization. The earliest silver mines were recorded in the 5th century BC in Anatolia, current day Turkey, and exported staple for the tableware of the Greek and Roman aristocracy. Until penicillin was discovered, the lustrous white metal was the strongest disinfectant known to man, which is why it was often used to make cutlery, plates, and other household items.
With the intrinsic value of a precious metal, antique sets of sterling silverware are much appreciated for their rarity, age, craftsmanship, previous ownership, and design. While most pieces are melted down for their scrap value, those that actually survive are bound to become more and more expensive, constantly gaining popularity among collectors. Some hunt down household items like cutlery, tea services, or trays, while others focus on a specific period, like the 18th century, or a particular style, such as Rococo or Art Nouveau. However, the most coveted pieces are those that come with a unique story and ownership, all confined in their brilliant reflections. If you thought your grandmother's silverware was expensive, check these collector's items for a true sense of luxury tableware.
10

Hitler and Eva Braun's Silverware Cutlery Set: $17,000
The Fuhrer and his mistress Eva Braun's personal cutlery set was recently brought to light after almost 70 years of unknown whereabouts. The cutlery set was used by Adolf Hitler himself and his mistress when they spent time together at the lavish mountain retreat Eagle's Nest, owned by the German Chancellor. The set was pocketed by the mountain hut's housekeepers just before the Allied forces arrived in 1945 and confiscated all valuable artifacts in the estate. Sold in 2010 by Sotheby's for $17,000, the set includes a silver fish knife with Hitler's name engraved on it, as well as a silver knife, spoon, fork, and teaspoon with Eva Braun's initials engraved on them.
9

Hitler's Swastika Ring: $66,000
Stolen by an American soldier when the Allied forces raided Adolf Hitler's Bavarian retreat in 1945, the German dictator's custom-made swastika ring was sold at an auction in Maryland in 2013 for $66,000. This was a blow for the auction house, which hoped for $110,000 and fetched just over half. The silver ring was originally plated in gold, but not much of the gold remains today. The large swastika is formed from 16 rubies, one of them missing. The solid silver ring was handcrafted and custom-designed for the Fuhrer by Karl Berthold, a fanatical Nazi silversmith and goldsmith, although nobody can say for sure whether Hitler actually wore it or not.
8

Antique Brandywine Silver Bowl: $317,000
A very rare Early American silver bowl fetched $317,000 at a Christie's auction in 2013, more than its estimated value of $200,000. The Brandywine Silver Bowl was handcrafted by Cornelius Vander Burch, a Dutch emigrant, around 1690. In perfect condition, the six-paneled serving bowl is one of only 23 such existing items. Brandywine bowls were used to serve a mix of brandy and raisins at ceremonial events in the Netherlands, a custom that was brought to America by Dutch emigrants such as relented silversmith Vander Burch in the 17th century.
7

Early American Two-Handled Grace Cup and Cover: $700,000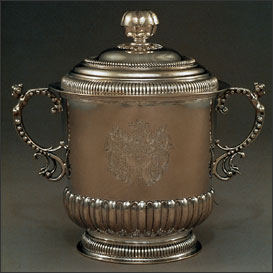 This rare silver Two-Handled Grace Cup and Cover was handcrafted by silversmith John Coney of Boston around 1715. Like many other items of its kind, it traveled to Europe, where it changed several English royal family hands until it was sold by Sotheby's in 2002. In the early 20th century, the lovely cup sat on the hall table of Park House, the residence of Robert Henry Hurst, a prestigious member of the British landed gentry. Only a few such cups have survived the Colonial era, and this two-handled grace cup is the third known cup made by silversmith John Coney.
6

Richard and Alice Brackett Silver Cup: $775,750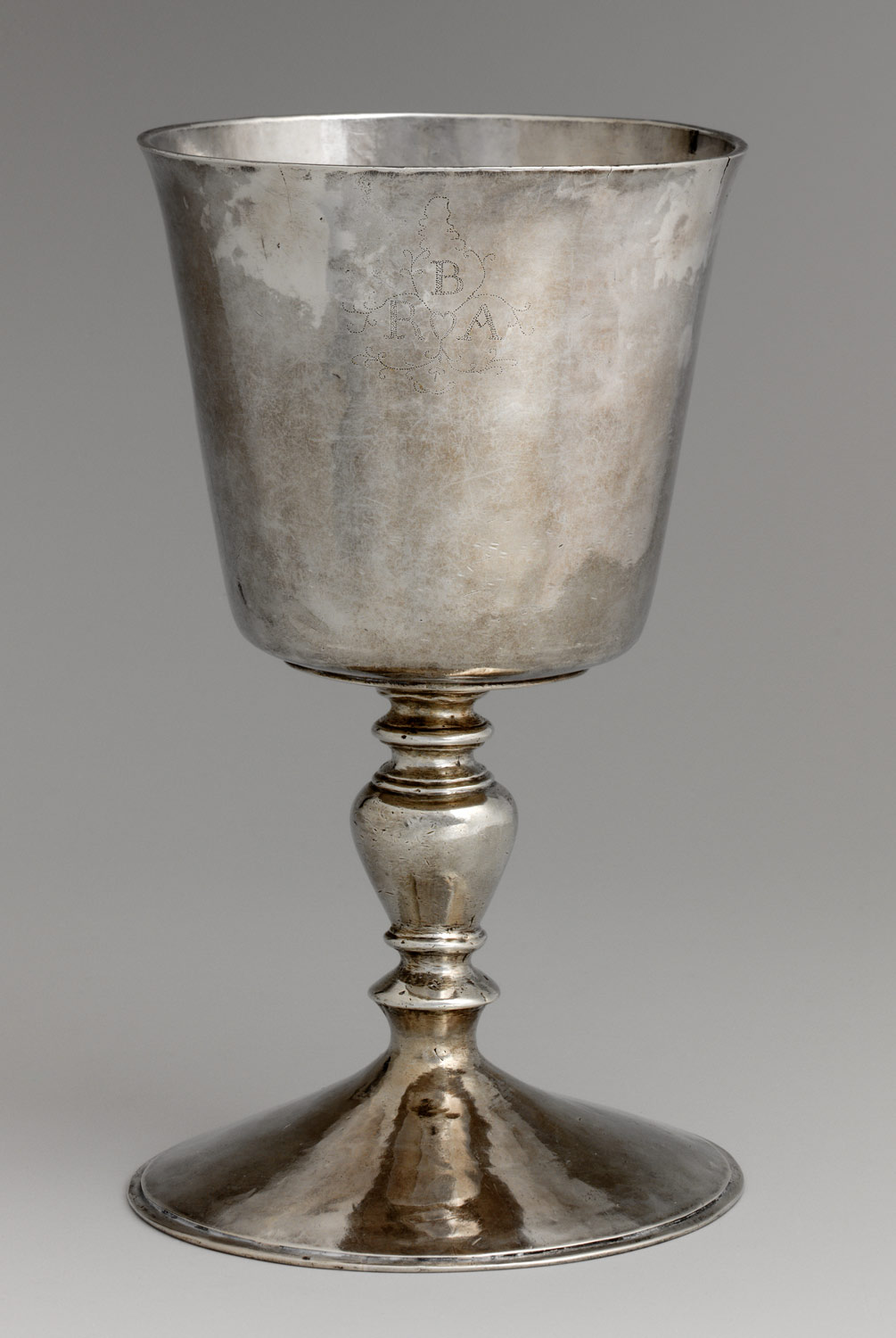 Made from Pilgrim Century silver, which is extremely rare, the Richard and Alice Brackett Silver Cup set a new price record for American silver back in 2001, when it was sold by Sotheby's for $775,750 to an American businessman. Made by silversmiths John Hull and Robert Sanderson Sr. of Boston around 1660, the cup belonged to Richard and Alice Brackett, an American-born couple who moved to Boston, where Richard Brackett became one of the organizing members of the First Church. The cup was most likely donated by the couple to the United First Parish Church of Quincy, Massachusetts before they died in 1660, where it remained until Sotheby's auctioned the Quincy Church Collection. Nowadays, the cup is on display in the Metropolitan Museum of Arts, after it was donated by the buyer.
5

Great Silver Wine Cistern of Thomas Wentworth: $3.8 Million
Sold by Sotheby's in 2010 for $3.8 million, the Great Silver Wine Cistern of Thomas Wentworth is the most expensive English silver ever sold at an auction. With the maker's mark of talented artisan Philip Rollo, it was handcrafted for Thomas Wentworth, the 3rd Baron Raby, Ambassador Extraordinary to the King of Prussia at Berlin between 1706 and 1711, who became Earl of Strafford in 1711. The remarkable early 18th century silverware item is made from 168 pounds of silver offered by Queen Anne herself. It features royal arms, Britannia marks on handles, and cipher of Queen Anne.
4

Deck of Silver Playing Cards: $3.9 Million
One of five known sets, and the only one that is complete, this 400-year-old Deck of Silver Cards has a lovely story behind it. It belonged to a Portuguese princess who pocketed the deck when she managed to escape Napoleon's armies. Each one of the 52 cards were gilded with gold using mercury, a poisonous metal, making the process extremely dangerous, which is why it is illegal today. Handcrafted around 1616 in Germany, the Zilkha set was not meant for playing cards, it was designed as a work of art.
3

Antique American Punch Silver Bowl: $5.9 Million
Sold by Sotheby's in 2010, this Antique American Punch Silver Bowl fetched a stunning $5.9 million, much more than the initial estimations of between $400,000 and $800,000, setting a new record for American silverware, surpassing the the previous record holder by far. Handcrafted by silversmith Cornelius Kierstede between 1700 and 1710 in New York, it was previously owned by Commodore Joshua Loring in his stately home in Massachusetts, the Loring-Greenough House, now a historic site. The Colonial era sterling silver bowl weighs over 4.4 pounds, and is the first silverware of its kind to go over the $1 million limit.
2

George II Silver Coffee Pot: $7 Million
Praised as the most exquisite piece of Rococo silverware ever, this enchanting George II Silver Coffee Pot was sold by Christie's auction house in London in 2013 for almost $7 million, making it the most expensive piece of British silverware ever sold. Just over 10 inches tall, the small coffee pot was formerly exhibited at the Metropolitan Museum in New York. Handcrafted by talented British silversmith Paul de Lamerie (1688-1751) in 1738, the coffee pot was commissioned by John Lequesne, a London based trader and Huguenot, who became the director of the Bank of England and was knighted by King George II in 1737. Designed in French Rococo style, it is also the most expensive coffee pot ever sold.
1

Germain Soup Tureen: $10 Million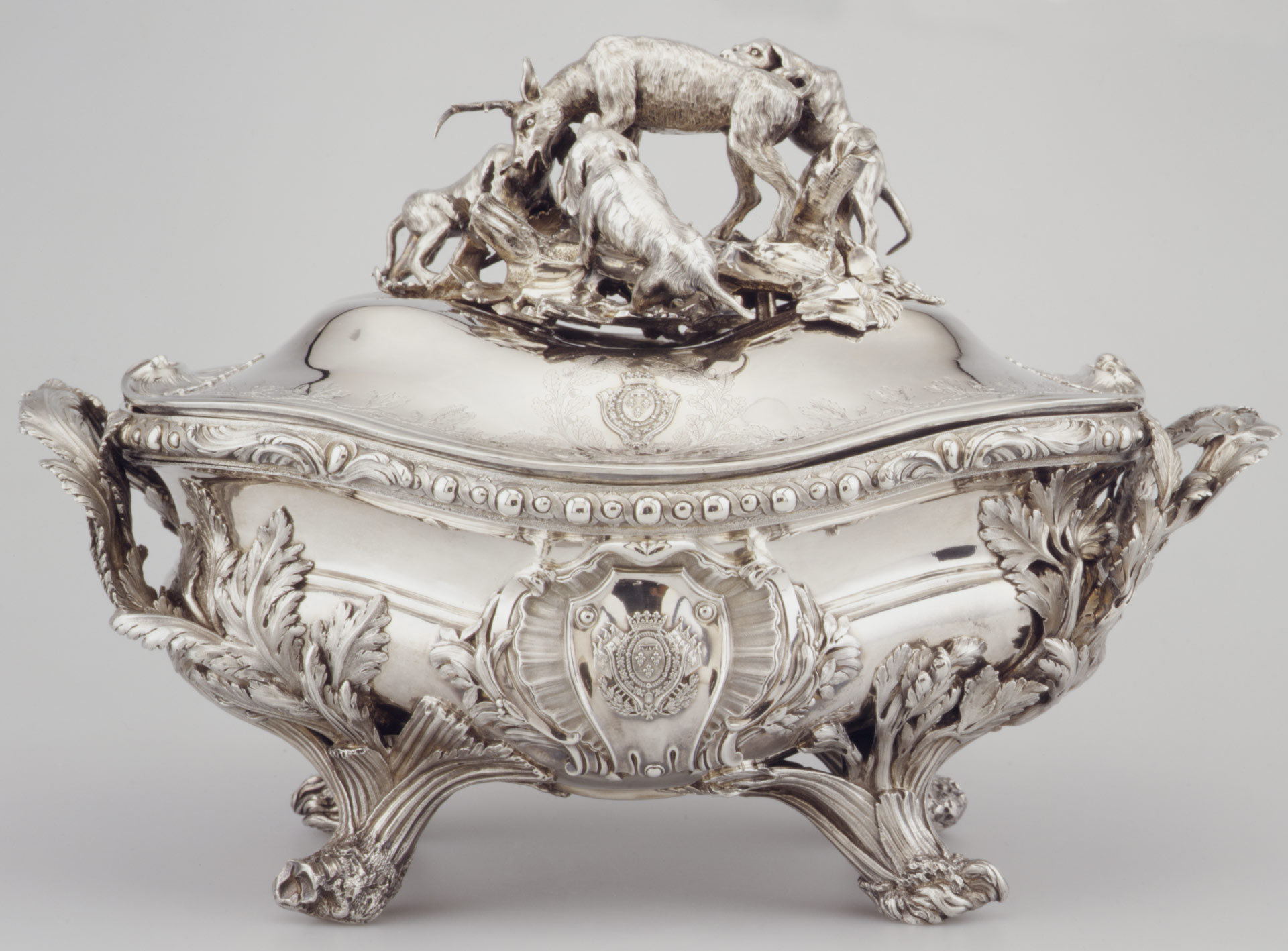 If you thought serving dinner with your grandmother's silver cutlery felt flamboyant, try having soup from the same bowl French King Louis XV had his from. Handcrafted by talented silversmith and artisan Thomas Germain, it was custom-made for Louis XV himself. The extremely rare tureen is one of the few surviving silver pieces of its kind, as most were melted to finance the French Revolution and other such battles. Its lid is considered a remarkable work of art in itself, featuring skillfully crafted fish, fowl, and vegetables, the perfect fit for a royal dinner. The Germain Soup Tureen was sold at a Sotheby's auction in New York for $10 million in 1996.
Give TheRichest a Thumbs up!
Looking for an AD FREE EXPERIENCE on TheRichest?
Get Your Free Access Now!