Imagine yourself the size of Thumbelina, flying away on a dandelion, carried by the gentle wind. Think of the Wizard of Oz, adrift in his hot air balloon after being caught by a tornado, floating toward strange and magical lands the world has never seen before. Let's not forget about Jules Verne's Five Weeks in a Balloon, which is enough to make anybody, child or grownup, want to take a balloon ride. There's no better way to see the world than from a bird' eye view, suspended in a basket. A hot air balloon flight is one of those experiences you tell your grandchildren about.
The first flight of a hot air balloon took place on November 21, 1783 in Paris. Nowadays, balloon rides are quite expensive, and have become an adventure eccentric millionaires often embark on. This is mainly because there are not exactly a means of transportation, but more like entertainment. They can be flown once or twice a day, and can only take a handful of people, which is why all expenses must be covered during one flight. Nevertheless, it is one of the most romantic and among the safest ways to fly, it is not an extreme sport, but rather a contemplative activity. Depending on the weather conditions, you can go from 1,000 feet to 2,600 feet. Hot air balloons usually take off early in the morning or just before sunset, when the wind is calmer. The place of departure is often a surprise, as it is set the previous evening depending on the weather conditions. The hot air balloon tours that follow on our list are not cheap, but they are definitely worth it.
5

Cappadocia, Turkey $200 per person per hour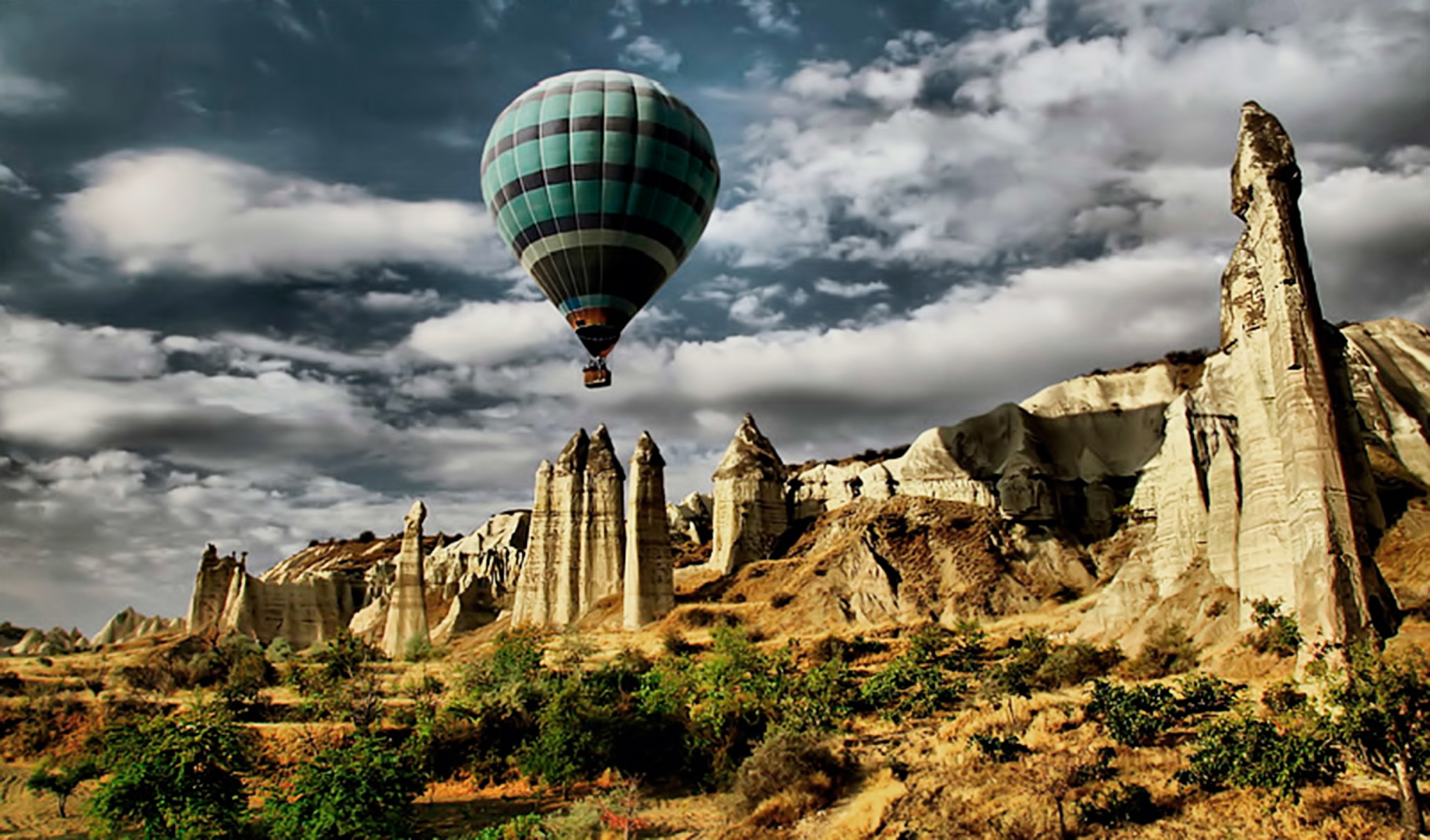 A stunning lunar landscape that reminds us of Star Wars, which is not too far from the truth as some of the scenes in Star Wars were actually shot here, the out of this world scenery of Cappadocia seems to be getting more and more unreal as you get deeper. Famous for its oddly shaped rock formations piercing the skies, many caves that are still inhabited today, and underground cities that seem to go on forever, the best way to get acquainted with Turkey's priceless jewel is onboard a hot air balloon. One of the most famous hot air balloon rides in the world, thanks to its unique landscape and favorable weather conditions, seeing Cappadocia from high above is a great adventure, no doubt about it. The wind will carry you above valleys, extremely close to the chimney shaped rock formations colored in shades of green, orange, red, and black.
The most spectacular hot air balloon tours in the world is above Cappadocia, Turkey. The best time to visit is from April through May and from September through October, just to avoid the summer heat and enjoy the best weather the area can offer. There are over 30 companies offering hot air balloon flights in Cappadocia. Sultan Balloons and Cappadocia Voyager Balloons are among the main operators, with the largest number of available balloons. Goreme Balloons and Royal Balloon offer one hour flights for $200 per person and 90 minutes flights for $320 per person, but you can also negotiate on the spot.
4

Loire Valley, France $400 per person per hour
Only 200 miles from Paris, the very place where the sport was born back in 1783, the Loire Valley is huge, stretching for 170 miles, boasting no less than 800 castles and mansions, all scattered across an idyllic setting. The Loire Valley is simply astounding, with its perfectly aligned vineyards of Chablis, the perspective over the Nivernais Canal, and the fairytale castles that could even make Cinderella envious. What better way to see them all than onboard one of the balloon rides that have already become an emblem of the Loire Valley.
One of France's main hot air balloon destinations, it is best to embark on a Loire Valley balloon ride between April and October, when the castles are open for visitors and the air is not as chilly. France Montgolfieres is one of the main operators and one of the most experienced hot air balloon operators in France, taking off in famous spots like the Chenonceau Castle, the Chaumont Castle, and the Villandry Castle, for clients to visit.
3

Masai Mara, Kenya $450 per person per hour
Considered one of the most beautiful places on Earth to fly the balloon to, Masai Mara is Kenya's treasure, an enormous park famous for its varied fauna and wild landscapes, where a sunset simply seems ripped off a postcard. However, what makes this flight really special is that it gives you the opportunity to sneak behind giraffes, watch antelopes in their natural habitat, and have a close look at those fierce lions, without putting yourself at any risk. Gnu antelopes give the wake up call and the balloons take off at sunrise. That's the best time of day to visit the savanna. Animals are active, the air is cool, unlike during the day when it can get hot.
Masai Mara is an enormous savanna in southwestern Kenya, home to the Great Migration that takes place each year between July and October, the best time to go see millions of wildebeests, gazelles, and zebras roaming the park in search of water. Adventure tours offers numerous itineraries in the savanna, including balloon rides. Gamewatchers Safaris have a ten story building high balloon that can carry 12 persons above the savanna, while Skyship Company is the main hot air balloon operator in Africa. Both land for a full English breakfast and glass of champagne in the wild bushes of the savanna.
2

Serengeti, Tanzania $500 per person per hour
A hot air balloon safari will definitely give you a whole new perspective over the vast ecosystem the Serengeti shelters. Located to the east of Manyara Lake in Tanzania, Serengeti Park was included in the UNESCO World Heritage List in 1981, and is the home of an astoundingly diverse ecosystem and the largest mammal migration in the world. You can choose to go on a safari by car, or you can watch all the lions, elephants, and black rhinos from high above, without them even knowing you're there. These golden plains shelter approximately two million wildebeests, half a million gazelles, and 250,000 zebras. You can also see gnu antelopes, leopards, hippos, and giraffes.
With a moderate climate, the Serengeti is suitable for hot air ballooning all year round. However, it is best to go during the migrations, which occur twice a year, between March and May and from October through December. Serengeti Balloon Safaris is the main operator, taking passengers up over Tanzania's greatest park early in the morning, and landing just in time for breakfast and a glass of champagne under an acacia tree. The price is $500 per person per hour, which includes the romantic breakfast.
1

Gstaad, Switzerland $600 per person
Each year in January, the International Balloon Festival in Chateau d'Oex sees dozens of lively colored balloons from all corners of the world take off on the background of the snow covered Swiss Alps. Winter is when things really heat up in this idyllic mountain village. Fly over the Swiss Alps and the countless traditional Swiss chalets and hamlets dwarfed under the imposing Gstaad peaks. Explore the wilderness of the snow-covered Alps onboard a hot air balloon piloted by a specialist. You can also fly during the night, surrounded by lighted balloons climbing up toward the starry sky.
The air currents and weather conditions in the valley of Chateaux d'Oex near Gstaad make hot air ballooning possible throughout the year. Alphine Ballooning Switzerland is the main operator, offering flights during the night as well. Unfortunately, they fly only three weeks per year, between mid January to early February, and they charge $1,200 for a one hour flight for two people.
Give TheRichest a Thumbs up!
Looking for an AD FREE EXPERIENCE on TheRichest?
Get Your Free Access Now!