Audrey Kathleen Ruston was born in Brussels in 1929, daughter of an English banker and Dutch Baroness who split up before the war. Her childhood was anything but enjoyable, fleeing with her mother to Holland where she played the role of a Dutch persona, suffering from malnutrition, and dancing for money to support the resistance. A strong character, she soon became one of the greatest female actors of all time, ranking the third greatest female screen legend in the history of American cinema.
Acclaimed for her distinctive elegant style, seemingly minimalistic and effortless, she became a major icon in the 1950's and 60's, not only for her leading roles in appraised movies, but also as a fashion icon, proud possessor of a vast collection of couture. The legendary figure often associated with Breakfast at Tiffany's, Funny Face, Love in the Afternoon, and Roman Holiday, some of Hollywood's greatest classic films, was a huge fan of French designers, but was mainly known for her alliance and lifelong friendship with Hubert de Givenchy.
Nevertheless, the designer himself stated that "All the responsibility for the way Audrey looked was hers. She made the selections." Audrey preferred pastel colors, various shades of black and ivory, and she was bold enough to create her own look, distinctive and personal, that continues to inspire women everywhere. Adored for her role as Holly Golighty in Breakfast at Tiffany's, no one else could make pastel seem as sophisticated as the doe-eyed actress, one of Hollywood's most elegant stars, who humbly confessed that "everything I learned, I learned from the movies."
So how much does one of her beloved outfits sell for? Take a look at the list below to find out.
10

Audrey's Love in the Afternoon Opera Gown: $12,000
All classic movie fans remember the gorgeous opera gown Audrey wore in the 1957 romantic comedy film Love in the Afternoon, in the role of Ariane Chavasse alongside co-star Gary Cooper. The Givenchy haute couture white point d'esprit gown was worn by the beautiful starlet during the opera scene in the movie. In 2009, the dress was sold by Kerry Taylor Auctions for a mere $12,000, much less than its original value, mainly due to the alterations it suffered. Audrey gave the gown as a gift to her close friend, Tanja Busmann, who later gave it to her nanny, who adapted it for herself to wear, removing most of the lace trim and the bow from the front, and made three smaller bows on the back.
9

Audrey's Funny Face Organza Ball Gown: $17,000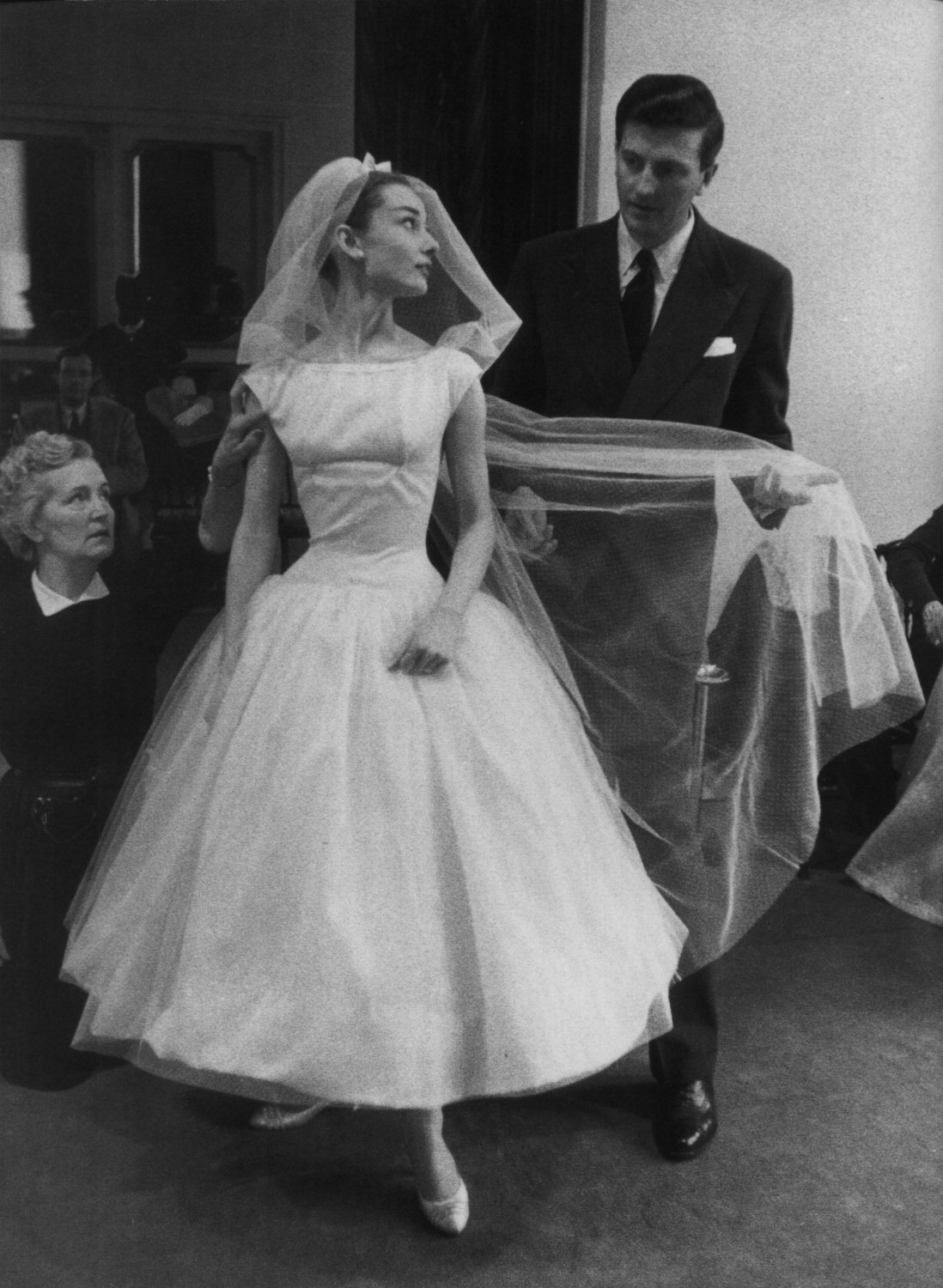 Created by the same master costume designer Hubert de Givenchy, this hand-embroided ivory organza ball gown was worn by Audrey in the musical film Funny Face in 1957, when she played the role of Jo Stockton with co-star Fred Astaire. The flower-sprinkled tea length organza wedding dress set new trends at the time, with its knee-length satin tulle, decorated in fine pink roses that were almost invisible. The wedding dress that inspired many weddings to come was sold by Kerry Taylor Auctions in 2009 for $17,000.
8

Audrey's Two For the Road Silk Gown: $20,000
It's no secret that the French designer and Audrey Hepburn never stopped inspiring one another, so here's yet another Givenchy haute couture dress, this time worn by the beautiful actress to promote Two For the Road in 1967, a British comedy drama movie with co-star Albert Finney. This turquoise cloque silk cocktail dress features a tousled band of frayed floss silk, a slit back opening with cord to neck, and wide sash to waist. Part of Givenchy's winter 1966/1967 collection, the dress was used by the actress to promote her film, and was sold in London in 2009 by Kerry Taylor Auctions, as one of 40 such pieces of wardrobe from Tanja Busmann's collection of Audrey's haute couture clothing.
7

Audrey's Wedding Dress: $23,000
When a wedding dress never makes it down the aisle, it usually has to face an unpleasant destiny, but not this one. Audrey's wedding dress was created by the Fontana Sisters, a Rome-based fashion house, in 1952, when she was just 23 and filming Roman Holiday with Gregory Peck in the Italian capital. She was supposed to wear the gown at her wedding with James Hanson, who later became Lord Hanson. When she called the wedding off, she asked for the dress to be given to charity, and told the Fontana Sisters to give it "to someone who could never afford a dress like mine, the most beautiful, poor Italian girl you can find." So the dress went in the hands of Amabile Altobella, a poor Italian girl who wore the ivory satin gown at her own wedding.
6

Paris When it Sizzles Black Cloque Gown: $28,000
Another one of Audrey's iconic little black dresses that set new trends for generations of chic women to come was worn by the starlet at the premier of Paris When it Sizzles in 1962, a romantic comedy film in which she starred alongside co-star William Holden. She also wore the haute couture Givenchy silk dress in publicity photos for the same movie. So simple, and yet so elegant, the dress is sensational to say the least, emphasizing Audrey's lovely figure. The black cloque dress was sold by Kerry Taylor Auctions in 2009 for $28,000.
5

Audrey's Funny Face Floral Dress: $56,000
Audrey Hepburn was known for her choice of pastel colors when it came to her outfits. However, every now and then, she would surprise the public by wearing something a little bolder, like the yellow floral dress she wore in the 1957 movie Funny Face. In one of the scenes in the musical film she starred in with Fred Astaire, she dressed in an orange, yellow, and white floral gown, with delicate green leaves on a yellow background. The layered skirt with short sleeves, bateau neckline, and slight apron on the hips was sold by Sotheby's in 2002 for $56,000.
4

How to Steal a Million Black Cocktail Dress: $100,000
Worn in How to Steal a Million in 1966, a romantic comedy in which she played alongside co-star Peter O'Toole, this Givenchy Chantilly lace dress entered history as one of the most iconic outfits in movie history. Audrey wore the almost transparent lace dress in the famous Ritz bar scene in the movie, and also in photo shoots to promote the film. In 2009, it was one of the 40 dresses from the starlet's personal wardrobe auctioned in London by her lifelong close friend, Tanja Star-Busmann. The auction managed to raise $437,000, half of which were donated to The Audrey Hepburn Children's Fund and UNICEF.
3

Audrey's Lucky Oscar Dress: $140,000
The actress herself called the dress lucky when she wore it at the 1954 Oscars, when she was handed the Academy Award for Best Actress for her role in Roman Holiday, Audrey's first and only Academy Award. The ivory lace gown is a Givenchy designed copy of a similar dress Audrey wore in the movie Roman Holiday, created by Edith Head, a gorgeous gown that landed Edith her own Oscar for Best Costume. The white floral Givenchy dress is one of the classic 20th century outfits, and one of the most remarkable dresses ever worn at the Oscars. The strapless and belted haute couture gown was sold to a private collector by Kerry Taylor Auctions in 2011.
2

Audrey's Breakfast at Tiffany's Black Dress: $1 million
Breakfast at Tiffany's is one of those romantic comedy films that marked a generation. An adaptation of Truman Capote's famous homonym novel, starring Audrey Hepburn and George Peppard, the movie itself could not impress as much as the leading actress' outfit and jewelry. Audrey played Holly Golightly, a Manhattan socialite in the 1961 screening, and wore the most iconic black dress of all time, a sleeveless floor-length gown with cut-out cleavage, designed by none other than Hubert de Givenchy. In 2006, it was sold in 2006 by Christie's auction house to an anonymous telephone buyer for $1 million, almost 10 times the pre-sale estimate. However, the black Givenchy dress is not the one that Audrey wore in the movie, but a double, one of three identical dresses. Out of the two that she did wear in the movie, one is still owned by Givenchy, and the other is on display in the Museum of Costumes in Madrid.
1

Audrey's My Fair Lady Ascot Gown: $3.7 Million
Another one of those iconic Hollywood outfits, created specially for Audrey by famous Hollywood costume designer and photographer Cecil Beaton, the starlet wore the Ascot gown in 1964 in My Fair Lady, when she played the role of Eliza Doolittle. My Fair Lady is a musical film adaptation of the homonym Lerner and Loewe stage musical. In the 1965 screening, Audrey Hepburn starred alongside Rex Harrison, and wore one of the most important single costumes ever created for a motion picture. The Ascot Gown, designed by Academy Award winner costume designer Cecil Beaton, was sold during a Debbie Reynolds auction in Beverly Hills in 2011. Considering that just 10 years before, actress Debbie Reynolds purchased the same dress for $100,000, she can truly say inflation was generous when she fetched $3.7 million. The hat is included, of course.