Swimming is a fun and relaxing activity, but not everyone can brag about being free to take a dip in a truly glamorous pool whenever they feel like it, right in their backyard. When piles of cash are involved, designing your dream home takes on a whole new meaning. However, a luxurious house is simply not complete without an equally extravagant swimming pool. They are not just a space filled with clear water and tiles, they are an architectural work of art. When you are a Hollywood celebrity, or simply filthy rich, why not build your own personal pool in the intimacy of your backyard, and decorate it just like a maharajah would?
Laying back by the water is not just about the sun and cocktails, but also the design, view, and the bling. Each one more spectacular than the other, as if they were competing in a contest nobody seems to know about, no money was spared when designing these insane swimming pools fitted in a bohemian and personalized décor. They come with a price tag that beats the average house on the market today. Since swimming pools and the rich and famous go hand in hand, most of the following celebrities let their imagination roam free, and they took a plunge in pure gold.
10

Cher's Infinity Pool
It looks just like a holiday villa on the prestigious Amalfi Coast, with stunning views and artistic architectural designs. However, Cher's Italian-Renaissance-style mansion actually overlooks the Pacific Ocean in Malibu. Designed by famous architect Ron Wilson, the rear facade of the majestic mansion opens to an infinity-edge pool that seems to drop directly into the ocean. Under the California sun all year round and with spectacular views of Malibu Bay, there is a small patio and plenty of space to host a pool party only a stone-throw away from the beach. In 2013, Cher secretly listed this gorgeous Malibu estate for $45 million.
9

John Travolta's Backyard Pool
The Boeing 707 parked in the backyard is enough to let you know that this is John Travolta's humble abode. Although the famous Hollywood actor claims that he is proud of his mid-century style mansion, critics were not so gentle when they reviewed his 22,000-square-foot home in Florida, which he shares with wife and fellow actress Kelly Preston. However, nobody can argue that the large swimming pool makes it all worth it. Designed by Sherri James, the pool is enclosed by stone floors, which Travolta wanted for dance parties. With tropical vegetation on the side, a spacious jacuzzi, and a cabana, the actor describes his pool area as a grownup playground.
8

Lance Armstrong's Lakeside Pool
Seven times Tour de France champion Lance Armstrong bought former Texas Lieutenant Governor's home for $4.34 million in 2013. The 3.6 acres of land opening up to Lake Austin are home to a contemporary architecture mansion whose centerpiece is a lakeside turquoise swimming pool and cabana. The glamorous infinity-edge pool seems to drop directly into the lake, with a first level sloping down into a second moat area, all in the vicinity of a Gothic cabana with fireplace, lanterns, and spa.
7

Brian Ross' Mayan-Themed Indoor Pool
Real estate developer Brian Ross and wife Kim are the proud owners of a 50,000-square-foot palatial mansion in the town of Cortland, Ohio. However, the centerpiece of this extravagant home is the jungle themed indoor swimming pool located inside a glass ceiling atrium for natural illumination, the most expensive room in the entire mansion. Inspired by Mayan ruins, the indoor oasis features real palm trees and a rock cave, waterfalls, a waterslide, rope swings, hot tub, and numerous Mayan ruins replicas, such as stone-carved idols and a faux temple with ancient designs.
6

Sylvester Stallone's Olympic-Size Pool
Famous Hollywood star Sylvester Stallone is no stranger to opulent and extravagant living. Sitting on a staggering 14 acres of land, his Miami, Florida estate boasts a Neoclassical-style mansion where he lives with wife Jennifer Flavin and daughter Sophia Rose. The highlight of the property is the Olympic-sized pool in the backyard. The actor purchased the estate in 1993, and built a huge Ancient Greece inspired swimming pool enclosed by tall trees, with a Greek style grotto, and overlooking a gorgeous landscape. The centerpiece and the defining symbol is the life-size bronze statue of Rocky Balboa at one end of the swimming pool.
5

Playboy Mansion's Lagoon-Style Pool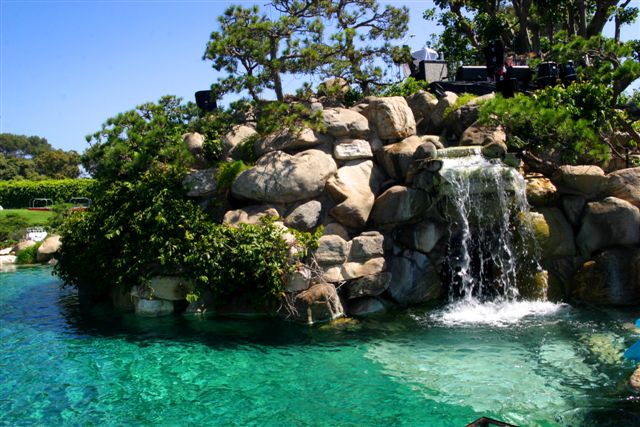 If someone tells you they have never heard of Hugh Hefner's Playboy Mansion, they're either lying or living on the moon. The enormous property was purchased in 1971 for $1.1 million, which was actually the highest price paid for a Los Angeles estate at the time. The mansion soon became famous for its extravagant pool parties famous celebrities often attended. The state-of-the-art pool of the Playboy Mansion features an artificial waterfall, cave-like grotto, and natural-looking stone walls. Perhaps the most iconic pool in America, the large freeform pool was used in numerous Playboy photo shoots, and thus became one of the most popular in the world, setting the trend for many other extravagant lagoon-style pools to come.
4

Gianni Versace's 24-karat Gold Lined Pool
The very house where the Italian fashion designer Gianni Versace was shot in 1997, Casa Casuarina, had been on the market for a few years with a whopping price tag of $125 million, but only managed to fetch $41.4 million in 2013. All of the late designer's custom-built amenities kept in perfect condition came along with the mansion, including a 24-karat gold lined swimming pool. Casa Casuarina, or simply the Versace Mansion in Florida, boasts a 54-foot pool lined with no less than a million mosaic tiles, some plated in 24-karat gold, all surrounded by snake-headed golden Medusas. Gianni Versace reportedly spent over $33 million in furnishing the house, including the lavish pool.
3

Kitchukov Family High-Tech Pool
Considered America's most expensive private pool, the Kitchukov Family's swimming pool came with a price tag of $1 million, and took five months to complete. Designed and built by Red Rock Contractors, it is 10 times larger than your average backyard pool. Located in the ever-warm and sunbathed town of Gilbert in Arizona, it features impressive waterfalls, fountains, a 15-foot waterslide, a 15-person hot tub, fire pits, and full bar, all enclosed by giant palm trees and in the spotlight each night thanks to a high-tech nighttime lighting system. However, the most impressive feature is the ScrenLogic interface which allows the family to control various features of the pool from anywhere in the world.
2

Lev Leviev's Gold Lined Indoor Pool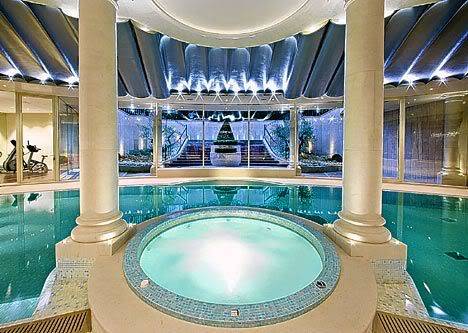 In 2008, Israeli billionaire Lev Leviev and his family moved into a $68 million North London home, the most expensive ever built in the United Kingdom. Suggestively called Palladio Residence, the highlight of the property is the indoor pool lined with gold tiles, one of the most expensive residential swimming pools in the world. The Israeli diamond king wanted to swim in gold, and that's exactly what he got, a pool inlaid with gold mosaic tiles. Featuring a full spa and sauna, the glamorous swimming pool has a retractable cover that allows the area to be turned into a lavish ballroom to entertain guests.
1

Randolph Hearst's Lavish Swimming Pools
The lavish Hearst Castle in San Simeon, California is a 60,000-square-foot home owned by publishing magnate William Randolph Hearst. However, the Hearst Castle is home to not one, but two swimming pools, both considered the most famous and most luxurious in the world. One of them is the Neptune Pool, an outdoor swimming pool measuring 104 by 58 feet. The other is the indoor Roman Pool, which is a little smaller. The Hearst Castle was build between 1924 and 1936, and cost $10 million at the time for the property, furnishings, and pools. It is hard to say how much the two pools would value today, but it is safe to say that the priceless marble and tile mosaics lined with gold and enclosed by countless Italian works of art commissioned by the family earned them a well deserved place among the most remarkable and most luxurious on the planet. Not to mention that Charlie Chaplin and Clark Gable are only a few of the legendary personalities that took a dip in the Hearst pools.