The bohemian life of royalties and noblemen, with their lavish estates and castles, lakes and stables, hunting grounds and towers. It can all be yours. With the right amount of cash of course. Who doesn't dream of moving into a French chateau, the place where the world's greatest romances and love stories sprung from? You should know that the French "chateau" has a broader meaning than the English word "castle." It describes massive architectural entities that would normally be called palaces in English. Just like "la vie du chateau," a term the French associate with living large.
Luxury real estate is not all about penthouses with rooftop terraces in the city center, or palatial mansions with tennis courts and swimming pools. If you want to live like a king, buy a castle. Not only will it offer an elegant classic architecture, spacious rooms, cellars, dungeons and towers you can easily convert into drawing rooms, offices, or libraries, but just think of those history filled walls that have been touched by the very hands of the world's most influential personalities.
Castles are a great investment. There are many on sale throughout Europe, from medieval ones to Grade I historical sites. There are however a limited number of castles and palaces in the world, and their value will only grow in time. Let's take for example the White House. If it were to hit the market, it would have a price tag of around $320 million. If the Buckingham Place ever went up for sale, it would have a $1.5 billion price tag attached to it. It's highly unlikely they will ever go up for sale, but there are many other castles out there, just as famous and boasting a great cultural and historic heritage that are just waiting to shake hands with their new owners. Straight out of a fairy tale, you can move into these castles today.
10

Westenhanger Castle in England: $4.3 Million
Towers, still standing old castle walls, and landscaped inner court that is often used as a wedding venue. What more can you ask for? The history of the state dates back to the 11th century, but the castle and tower were built around the 14th century. In the 16th century, the castle was sold to King Henry VIII, who actually used the castle as residence when visiting southern England, and it is said that he brought his mistresses here. Elizabeth I used the castle herself, hosting numerous banquets as well. It remained a royal palace until 1581. In time, it became nothing more than a ruin.
9

Chateau de Corbere in France: $8.8 Million
8

Tulira Castle in Ireland: $8.9 Million
7

Il Castello Baronale in Italy: $11.6 Million
6

Chateau Aix en Provence: $18 Million
5

Burg Rheineck in Germany: $23.3 Million
4

Montbrun Castle in France: $27.6 Million
This enormous and luxurious castle in France, surrounded by lakes and oak and chestnut forests, caught the attention of Brad Pitt, who declared he was interested in buying the property, but Angelina wanted a place closer to the sea. Too bad. Built in 1179 and expanded during the 15th century, Montbrun Castle is an excellent example of medieval fortifications, with four towers and large courtyard. It is actually one of only four castles in France from that epoque, with a great historical value, as it is closely tied to King Richard the Lionhearted and the Crusades.
3

Kinpurnie Castle in Scotland: $48.5 Million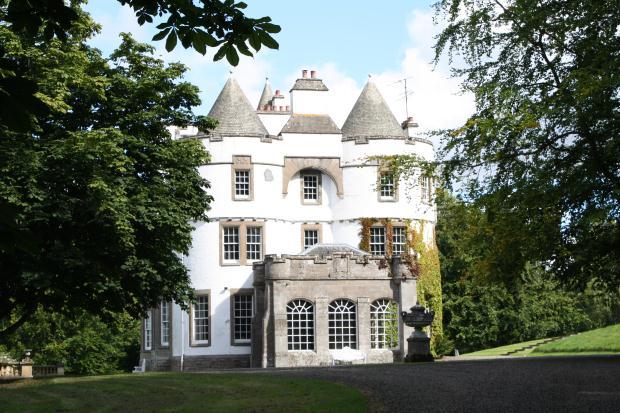 2

Chateau de Cornod: $73 Million
1

Bran Castle in Romania: $140 Million
We know it as the Castle of Dracula, but it actually goes by the name of Bran Castle. In the heart of Transylvania in Romania, it is the of setting Bram Stoker's Dracula. The world's most famous vampire, Dracula was inspired by Vlad the Impaler, the ruler of Transylvania in the 15th century. Ironically, Vlad the Impaler did not live in the Bran Castle. He merely visited it once or twice in his life. Still, the edifice continues to attract thousands of visitors and thrill seekers in search of evidence to his existence.
Aside from being bathed in legends and myths of Dracula and vampires, the castle has a great historical value. Built in 1212, the castle sits on 20 acres of land. There are a total of 57 rooms, with 17 bedrooms. It served as a fortress to protect against Ottoman invasions, and later as the residence of the Romanian Royal Family from 1920 up until 1948, when the communists confiscated the estate. It was fully restored in the late 1980's. The rooms and towers enclose an inner courtyard. Other rooms are connected by underground passages. Perched on a rocky cliff, some 200 feet above the valley, the current owner is Dominic von Hapsburg. For $140 million, the castle comes with valuable furniture and art objects dating from between the 14th and 19th centuries, plus seven acres of forests and two smaller adjacent buildings.
Give TheRichest a Thumbs up!
Looking for an AD FREE EXPERIENCE on TheRichest?
Get Your Free Access Now!