Just admit it.
You love those little bottles filled with aromatic scents and luxurious lathers.  Secretly you horde them. It works like this:
You check into your hotel, take the room key, clamor into elevator up to your floor and meander down the hall searching for your room number. Finally arriving, you insert the key into the door, open it, step inside and immediately make a beeline into the bathroom to see what little surprises await you on the vanity countertop. Tiny bottles filled with silky cream, scented body wash and luscious shampoo stare back at you. Maybe there is even a facial wash. Wow!
Your eyes glaze over, and a stupor overtakes you. Then, one by one, you pick-up each tiny bottle and holding it delicately in your hand you say, "Oooh," followed by, "Ahh." Then somehow, these tiny bottles inexplicably find their way into your suitcase. Just admit it. We've all done it.
Today's hotel guests, whether travelling for business or pleasure, are sophisticated and have high expectations, especially those staying in 5-star accommodations. If you're paying for luxury, you want it all around. This includes the bathroom toiletries.  More and more, hotels are working with big name fashion brands to provide their guests with a seamless luxury experience. What begins at the front door, is carried throughout the hotel.  Lavish and memorable experiences are in the small details. No expense is too great for hotels catering to clientele who are there to be pampered.
Companies like Oscar de la Renta, Farragamo and Bvlgari have developed partnerships with luxury brand hotels, to ensure guests feel pampered throughout their stay. It's a win-win for both. For the hotel, it means lovers of a certain cosmetics or fashion brand are more inclined to stay at their property. For the cosmetics or fashion house, it offers an opportunity for product introduction, which can lead to acquiring new consumers.
If you find yourself stealing, oops, I mean buying hotel toiletries in the gift shop or spa, here's a list of some of the best and where to indulge in them.
10

Aveda
Aveda's pure plant aromas with fresh scents appeal to both men and women. Its products do not contain ingredients line silicone oils, petroleum products nor artificial colorants, are never tested on animals and all its packaging is made with recycled and 100% recyclable materials. Aveda is a product that appeals to today's eco-conscious traveler. Its hotel line includes a rosemary mint shampoo and conditioner, energizing body cleaner and a moisturizer.
Where to indulge in it: Renaissance Hotels
9

Bliss
What began as a small business run out of an apartment in New York's East Village, has morphed into an international success story. So when the merger between New York's famous Bliss Spa and a high end luxury hotel happened, well, it was simply, blissful. The "Bliss Sinkside Six-Pack" is an in-room amenity which includes the Fabulous Foam face wash, body wash, body butter, shampoo, conditioner and a bar of soap. It all comes in a lemon + sage scent, so you smell wonderfully citrusy and feel squeaky clean all at the same time.
Where to indulge in it: W Hotels
8

Le Labo – Rose 31
Le Labo is a New York-based fragrance line known for their handmade aromas and original custom scents. Rose 31 is described as a "light rose" scent but it leans towards a woodsy scent rather than a flowery one, making it a unisex brand.  Cumin, olibanum, cedar, musk and a touch of amber, are just a few of the components that complement the rose essence in the product to give it a disconcerting sense of mystery. Users of the brand are not only going to be smelling sexier, but perhaps feeling a little bit naughtier too, as each bottle comes with some playful comments about the product. For instance, the body lotion bottle reads, "For better results, have someone else apply it on you."  Oh my!
Where to indulge in it: Fairmont Hotels and Resorts
7

L'Occitane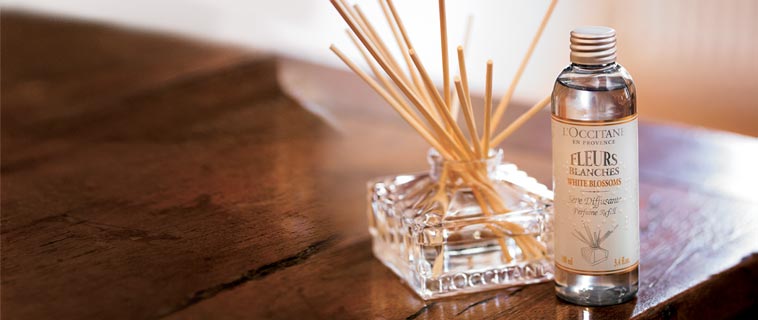 In 1976, a 23-year-old named Olivier Baussan purchased a steam distiller and created the first batch of essential oil from rosemary and lavender. He sold his product at open-air markets in his native Provence.  Since then, Mr. Baussan has created a cosmetics empire with shops in over 90 countries in North America, South America, Europe, Asia, and Australia. Based on natural products and phytotherapy, a healing through the medicinal properties of plants, L'Occitane is a favorite natural beauty brand among many high end consumers. For the hotel, it's a touch of elegance they can provide their guests through the luxurious products created by L'Occtaine en Provence.
Where to indulge in it: Four Seasons Hotels and Resorts
6

Molten Brown
Started as a hair salon in London's Mayfair in 1973, Molton Brown has become the UK's leading cosmetics company. In 1978, it began to retail its own line of plant-based bath products -- the first line was created in a makeshift lab located in the kitchen above the salon. Today, Molton Brown products like its coco de mer body lotion and lili-pili shampoo and conditioner are sold in some of the world's most exclusive department stores. In 2013 Molton Brown was granted a Royal Warrant in recognition of their status as "Supplier of Toiletries" to Her Majesty The Queen– Master of Household. Right there, there's a reson for packing a few extra bottles into your carry-on.
Where to indulge in it: Mandarin Oriental, San Francisco
5

5 Acqua di Parma
Acqua di Parma was founded in 1916 in Parma, Italy. It began as a small manufacturing company putting out the first real Italian eau de cologne, and has grown into a recognized brand the world over. International success came in the 1950s, when Hollywood film stars travelled to Italy and discovered Colonia, Acqua di Parma's original scent, in elite tailor shops. By the 1960s, Acqua di Parma had become an exclusive, high society perfume house. Their expansion into hotel toiletries has allowed them to introduce the brand to a larger audience.   Suitable for both men and women, Acqua di Parma has created a complete range of bath and body products, including soap, shampoo, conditioner and a luscious body lotion.
Where to indulge in it: The Hotel Principe di Savoia Milano (Dorchester Collection)
4

Bvlgari
Another Italian company, Bvlgari (Latin alphabet V = U in English alphabet) first became famous for its high-end jewelry and watches, it also produces a line of skincare products. Their complete line of Eau Parfumée au Thé Verte (Green Tea), is an elegant scent for both men and women. Its products are made with essential plant oils and silk proteins, fragranced with Italian bergamot and pepper, and available in posh bathrooms in London, Bali and Milan.
Where to indulge in it: Bvlgari Hotels and Resorts
3

Oscar de la Renta
This is the first such foray for fashion house, Oscar de la Renta (ODLR), known internationally for his clothes designs. The exclusive ODLR hotel collection includes: shampoo, conditioner, shower gel, body lotion, and soap.  Each item is presented in a clear 50ml recyclable bottle with a dark blue cap in a custom-designed rose shape. The fashion brand partnered with international perfume producer Firmenich to create the unisex fragrance, which is described as a "citrus aromatic floral musk." Other notes found in the fragrance include mandarin, bergamot, cardamom, freesia, jasmine, violet and white and green tea.  When asked about his departure from fashion, Mr. de la Renta said, "Regardless of the project, I think that it is my role as a designer to make a woman feel her very best." And we thank you.
Where to indulge in it: The Peninsula Hotels
2

Asprey Purple Water Collection
The British Standard since 1781, Asprey is renowned as makers of, among other things, fine jewelry, china, silver, leather, and watches. Holding a Royal Warrant and dating back to 1781, Asprey is one of the world's oldest and most revered luxury goods houses. Steeped in heritage, Asprey is synonymous with luxury and refinement. The Asprey bath and body range features their signature scent, Purple Water. The fragrance was originally created to be a distillation of the rich and creative past of Asprey, and its exciting and luxurious present. It's a fresh citrus fragrance blended with spicy undertones to denote strength and stature.
Where to indulge in it: The Ritz-Carlton Hotels
1

Farragamo
Salvatore Ferragamo, the Italian shoe designer whose shoes have adorned the feet of famous movie stars like Joan Crawford and Gloria Swanson, created a luxury brand consisting of not only shoes, but also handbags, small leather good, perfumes, eyewear and watches. The company's hotel toiletry collection includes the expected shampoo and conditioner, but it goes well beyond that. The Tuscan Soul toiletry line also includes eau de toilette, anti-aging face mask, shower gel, body lotion, facial mist, lip balm, bath tablets, bath soaps, face cream, hand cream, eye cream, refreshing towel, cleansing towel, shaving gel and after shave emulsion. It's a luxurious spa treatment without leaving the comfort of your hotel room.
Where to indulge in it: Waldorf Astoria, Silversea Cruises