We fell in love with Julia Roberts when she portrayed a hooker in the movie Pretty Woman. She showed us the sunny side of being a streetwalker and although it was a tad bit unrealistic it was an awesome movie and it started her climb into superstardom. She did have a few out there before that we loved. If you haven't seen Mystic Pizza, it's a classic. It doesn't matter who you are not to shave her armpits just loves Julia Roberts. "Boys, girls, old, young – they all love Julia," said director Garry Marshall. She grew to a level of fame that not a lot of women in Hollywood get to see. She's one of the highest paid females in Hollywood. She also has her own production company called REDOM, which is her husband's last name Moder, spelled backward. Movies such as Mona Lisa Smile and Eat Pray Love came out of that. She hails herself as just an ordinary girl. "I'm just an ordinary person who has an extraordinary job." Well, she's definitely not an ordinary person. She has accomplished so much in her career and these days she's just coasting through Hollywood.
She may be America's sweetheart, but Julia Roberts has a dark side as well — she is only human after all. She has done some questionable things over the years that don't quite sit well with us. She's a cool girl with a successful career, but she's also had a few scandals in her day as well. Check out these 12 things about Julia Roberts that make her America's sweetheart and 12 that don't sit right with us.
24

That Red Hair
Julia Roberts was at her most beautiful when she used to let her naturally curly red hair flow wildly. It was the look that she had in Pretty Woman. We don't get to see her hair like that any longer because she doesn't embrace her curls like she used to. She always looks beautiful wherever she goes but for the most part, her curls are polished, or her hair has been straightened. We don't see that wild look of hers anymore. It was definitely her signature look at the time and it was one of her most defining features. Over the years she has changed her look, and one time she stated that she deliberately chopped off her hair because people were so obsessed with it. Celebrities just love being rebellious. She even shocked us once with a pixie cut when she played Tinkerbell in the movie Hook, all those curls went to waste. She is taming her locks these days, but those red wild curls were her best look ever. "When her hair is red and long and curly," Newsweek once wrote, "she's at her most delicious. We would definitely have to agree with Newsweek, she was a total babe in those days.
23

When She Said Jennifer Lawrence Shouldn't Be In The Club
When Jennifer Lawrence started making it big circa 2013, Hollywood started to refer to her as the newest addition to America's Sweetheart club. It's a club that not everyone has gotten into and Julia Roberts is pretty much the Queen of it. During an interview with MTV's Josh Horowitz, he asked her what she thought of Jennifer Lawrence being the newest member of America's sweetheart club. "She shoots flaming arrows. Is this a new cupid tactic?" Was that her way of saying that we were all under the spell of Lawrence? Horowitz then asked if Roberts didn't want the actress admitted. She dodged the question by stating, "My card is expired and I didn't get a new one."
She then tried to backpedal while also stating how she feels about Lawrence when she said, "I think she's fabulous, but she doesn't seem...she seems cooler than..." And then she just trailed off and Horowitz tried prodding her by saying, "Too cool to be a sweetheart...?" and Julia seemed to affirm that was where she was going with it and continued with, "Isn't she too cool to be . . .?" We start to hear crickets in the interview when she then mentioned that the interview has "gone to a stand-still."
22

She's One of the Highest-Paid Actresses
Most actresses in Hollywood would dream to have a career like Julia Roberts. She's been in some really fun movies over the years and she's also one of the highest paid actresses in the industry which is a pretty big deal considering the #TimesUp movement. Pretty Woman was obviously the movie that launched her career and yet at the time Roberts stated that she had no idea what impact the film was going to have on her life.
"People say, 'Oh, when Pretty Woman came out, it must have really changed your life,' and it's kind of become this joke, but the truth is, I was out of town when Pretty Woman came out,"
she said to People. "I was in another movie in this tiny little town that was showing Star Wars in its first run. I remember reading, 'Pretty Woman came out this weekend and made this much money' and I thought, 'Is that a lot of money? Is that good? Is that great?' I didn't really know." It sure wasn't long before she learned how successful she really was. "Everything I've done has had a purpose and has been passionate and has been executed in the best way that I knew how. Maybe that's not the perfect way. Maybe that's not the easiest way. But it's the best way I knew how to do it."
21

She Was Blamed For A Family Scandal
We all have skeletons in our closet, but this one is particularly ugly. You may not have heard that Julia Robert's half-sister Nancy Motes committed suicide in 2014. It was an overdose and obviously a traumatic thing for the family to go through. Not everyone leaves behind a note and if they do, it's often brief. In the case of Mote's, she left behind a 12-page note that actually blamed Roberts as the reason. John Dilbeck, who was Motes' fiancé spoke, about the terrible relationship that the two sisters had.
"The world knows Julia Roberts as America's sweetheart, but the reality is far different. Nancy felt bullied by Julia her whole life. Julia tormented Nancy about her weight and called her a fat failure.
Nancy spiralled into a pit of depression and took her own life...I put the blame for that firmly in the hands of her family. If Nancy hadn't been Julia Roberts's kid sister, I believe she would still be alive." Those are some powerful words and regardless of what the truth is that couldn't have been easy for Roberts to hear.
20

She Has the Best Laugh Ever
There's one thing about Julia Roberts and it's that she has the most amazing laugh ever. As soon as you hear it you know that it's her. Her infectious laugh is one of the best parts about her. During the iconic scene in Pretty Woman where she gets her hand caught in the jewelry box, that scene was not scripted. It was something that Richard Gere did on impulse and it worked so awesomely that they kept it. "He was improvising," screenwriter J.F. Lawton told EW, "and Julia didn't know, so her laugh was real." One fun fact about The Runaway Bride is that Roberts got to keep all those amazing dresses from the movie. Talk about a lucky girl. She's keeping them for dress up options for her daughter when she's older.
"I did get to keep the wedding dresses from Runaway Bride. They're all boxed up in my garage. I've never opened them. It'll be fun one day when Hazel is taller. She can play dress-up with her friends."
That's going to be a really fun thing when her daughter grows up. Can you imagine being a kid and saying that you got to dress up in the gowns from her movies? It's just too much to take.
19

Julia Roberts Hates to Be Criticized
Well, we can't really blame her. Who really does? But it's certainly not one of her brighter points. There are actually a few people in the industry that aren't fans of Roberts and one of them happened to be critic Robert Friedman who stated that Roberts was "rude, downright nasty, and dismissive" during the premiere of her movie Duplicity. He stated that the actress snubbed him in front of people and even cut in between him when he was talking to director Tony Gilroy. He said her behavior was "unexpected and chilling." Those are definitely powerful words said against the actress.
When Friedman asked Robert's publicist Marcy Engelman why he was being treated that way she stated, "She knows you broke the embargo on her play and wrote bad things about her." When it came right down to it, Julia Roberts was upset that he had given her a bad review when she did the Broadway play Three Days of Rain. As it turned out his review of the play was complimentary so she must have gotten some bad information, but it shows how well she responds to criticism. "I wouldn't have thought that what I wrote about Roberts in her play could have justified the scene at last night's party. It was not pretty, and it was meant to be devastating. Her associates said, 'This is what she was told.' And that's even worse: to think that most people in Hollywood start many conversations with these words: 'I was told you wrote (blank).'"
18

She Loves Being A Mom
Julia Roberts has stated that being a mom has been her best role yet and when it comes to her being one is like a fierce momma bear. "My life at home gives me absolute joy," she said. When she married Danny Moder the two of them had twins, Hazel and Henry. She is not someone that wants her children in the spotlight and we rarely see them out. "We try to protect our kids," she told USA Today. "We just want to have our family life and not have that intruded upon." What she hates most of all is to see paparazzi camped out at her child's school. So not cool. There was a time in 2007 that she actually chased down a photographer in her SUV who had been near the school to tell him exactly how she felt. It was all caught on camera showing the actress getting the photographer to pull over. Once he did, she informed him to turn off his camera.
"Listen, hi. You can turn your video camera off because I'm going to talk to you about the fact that you're at a school where children go. Turn it off!"
It obviously went viral and Roberts was asked by Access Hollywood what she said to the guy. Roberts replied, "I just told him a school is not a place for a grown man to be crawling around trying to take pictures. If you want to take a picture of a person, then go to an adult place. Go to the coffee shop, go to the grocery store, go to the restaurant. Don't stake out someone's children's church, school, or playground environment."
17

Nick Nolte Doesn't Think She's A Nice Person
Back in the day, Julia Roberts was in a romantic comedy called I Love Trouble with Nick Nolte, it didn't do as well at the box office as they thought it would. The two had zero onscreen chemistry, in fact, they hated each other. Crew said that they couldn't even do scenes together and that stand-ins had to be brought in because they couldn't stand to be around each other. Roberts made her feelings about Nolte well known. She told The New York Times that her co-star could be "charming and nice, [but] he's also completely disgusting." That was a pretty big blow for Nolte and he had no problem confirming the rumors that she's not as nice as everyone thinks that she is.
"It's not nice to call someone 'disgusting.' But she's not a nice person. Everyone knows that."
It's been forever since that movie was released but Roberts is still hating on Nolte. When she was on the Late Show With David Letterman in 2009 she told a story about an actor that she had worked with in the past. She did the best impression of the profanity-filled Nick Nolte impression that we had ever seen. "What is that? Did you not hear me? You don't know what you're talking about!"
16

She Doesn't Do Certain Scenes
Julia Roberts has had a pretty big career over the years and these days she can command upwards of $30 million a movie. She is one of the highest-paid actresses in the industry and yet she has never done an intimate scene in a movie. "I wouldn't do nudity in films. For me, personally, to act with my clothes on is a performance; to act with my clothes off is a documentary." She has even joked around that people don't want to see her nude. She's definitely proven that you don't have to take your clothes off to have a successful career in Hollywood.
"I've never had to pretend to be intimate with somebody. I'm like the queen of the foreplay dissolve." Many actresses believe that you have to show skin in movies to be taken seriously or that those types of scenes are crucial to the storyline of the movie, but Julia Roberts doesn't see it that way. "I think less is more when it comes to kissing in the movies." It just goes to show that a successful career in Hollywood is possible. Some actresses even have nudity clauses in their contracts stating how much skin they are willing to show.
15

She Was Once Called Tinker Hell
Steven Spielberg is a legend in the industry but even he failed to bring a huge audience to the movie Hook. It just wasn't the success that he thought it would be. It could have had a lot to do with the tumultuous temperament of one of the lead actresses, Julia Roberts. She didn't have a huge part in the movie but she sure made a huge impact on set. When she starred in the movie she was pretty young, only in her early 20s. She may look happy in this photo but many people said that she was an emotional wreck on set and Spielberg didn't want to work with her. During an interview with 60 Minutes, he was asked if he would ever work with her again. "No, it was not a great time for Julia and I to be working together." The crew even had a nickname for Roberts, "Tinker Hell." During filming Roberts was barefoot a lot and she would demand a personal assistant whose sole purpose was to clean her feet. She eventually responded to all the negative press she was getting during an interview with Vanity Fair,
"Not a thing I read about that was truthful, and it really hurt my feelings. Because not only did it make me sound mean, but it was a situation where people who knew the truth talked about it in a way that wasn't untruthful. I saw that and my eyes popped out of my head.
I couldn't believe it. I couldn't believe that this person that I knew and trusted was actually hesitating to come to my defence. It was a hard lesson to learn."
14

She Stands Up Against The Paparazzi
You wouldn't expect someone like Julia Roberts to be forceful in the media, but when it comes to her private life, she has no problem telling off the paparazzi. In 2009, she confronted a cameraman and she had no problem with telling it like it is. She was picking up her children from school when a cameraman approached her. "Hey Julia, how are you? You look great today." She made sure to get out of her car and approach the guy.
"You get out of my face. Do you understand me?" she screamed. "You are harassing me. Get out of my face. You have followed me all over town. I have had it with you."
He apologized to her but she wasn't done with him. "Aim higher! Get a life! Get away from me!" she said. There was another time that she was approached in 2012 when she was in New York and she told the paparazzi to "go on with his life." She allowed him to get a couple of pictures of her and then told him, "it looks like you need a shower and some dinner." You might think that it's rude, but we think it's pretty awesome because they shouldn't be invading celebrity's lives.
13

She Left A Man At the Altar
She must have felt a little nostalgic when she was making the movie Runaway Bride because she once left a man at the altar herself. When she was in her early 20s, she fell in love with her Flatliners co-star Kiefer Sutherland. The two became engaged to be married however it never happened. At the time, they were considered to be the "it-couple" but just three days before they were to be married she called off the wedding. As if that wasn't painful enough for Sutherland she also went to Ireland with Sutherland's best friend Jason Patric — now that's cold. The paparazzi had a field day with that one and when the two returned they were stalked. The two went public with their relationship which was no big surprise to anyone. The two didn't end up staying together for very long but the public never really got over how callous she seemed to be with a man she supposedly had loved. Although Sutherland was heartbroken, he never held a grudge towards her. During an interview with Rolling Stone in 2006, he said, "I commend Julia for seeing how young and silly we were, even at the last minute, even as painful and as difficult as it was. Thank God she saw it."
12

She Worked Really Hard
Fame wasn't just handed to Julia Roberts and everyone knows it. She worked her butt off to get to where she is in the industry. When she finally won an Oscar for her role in Erin Brockovich, it was such a monumental moment in her life. At that point in her career, she had also broken into the $20 million-a-movie club. "Nobody made Julia Roberts a star," Reese Witherspoon told Premiere. "She busted her butt." Roberts seems to know the formula for making great movies. She has rarely had a dud within her career.
"Making movies is not rocket science. It's about relationships and communication and strangers coming together to see if they can get along harmoniously, productively, and creatively. That's a challenge. When it works, it's fantastic and will lift you up. When it doesn't work, it's almost just as fascinating."
She literally transformed herself for the role, wearing the kind of skimpy clothing we had not seen her in before. "She's at her absolute peak as an artist," director Steven Soderbergh said of her work in the film. That's a pretty great compliment from someone who really respects her as an artist.
11

Her Movie Had Villagers Banned From Worshipping At Their Temple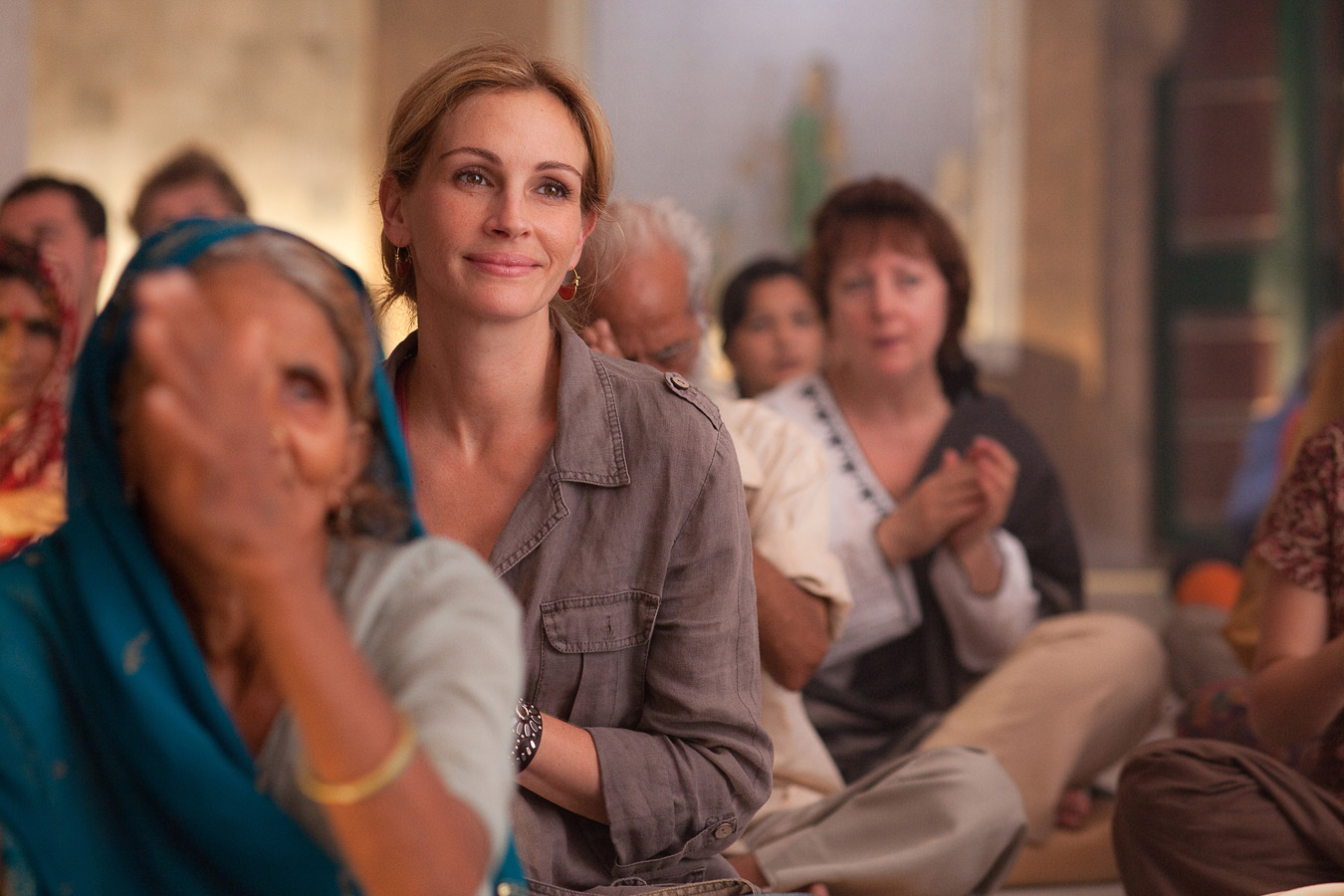 When she was filming Eat, Pray, Love there was portions of the film that were shot in Delhi, India. The villagers in the area became very unhappy while Julia Roberts was around. Filming actually took place at the beginning of Navratri — the nine-day worship of the goddess Durga which was obviously a popular time for villagers to worship. The only problem was, the temple that they worshipped in was sealed off and shut down by Roberts's security team which consisted of 350 guards.
"Entry for devotees is barred. We were not allowed to enter and pray in the morning by the security. Only those who could manage to sneak in did so, but most of us were all sent back.
It's Navratras and we must not be stopped from visiting a temple," said Shakuntala Devi. That's pretty cold and it should have been something that Roberts respected. A local police officer said, "There are more than 100 policemen outside the Ashram Hari Mandir and almost [an] equal number inside the premises, both uniformed and in civilian disguise. Nobody can breach this cover and no outsider is allowed to enter the ashram, no matter whosoever he or she is. We have strict instructions."
10

She's Box-Office Gold
Julia Roberts is a regular when it comes to being on Forbes highest-paid actress list and it's no wonder. It seems everything that she makes is box office gold. In 2016, she was 8th on the list at $12 million even after her movie Mother's Day was a fail at the box office. Overall though she has an estimated worth of $150 million. When she starred in the movie My Best Friend's Wedding in 1997, she broke a record at the box office for rom-coms pulling in $21.7 million during its opening weekend. Overall, it made $300 million and that even topped Sleepless in Seattle. Her romantic comedies over the years have pulled in over $1 billion. She was the first actress ever to be able to demand $20 million per movie. And that moved up to $25 million when she made Mona Lisa Smile. Everyone sees her as a mega-star, but she doesn't see herself that way.
"People talk about this Julia Roberts almost like it's a cup of Pepsi. People think Julia Roberts is something they created.
The fact is, 26 years ago, there was this scrunched-up little pink baby named Julia Roberts. I am a girl, like anybody else."
9

She Was Part Of A Scandal
Julia Roberts married Danny Moder at her home in New Mexico in 2002. The two met when she was filming the movie The Mexican with Brad Pitt. He was one of the cameramen that were on the set. The way that Roberts tells the story, it was like love at first, but at the time Moder was still married to a woman named Vera.
"I hope that there are people who agree that I have done some good, kind things in my life, but to really, ultimately, stand fully in a moment of realizing that I was born to love and to be the wife of this man."
Vera accused Roberts of stealing her husband and it was rumored that at first, none of his family wanted anything to do with Roberts because of it. Roberts claimed that their marriage was already over before she came along. "He sorted his whole thing out, separate and apart from me. And I sorted my life out, separate and apart from him. I think that's the only reason we were able to ultimately fall in love with each other and be together." Even Oprah asked her the pointed question and she replied, "No. I'm an easy person to point the finger at — "She did it" — and I see that. I don't begrudge people the easy finger-point. It just doesn't happen to be so."
8

She's Very Generous
It might be hard to believe considering some of the things you have read here, but it's true. She didn't spend her 49th birthday having a party for herself, instead, she decided to give back. She also asked that people not buy her gifts at the time. She told fans that she would appreciate it if they instead could help the LGBTQ youth instead. When she appeared at the GLSEN Respect Awards a week prior to her birthday, she asked fans to donate to the organization in the amount of $49 in honor of her age.
"If you wake up next Friday and think, 'What should I get Julia for her birthday?'" she said in a speech. "Donate to GLSEN."
She has also served as UNICEF's Goodwill Ambassador to Haiti during the '90s and was also one of the celebrities who answered the phones during George Clooney's "Hope for Haiti Now" telethon. It was organized to raise money for victims of the earthquake that happened in 2010. She has talked about what it means to be young and in the limelight. "We all need to take a deep breath and think about being a Bush daughter and having that cross to bear. I'd go out and have a couple of drinks too."
7

She's Not On Good Terms With Her Brother Eric
It seems as if Julia Roberts has a lot of tumultuous relationships with family members. It seemed that they got along more when they were younger, but there have been a lot of rumors over the years that they had a difficult relationship. In 1993, Eric Roberts was going through a custody battle with his girlfriend Kelly Cunningham over their daughter Emma Roberts. That's right if you didn't know it before, Emma Robert's is Julia's niece. According to People magazine, Eric and Julia became estranged because Julia took Kelly's side and even spoke against her brother in court. It's also been reported that the two reconciled in 2004 after she had her twins. Eric came to visit Julia in the hospital after she had her twins and Eric stated, "We all dropped a couple of tears. We couldn't stop going, 'Wow, look at his hands, look at his feet, he's got red hair!'" Since that hospital visit the two seemed to have remained on good terms. Eric has stated,
"There was never really a feud. We're brother and sister and we both have really strong opinions about things...but it got so blown out of proportion. We stopped talking and then with the birth of the twins, we started talking again."
He also added, "Now we talk almost every day. I like her."
6

That Moment She Won An Oscar
Julia Roberts was over the moon when she won an Oscar for Best Actress in the movie Erin Brockovich. She could finally say that all her hard work had paid off. She was 33 when she won the award and her excitement was infectious. "I love the whole world," she said at the podium. "I'm so happy. Thank you." She had one of the longest speeches in the history of the Oscars though she did warn the orchestra conductor not to start playing because she had plenty to say. She basically thanked everyone and their dog for her Oscar win though she did fail to thank the real Erin Brockovich the inspiration for the whole movie. That probably didn't go over very well.
"Every actor wants to win an Oscar, full stop. It doesn't mean you try to design things around how to accomplish that because that's impossible."
She also stated that Denzel Washington should have won Best Actor long before she ever got one. "I cannot absorb living in a world where I have an Oscar for best actress and Denzel doesn't have one for Best Actor." There are so many actors like that who get ripped off in the industry. Just look how long it took Leonardo DiCaprio to win an Oscar.
5

Their Stepfather Wasn't Kind
Julia Roberts hasn't had the best luck when it comes to family members and when it comes to her stepfather he doesn't sound like a very nice person. Julia has never spoken publicly about her stepfather, but that mainly has to do with the fact that she's really private. But based on the rumors he was abusive. It is said that she "feared and despised" him. That was how her half-sister Nancy Motes came in the picture because her step-father is Michael Motes. Her mother Betty divorced him in 1983 citing "cruel treatment" in her divorce petition and she called her marriage to Motes, "the biggest mistake I ever made." After that point, both Julia and Eric talked about their stepfather's behavior.
"It was common knowledge where we grew up that Motes was a freak. He would have stood out in a crowd of ten thousand.
Whether he married my mother to get close to her children or not, I don't know. But clearly, marrying him was not a good decision or a healthy thing for her children. Our mother's husband terrorized and abused me, and I fear he terrorized my sisters, Julia and Lisa, as well."
4

She Loved Being Part of The Boys' Club
When she joined the Ocean's Eleven franchise she became one of the boys and that meant getting pranked all the time. The boys are known to prank each other on the set. It's funny because when she joined Ocean's Eleven the opening credits introduced Julia Roberts as a beginner actress when it stated, "Introducing Julia Roberts" and that was the first of many pranks. The group was considered to be the boys' club and she was the only girl in the cast at the time. "It was like being the youngest girl in a family of boys," she said. "They picked on me." She loved the entire cast though and it was one of the best experiences she went through.
"That is the great joy: to go to work with people that you love, whether they be people that you are in love with or people that you just love, and be creative and artistic and make things that you want to send out into the world and make people feel good."
Being an actress must be one of the best jobs in the world and she's definitely one lucky girl.
3

She Ditched Another Husband
People were shocked when Julia Roberts married Lyle Lovett in 1993. Especially since it was just a couple of years after she ditched Kiefer Sutherland at the altar. Not to mention Julia and Lyle couldn't be more different. He was an old guy and she was still in her 20's, it was a bizarre union and no one could believe that they were actually a couple. What was worse was that they got married just three weeks after they met. Three weeks! It wasn't any big surprise that the marriage only lasted 21 months. It was stated that they broke up because they were always apart.
The day after her wedding Roberts went straight to work and they were constantly apart because of both of their careers. Sadly, the two never spent more than a week together at any time. It's probably something they should have considered before they got married. When they announced their separation in 1995 ,they made a statement, "We remain close and in great support of each other." At the time though Lyle was recovering from a shattered collarbone from a motorcycle accident while Julia was off filming a movie. Great support system he had there.
2

She's Not On Social Media
To be honest, she's probably better off because it's a lot less stressful to be offline. You might be surprised to hear that someone as famous as Julia Roberts is not on any social media channel. She told Marie Claire all about it in the December 2013 issue, "It's kind of like cotton candy," she said, referring to the Internet.
"It looks so appealing and you just can't resist getting in there, and then you just end up with sticky fingers and it lasted an instant."
She has also stated that she tries not to search for herself on Google and we can totally see why. "I have too much potential for collapse," she said, stating that criticism comes easy online. "There's an anonymity that makes people feel safe to participate in hatefulness." She has stated that she has no problem with criticism even though we did hear otherwise. "I like a good old-fashioned fistfight if people are pissed off at each other," she explained. "I just feel like if you're really mad and want to have a fight, then put your dukes up." We had no idea that Roberts had such a violent nature but she does chase after paparazzi.
1

She Knows What Real Beauty Is
When Julia Roberts was filming Notting Hill, she decided to take on some European customs. She pretty much grossed everyone out when she showed up to the premiere with her pits unshaven. She was wearing a beautiful dress, but it had become obvious to everyone that she hadn't shaved her armpits in quite some time. At the time, she was also supporting the Gucci Chime for Change Campaign which was all about raising awareness of women's issues. She was dating the handsome Benjamin Bratt at the time and it's rumored that he loved the fact that she was au naturel. At the time, she stated that it was perfectly normal for a woman to not shave her armpits. Beautiful women are able to pull just about anything off and she didn't seem to offend too many people with it. She obviously didn't stick with the look for very long because at the next event we didn't see any hair. Sometimes we think she does these things in the media just for attention. "If all you have to offer is a look that is supposed to be appealing, then you are going to be paid attention to about a tenth as long as you would be if when you speak you are interesting."
References: vanityfair.com, abcnews.go.com, people.com, dailymail.co.uk, globalnews.ca