Imagine having one single contract or sale that can make you a millionaire. Now imagine that happening to you before graduating high school. We are not talking about some long term job here, just a single gig, a single show that sets you for life (if you're smart with your money). This is not a list of the wealthiest teens, but the teens that received the biggest paycheck for a single movie, or a single season of a television show. Musicians aren't included here, because it's harder to figure out what they made from a single album, concert tour etc,. Even actors don't release their salaries all of the time, but more often at least. Most of the actors on this list made their money on TV, and not on the big screen. It seems that a recurring series whether on streaming services, television etc., seems to be attracting more and more viewers recently and the salaries dished out reflect that. But don't count out films. The richest teens on the list made their fortune in the biggest film franchises of the last decade.
17

Demi Lovato - $1 Million as a Judge on X-Factor, 2012  (Age 19)
Demi Lovato, born in 1992, currently makes her riches as a singer. She made her debut as a child actress at the age of 10 in Barney & Friends, rising to prominence a few years later on the Disney Channel television film, Camp Rock. She wasn't making millions as a teen from her acting, but like many Disney stars, she developed her more lucrative musical career as a result of this show. Her biggest paying television gig came as a judge on the X-Factor at 19 years old. In later years as an adult, she raised her salary on the show to $2 million a year. During the peak of her fame in 2010, she battled anorexia, a battle she won after checking herself into a clinic that same year. In 2014 she made it to #40 on Maxim's Hot 100 List.
16

Chandler Riggs - $1.44 Million for the Latest Season Of Walking Dead (Age 16)
Walking Dead is one of the most popular cable shows right now, if not the most popular. As such, everyone gets to take part in the riches, even the young ones, at least before they get killed off. Chandler Riggs makes $90,000 per episode this year (for over 16 episodes). Not officially a millionaire yet, he should be one in no time. He got his acting start at age 7 on Jesus H. Zombie (2006). Even with all that fame though, he's just a regular kid who attends a public school in Georgia. Even his photos look unpretentious. He is currently in grade 10, and if he is smart enough he will already be able to retire by the time he finishes high school. How cool is that?
15

Gary Coleman - $1.68 Million for the Final Season of Different Strokes, 1985 (Age 17)
Gary makes this list even though he was a star more than 30 years ago (at a time when even Bill Cosby wasn't making that kind of money on TV). If you adjust for inflation, Gary would be one of the top 5 child star earners right now. He started his career on the famed show about racial harmony (Different Strokes) at the age of 10. The biggest child star of his decade by far, he was born with one atrophied kidney and a weak second one, he had two kidney transplants by the time he reached 16 and the effects of his dialysis medication permanently stunted his growth (to 4'8"). Unfortunately like every child star on that show, he developed quite a few issues in adulthood. In his case, the troubles probably stemmed from the fact that Hollywood had no more need for an adult star trapped in a child's body. Even with all of his millions, he declared bankruptcy in 1999, due to overwhelming hospital bills and legal bills. I guess millions aren't enough if new income is not coming in.
The 42-year-old actor died of a brain hemorrhage on May 28, 2010, after suffering an epidural hematoma from a fall at home. A sad end to a career that had every famous comedian of his day praising his comedic skills as a teenager.
14

Abigail Breslin - $2 Million For Both: Kit Kittredge: An American Girl and Nim's Island, 2008 (Age 12)
Currently still only 19 years old, she broke through in a big way with both critics and fans at the age of 6, as Mel Gibson's daughter in the movie Signs (2002). You know your good when you get spoofed one year later in Scary Movie 3. As a child, Abigail Breslin went on to win numerous awards, and even an Oscar nomination at the age of 10. This success paid off big time financially as she could ask and get $2 million per movie by the age of 12. An amount so staggering, few readers of this article will reach that figure in a lifetime. Her most recent ventures are in music, having signed with an independent record label in 2012. If she doesn't continue acting, she has dreams of becoming a fashion designer or a veterinarian. With a net worth of $12 Million, she can do whatever she wants.
13

Ariel Winter - $2.3 Million for the Latest Season of Modern Family (Age 17)
The next three on the list are the child stars of Modern Family. But aren't there 4 Children on Modern Family? Sarah Hyland (at 24) is too old to be included even though she makes the same salary. All three stars will get a $20,000 raise per episode next year, which means they will be millionaires many times over and even higher on this list before reaching 20. This year all three earned $95,000 per episode (for over 24 episodes). Ariel started her career at 6 years old with a recurring role on the final season of the mega hit TV Series ER. Born in Virginia, she has Greek roots on her mother's side and German roots on her father's side. She is an avid singer who has a band with her best friend called Wicked Sweet. They've already recorded their first CD. Also, don't make her angry as she has a purple belt in Tae Kwon Do.
12

Nolan Gould - $2.3 Million for the Latest Season of Modern Family (Age 16)
Nolan began acting and modelling at the age of 3, alongside his brother. Although he plays an academically challenged kid on the show, in real life he had an IQ of 150 at the age of 13 and is a member of Mensa. Even though Ariel Winter is older then Nolan, he is actually 2 grades ahead of her in school. It's a bit ironic since the roles are reversed on the show. He has had side projects such as Friends with Benefits (2011) and The To Do List (2013). His family is of French, English and German ancestry.
11

Rico Rodriguez - $2.3 Million for the Latest Season of Modern Family (Age 17)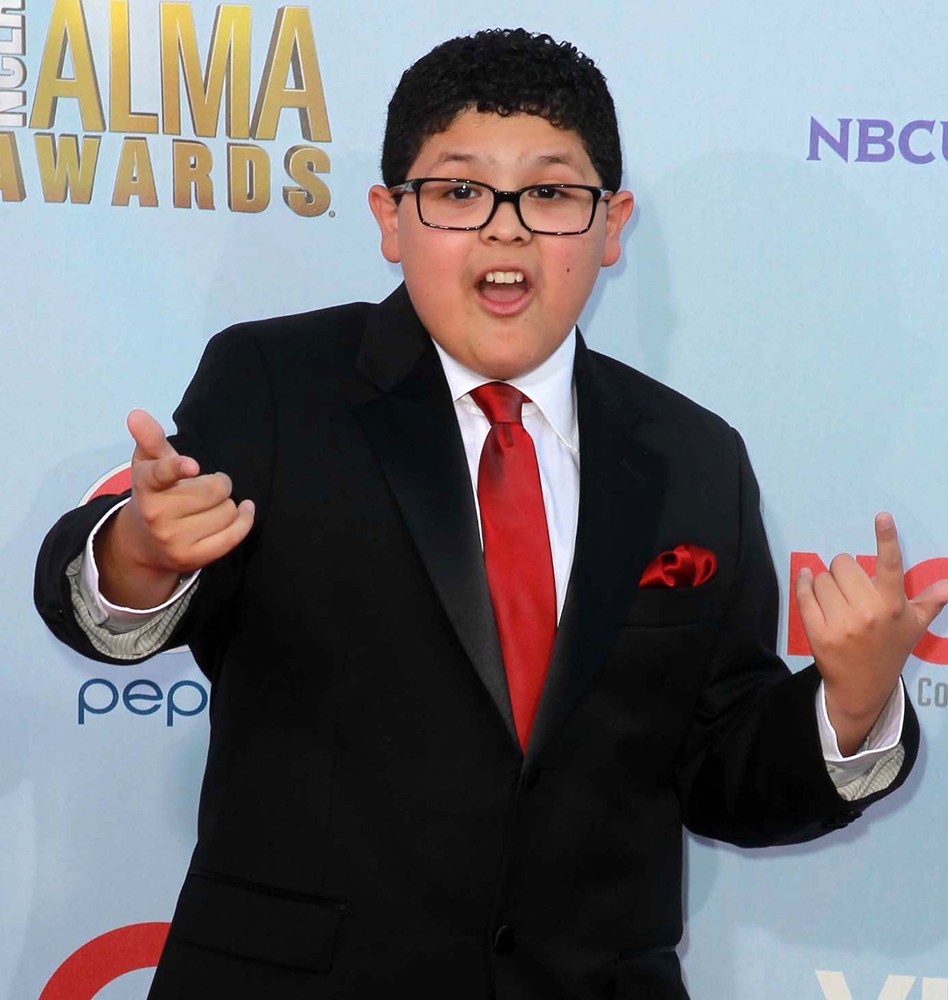 Probably the most likable teen character on Modern Family, because of his humorous inability to fit in properly with his age group. He got his start in 2006 at the age of 8 as an ice cream prankster on Jimmy Kimmel Live!, and even had a gig playing beside current co-star Ariel Winter, in the 2009 movie Opposite Day. Born in Texas, Rico Rodriguez is of Mexican descent.
10

Victoria Justice - $2.5 Million For Victorious, 2011 (Age 19)
Victoria Justice is a star from that other network catering to teens and children Nickelodeon, she debuted as an actress at the age of 10. In 2005 she got her first big role at the age of 12 in the Nickelodeon series Zoey 101, as Lola Martinez, a new student who is also an aspiring actress. Since then she has acted in numerous films and television series. She is a mainstay in Nickelodeon, having appeared in nine of the company's films and TV shows as a teen. Her musical career is also very successful. She has performed several songs for the soundtrack to the Nickelodeon musical Spectacular!, in which she also starred. She has also recorded a number of songs for the Victorious series. Currently 22, she has a net worth of $8 Million.
9

Jaden Smith - $3 Million for The Karate Kid, 2010 (Age 12)
The second person on the list to make his big payday at the age of 12. He had a leg up on everyone else, being born to Hollywood royalty. His first role was alongside his father in The Pursuit of Happyness (2006) at the age of 8. But even if your parents are ultra famous, it doesn't always translate to success for the kids. He is equally well know for some of his illegible quotes such as "I don't want you guys to think because I was born in America that I speak and abide by English grammar. I speak Jaden, indefinitely." His career took a small turn for the worse after starring alongside his dad in the mega bomb After Earth, in 2013. However, he is involved in so many things from singing, to song writing and dancing, so he'll definitely bounce back. He is also scheduled to make a sequel to his Karate Kid remake.
8

Dakota Fanning - $4 Million for The Twilight Saga: Breaking Dawn, 2009 (Age 15) and Part 2 (Age 18)
Dakota Fanning is probably the busiest child star on this list. She has appeared almost everywhere, and is one of the few child stars that could open movies and draw crowds on her star power. Since the Twilight Saga movies, she's been a little quiet, but this year at the age of 21 she came back in a big way, earning a reported $58 million in 2015, making her America's highest paid actress of this year. Not only has she made money acting, but in modelling as well. Her modelling career started in 2009 when she made the cover of various magazines like Elle, Vanity Fair and Cosmopolitan. She first found success as a 5 year old in commercials, and by the age of 6, she guest starred on shows like ER, CSI and The Practice. She got her first Award at the age of 7 in the movie I am Sam. For the next 4 years she worked beside many A-List Hollywood stars including Tom Cruise in War of The Worlds (2005). By age 12 she was reportedly commanding $4 million a film. Her current net worth as a 22 year-old, not including what she made this year, is $16 million.
7

Emma Watson - $4 Million For Harry Potter and the Order of the Phoenix, 2007 (Age 17)
Emma Watson gained fame as one of the two main supporting actors in the wildly successful Harry Potter film empire. She gained much bigger paydays than the one mentioned here in her more recent Harry Potter films, but she was as an adult then. Her biggest payday as a teen was in 2007.  She started her acting career at the age of 11 in the first Harry Potter Movie, Harry Potter and the Sorcerer's Stone. Now 25 and absolutely stunning, she has recently appeared in films such as the Perks of Being A Wallflower (2012) and Noah (2014). Her net worth is an astounding $60 million, largely in part to one franchise. At the age of 15 she became the youngest person to appear on Teen Vogue. In 2009, she was named the 'Highest Grossing Actress of the Decade' by the Guinness Book of World Records, as her films grossed over $5.4 billion.
6

Rupert Grint - $4 Million For Harry Potter and the Order of the Phoenix, 2007 (Age 19)
Just like Emma Watson, Rupert made his riches as one of the two main supporting Actors in the Harry Potter Franchise. He also started his film career in Harry Potter back in 2001, at the age of 13. His first post Potter film was the 2012 anti-war movie, Into the White. All of his fortune can be attributed to his one audition tape for the Harry Potter film, where he performed hip-hop lyrics in order to promote himself. It obviously worked. Does he really look like the hip-hop type though?
5

Miranda Cosgrove - $4.5 Million For iCarly, 2010 (Age 17)
Her first film was at the age of 10, in School of Rock. Next year her pilot Drake and Josh was picked up, where she co-starred as the title character's little sister. Her big break came in 2007 with Nickelodeon's iCarly. Not only did this show make her rich, it launched a somewhat successful music career. Her debut album reached #8 on the billboard charts in 2010. Many other teen TV stars were also successful musicians, but only one other got millions for her teen TV flick. At one point she was the highest paid teen star on TV, before the next person on the list took her top spot. Miranda's net worth as of 2012 is $7 million.
4

Angus T. Jones - $7.7 Million For Two and a Half Men, 2010 (Age 17)
From the television show that seemingly lasted forever, everyone got rich, even its teen star who basically only appeared for a couple of minutes on each episode. Amazingly he does have two other acting roles prior to Two and a Half Men. These were The Rookie (2002) and Bringing Down The House (2003). Most kids in Hollywood take a different path than Angus. They usually start out clean and wholesome, then go crazy as an adult trying to shed that image. Angus is the opposite. He started out as anything but wholesome and is trying to shed that image for his future endeavors. He left the show, despite the money because he could no longer stand its values. He faced a whole lot of criticism for it, most probably because it's not the norm in Hollywood.
3

Macaulay Caulkin - $8 Million For Both Getting Even With Dad, 1993 and Richie Rich, 1994 (Age 13 and 14)
Born in 1980, he was the most successful teen actor since Shirley Temple in the 1930s. He made most of his $15 million before he learned how to drive! Amazingly through all of his drug and legal issues, he still kept most of that money in his adult years. He may not be successful as a film star in his adult years, but he probably doesn't really care. Macaulay Culkin is the kid who got famous for being left behind by his parents in Home Alone (1990) at the age of 10. Admittedly, he was damn funny as well, teaming up with John Candy in Uncle Buck (1989), a year earlier.
2

Taylor Lautner - $12.5 Million for The Twilight Saga: Breaking Dawn - Part 1, 2011 (Age 19)
Taylor might actually be number #1 on this list if his royalties from the Twilight Saga are calculated. When signing the contract for The Twilight Saga: Breaking Dawn, he was supposed to receive 3% of the movie's gross on top of his salary. No record of how much that amounted to could be found. Why aren't his co-stars, Kirsten Stewart and Robert Pattinson, on this list as well? They received the same amount of money, but were in their twenties when the movies were released. His net worth of $40 million is almost entirely from one movie franchise.
1

Daniel Radcliffe - $14 Million For Harry Potter and the Order of the Phoenix, 2007 (Age 18)
Loyalty does pay, and Daniel Radcliffe is proof. He has amassed a fortune of $110 million from one movie franchise. All this money before turning 26. He was paid significantly more for his more recent Harry Potter movies than the one listed here, but he was an adult by then. As teenagers go in Britain, only the Prince (not the singer) was richer. Another impressive fact is that he managed to act even though he suffers from Dyspraxia, a motor skills development disorder.
Sources: IMDB, Slashfilm, People, Bustle, NYPost