The city of Montreal, while smaller, has something that cities such as, Toronto and Vancouver don't. Namely, it's got the effortless cool that most places (and most people) can only dream of cultivating. Montreal is famous for its diversified festivities, such as The Festiblues or The Jazz Festival, exuding that artistic French mystique. Its no wonder celebs such as Genevieve Bujold, Gerard Butler and Leonard Cohen have all called the city home. One would imagine that a city like this one, also has its share of pretty great, fine dining restaurants. Here is a selection of the top 10 restaurants Montreal has to offer.
10

Ferreira Cafe (1446 Peel Street)
Carlos Ferreira's dream project, the Ferreira Cafe provides Montreal with high quality Portuguese food. Chefs Joāo Dias and Marino Tavares run the kitchen, giving traditional Portuguese dishes a fresh, modern spin. The seafood-heavy menu offers a daily tartare, as well as classics like seafood bouillabaisse (with optional lobster). With sommelier Paulo Ferreira, the Ferreira Cafe's wine cellar has become one of the best Portuguese wine reserves in Canada, and also has a large port collection, for those interested in finishing the meal with something sweet, but with fewer calories than the Natas (traditional Portuguese vanilla tarts) with ice cream. For two to enjoy a meal, it'll cost around $130-50, not counting wine.
9

Toqué! (900 Jean-Paul Riopelle Place)
Opening in 1993, Normand Laprise and Christine Lamarche's Toqué! has become a leader in Quebecois gastronomy. They've carefully fostered strong relationships with their suppliers, which allows them to consistently offer great quality, local foods to customers. The menu is constantly changing thanks to availabilities and the chef's research. Toqué! has been collecting accolades, including CAA Five Diamond Rating since moving to a larger location in 2004. The gastronomy focused menu means that traditional offerings like suckling pig and venison are embellished with culinary Easter eggs like emulsions, smoked creams and mousses. The wine list is extensive, and the menu has wine pairing offerings, for when you're eating multiple courses, and want the wine to match each one perfectly.  Dinner for two comes to about $160-80.
8

Joe Beef (2491 Notre-Dame Street West)
Named after Charles 'Joe-Beef' McKiernan, a Montreal innkeeper and working-class hero from the 1800s, Joe Beef serves steaks and seafood to those looking for something a cut above ordinary. Joe Beef is the brainchild of Frederic Morin and David McMillan, who've recently released their first cookbook/memoir, and have a seafood catering truck on the side. Like Au Pied du Cochon, (more information on them to come) there's a sense of whimsical gluttony in the menu, which is all crammed onto a single chalkboard. The best example of this is the Foie Gras Double Down sandwich, which could be compared to the artery clogging KFC entree, but with deep fried Foie Gras acting as the bread. If you want something less heart stopping, you can also try something from the in-house oyster bar. The wine list, watched over by sommelier Vanya Filipovic, focuses on wines from small, family-run wineries. For two to dine, it'll come to about $100, not counting wine or tip.
7

Maison Boulud (1288 Sherbrooke Street West)
When a restaurant shares a building with the Ritz-Carlton Hotel, it gains an air of luxury and refinement by association, not that Maison Boulud needs to borrow reputation from anyone. The fine work of chefs, Daniel Boulud and Riccardo Bertolino, enables Maison Boulud to offer French cuisine, flavored with a decade of work in New York, resulting in soulful contemporary French food. They offer choices like, a five-course tasting menu, or you could take a leap into the a la carte menu, which includes delicacies like lobster lasagnette and bacon-wrapped monkfish in a red wine and lobster sauce. While the chefs wow you with the food, sommelier Isabel Bordeleau has assembled a wine list that would be at home in France, with more than three hundred handpicked offerings. For larger gatherings, there are two private dining rooms available and a semi-private room for smaller parties. For two to dine, it will come to around $130-60.
6

Au Pied de Cochon (536 Duluth East)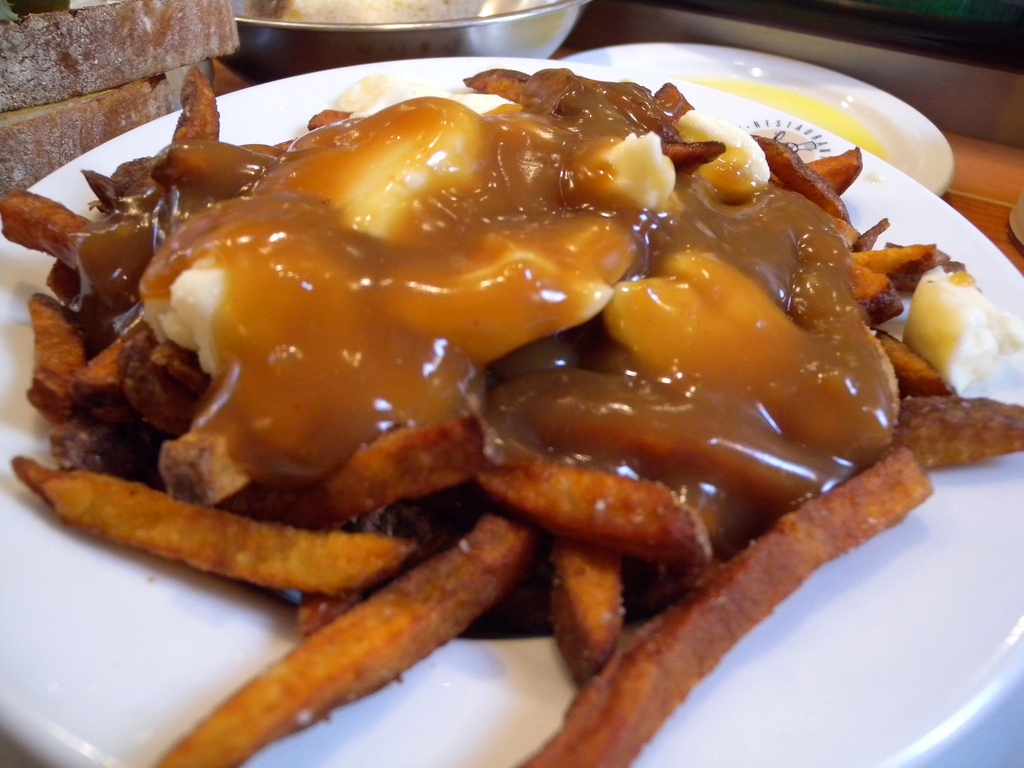 Insistence on natural ingredients, and combining the American restaurant portion size with a French restaurant's style, can only result in a foodie paradise. Owner and Chef, Martin Picard's restaurant first rose to fame thanks to his upper-class take on poutine, topping the fries, cheese curds and gravy with a foie gras sauce, with the rest of the menu following a similarly tongue-in-cheek approach. Martin Picard also offers courses at the Mezza Luna cooking school, for those who'd like to learn some of his culinary secrets. Open Wednesdays to Sundays, from 5pm to midnight, Au Pied de Cochon is an upbeat outing that has recently opened its doors for Sunday brunch, where it undoubtedly continues its tradition of large, rich and delicious. Two to dine comes to about $90-100, not counting drinks, but considering portion sizes, you might need something to wash down your meal.
5

Les 400 Coups (400 Notre-Dame Est)
Sharing its name with a 1959 French film, Les 400 Coups opened in 2010. The menu is contemporary French, and strives to be refined in execution, but also accessible in taste, while using local ingredients as often as possible. The chefs hope to create delicious, locally sourced dishes that combine multiple elements for an unforgettable eating experience, and they are surely succeeding, if the rave reviews are anything to go by. If you don't feel like dining a la carte, there's a five course tasting menu available as well. The in-house sommelier has created a comprehensive wine list that compliments the entrees and includes dessert wines, for sweet-toothed oenophiles. In addition to the menu, they have the occasional event, like declaring, March 'Maple Month' and offering a three course menu highlighting Quebec maple. For two to enjoy a meal (not counting wine), the price is around $100.
4

Le Club Chasse et Pêche (423 St. Claude Street)
Le Club Chasse et Pêche is one of the preeminent fine dining locations in Montreal. Between Maitre d' Hubert Marsolais and Chef Claude Pelletier, the reputation is well deserved. Open for lunch and dinner, the contemporary cuisine speaks well of ingredient freshness and the chef's skills, with offerings like suckling pig risotto and roasted duck.  Desserts are delicious in the capable hands of pastry chef, Masami Waki, with hits like 'The Bomb' a caramel and milk chocolate tart with a 80% chocolate sorbet. The wine list is sixteen pages long, and the staff is knowledgeable about pairing options. The decor is refined and luxurious, without ever managing to slip into haughtiness.  Dinner for two (including dessert, because sorbet with an 80% cocoa content does not come along often) comes to $120-40.
3

Restaurant Toroli (421 Marie-Anne Street East)
If you're looking for something unexpected, than Restaurant Toroli is there for you. A Japanese-French fusion restaurant, Toroli strives to combine the aesthetics of Japanese cuisine with the rich flavors of French cuisine. They achieve this through their dedication to using only the freshest ingredients, and the careful crafting of exquisite sauces and seasonings. There are two tasting menus, with 5-6 courses each, in case you can't decide what to order. The fusion elements can be seen in miso marinated foie gras or eringi mushrooms, chrysanthemum leaves and goat cheese baked in filo pastry. The restaurant's small size lends intimacy and a sense of romance to the minimalistic decor, making it the perfect date destination. Aside from the wine-list, Toroli also offers a wide selection of Asian teas and sakes. For two to enjoy a tasting menu, the price ranges from $130 to 150.
2

Tuck Shop (4662 Notre Dame Street West)
It may not look like much on the outside, but Tuck Shop's Jon Bloom and Amelia Stines, alongside executive chef Theo Lerikos, had made something truly special in the quiet neighborhood of Saint-Henri, with their bistro-comfort food menu. At the Tuck Shop they are big believers in seasonal cooking, with the menu changing often, to best use the freshest available ingredients. In fact, the only way to keep up with the menu changes is to follow them on twitter, where they post their most current menus. The comfort-food angle of the menu shines in the dessert section, with classics like apple pie and brownies with ice cream. The wine list is, like the menu, constantly evolving, but definitely has a few gems on it. For two to dine, the price comes to around $100 dollars, but that's not counting wine or dessert, and you deserve both.
1

Bouillon Bilk (1595 St-Laurent Boulevard)
Under the hands of Gatineau-trained chef, Francois Nadon and the managerial talents of Melanie Blanchette, the Bouillon Bilk is a culinary gem. Even tucked away as it is, the restaurant draws in both out-of-towners and locals with its exceptional French-inspired cuisine. Chef Nadon is known to often focus his menu on his current flavor inspirations. It's undoubtedly considered a foodie's restaurant, with classic offerings like seafood pasta and duck, but also more exotic offerings, like deer and guineafowl. For the really adventurous, there are offerings like foie gras for dessert, served with bananas, smoked apples and sour cream. Wine-wise, the selection is good, and the staff can be relied upon for pairing suggestions. Customers are unanimous in their reviews of the food, and in their lauding the staff, who are friendly, dedicated and knowledgeable. Sans the cost of wine and a tip, dinner for two will come to about $100-115 Canadian.