In his all-time classic The Great Gatsby, F. Scott Fitzgerald couldn't have captured the very essence of luxurious living any better. He pinpointed how the rich have a whole different way of thinking than you and me and how, for them, money has a whole different value. They do not buy things they need, they buy things they dream of. For them, fairy-tales can come true in a heartbeat. Remember MTV Cribs, the TV show about the fabulous homes of celebrities? Have you ever noticed how, besides their gargantuan size, the houses had all sorts of crazy features, glamorous amenities that the average person wouldn't even consider having installed? Custom-made is a synonym for exclusive and sumptuous, and the rich know it. That's why they always follow the latest trends in luxury home entertainment.
While the average American backyard has a barbecue grill, a few comfy chairs, some nice trees and flowers, and maybe a small pool, the rich took their backyards to a new level. Don't imagine things like a tennis field or basketball court, because those are already outdated. Large garages and go kart tracks are far better. When you can afford everything you need, you begin thinking of other things to spend your money on. The first thing the ridiculously rich usually look for is an open floor plan that will allow them to put their imagination to good use and do whatever they want with their humble abode. The rest is left to their creativity.
12

Wine Cellar
Have you ever found yourself fascinated by old castle dungeons and Tuscan villas? Many have, and the are no exception. However, not everyone can move into a castle or Tuscan villa, which is why some have decided to take them down in their own basement. Anyone who appreciates a good wine knows that the best way to store and increase a bottle's value is to keep it in the safety of their own home. Designed like a castle grotto, decorated in natural stone and aged wood, with a massive hardwood table in the middle, wine cellars are definitely a must in any rich house, and the perfect spot to have a glass of expensive wine alongside an appetizing dessert.
11

Indoor/Outdoor Pool
No backyard is complete without a swimming pool. Some can only afford an inflatable or a very small one just to splash in. The rich can have anything they want, like combining an indoor/outdoor pool that allows more space to swim in during all seasons. When it's too cold, or the weather simply doesn't allow it, you can swim inside when the sun is up, you don't need to walk out the door, you can simply swim your way out. An indoor/outdoor pool is usually filled with hot water during the cold season, allowing you to go outside for a quick breath of fresh air, and is decorated with labyrinthine stone bridges and water fountains, making you feel as if you could swim forever.
10

Imax Home Theatre
Entertainment is often the first thing the rich consider when buying a new home or redecorating their old one. Nothing screams luxury better than a home cinema equipped with all sorts of custom-built amenities like a popcorn maker, a refrigerator, 5D experience systems, and comfy couches to lay back on. Imax, the world-renowned cinema technology company, has taken the media room industry a step forward by producing luxury home theaters. Custom-designed to fit your every need and equipped with mega screens, Imax home theaters are the ultimate in home-entertainment experience.
9

Car Elevator
Next to a house, a car is the ultimate possession. But the rich do not resort to just one car, they make it their purpose in life to collect as many classic and sports cars as they possibly can. However, housing all these monsters can become quite expensive and difficult. Nobody wants to extend their garage all the way into their backyard. So, if you are short on storing space, a car elevator is the solution for you. The latest in luxury homes, the car elevator can be fitted to lift your cars right into your livingroom if you like. This way, your most prized possession are only a button away. What better way to brag about your collection in front of your guests?
8

Restaurant
Sometimes, the rich and famous simply don't feel like leaving their home to go out to the restaurant. They don't need to, if the have their own restaurant at home. This doesn't have to be something huge, a large room with floor-to-ceiling windows will do perfectly. Of course, you need a private chef that can cater to your every craving as well. However, what are the perks of having a restaurant in the comfort of your own home, besides impressing your guests? Imagine yourself waking up in the morning with a crazy appetite for caviar and salmon, and a chef that can arrange them all in a delicious breakfast.
7

Rooftop Helicopter Pad
Private chauffeurs and limousines are history. Nowadays, celebrities prefer to get home in style in their very own private helicopter but in order to do that, you need a helipad. You can build one in your backyard, but that would take up a lot of space. This is why a rooftop helipad is the ultimate luxurious amenity for a rich person's house. Unlike a basketball course or a tennis field, it requires approval from the civic authorities, which makes it even more glamorous and opulent.
6

Bowling Alley
When you are rich and famous, going down to the local bowling alley is simply too much trouble, but what do you do if you are a bowling fan? You make your own bowling alley at home. A two-lane custom-built bowling alley for the super-rich is enough to have friends over each time your competitive side wakes up. although, others take it up a notch and have three or four-lane alleys that could easily host a bowling party.
5

Bomb Shelter
In a time when wars and the end of the world seem to be knocking at our door, there's no wonder why some people try to take precautionary measures. Unfortunately, not everyone can afford a bomb shelter. Incredibly expensive to build, they are the latest trend in luxurious houses. The rich can buy a lot of things, and one of them is protection. Their bomb shelters are huge. They do not only serve as a survival space, they are luxurious basements that can be used as intimate dens until the moment comes, and they need to show their utility in helping escape the apocalypse.
4

Dance Club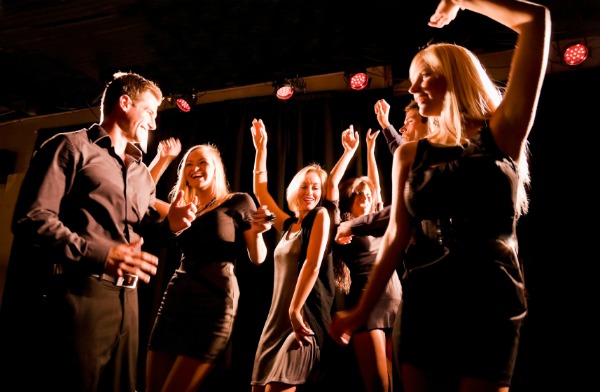 There's one thing all rich people love and that's to have fun. Entertaining themselves and their guests is number one on their list when it comes to designing their house. If you like throwing parties, a dance club is the key to successful balls. A dance club can be set up in the basement to take up less space, or in the garden house you rarely use. With all the high-tech sound equipment out there, it shouldn't be too hard to make the whole neighborhood rumble.
3

Go Kart Track
Every rich person has a tennis court in the backyard, but the filthy rich have other things in mind when it comes to outdoor entertainment. Remember those kart tracks when we were kids? Apparently, the rich do, too and they've decided to have their own go kart racing track in their backyard. The ultimate in outdoor entertainment for the rich, there's nothing better than having some friends over and putting your Schumacher skills to the test.
2

10-Door Car Garage
Rich houses go hand in hand with large car collections. Wouldn't you like to have a different car to drive each day of the month? The only down side is you need a lot of space to accommodate that many vehicles. Sometimes, rich people's garages are just as big as their homes, and have all the facilities a car would need to be comfortable in, from climate control to a built-in car wash. Nothing reads fabulous better than a 10-door garage for your luxurious car collection.
1

Waterfront Property
What is it with the rich and water? A swimming pool is simply not big enough anymore. The latest trend is buying a house by the water. It can be the ocean, the sea, or a lake, as long as you can step out of your house directly on the beach or a pontoon. There's something romantic about waking up each morning and seeing the sky and clouds mirroring in the water in front of your windows. When you have enough money to buy a property anywhere on Earth, why not choose a place that will comfort the senses?