Queen Beatrix Wilhelmina Armgard Net Worth
Statistics
Source of Wealth:

Real Estate and Inheritance

Age:

80

Birth Place:

Soestdijk Palace, Baarn, Netherlands

Marital Status:

Married (Prince Claus of the Netherlands)

Full Name:

Beatrix Wilhelmina Armgard

Nationality:

British and Dutch
Date of Birth:

31 January 1938

Ethnicity:

English and Dutch

Occupation:

Past Queen of Netherlands

Education:

Baarnsch Lyceum

Children:

6 (Princess Alexia, Willem-Alexander, Catharina-Amalia, Princess of Orange Willem, Princess Ariane, Willem-Alexander, Countess Luana of Orange-Nassau, Jonkvrouwe van Amsberg, Prince Friso of Orange-Nassau, Countess Zaria of Orange-Nassau, Jonkvrouwe van Amsberg, Prince Friso of Orange-Nassau, Countess Eloise of Orange-Nassau and Prince Constantijn of the Netherlands)
About Beatrix Wilhelmina Armgard
Forbes Magazine estimated her net worth at $200 million. The Queen Celebrated 30 years on the throne in 2010; her mother, the previous Queen Juliana, abdicated in favor of Beatrix in 1980. As head of state, seen as unifying force in recent contentious elections; appointed a negotiator to work with fractious parties in forming a cabinet.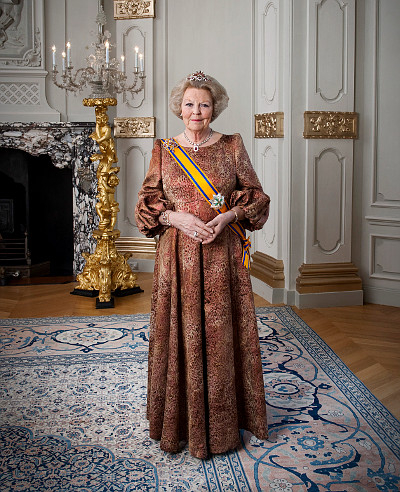 Earnings & Financial Data
?
The below financial data is gathered and compiled by TheRichest analysts team to give you a better understanding of Queen Beatrix Wilhelmina Armgard Net Worth by breaking down the most relevant financial events such as yearly salaries, contracts, earn outs, endorsements, stock ownership and much more.
Choose Year
Earnings 2008
Earnings 2006
Earnings 1966
Earnings 2008
Salary
Dec. 2008
Salary from the Dutch state as the Queen of The Netherlands
$4,860,000
Earnings 2006
Earnings
Dec. 2006
Allowances paid to Queen Beatrix Wilhelmina Armgard for the year 2006
$6,480,000
Earnings 1966
Event
Mar. 1966
Money received from the Dutch government and the city of Amsterdam for the wedding of Queen Beatrix of the Netherlands and Claus von Amsberg
$620,000
Show all earnings