Stella McCartney Net Worth
Statistics
Source of Wealth:

Fashion

Age:

48

Birth Place:

Lambeth, London, England

Weight:

60 kg (132.28 lbs)

Marital Status:

Married (Alasdhair Willis)

Full Name:

Stella Nina McCartney

Nationality:

English
Date of Birth:

13 September 1971

Ethnicity:

Irish, English, Manx/Isle of Man, Scottish, Welsh and Ashkenazi Jewish

Occupation:

Fashion Designer and Animal Rights Activist

Education:

London's Central St Martins College of Art & Design

Children:

4 (Miller Alasdhair James, Bailey Linda Olwyn, Reiley Dilys Stella and Beckett Robert Lee)
About Stella Nina McCartney
Stella McCartney, a fashion designer by profession, was born on September 13th, 1971 in Lambeth, London, England. Her net worth is estimated to be $75 million. It is, thus, evident that Stella remains one of the most successful fashion industry professionals. Her first design was at an early age of 13 – she designed a jacket.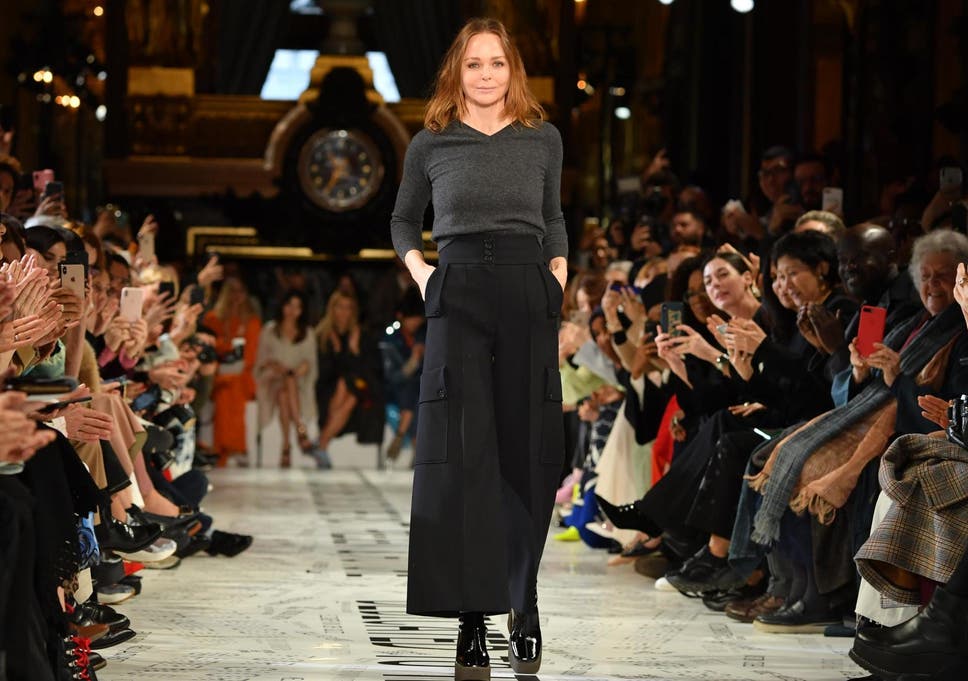 Stella has earned her wealth from the fashion industry. She launched her first collection with confidence and a signature style of tailoring. At the age of 16, Stella did her internship with Christian Lacroix. She did her fashion designing in the early 1990s. In 1995, supermodels Naomi Campbell, Kate Moss, and Yasmin Le Born modeled her collection.
Stella McCartney is a vegetarian and she also supports PETA. No leather or fur is used in her designs. Stella opened her fashion house with Gucci, and her collections are today distributed in 50 countries. She has launched many items such as perfumes, a skincare line called CARE with organic products, and a kid's collection too. She has received many awards. In 2000, she got VH1/Vogue Designer of the Year award. Stella has also received the Glamour Award, Organic Style Woman of the Year award, Elle Style award, Green Designer of the Year at the ACE Awards and many more.
She was born to Sir Paul McCartney, former Beatles member, and Linda McCartney, an animal rights' activist. Her father married Heather Mills and they have a daughter, Beatrice Milly McCartney who was born on October 28th, 2003. Stella married Alasdhair Willis, a British publisher. They have four children – two daughters and two sons.
Earnings & Financial Data
?
The below financial data is gathered and compiled by TheRichest analysts team to give you a better understanding of Stella McCartney Net Worth by breaking down the most relevant financial events such as yearly salaries, contracts, earn outs, endorsements, stock ownership and much more.
Choose Year
Earnings 2019
Earnings 2018
Earnings 2017
Earnings 2014
Earnings 2013
Earnings 2012
Earnings 2011
Earnings 2019
Asset
Jul. 2019
Estimated value of Stella McCartney's website stellamccartney.com
$251,300
Earnings 2018
Salary
Nov. 2018
Stella McCartney's annual salary from her eponymous fashion label
$4,990,000
Earnings
Feb. 2018
Consolidated revenue of Kering that owns Yves Saint Laurent, Stella McCartney and Puma brands for the year 2017
$18,910,000,000
Earnings 2017
Salary
Nov. 2017
Stella McCartney's annual salary from her eponymous fashion label
$10,350,000
Earnings
Feb. 2017
Consolidated revenue of Kering that owns Yves Saint Laurent, Stella McCartney and Puma brands for the year 2016
$15,260,000,000
Earnings 2014
Earnings
Dec. 2014
Pre-tax profit of Stella McCartney's eponymous fashion brand for the year 2014
$7,760,000
Earnings
Dec. 2014
Sales of Stella McCartney's eponymous fashion brand for the year 2014
$31,540,000
Sale of Asset
Mar. 2014
Selling price of Stella McCartney's Notting Hill townhouse
$3,290,000
Earnings 2013
Earnings
Dec. 2013
Pre-tax profit of Stella McCartney's eponymous fashion brand for the year 2013
$6,440,000
Earnings
Dec. 2013
Sales of Stella McCartney's eponymous fashion brand for the year 2013
$37,330,000
Earnings 2012
Earnings
Dec. 2012
Total sales of the label Stella McCartney for the year 2012
$27,610,000
Earnings 2011
Earnings
Dec. 2011
Total sales of the label Stella McCartney for the year 2011
$23,790,000
Show all earnings