S. Robson Walton Net Worth
Statistics
Source of Wealth:

Wal-Mart, Inheritance

Age:

75

Birth Place:

Tulsa, Oklahoma, United States

Weight:

80 kg (176 lbs)

Marital Status:

Married (Melani Lowman-Walton)

Full Name:

Samuel Robson Walton

Nationality:

American
Date of Birth:

October 28, 1944

Occupation:

Lawyer and Businessperson

Education:

Columbia Law School (1969), University of Arkansas (1966), Columbia University, The College of Wooster

Children:

1 (Carrie)
About Samuel Robson Walton
The eldest son of Helen Walton and Sam Walton, founder of Wal-Mart, the world's largest retailer, Samuel Robson "Rob" Walton has a net worth of $53.5 billion in November 2019.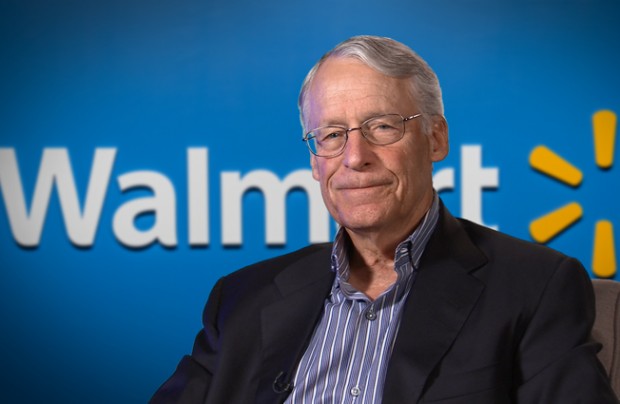 Robson has been chairman of Wal-Mart since 1992. While Wal-Mart's shares are nearly flat over past year, the 3 children of the founder collected $1.2 billion in dividends. His father, a former clerk, Sam Walton (d.1992) founded Bentonville store with brother James in 1962. Today, Wal-Mart has sales of $473.08 billion, employs more than 2.3 million people.
Earnings & Financial Data
?
The below financial data is gathered and compiled by TheRichest analysts team to give you a better understanding of S. Robson Walton Net Worth by breaking down the most relevant financial events such as yearly salaries, contracts, earn outs, endorsements, stock ownership and much more.
Choose Year
Earnings 2018
Earnings 2017
Earnings 2015
Earnings 2013
Earnings 2012
Earnings 2004
Earnings 2002
Earnings 2001
Earnings 2000
Earnings 2018
Asset
Apr. 2018
Purchase value of Robson Walton and Michael Dell's Hualālai Home in Hawaii
$15,000,000
Earnings 2017
Earning Turned Donation
Jun. 2017
Donation of the Walton Family Foundation for the restoration and protection of the Colorado River and the Mississippi River Delta
$35,000,000
Earnings 2015
Earning Turned Donation
Dec. 2015
Donation to the Walton Family Holdings Trust to fund the Walton family's philanthropy
$91,000,000
Earnings 2013
Earning Turned Donation
Dec. 2013
Total money that The Walton Family Foundation donated to charity for educational reform and freshwater and marine conservation
$310,000,000
Asset
Jan. 2013
Purchase value of Robson Walton's Daytona Coupe
$15,000,000
Earnings 2012
Earnings
May. 2012
Money earned as the Wal-Mart company's stock (NYSE:WMT) opened Thursday up 3.6% over Wednesday
$3,300,000,000
Earnings
Apr. 2012
Earnings as Wal-Mart shares rose 2.77% in trading
$2,100,000,000
Earnings 2004
Earnings
Nov. 2004
Annual earnings of the Walton Enterprises Inc.
$880,000,000
Asset
Nov. 2004
Current value of the 39% of Wal-Mart stock that the Walton family controls
$90,000,000,000
Earnings
Apr. 2004
Earnings of Chairman S. Robson Walton, a son of the founder and his kin in 2004 dividends
$878,300,000
Earnings 2002
Sale of Asset
Dec. 2002
Selling price of 16 million shares in Wal-Mart
$800,000,000
Earning Turned Donation
Dec. 2002
The mega-retailer, Wal-Mart's gift to the University of Arkansas
$300,000,000
Earnings 2001
Earning Turned Donation
Dec. 2001
Total amount donated by the Wal-Mart Stores to various entities for the year 2001
$116,500,000
Earnings 2000
Earnings
Dec. 2000
Operating income of Wal-Mart for the year 2000
$12,400,000,000
Show all earnings