Françoise Bettencourt Meyers Net Worth
Statistics
Source of Wealth:

Business (L'Oréal)

Age:

66

Birth Place:

Neuilly-sur-Seine, France

Marital Status:

Married (Jean-Victor Meyers)

Full Name:

Françoise Bettencourt Meyers

Nationality:

French
Date of Birth:

July 10, 1953

Ethnicity:

French

Occupation:

Author and Board Member of L'Oréal

Children:

2 (Jean-Victor and Nicolas)
About Françoise Bettencourt Meyers
The only daughter of Bettencourt, Françoise Bettencourt Meyers, is currently the wealthiest woman in the world. She is now ahead of the Walmart heiress Alice Walton with a net worth of $58 billion as of November 2019.
Françoise Bettencourt Meyers does not always grant interviews and avoids the spotlight. According to Bloomberg, she plays the piano for several hours a day. The academic is known for writing a five-volume study of the Bible as well as the genealogy of the Greek gods.
As per the author of The Bettencourt Affair, Tom Sancton, Françoise lives in her cocoon. She only goes to her family and avoids splashy purchases. Françoise is also a sober person who can be more comfortable with her books and piano instead of the worlds of finance and big business.
Françoise' parents raised her a strict Catholic, but she married the grandson of a rabbi who died in Auschwitz. Eugène Schueller, the founder of L'Oreal, is known as a Nazi sympathizer.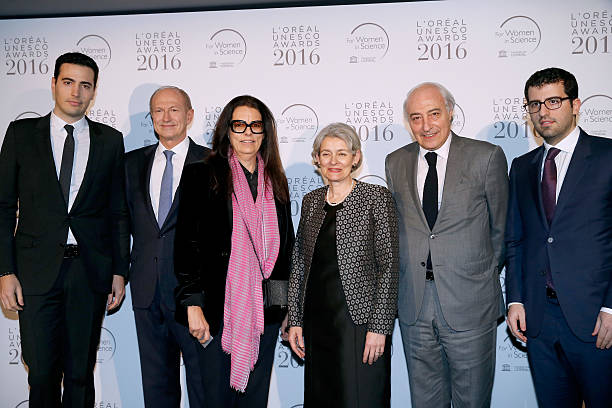 Bettencourt Meyers became famous after bringing legal action to her mother who gave away millions of insurance and assets to the society photographer François-Marie Banier. Bettencourt Meyers accused him of preying on the onsetting dementia of her mother. According to Vanity Fair, her mother responded by calling her daughter a pain in the ass.
The case settled in favor of Bettencourt Meyers. She and her two sons are now the guardians of Liliane's interests since 2011.
Earnings & Financial Data
?
The below financial data is gathered and compiled by TheRichest analysts team to give you a better understanding of Françoise Bettencourt Meyers Net Worth by breaking down the most relevant financial events such as yearly salaries, contracts, earn outs, endorsements, stock ownership and much more.
Choose Year
Earnings 2018
Earnings 2017
Earnings 2012
Earnings 2010
Earnings 2018
Salary
Dec. 2018
Total annual compensation of Francoise Bettencourt Meyers as the Director of L'Oreal S.A for the year 2018
$95,280
Earnings 2017
Salary
Nov. 2017
Total calculated compensation of Francoise Bettencourt Meyers as the Director of L'Oreal S.A for the year 2017
$87,450
Asset
May. 2017
Current value of Françoise Bettencourt Meyers' stake in L'Oreal
$35,480,000,000
Earnings 2012
Asset
Jul. 2012
Purchase value of Françoise Bettencourt Meyers' residence in Hotingen, Zurich
$11,000,000
Earnings 2010
Asset
Jan. 2010
Current assets of the Bettencourt Schueller Foundation
$683,000,000
Show all earnings