Tony Tan Caktiong Net Worth
Statistics
Source of Wealth:

Business - Fast Food (Jollibee Foods)

Age:

66

Birth Place:

Davao del Sur, Philippines

Marital Status:

Married (Grace A. Tan Caktiong)

Full Name:

Tony Tan Caktiong

Nationality:

Filipino
Date of Birth:

5 January 1953

Ethnicity:

Chinese

Occupation:

Businessman

Education:

University of Santo Tomas

Children:

3 (Carl Brian and two girls)
About Tony Tan Caktiong
Tony Tan Caktiong has an estimated net worth of $3.7 billion. He is the Founder, Chairman, and CEO of the fast-food chain Jollibee which is the Philippines' largest fast-food company. He joined the billionaire ranks for the first time in 2011. He expanded Jollibee from a single ice cream parlor to network of 7 fast-food brands, with more than 2,300 outlets worldwide. Tony Tan Caktiong is building a new factory in China to supply to its outlets there. He also bought Mang Inasal, a rival fast-food chain, from Edgar Sia II.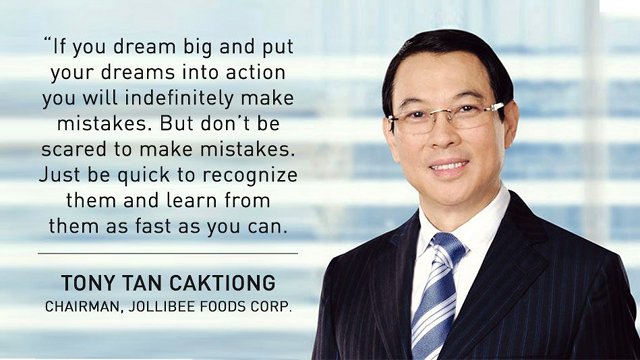 He attended high school at Chiang Kai Shek College and graduated from the University of Santo Tomas with a degree in chemical engineering.
Earnings & Financial Data
?
The below financial data is gathered and compiled by TheRichest analysts team to give you a better understanding of Tony Tan Caktiong Net Worth by breaking down the most relevant financial events such as yearly salaries, contracts, earn outs, endorsements, stock ownership and much more.
Choose Year
Earnings 2019
Earnings 2018
Earnings 2017
Earnings 2016
Earnings 2014
Earnings 2013
Earnings 2011
Earnings 1975
Earnings 2019
Asset
Jul. 2019
Tony Tan-Caktiong's net investment in the Coffee Bean and Tea Leaf specialty coffee and tea brand based in California
$100,000,000
Asset
Jul. 2019
Purchase value of 100 percent of the Coffee Bean and Tea Leaf specialty coffee and tea brand based in California by Java Ventures LLC, a wholly-owned subsidiary of Jollibee Worldwide as the company's founder and major stockholder
$350,000,000
Asset
Jan. 2019
Estimated value of Tony Tan-Caktiong's 0.76% or 8,254,565 equities in Jollibee Foods Corporation (JFC) Restaurants & Bars
$45,810,000
Earnings 2018
Asset
Sep. 2018
Purchase value of Tony Tan-Caktiong's 45% stake in the U.S. chain Smashburger
$100,000,000
Asset
Jun. 2018
Purchase value of the Asia Pacific master franchise of Tim Ho Wan which is famous for its barbecue pork buns
$34,000,000
Earnings 2017
Asset
Apr. 2017
Purchase value of a 70 percent stake in Mang Inasal
$55,000,000
Earnings 2016
Asset
Dec. 2016
Purchase value of a 100% stake in Mang Inasal
$95,000,000
Earnings 2014
Salary
Oct. 2014
Total compensation of Caktiong and company as members of the board of Jollibee Foods Corporation for the year 2014
$2,090,000
Earnings 2013
Salary
Oct. 2013
Total compensation of Caktiong and company as members of the board of Jollibee Foods Corporation for the year 2013
$1,700,000
Earnings 2011
Bonus
Sep. 2011
Monthly bonus and other compensation as the President & CEO of Jollibee Foods Corporation
$10,210
Salary
Sep. 2011
Monthly salary as the President & CEO of Jollibee Foods Corporation
$17,830
Earnings 1975
Asset
Jan. 1975
Purchase value of an ice cream parlor franchise that was called Cubao Ice Cream House and Quiapo Ice Cream House
$6,680
Show all earnings