Ellen DeGeneres Net Worth
Statistics
Source of Wealth:

Television (The Ellen Degeneres Show)

Age:

61

Birth Place:

Metairie, Louisiana, USA

Weight:

140 lbs (64 kg)

Marital Status:

Married (Portia de Rossi)

Full Name:

Ellen Lee DeGeneres

Nationality:

American
Date of Birth:

January 26, 1958

Ethnicity:

Cajun/French, English, Irish, German, distant Dutch and Swiss-German

Occupation:

Comedian, Television Host, Actress, Writer, Producer

Education:

University of New Orleans
About Ellen Lee DeGeneres
Emmy award winner Ellen DeGeneres is probably one of the most popular TV talk show hosts in the world today. This American actress, talk show host, and stand-up comedian is the famous host of the long-running The Ellen DeGeneres Show. Her net worth is estimated to be $330 million.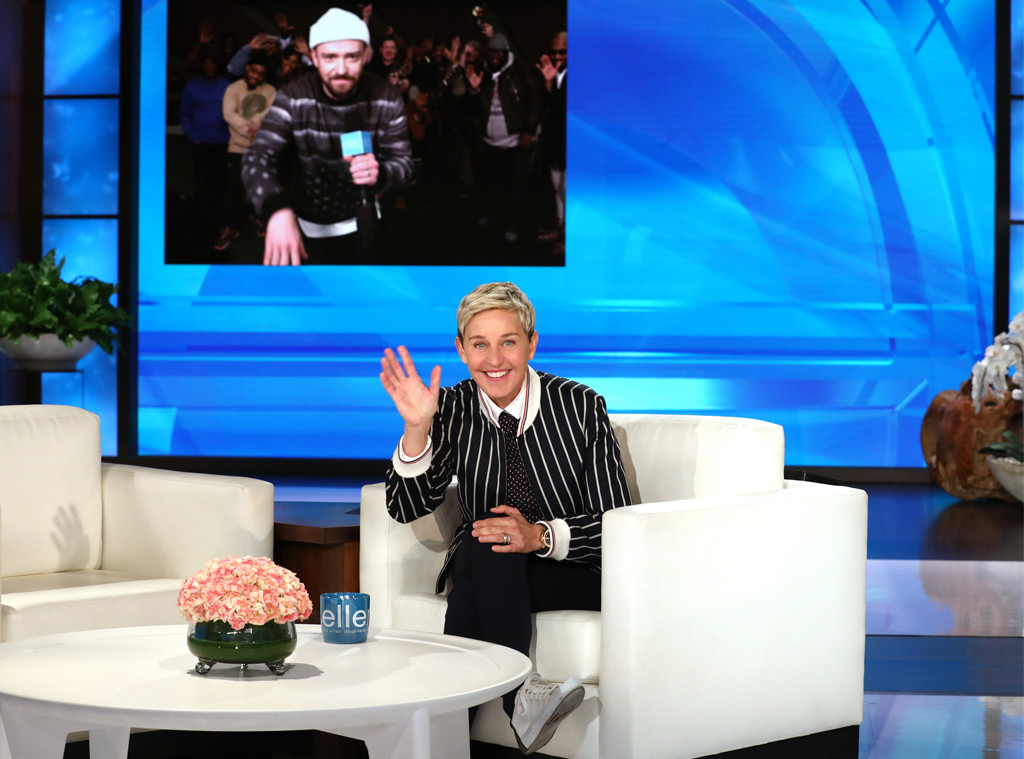 Ellen DeGeneres was born on January 26, 1958, in Metairie, Louisiana, U.S. Of Irish, German, English and French descent, Ellen is a self-proclaimed lesbian. She is a recipient of 13 Grammy Awards for her impressive hosting abilities. She has also been awarded as the Funniest Female Performer in a TV Special, Best Comedian, Best Supporting Actress, and Funniest Female Stand-Up Comic.
On the other hand, her show also received several recognition from numerous award-giving bodies which include Outstanding Talk Show, Outstanding Talk Show Entertainment, Outstanding Special Class Writing, and Outstanding Talk Show Host. In fact, as of 2012, The Ellen DeGeneres Show has already received 32 Daytime Emmy Awards.
For almost a decade now, The Ellen DeGeneres Show continues to be one of the highly syndicated TV talk shows in the U.S. The show debuted in September 2003 and in March 2013, it was announced that the show is being extended until 2017.
The show has captured the hearts of millions of viewers worldwide not just because of DeGeneres' superb humor but more importantly, it features musical guests, celebrities and amazing human-interest topics. Since the show's debut, DeGeneres never failed to deliver her opening monologue with a dance. In fact, her dance has earned a great deal of popularity from her audience.
Considered as a highly-viewed daytime talk show, The Ellen DeGeneres Show is said to have an average of 4 million viewers every episode. On its 1000th episode, the show featured celebrities like Paris Hilton, Justin Timberlake, and Oprah Winfrey.
Earnings & Financial Data
?
The below financial data is gathered and compiled by TheRichest analysts team to give you a better understanding of Ellen DeGeneres Net Worth by breaking down the most relevant financial events such as yearly salaries, contracts, earn outs, endorsements, stock ownership and much more.
Choose Year
Earnings 2019
Earnings 2018
Earnings 2017
Earnings 2016
Earnings 2015
Earnings 2014
Earnings 2013
Earnings 2011
Earnings 2010
Earnings 2007
Earnings 2005
Earnings 2003
Earnings 1996
Earnings 2019
YouTube Earnings
Oct. 2019
Estimated annual earnings of Ellen DeGeneres' YouTube channel TheEllenShow
$9,300,000
Earning Turned Donation
Oct. 2019
Money raised from a fundraiser for gorilla conservation in Rwanda
$5,000,000
Salary
Jun. 2019
Annual salary as a television personality and actress
$75,000,000
Asset
Feb. 2019
Purchase value of Ellen Degeneres' 8,188-square-foot Balinese-style mansion in Montecito, California
$27,000,000
Asset
2019
Selling price of Ellen Degeneres' 5,100-square-foot, 5 bedrooms, 4.5 bathrooms home in Beverly Hills, California
$17,950,000
Earnings 2018
$87.5 Million
Sale of Asset
Jul. 2018
Sale of Ellen DeGeneres' 16.88-acre forested estate in Montecito to Netflix chief content officer Ted Sarandos
$34,000,000
Asset
Jul. 2018
Purchase value of Ellen Degeneres' property next to Oprah Winfrey's home as well as her property in Montecito
$18,200,000
Sale of Asset
Jul. 2018
Profit from the sale of an estate in the exclusive Montecito area of California
$3,800,000
Salary
Jul. 2018
Ellen Degeneres' salary from a Netflix stand-up special
$20,000,000
Earning Turned Donation
Jan. 2018
Donation of Portia de Rossi and Ellen DeGeneres of gift cards and appliances to Redlands Fire, one of many fire teams deployed to the area after the Southern California fire burned over 281,000 acres in the largest fire in modern California history as well as Ellen's donation for J.J. Watt's relief fund, the rebuilding of the Spain Elementary School in Detroit, Sgt. Chad Sparks and his wife, Ashley, iPads, TVs and generous gift certificates for the Phillips family, Kim Ledbetter is a single mom from Birmingham, Alabama, Ryan Reynold's Make-A-Wish Foundation, St. Jude's Children's Hospital, The Humane Society and full-ride scholarships to the seniors of Summit Academy
$6,330,000
Sale of Asset
2018
Sale of Ellen DeGeneres' 6,764-square-foot estate in Rancho San Leandro to Tinder founder and chairman Sean Rad
$11,000,000
Earnings 2017
$77 Million
Earning Turned Donation
Nov. 2017
Donation to the David Sheldrick Wildlife Trust
$100,000
Asset
Oct. 2017
Purchase value of Ellen DeGeneres' 5,979-square-foot glamorous, glassy estate in the small Santa Barbara city of Carpinteria
$18,600,000
Salary
Aug. 2017
Estimated annual salary from the Ellen Degeneres show as the show's host
$50,000,000
Earnings 2016
$75 Million
Earning Turned Donation
Dec. 2016
Donation to a middle school in Louisiana for rebuilding efforts
$125,000
Salary
Nov. 2016
Annual salary from the Ellen Degeneres show as the show's host
$20,000,000
Sale of Asset
Aug. 2016
Sale of Ellen DeGeneres' 4,000-square-foot ranch-style house in Hollywood Hills
$9,900,000
Earnings 2015
$75 Million
Salary
Feb. 2015
Estimated annual salary from the Ellen Degeneres show as the show's host
$18,000,000
Earnings 2014
$70 Million
Asset
Dec. 2014
Purchase value of Ellen DeGeneres' 4,000-square-foot ranch-style house in Hollywood Hills
$8,750,000
Salary
Sep. 2014
Estimated annual salary from the Ellen Degeneres show as the show's host
$18,000,000
Earnings 2013
$53 Million
Earnings 2011
$45 Million
Earnings 2010
$55 Million
Earnings 2007
Sale of Asset
Dec. 2007
Sale or Ellen DeGeneres' 4,000-square-foot ranch-style house in Hollywood Hills
$10,000,000
Earnings 2005
Asset
Dec. 2005
Purchase value of Ellen DeGeneres' 4,000-square-foot ranch-style house in Hollywood Hills
$6,500,000
Earnings 2003
Salary
2003
Salary from the television show The Ellen Degeneres show as the show's host
$15,000,000
Earnings 1996
Salary
1996
Salary from the movie Mr. Wrong as Martha Alston
$2,000,000
Show all earnings