Statistics
Source of Wealth:

Music, Film and Television

Age:

69

Birth Place:

Pomona, California, United States

Marital Status:

Married (Kathleen Brennan)

Full Name:

Thomas Alan Waits

Nationality:

American
Date of Birth:

December 7, 1949

Ethnicity:

Norwegian, English, Scots-Irish/Northern Irish, Scottish, German, Swiss-German and Welsh

Occupation:

Singer, Songwriter, Composer and Actor

Education:

Hilltop High School

Children:

3 (Casey Xavier, Kellesimone and Sullivan)
About Thomas Alan Waits
Best recognized for his distinctive voice, Tom Waits is an American actor, composer, musician, and singer-songwriter with an estimated net worth of $25 million. Tom Waits is also known for his incorporation of different musical styles such as jazz, vaudeville, and blues. His soundtrack One from the Heart earned him a nomination for the Academy Award while his albums, Mule Variations, and Bone Machine, earned him two Grammy Awards. In 2011, he became an inductee to the Rock and Roll Hall of Fame.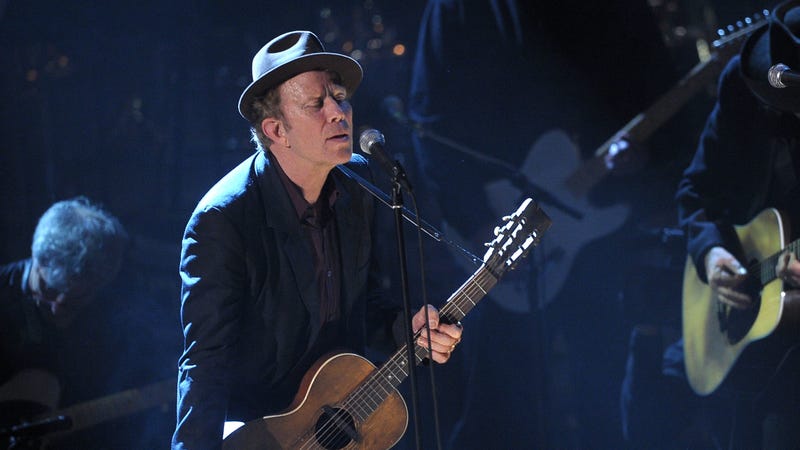 Apart from being a successful musician, Tom Waits has also appeared in several TV and film projects. In fact, he has starred in Down by Law, a 1986 film.
Earnings & Financial Data
?
The below financial data is gathered and compiled by TheRichest analysts team to give you a better understanding of Tom Waits Net Worth by breaking down the most relevant financial events such as yearly salaries, contracts, earn outs, endorsements, stock ownership and much more.
Choose Year
Earnings 2019
Earnings 2011
Earnings 2008
Earnings 2006
Earnings 2004
Earnings 2002
Earnings 2001
Earnings 1999
Earnings 1987
Earnings 1986
Earnings 1985
Earnings 1983
Earnings 1978
Earnings 1976
Earnings 1975
Earnings 1974
Earnings 1973
Earnings 2019
Asset
Feb. 2019
Current value of Tom Waits' website tomwaits.com
$33,500
Earnings 2011
Record Sales
Oct. 2011
Record sales of the album Bad as Me (approximately 430,305 copies sold)
$559,400
Earnings 2008
Record Sales
May. 2008
Record sales of the album Anywhere I Lay My Head with American actress Scarlett Johansson (approximately 25 thousand copies sold)
$32,500
Earnings 2006
Record Sales
Nov. 2006
Record sales of the box set Orphans: Brawlers, Bawlers & Bastards (approximately 540 thousand copies sold)
$702,000
Earnings 2004
Record Sales
Oct. 2004
Record sales of the album Real Gone (approximately 512 thousand copies sold)
$665,600
Earnings 2002
Record Sales
Jul. 2002
Record sales of the Hullabaloo Soundtrack with the English rock band Muse (approximately 100 thousand copies sold)
$130,000
Record Sales
May. 2002
Record sales of the album Blood Money (approximately 183 thousand copies sold)
$237,900
Record Sales
Mar. 2002
Record sales of the album Alice (approximately 390 thousand copies sold)
$507,000
Earnings 2001
Record Sales
Aug. 2001
Record sales of the album It's a Wonderful Life with the American musical act Sparklehorse (approximately 63 thousand copies sold)
$81,900
Earnings 1999
Record Sales
Apr. 1999
Record sales of the album Mule Variations (approximately 1.05 million copies sold)
$1,370,000
Earnings 1987
Record Sales
Dec. 1987
Record sales of the album Roy Orbison and Friends: A Black and White Night (approximately 275 thousand copies sold)
$357,500
Record Sales
Aug. 1987
Record sales of the album Franks Wild Years (approximately 50 thousand copies sold)
$65,000
Earnings 1986
Record Sales
Mar. 1986
Record sales of the album Dirty Work with the English rock band The Rolling Stones (approximately 1,731,800 copies sold)
$2,250,000
Earnings 1985
Record Sales
Sep. 1985
Record sales of the album Rain Dogs (approximately 650 thousand copies sold)
$845,000
Earnings 1983
Record Sales
Sep. 1983
Record sales of the album Swordfishtrombones (approximately 60 thousand copies sold)
$72,000
Earnings 1978
Record Sales
Sep. 1978
Record sales of the album Blue Valentine (approximately 100 thousand copies sold)
$130,000
Earnings 1976
Record Sales
Sep. 1976
Record sales of the album Small Change (approximately 95 thousand copies sold)
$123,500
Earnings 1975
Record Sales
Oct. 1975
Record sales of the live album Nighthawks at the Diner (approximately 60 thousand copies sold)
$78,000
Earnings 1974
Record Sales
Oct. 1974
Record sales of the album The Heart of Saturday Night (approximately 100 thousand copies sold)
$130,000
Earnings 1973
Record Sales
Mar. 1973
Record sales of the album Closing Time (approximately 100 thousand copies sold)
$130,000
Show all earnings