Statistics
Source of Wealth:

Film and Television

Age:

60

Birth Place:

West Covina, California, USA

Weight:

97 kg (215 lbs)

Marital Status:

Single

Full Name:

Timothy Francis "Tim" Robbins

Nationality:

American
Date of Birth:

October 16, 1958

Ethnicity:

English, with some Norwegian, Scots-Irish/Northern Irish, Scottish, German, distant Dutch, remote French

Occupation:

Actor, Director, Producer, Screenwriter, Musician

Education:

UCLA Film School

Children:

2 (John "Jack" Henry and Miles Guthrie)
About Timothy Francis "Tim" Robbins
Timothy Francis Robbins is an American actor, director, screenwriter, producer, musician, and activist with a net worth of $60 million. He became famous for his portrayal of Andy Dufresne in the prison drama movie The Shawshank Redemption.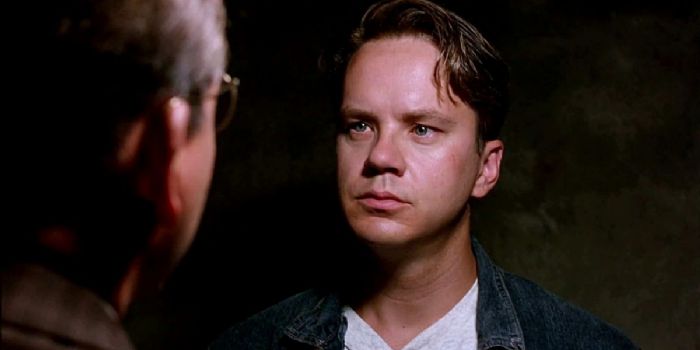 Tim also played the roles of Dave Boyle in Mystic River, Griffin Mill in The Player, Jacob Singer in Jacob's Ladder and Nuke LaLoosh in Bull Durham. In Mystic River, he was able to win an Academy Award for Best Supporting Actor. He also received critical acclaim for his direction in the films like Bob Roberts and Dead Man Walking.
In the year 2015, Tim Robbins was able to play as the Secretary of State named Walter Larson in the HBO comedy called The Brink. In 2018, he played as Greg Boatwright in the Alan Balls drama series called Here and Now.
Earnings & Financial Data
?
The below financial data is gathered and compiled by TheRichest analysts team to give you a better understanding of Tim Robbins Net Worth by breaking down the most relevant financial events such as yearly salaries, contracts, earn outs, endorsements, stock ownership and much more.
Choose Year
Earnings 2018
Earnings 2017
Earnings 2016
Earnings 2015
Earnings 2014
Earnings 2012
Earnings 2011
Earnings 2009
Earnings 2008
Earnings 2007
Earnings 2006
Earnings 2005
Earnings 2004
Earnings 2003
Earnings 2002
Earnings 2001
Earnings 2000
Earnings 1999
Earnings 1997
Earnings 1995
Earnings 1994
Earnings 1993
Earnings 1992
Earnings 1991
Earnings 1990
Earnings 1989
Earnings 1988
Earnings 1986
Earnings 1985
Earnings 1984
Earnings 2018
Asset
Jan. 2018
Purchase value of Tim Robbins' home at Pound Ridge, New York
$5,000,000
Earnings 2017
Box Office Sales
Aug. 2017
Worldwide box office sales of the movie Marjorie Prime as Jon
$224,850
Earnings 2016
Box Office Sales
Jan. 2016
Worldwide box office sales of the movie A Perfect Day as B
$3,990,000
Earnings 2015
Box Office Sales
May. 2015
Worldwide box office sales of the movie Welcome to Me as Dr. Moffat
$629,890
Earnings 2014
Box Office Sales
Aug. 2014
Box office sales of the movie Life of Crime as Frank Dawson
$265,450
Others
Jan. 2014
Sales of the videos Thanks for Sharing as Mike and Life of Crime as Frank Dawson
$871,030
Earnings 2012
Box Office Sales
Nov. 2012
Worldwide box office sales of the movies Yi jiu si er (Back to 1942) as Father Megan and Thanks for Sharing as Mike
$59,110,000
Earnings 2011
Others
Oct. 2011
Sales of the video Green Lantern as Senator Robert Hammond
$46,620,000
Box Office Sales
Jun. 2011
Worldwide box office sales of the movie Green Lantern as Senator Robert Hammond[
$219,850,000
Earnings 2009
Others
Jan. 2009
Sales of the videos Howard the Duck as Phil Blumburtt and City of Ember as Loris Harrow
$10,200,000
Earnings 2008
Box Office Sales
May. 2008
Worldwide box office sales of the movie City of Ember as Loris Harrow and box office sales of the movies Noise as David Owen and The Lucky Ones as Fred Cheaver
$18,230,000
Earnings 2007
Others
Feb. 2007
Sales of the video Tenacious D in The Pick of Destiny as The Stranger
$10,030,000
Earnings 2006
Box Office Sales
Nov. 2006
Worldwide box office sales of the movies Tenacious D in The Pick of Destiny as The Stranger and Catch a Fire as Nic Vos
$19,690,000
Earnings 2005
Box Office Sales
Jul. 2005
Worldwide box office sales of the movies The Secret Life of Words as Josef and War of the Worlds as Harlan Ogilvy and box office sales of the movie Zathura: A Space Adventure as Mr. Browning
$677,550,000
Earnings 2004
Box Office Sales
Jul. 2004
Worldwide box office sales of the movie Anchorman: The Legend of Ron Burgundy as a Public News Anchor
$90,570,000
Earnings 2003
Box Office Sales
Oct. 2003
Worldwide box office sales of the movies Mystic River as Dave Boyle and Code 46 as William Geld
$158,610,000
Earnings 2002
Box Office Sales
Oct. 2002
Worldwide box office sales of the movie The Truth About Charlie as Lewis Bartholomew
$7,090,000
Earnings 2001
Box Office Sales
Jan. 2001
Worldwide box office sales of the movies Antitrust as Gary Winston and Human Nature as Dr. Nathan Bronfman
$18,910,000
Earnings 2000
Box Office Sales
Mar. 2000
Worldwide box office sales of the movies Mission to Mars as Woodrow "Woody" Blake and High Fidelity as Ian "Ray" Raymond
$156,860,000
Earnings 1999
Box Office Sales
Jun. 1999
Worldwide box office sales of the movies Austin Powers: The Spy Who Shagged Me as The President, Arlington Road as Oliver Lang or William Fenimore and box office sales of the movie Cradle Will Rock as the Voice on the Film Reel
$356,950,000
Earnings 1997
Box Office Sales
Jul. 1997
Worldwide box office sales of the movie Nothing to Lose as Nick Beam
$64,590,000
Earnings 1995
Box Office Sales
Dec. 1995
Worldwide box office sales of the movie Dead Man Walking as the film's writer and director
$83,090,000
Earnings 1994
Box Office Sales
Dec. 1994
Worldwide box office sales of the movies The Hudsucker Proxy as Norville, Barnes Prêt-à-Porter as Joe Flynne and box office sales of the movies I.Q. as Ed Walters and The Shawshank Redemption as Andy Dufresne
$89,470,000
Earnings 1993
Box Office Sales
Oct. 1993
Box office sales of the movie Short Cuts as Gene Shepard
$6,110,000
Earnings 1992
Box Office Sales
Sep. 1992
Worldwide box office sales of the movie The Player as Griffin Mill and box office sales of the movie Bob Roberts as Bob Roberts
$33,360,000
Earnings 1991
Box Office Sales
Jun. 1991
Worldwide box office sales of the movie Jungle Fever as Jerry
$43,880,000
Earnings 1990
Box Office Sales
Aug. 1990
Box office sales of the movies Twister as Jeff, Jacob's Ladder as Jacob Singer and Cadillac Man as Larry
$53,780,000
Earnings 1989
Box Office Sales
Sep. 1989
Box office sales of the movies Erik the Viking as Erik and Miss Firecracker as Delmount Williams
$3,780,000
Earnings 1988
Box Office Sales
Jun. 1988
Worldwide box office sales of the movie Bull Durham as Ebby Calvin "Nuke" LaLoosh and box office sales of the movies Five Corners as Harry and Tapeheads as Josh Tager
$52,200,000
Earnings 1986
Box Office Sales
May. 1986
Worldwide box office sales of the movies Howard the Duck as Phil Blumburtt and Top Gun as Lt. Samuel "Merlin" Wells
$394,790,000
Earnings 1985
Box Office Sales
Apr. 1985
Box office sales of the movies Fraternity Vacation as Larry "Mother" Tucker and The Sure Thing as Gary Cooper
$21,470,000
Earnings 1984
Box Office Sales
Nov. 1984
Box office sales of the movie No Small Affair as Nelson
$5,000,000
Show all earnings