Statistics
Source of Wealth:

Music, Songwriting, Singing

Age:

55

Birth Place:

Newton, North Carolina, United States

Weight:

110 lbs (50 kg)

Marital Status:

Married (Mark Hawley)

Full Name:

Myra Ellen Amos

Nationality:

American
Date of Birth:

22 August 1963

Ethnicity:

English and Scottish/Irish/Scots-Irish/Northern Irish, remote French

Occupation:

Musician, Songwriter, Singer

Education:

Richard Montgomery High School

Children:

1 (Natashya Lórien)
About Myra Ellen Amos
Tori Amos is an American composer, singer-songwriter, and pianist with a net worth of $60 million. She is a musician that underwent classical training. She has a mezzo-soprano vocal range.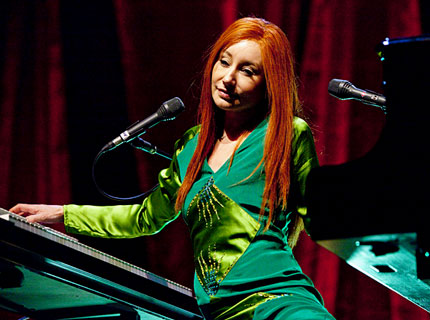 After composing instrumental pieces on piano, Amos was able to win a full scholarship when she was only five years old at the Peabody Institute of Johns Hopkins University. When she was eleven, she got expelled because of "musical insubordination." Amos was the lead singer of a short-lived pop group in the 1980s called Y Kant Tori Read before she became a breakthrough solo artist in the early 1990s. Her songs have a broad range of topics that include religion, politics, feminism, and sexuality.
Amos had a lot of singles that hit the chart. They are "Flavor," "1000 Oceans," "Spark," "Professional Widow," Caught a Lite Sneeze," "Cornflake Girl," "God," "Silent All These Years," and "Crucify." Her song "A Sorta Fairytale" is her most commercially successful single in the USA. Amos got eight Grammy nominations, five MTV VMA nominations, and an Echo award for her classical work.
On April 22, 2017, Amos announced that she would release her new album called Native Invader in September. She will also accompany the album release with a world tour.
Earnings & Financial Data
?
The below financial data is gathered and compiled by TheRichest analysts team to give you a better understanding of Tori Amos Net Worth by breaking down the most relevant financial events such as yearly salaries, contracts, earn outs, endorsements, stock ownership and much more.
Choose Year
Earnings 2017
Earnings 2014
Earnings 2010
Earnings 2005
Earnings 2004
Earnings 2003
Earnings 2002
Earnings 2001
Earnings 1999
Earnings 1998
Earnings 1996
Earnings 1994
Earnings 1992
Earnings 2017
Record Sales
Sep. 2017
Debut sales of the album Native Invader (approximately 12,190 copies sold)
$15,850
Earnings 2014
Record Sales
May. 2014
Debut sales of the album Unrepentant Guidelines (approximately 20 thousand copies sold)
$26,000
Earnings 2010
Record Sales
Feb. 2010
Record sales of the album Abnormally Attracted to Sin (approximately 221 thousand copies sold)
$287,300,000
Record Sales
Feb. 2010
Record sales of the album American Doll Posse (approximately 500 thousand copies sold)
$650,000
Earnings 2005
Record Sales
Feb. 2005
Record sales of the album The Beekeeper (approximately 295 thousand copies sold)
$383,500
Earnings 2004
Others
May. 2004
Sales of the video Welcome to Sunny Florida (approximately 500 thousand copies sold)
$650,000
Earnings 2003
Record Sales
Nov. 2003
Record sales of the album Tales of a Librarian (approximately 95 thousand copies sold)
$123,500
Earnings 2002
Record Sales
Oct. 2002
Record sales of the album Scarlet's Walk (approximately 500 thousand copies sold)
$650,000
Earnings 2001
Record Sales
Sep. 2001
Record sales of the album Strange Little Girls in its debut (approximately 110 thousand copies sold)
$143,000
Earnings 1999
Record Sales
Sep. 1999
Record sales of the album To Venus and Back (approximately 1,008,000 copies sold)
$1,310,000
Earnings 1998
Others
Nov. 1998
Sales of the video Complete Videos 1991–1998 (approximately 500 thousand copies sold)
$650,000
Record Sales
May. 1998
Record sales of the album From the Choirgirl Hotel (approximately 1.15 million copies sold)
$1,495,000
Earnings 1996
Record Sales
Jan. 1996
Record sales of the album Boys for Pele (approximately 1.185 million copies sold)
$1,540,000
Earnings 1994
Record Sales
Jan. 1994
Record sales of the album Under the Pink (approximately 2.35 million copies sold)
$3,055,000
Earnings 1992
Others
Oct. 1992
Sales of the video Little Earthquakes (approximately 500 thousand copies sold)
$650,000
Record Sales
Jan. 1992
Record sales of the album Little Earthquakes (approximately 2.185 million copies sold)
$2,840,000
Show all earnings