Statistics
Source of Wealth:

Music

Age:

47

Birth Place:

Philadelphia, Pennsylvania USA

Weight:

79 kg (174.17 lbs)

Marital Status:

Married (Sharonda Jones)

Full Name:

Shawn Patrick Stockman

Nationality:

American
Date of Birth:

September 26, 1972

Ethnicity:

African American

Occupation:

Musician, Songwriter and Singer

Education:

CAPA (Creative and Performing Arts High School) in South Philadelphia

Children:

3 (Brooklyn, Ty and Micah)
About Shawn Patrick Stockman
Shawn Stockman is an American singer with a net worth of $60 million. He has earned his wealth by being a member and vocalist in the Boys 2 Men band. He also worked as a judge on the show Sing-Off and eventually started his own record label called Soul Chemistry Projects.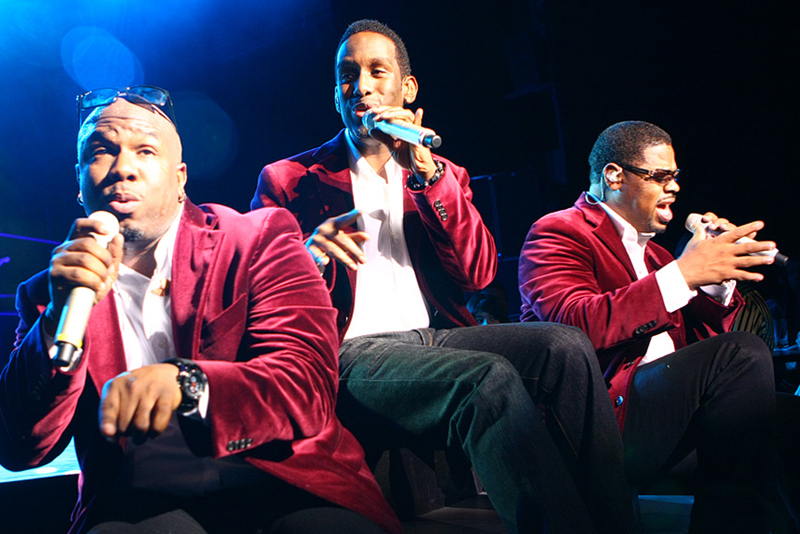 Shawn was born on September 26, 1972, in Philadelphia Pennsylvania and started singing at the age of 8 in the Philadelphia Boys Choir and Chorale. Apart from recording with  Boys 2 Men, Shawn recorded a solo album in the late 1990s as a side project but it was never released. He has also written other songs such as "Hot Thing" and "Let It Go" which were used in the Seventeen Again Disney movie. Shawn has also recorded a cover of the Beyonce hit single "If I Were a Boy".
Shawn has been featured as a judge on NBC's Sing-Off alongside Nicole Scherzinger, Sara Bareilles, and Ben Folds.
Earnings & Financial Data
?
The below financial data is gathered and compiled by TheRichest analysts team to give you a better understanding of Shawn Stockman Net Worth by breaking down the most relevant financial events such as yearly salaries, contracts, earn outs, endorsements, stock ownership and much more.
Choose Year
Earnings 2007
Earnings 2002
Earnings 2001
Earnings 2000
Earnings 1997
Earnings 1995
Earnings 1994
Earnings 1993
Earnings 1991
Earnings 2007
Record Sales
Nov. 2007
Record sales of the album Motown: A Journey Through Hitsville USA with the American R&B group Boyz II Men (approximately 100 thousand copies sold)
$130,000
Earnings 2002
Record Sales
Jun. 2002
Record sales of the album Full Circle with the American R&B group Boyz II Men (approximately 700 thousand copies sold)
$910,000
Earnings 2001
Record Sales
Oct. 2001
Record sales of the compilation album Legacy: The Greatest Hits Collection with the American R&B group Boyz II Men (approximately 1.2 million copies sold)
$1,560,000
Earnings 2000
Record Sales
Sep. 2000
Record sales of the album Nathan Michael Shawn Wanya with the American R&B group Boyz II Men (approximately 750 thousand copies sold)
$975,000
Record Sales
May. 2000
Record sales of the compilation album The Ballad Collection with the American R&B group Boyz II Men (approximately 200 thousand copies sold)
$260,000
Earnings 1997
Record Sales
Sep. 1997
Record sales of the album Evolution with the American R&B group Boyz II Men (approximately 2,715,000 copies sold)
$3,530,000
Earnings 1995
Record Sales
Nov. 1995
Record sales of the album Mr. Smith with American hip hop recording artist LL Cool J (approximately 2.11 million copies sold)
$2,740,000
Record Sales
Nov. 1995
Record sales of the compilation album The Remix Collection with the American R&B group Boyz II Men (approximately 1.15 million copies sold)
$1,500,000
Record Sales
Oct. 1995
Record sales of the album Daydream with American singer and songwriter Mariah Carey (approximately 20 million copies sold)
$26,000,000
Earnings 1994
Record Sales
Aug. 1994
Record sales of the album II with the American R&B group Boyz II Men (approximately 13,255,000 copies sold)
$17,230,000
Earnings 1993
Record Sales
Oct. 1993
Record sales of the album Christmas Interpretations with the American R&B group Boyz II Men (approximately 2.05 million copies sold)
$2,670,000
Earnings 1991
Record Sales
Apr. 1991
Record sales of the album Cooleyhighharmony with the American R&B group Boyz II Men (approximately 9,455,000 copies sold)
$12,290,000
Show all earnings