Statistics
Source of Wealth:

Film, Music and Television

Age:

47

Birth Place:

Mexico City, Mexico

Weight:

55 kg (121 lbs)

Marital Status:

Divorced (Nicolás "Colate" Vallejo Nájera)

Full Name:

Paulina Susana Rubio-Dosamantes

Nationality:

Mexican
Date of Birth:

June 17, 1971

Ethnicity:

Galician Spanish and Mexican (including Spanish and Indigenous Mexican), possibly distant Italian

Occupation:

Singer and Actress

Education:

Centro de Educación Artística

Children:

2 (Andrea Nicolás and Eros Bazúa)
About Paulina Susana Rubio-Dosamantes
Mexican singer and actress Paulina Susana Rubio-Dosamantes has an estimated net worth of $35 million.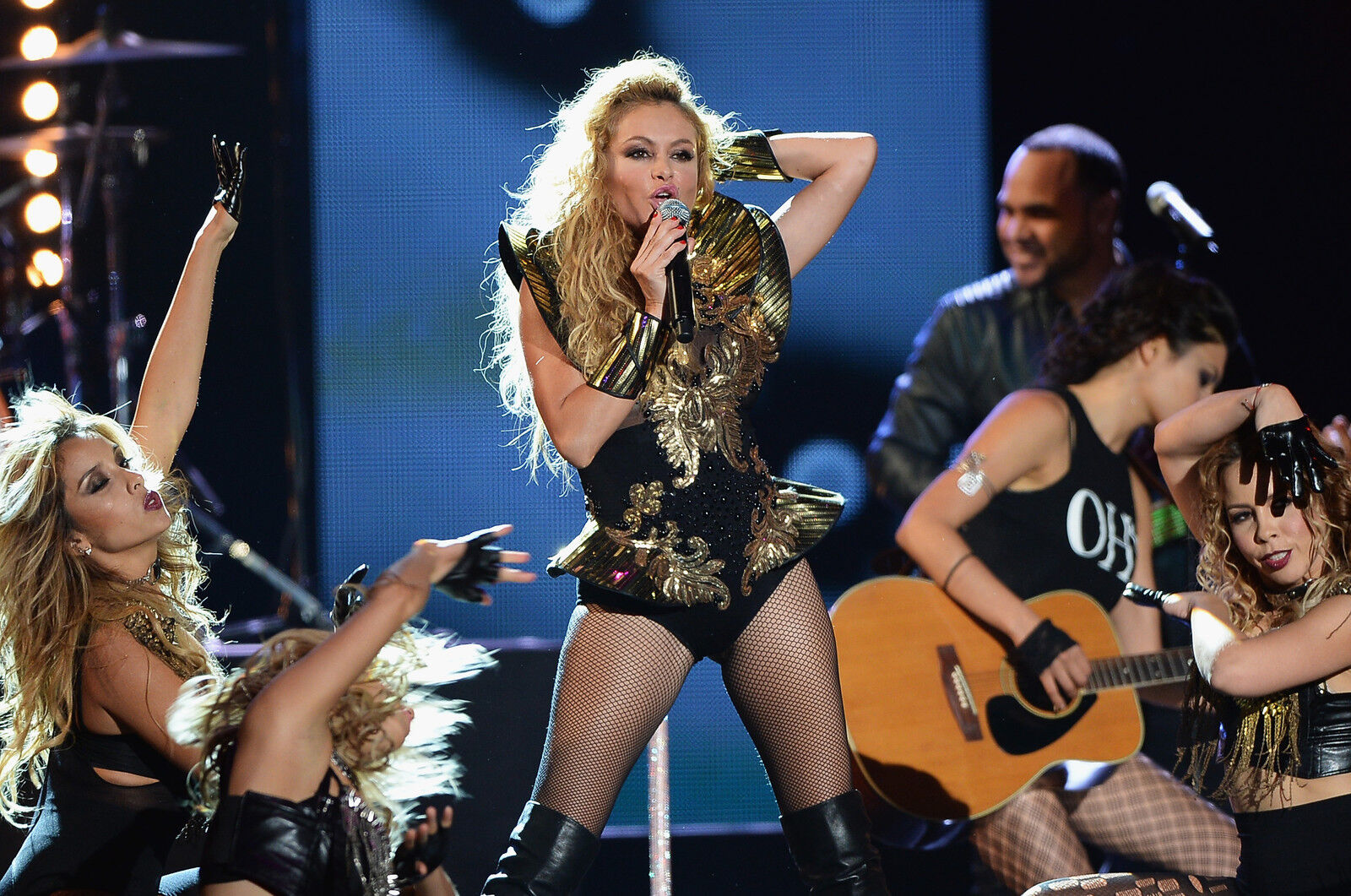 Unlike many kids who grow up dreaming of stardom, singer Paulina Rubio didn't have to wait for adulthood to get her first taste of fame. By the time she was ten, Rubio, the daughter of Mexican film star Susana Dosamantes, was part of the children's group Timbiriche. A decade later her solo debut, La Chica Dorada (1992), was released by EMI, generating the breakthrough hit "Mío." Three more EMI albums followed -- 24 Kilates (1993), Tiempo Es Oro (1995), and Planeta Paulina (1996) -- none nearly as successful as her debut.
Paulino Rubio has earned her net worth through her many hit singles and albums, as well as modeling for well-known designers such as Alvin Valley, Gaudi, Roberto Cavalli, Kiff-Kaff and more. She also has her own lipstick and fragrance line and is the owner of a restaurant in Miami Beach, called L'Entrecote de Paris. She was born Paulina Susana Rubio Rue, originally from Mexico City, Mexico.
Earnings & Financial Data
?
The below financial data is gathered and compiled by TheRichest analysts team to give you a better understanding of Paulina Rubio Net Worth by breaking down the most relevant financial events such as yearly salaries, contracts, earn outs, endorsements, stock ownership and much more.
Choose Year
Earnings 2018
Earnings 2013
Earnings 2012
Earnings 2011
Earnings 2009
Earnings 2006
Earnings 2004
Earnings 2002
Earnings 2000
Earnings 1995
Earnings 1993
Earnings 1992
Earnings 1988
Earnings 1987
Earnings 2018
Record Sales
Sep. 2018
Record sales of the album Deseo (approximately 5 thousand copies sold)
$6,500
Earnings 2013
Salary
2013
Estimated salary from The X Factor as one of the show's judges
$1,500,000
Earnings 2012
Ticket Sales
Aug. 2012
Ticket sales of the Brava! World Tour (approximately 22 thousand tickets sold)
$924,000
Asset
Apr. 2012
Purchase value of Paulina Rubio's 2400-square-foot apartment in Miami, Florida
$410,000
Earnings 2011
Record Sales
Nov. 2011
Record sales of the album Brava! (approximately 80 thousand copies sold)
$104,000
Earnings 2009
Record Sales
Jun. 2009
Record sales of the album Gran City Pop (approximately 190 thousand copies sold)
$247,000
Earnings 2006
Record Sales
Sep. 2006
Record sales of the album Ananda (approximately 500 thousand copies sold)
$650,000
Earnings 2004
Record Sales
Feb. 2004
Record sales of the album Pau-Latina (approximately 1 million copies sold)
$1,300,000
Earnings 2002
Record Sales
Jun. 2002
Record sales of the album Border Girl (approximately 1 million copies sold)
$1,300,000
Earnings 2000
Record Sales
Mar. 2000
Record sales of the album Paulina (approximately 3 million copies sold)
$3,900,000
Earnings 1995
Record Sales
Mar. 1995
Record sales of the album El Tiempo Es Oro (approximately 100 thousand copies sold)
$130,000
Earnings 1993
Record Sales
Nov. 1993
Record sales of the album 24 Kilates (approximately 200 thousand copies sold)
$260,000
Earnings 1992
Record Sales
Oct. 1992
Record sales of the album La Chica Dorada (approximately 550 thousand copies sold)
$715,000
Earnings 1988
Record Sales
May. 1988
Record sales of the album Timbiriche VIII & IX with the Mexican Pop band Timbiriche (approximately 500 thousand copies sold)
$650,000
Earnings 1987
Record Sales
Mar. 1987
Record sales of the album Timbiriche VII with the Mexican pop music group Timbiriche (approximately 800 thousand copies sold)
$1,040,000
Show all earnings