Statistics
Source of Wealth:

Music

Age:

39

Birth Place:

New York, NY, USA

Weight:

65 kg (143.3 lbs)

Marital Status:

Married (Mike Mora)

Full Name:

Kelis Rogers

Nationality:

American
Date of Birth:

August 21, 1979

Ethnicity:

African American

Occupation:

Musician, Songwriter and Singer

Education:

Le Cordon Bleu culinary school

Children:

2 (Knight and Sheperd)
About Kelis Rogers
Kelis is an American singer and songwriter with a net worth around $4 million. Kelis acquired that net worth as a Hip Hop and R&B singer, marketing over six million records worldwide. She has been recently nominated for two Grammy Honours.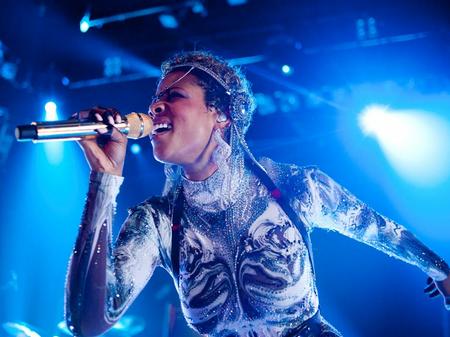 Born Kelis Rogers on June 21, 1979, in Harlem, New York City, US. She began recording her debut album, Kaleidoscope, inside mid-1998 finishing it in a year. Produced by The Neptunes, the album first showed at number 144 around the Billboard 200 and attained the top fifty on top Heatseekers, selling 11 Thousand copies in its 1st week of release.
"Caught out There" entered as well as peaked at number 4 on the UK Single people Chart. An additional single, "Good Stuff" (featuring Clipse), was a modest strike, securing a number twenty position on the British Isles Singles Chart, although the third release, "Get As well as You", only reached number 51 in the United Kingdom, despite Kelis advertising the track generally there.
Earnings & Financial Data
?
The below financial data is gathered and compiled by TheRichest analysts team to give you a better understanding of Kelis Net Worth by breaking down the most relevant financial events such as yearly salaries, contracts, earn outs, endorsements, stock ownership and much more.
Choose Year
Earnings 2018
Earnings 2017
Earnings 2012
Earnings 2010
Earnings 2006
Earnings 2004
Earnings 2003
Earnings 2001
Earnings 1999
Earnings 2018
Asset
Aug. 2018
Current value of Kelis' website iamkelis.com
$2,900
Earnings 2017
Sale of Asset
Sep. 2017
Selling price of Kelis' Spanish-style home in Glendale
$2,200,000
Earnings 2012
Record Sales
Oct. 2012
Record sales of the album 18 Months with Scottish DJ and musician Calvin Harris (approximately 1,096,861 copies sold)
$1,430,000
Asset
Jan. 2012
Purchase value of Kelis' Spanish-style home in Glendale
$875,000
Earnings 2010
Record Sales
Oct. 2010
Record sales of the album Messy Little Raindrops with British recording artist Cheryl (approximately 315 thousand copies sold)
$409,500
Record Sales
May. 2010
First week record sales of the album Flesh Tone (approximately 7.8 thousand copies sold)
$10,140
Earnings 2006
Record Sales
Aug. 2006
Record sales of the album Kelis Was Here (approximately 192,083 copies sold)
$249,710
Record Sales
Aug. 2006
Record sales of the Step Up soundtrack with various artists (approximately 500 thousand copies sold)
$650,000
Record Sales
Jun. 2006
Record sales of the album The Big Bang with American rapper Busta Rhymes (approximately 883 thousand copies sold)
$1,150,000
Earnings 2004
Ticket Sales
Jun. 2004
Ticket sales of the Onyx Hotel Tour with American recording artist Britney Spears (approximately 616,887 tickets sold)
$34,050,000
Earnings 2003
Record Sales
Dec. 2003
Record sales of the album Tasty (approximately 529,534 copies sold)
$688,390
Earnings 2001
Ticket Sales
Dec. 2001
Ticket sales of the Elevation Tour with the Irish rock band U2 (approximately 1,624,988 tickets sold)
$112,240,000
Record Sales
Oct. 2001
Record sales of the album Wanderland (approximately 17 thousand copies sold)
$22,100
Earnings 1999
Record Sales
Dec. 1999
Record sales of the album Kaleidoscope (approximately 349 thousand copies sold)
$453,700
Show all earnings