Statistics
Source of Wealth:

Music

Age:

28

Birth Place:

Halifax, Halifax, Yorkshire, England, United Kingdom

Weight:

180 lbs (82 kg)

Marital Status:

Married (Cherry Lancaster Seaborn)

Full Name:

Edward Christopher Sheeran, MBE

Nationality:

British
Date of Birth:

February 17, 1991

Ethnicity:

English, Irish

Occupation:

Singer-Songwriter, Producer and Musician

Education:

Thomas Mills High School
About Edward Christopher Sheeran, MBE
Ed Sheeran is an English singer-songwriter with an estimated net worth of $110 million.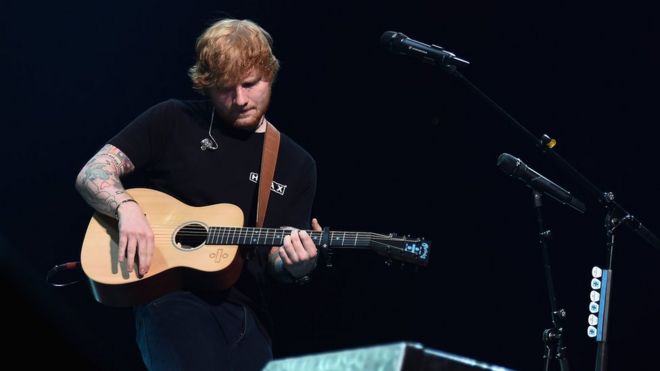 Born Edward Christopher Sheeran on February 17, 1991, in Halifax, Yorkshire, England, he sang in a local church choir when he was four, learned to play the guitar while at Rishworth School, and began writing songs when he was at Thomas Mills High School in Framlingham. He was part of the National Youth Theatre in London during his teens. He became successful when he auditioned at the Youth Music Theatre UK in 2007 and joined the production of Frankenstein in Plymouth. He studied Artist Development at the Youth Music Theatre UK (now renamed British Youth Music Theatre) and of Access to Music.
In 2008, Sheeran moved to London to pursue a career in music. In 2011, his extended independent play titled  No. 5 Collaborations Project was released. It caught the attention of Jamie Foxx and Elton John. After signing with the Asylum Records, his first album was released in 2011. The album contained the singles "Lego House", and "The A-Team". The album instantly became a quintuple platinum hit across the United Kingdom. For his "The A-Team", he received the Ivor Novello Award for Best Song Musically and Lyrically. In 2012, he also won the 2 Brit Awards for the British Breakthrough and Best British Male category. "The A-Team" is also a Grammy Awards nominee for the Song of the Year category.
Ed Sheeran released his second album x (pronounced "multiply") in 2014 and topped the UK and the US markets. After a year, the album won the Brit Award for Album of the Year while Sheeran earned the Ivor Novello Award for Songwriter of the Year from the British Academy of Songwriters, Composers, and Authors. He earned two Grammy Awards at the 2016 ceremony: Song of the Year and Best Pop Solo Performance for his single "Thinking Out Loud". The album was also named the second-best-selling album worldwide of 2015.
On March 2017, Sheeran released his third album, ÷ (pronounced "divide") and it debuted at number one in major markets around the world. His fourth album "Perfect" was released in the same year and became number one in the US, UK, and Australia. It was also named the best-selling album worldwide for that year. Considered one of the world's best-selling music artists, he has sold more than 150 million records worldwide.
Earnings & Financial Data
?
The below financial data is gathered and compiled by TheRichest analysts team to give you a better understanding of Ed Sheeran Net Worth by breaking down the most relevant financial events such as yearly salaries, contracts, earn outs, endorsements, stock ownership and much more.
Choose Year
Earnings 2019
Earnings 2018
Earnings 2017
Earnings 2016
Earnings 2015
Earnings 2014
Earnings 2013
Earnings 2012
Earnings 2011
Earnings 2010
Earnings 1998
Earnings 2019
Record Sales
Jul. 2019
Record sales of the album No.6 Collaborations Project (approximately 1,109,500 copies sold)
$1,440,000
YouTube Earnings
Apr. 2019
Estimated annual earnings of Ed Sheeran's YouTube channel
$4,350,000
Asset
Apr. 2019
Estimated value of Ed Sheeran's website edsheeran.com
$832,700
Asset
Mar. 2019
Ed Sheeran's investment in the property market that includes 18 flats or houses in London and Suffolk, as well as one restaurant in Notting Hill
$54,110,000
Earnings 2018
$110 Million
Record Sales
Nov. 2018
Record sales of the album Phoenix with British singer Rita Ora (approximately 145 thousand copies sold)
$188,500
Record Sales
Nov. 2018
Record sales of the album LM5 with the British girl group Little Mix (approximately 100 thousand copies sold)
$130,000
Record Sales
Nov. 2018
Record sales of the album Thank You & Goodnight with the Irish boy band Boyzone (approximately 92 thousand copies sold)
$119,600
Record Sales
Oct. 2018
Record sales of the album Sì with Italian tenor Andrea Bocelli (approximately 291 thousand copies sold)
$378,300
Record Sales
Oct. 2018
Record sales of the album Always In Between with English singer and songwriter Jess Glynne (approximately 100 thousand copies sold)
$130,000
Record Sales
May. 2018
Record sales of the album Shawn Mendes with Canadian singer and songwriter Shawn Mendes (approximately 847.5 thousand copies sold)
$1,100,000
Record Sales
Apr. 2018
Record sales of the album Speak Your Mind with British singer Anne-Marie (approximately 764 thousand copies sold)
$993,200
Record Sales
Apr. 2018
Record sales of the album Graffiti U with New Zealand-born Australian country music singer Keith Urban (approximately 314.1 thousand copies sold)
$408,330
Earnings 2017
$37 Million
Record Sales
Dec. 2017
Record sales of the album Revival with American rapper Eminem (approximately 1,336,000 copies sold)
$1,740,000
Record Sales
Nov. 2017
Record sales of the collaborative album The Rest of Our Life with American country music artists as well as husband and wife, Tim McGraw and Faith Hill (approximately 231.3 thousand copies sold)
$300,690
Record Sales
Nov. 2017
Record sales of the album Reputation with American singer-songwriter Taylor Swift (approximately 4.5 million copies sold)
$5,850,000
Record Sales
Oct. 2017
Record sales of the album Glasshouse with English singer-songwriter Jessie War (approximately 18,448 copies sold)
$23,980
Record Sales
Sep. 2017
Record sales of the single " A Different Way" with French DJ and record producer DJ Snake (approximately 228,333 copies sold)
$296,830
Record Sales
May. 2017
Record sales of the single "Strip That Down" with English singer and songwriter Liam Payne (approximately 2,905,000 copies sold)
$3,780,000
Record Sales
Mar. 2017
Record sales of the album The Afterlove with English singer James Blunt (approximately 60 thousand copies sold)
$78,000
Record Sales
Mar. 2017
Record sales of the album So Good with Swedish singer and songwriter Zara Larsson (approximately 872.5 thousand copies sold)
$1,130,000
Record Sales
Mar. 2017
Record sales of the album ÷ (approximately 15.8 million copies sold)
$20,540,000
Asset
2017
Value of the last two houses next door to his Suffolk mansion
$1,992,000
Earnings 2016
Record Sales
Nov. 2016
Record sales of the album The Heavy Entertainment Show with English recording artist Robbie Williams (approximately 700 thousand copies sold)
$910,000
Record Sales
Feb. 2016
Record sales of the album This Unruly Mess I've Made with American hip hop duo Macklemore & Ryan Lewis (approximately 667 thousand copies sold)
$867,100
Asset
2016
Value of his four bedroom detached house in front of his farmhouse
$1,202,000
Earnings 2015
$57 Million
Ticket Sales
Dec. 2015
Ticket sales of Ed Sheeran's X Tour (approximately 1,276,997 tickets sold)
$82,020,000
Record Sales
Nov. 2015
Record sales of the album Purpose with Canadian singer and songwriter Justin Bieber (approximately 4.66 million copies sold)
$6,060,000
Record Sales
Oct. 2015
Record sales of the album We the Generation with the British drum and bass band Rudimental (approximately 100 thousand copies sold)
$130,000
Record Sales
Aug. 2015
Record sales of the album Beauty Behind the Madness with Canadian singer The Weeknd (approximately 3,922,500 copies sold)
$5,100,000
Ticket Sales
Jul. 2015
Ticket sales of the Zip Code Tour with the English rock band The Rolling Stones (approximately 730,733 tickets sold)
$109,710,000
Record Sales
Jun. 2015
Record sales of the album Unbreakable Smile with American singer Tori Kelly (approximately 145 thousand copies sold)
$188,500
Record Sales
Jun. 2015
Record sales of the album Feu with French hip hop artist Nekfeu (approximately 665 thousand copies sold)
$864,500
Asset
2015
Purchase value of Ed Sheeran's four-bedroom property in North London
$11,500,000
Earning Turned Donation
2015
Purchase value of a flat in North London that Ed Sheeran gave to his parents
$962,000
Earnings 2014
Record Sales
Nov. 2014
Record sales of the album Four with the English-Irish boy band One Direction (approximately 3.2 million copies sold)
$4,160,000
Record Sales
Oct. 2014
Debut record sales of the album People Keep Talking with American hip hop recording artist Hoodie Allen (approximately 30,246 copies sold)
$39,320
Record Sales
Oct. 2014
Record sales of the album Tough Love with English singer Jessie Ware (approximately 106 thousand copies sold)
$137,800
Record Sales
Jun. 2014
Record sales of the album x (approximately 14 million copies sold)
$18,200,000
Ticket Sales
Jun. 2014
Ticket sales of The Red Tour with American singer-songwriter Taylor Swift (approximately 1,702,933 tickets sold)
$150,180,000
Record Sales
May. 2014
Record sales of the soundtrack The Fault in Our Stars with various artists (approximately 500 thousand copies sold)
$650,000
Record Sales
Apr. 2014
Record sales of the album Head or Heart with American singer-songwriter Christina Perri (approximately 500 thousand copies sold)
$650,000
Earnings 2013
Record Sales
Nov. 2013
Record sales of the single "I See Fire" (approximately 11.625,000 copies sold)
$15,110,000
Record Sales
Oct. 2013
Record sales of the single "Old School Love" with American rapper Lupe Fiasco (approximately 35 thousand copies sold)
$45,500
Earnings 2012
Ticket Sales
Dec. 2012
Ticket sales of the Fallen Empires Tour with the Scottish/Northern Irish alternative rock band Snow Patrol (approximately 164,592 tickets sold)
$8,020,000
Record Sales
Nov. 2012
Record sales of the album Take Me Home with the English-Irish boy band One Direction (approximately 4,966,424 copies sold)
$6,460,000
Record Sales
Oct. 2012
Record sales of the album Red with American singer-songwriter Taylor Swift (approximately 8,776,523 copies sold)
$11,410,000
Asset
Jun. 2012
Purchase value of Ed Sheeran's main home in Suffolk
$1,150,000
Asset
2012
Value of his 16th century Grade Two listed timber-framed house next to his main house
$727,560
Earnings 2011
Record Sales
Nov. 2011
Record sales of the album Up All Night with the English-Irish boy band One Direction (approximately 4,754,434 copies sold)
$6,180,000
Record Sales
Sep. 2011
Record sales of the album + (approximately 4 million copies sold)
$5,200,000
Earnings 2010
Record Sales
Nov. 2010
Record sales of the album Olly Murs with English singer-songwriter Olly Murs (approximately 834 thousand copies sold)
$1,080,000
Record Sales
Jul. 2010
Record sales of the extended play Loose Change (approximately 60 thousand copies sold)
$78,000
Earnings 1998
Record Sales
Apr. 1998
Record sales of the single "Teardrop" with the English trip hop group Massive Attack (approximately 400 thousand copies sold)
$520,000
Show all earnings