Chris Kirkpatrick Net Worth
Statistics
Source of Wealth:

Music

Age:

48

Birth Place:

Clarion, Pennsylvania, United States

Weight:

69 kg (152.12 lbs)

Marital Status:

Married (Karly Skladany)

Full Name:

Christopher Alan "Chris" Kirkpatrick

Nationality:

American
Date of Birth:

October 17, 1971

Ethnicity:

German, Swiss-German, Irish, Scottish, Scots-Irish (Northern Irish), English and possibly other

Occupation:

Singer, Dancer, Voice Actor

Education:

Rollins College, Valencia Community College

Children:

1 (Nash Dylan)
About Christopher Alan "Chris" Kirkpatrick
Christopher Kirkpatrick has a net worth of $13 million that was earned as a founding member of the popular boy band N Sync and as a dancer, entertainer and voice actor.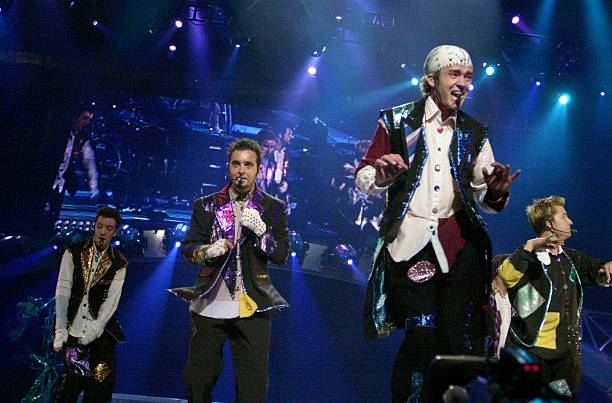 Born in Pennsylvania in 1971, Kirkpatrick began performing at a young age and attended Rollins College where he performed at Universal Studios. Known for his unique countertenor voice, Kirkpatrick helped lead N Sync towards becoming one of the most iconic and recognized boy bands of all time.
After N Sync, Kirkpatrick has had a successful career as a voice-over artist for several television shows. Due to his unique voice, Kirkpatrick has had many roles providing voices on popular kid television shows. Although known for his pop voice, Kirkpatrick showed his ability to sing an entirely different genre by participating in the second season of CMT's popular Gone Country show. Kirkpatrick wowed the judges with his performance and was even told that the song he wrote and sang could have been a number 1 country hit.
Earnings & Financial Data
?
The below financial data is gathered and compiled by TheRichest analysts team to give you a better understanding of Chris Kirkpatrick Net Worth by breaking down the most relevant financial events such as yearly salaries, contracts, earn outs, endorsements, stock ownership and much more.
Choose Year
Earnings 2018
Earnings 2014
Earnings 2005
Earnings 2003
Earnings 2002
Earnings 2001
Earnings 2000
Earnings 1999
Earnings 1998
Earnings 1997
Earnings 2018
Sale of Asset
Jan. 2018
Sale of Chris Kirkpatrick's half-acre estate on Big Sand Lake in South Orlando, Florida
$1,690,000
Earnings 2014
Record Sales
Jul. 2014
Record sales of the album The Essential *NSYNC with the American boy band NSYNC (approximately 34 thousand copies sold)
$44,200
Earnings 2005
Record Sales
Oct. 2005
Record sales of the compilation album Greatest Hits with the American boy band NSYNC (approximately 528 thousand copies sold)
$686,400
Earnings 2003
Asset
Jan. 2003
Purchase value of Chris Kirkpatrick's half-acre estate on Big Sand Lake in South Orlando, Florida
$679,900
Earnings 2002
Record Sales
Sep. 2002
Record sales of the album Disneymania with various artists (approximately 500 thousand copies sold)
$650,000
Ticket Sales
Apr. 2002
Ticket sales of the Celebrity Tour with the American boy band NSYNC (approximately 510,950 tickets sold)
$33,360,000
Earnings 2001
Box Office Sales
Oct. 2001
Worldwide box office sales of the movie On the Line as Angelo the Hairdresser
$4,690,000
Ticket Sales
Sep. 2001
Ticket sales of the PopOdyssey concert tour with the American boy band NSYNC (approximately 1,014,174 tickets sold)
$52,540,000
Record Sales
Jan. 2001
Record sales of the album Celebrity with the American boy band NSYNC (approximately 6,213,000 copies sold)
$8,080,000
Earnings 2000
Ticket Sales
Dec. 2000
Ticket sales of the No Strings Attached Tour with the American boy band NSYNC (approximately 776,836 tickets sold)
$36,760,000
Record Sales
Mar. 2000
Record sales of the album No Strings Attached with the American boy band NSYNC (approximately 15,910,000 copies sold)
$20,680,000
Ticket Sales
Jan. 2000
Ticket sales of NSYNC in Concert with the American boy band NSYNC (approximately 550,252 tickets sold)
$16,670,000
Earnings 1999
Record Sales
Nov. 1999
Record sales of the Light It Up soundtrack (Music From and Inspired by the Movie) with various artists (approximately 500 thousand copies sold)
$650,000
Record Sales
Nov. 1999
Record sales of the Pokémon: The First Movie soundtrack with various artists (approximately 2.44 million copies sold)
$3,170,000
Record Sales
Sep. 1999
Record sales of the single "Music of My Heart" with Cuban American recording artist Gloria Estefan and American boy band NSYNC (approximately 500 thousand copies sold)
$650,000
Record Sales
Jun. 1999
Record sales of the album Twentieth Century with country music band Alabama (approximately 500 thousand copies sold)
$650,000
Record Sales
May. 1999
Record sales of the Tarzan: An Original Walt Disney Records Soundtrack with various artists (approximately 3,311,000 copies sold)
$4,300,000
Ticket Sales
Jan. 1999
Ticket sales of The Velvet Rope Tour with American recording artist Janet Jackson (approximately 226,707 tickets sold)
$16,830,000
Earnings 1998
Record Sales
Nov. 1998
Record sales of the album Home for Christmas with the American boy band NSYNC (approximately 4 million copies sold)
$5,200,000
Earnings 1997
Record Sales
May. 1997
Record sales of the album 'N Sync with the American boy band NSYNC (approximately 15,540,000 copies sold)
$20,200
Show all earnings