Statistics
Source of Wealth:

Books, Film and Music

Age:

91

Birth Place:

St. Louis, Missouri, United States

Marital Status:

Divorced (Paul du Feu)

Full Name:

Marguerite Ann Johnson

Nationality:

American
Date of Birth:

April 4, 1928

Ethnicity:

African-American

Occupation:

Poet, Civil Rights Activist, Dancer, Film Producer, Television Producer, Playwright, Film Director, Author, Actress, Professor

Education:

George Washington High School

Children:

1 (Guy)
About Marguerite Ann Johnson
Marguerite Ann Johnson, or Maya Angelou as we know her, is a very famous American poet and writer whose net wealth is estimated to be about $10 million. She is also a film producer, dancer, activist, playwright and even a film director. Maya has made her fortunes from all these sources. Her most famous work is "I Know Why the Caged Bird Sings" which gave her a lot of popularity and fame.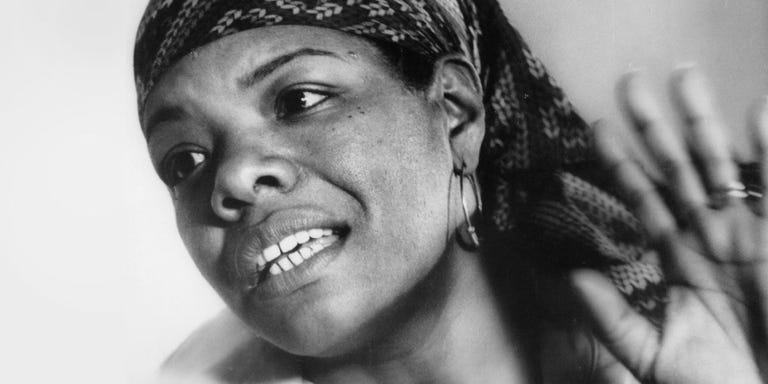 Her works are influenced by authors like Charles Dickens, William Shakespeare, Edgar Allan Spencer and the like. Angelou recorded her first album Miss Calypso in 1957. In an off-Broadway review inspired by the film Calypso Heat Wave where she sang and even performed on her own compositions. She later moved to New York to concentrate on her writing career. There she met several African-American authors and her first works got published here. Some of her very famous works were published then. Angelou later entered into films by writing the screenplay and the soundtrack for a film produced by a Swedish film company. That was just the start. Maya has worked in many movies since then.
She has taught in numerous universities for several years during her life. She has also got several awards as an artist including four National Medal of Arts and three Grammy.
She was born in Saint Louis Missouri. Her books like "I Know Why the Cage Bird Sings" and "On the Pulse of the Mornings" has given her lot of international fame. Maya was awarded the Presidential Medal of Freedom by Barack Obama in 2011.
Earnings & Financial Data
?
The below financial data is gathered and compiled by TheRichest analysts team to give you a better understanding of Maya Angelou Net Worth by breaking down the most relevant financial events such as yearly salaries, contracts, earn outs, endorsements, stock ownership and much more.
Choose Year
Earnings 2016
Earnings 2006
Earnings 1988
Earnings 1981
Earnings 1969
Earnings 2016
Sale of Asset
Aug. 2016
Sale of Maya Angelou's Harlem brownstone 5,500 sq ft home that features five bedrooms and five bathrooms
$4,000,000
Earnings 2006
Book Sales
May. 2006
Sales of her book Mother: A Cradle to Hold Me (approximately 9 thousand copies sold in the first week of release)
$89,550
Earnings 1988
Box Office Sales
Dec. 1988
Box office sales of the movie Down in the Delta
$5,670,000
Box Office Sales
Feb. 1988
Box office sales of the movie Sister, Sister
$743,450
Earnings 1981
Book Sales
Jun. 1981
Sales of her book Heart of a Woman (approximately 1 million copies sold)
$16,000,000
Earnings 1969
Book Sales
Apr. 1969
Sales of her autobiography I Know Why the Caged Bird Sings (approximately 400 thousand copies sold)
$4,620,000
Show all earnings