Statistics
Source of Wealth:

Film and Television

Age:

59

Birth Place:

Brooklyn, New York, U.S.

Marital Status:

Single

Full Name:

Colin Edward Quinn

Nationality:

American
Date of Birth:

June 6, 1959

Ethnicity:

Irish

Occupation:

Stand-up Comedian, Actor, and Writer

Education:

State University of New York at Stony Brook
About Colin Edward Quinn
American stand-up comedian and writer best known for his five years in the cast of Saturday Night Live, Colin Quinn has an estimated net worth of $4 million.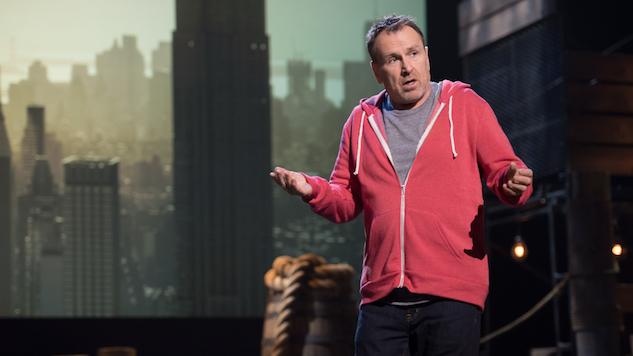 From the early days of MTV's Remote Control to his later success with the topical Comedy Central series Tough Crowd With Colin Quinn, gravelly voiced Brooklynite Colin Quinn has become a staple of the comedy scene thanks to his fearless, tell-it-like-it-is style and everyman attitude. Quinn proved to be a ubiquitous presence in the realm of popular comedians thanks to his stint at Saturday Night Live's Weekend Update desk, numerous film roles, and his marked tenacity (even after having no less that three television series canceled, Quinn still returned to host Tough Crowd). His topical brand of comedy doesn't appeal exclusively to New Yorkers, but to anyone who prefers their politics and current events news spiked with a healthy dose of irreverence.
A native of Park Slope, Brooklyn, NY, who got his start as a standup comic in the mid-'80s, Quinn made a name for himself with performances at such popular Manhattan comedy clubs as Caroline's and The Comic Strip. He gained a healthy amount of exposure soon thereafter when he joined the cast of MTV's pop-culture game show Remote Control in 1987.
Earnings & Financial Data
?
The below financial data is gathered and compiled by TheRichest analysts team to give you a better understanding of Colin Quinn Net Worth by breaking down the most relevant financial events such as yearly salaries, contracts, earn outs, endorsements, stock ownership and much more.
Choose Year
Earnings 2019
Earnings 2015
Earnings 2013
Earnings 2012
Earnings 2010
Earnings 2008
Earnings 1998
Earnings 1996
Earnings 1993
Earnings 1988
Earnings 1987
Earnings 2019
Asset
Jan. 2019
Current value of Colin Quinn's website colinquinn.com
$3,600
Earnings 2015
Others
Oct. 2015
Sales of the video Trainwreck as Gordon
$13,680,000
Box Office Sales
Jul. 2015
Worldwide box office sales of the movie Trainwreck as Gordon
$141,120,000
Earnings 2013
Others
Nov. 2013
Sales of the video Grown Ups 2 as Dickie Bailey
$29,480,000
Box Office Sales
Jul. 2013
Worldwide box office sales of the movie Grown Ups 2 as Dickie Bailey
$247,020,000
Earnings 2012
Others
Oct. 2012
Sales of the video That's My Boy as a Strip Club DJ
$7,800,000
Box Office Sales
Jun. 2012
Worldwide box office sales of the movie That's My Boy as a Strip Club DJ
$58,090,000
Earnings 2010
Others
Nov. 2010
Sales of the video Grown Ups as Dickie Bailey
$61,500,000
Box Office Sales
Jun. 2010
Worldwide box office sales of the movie Grown Ups as Dickie Bailey
$272,220,000
Earnings 2008
Box Office Sales
Jul. 2008
Box office sales of the movie Harold as Reedy
$13,230
Earnings 1998
Box Office Sales
Oct. 1998
Box office sales of the movie A Night at the Roxbury as Dooey
$30,330,000
Earnings 1996
Box Office Sales
Apr. 1996
Box office sales of the movie Celtic Pride as the film's writer
$9,260,000
Earnings 1993
Box Office Sales
Apr. 1993
Box office sales of the movie Who's the Man? as Frankie Flynn
$11,300,000
Earnings 1988
Box Office Sales
May. 1988
Worldwide box office sales of the movie Crocodile Dundee II as an Onlooker at Mansion and box office sales of the movie Married to the Mob as a Homicide Detective
$261,100,000
Earnings 1987
Box Office Sales
Nov. 1987
Box office sales of the movie Three Men and a Baby as a Gift Shop Clerk
$167,780,000
Show all earnings