Christina Aguilera Net Worth
Statistics
Source of Wealth:

Music, Television and Film

Age:

38

Birth Place:

Staten Island, New York City, New York, United States

Weight:

100 lbs (45.3 kg)

Marital Status:

Divorced (Jordan Bratman)

Full Name:

Christina María Aguilera

Nationality:

American
Date of Birth:

18 December 1980

Ethnicity:

Ecuadorian, Spanish, Andalusian, Castilian, Extremaduran, Leónese, Galician, remote Indigenous Quechua, English, with smaller amounts to varying degrees of German, Irish, Scots-Irish/Northern Irish, French, Welsh, and Dutch

Occupation:

Singer, Songwriter, Actress and Television Personality

Education:

North Allegheny Intermediate High School

Children:

2 (Max Liron and Summer Rain)
About Christina María Aguilera
Christina Aguilera is an American singer-songwriter, record producer, and actress who has an estimated net worth of $160 million. She is sometimes called by the names Chrissy, X-Tina, Baby Jane, and Candy, who is best known for her vocal power and provocative personal style. She is also one of the most popular pop artists in the 2000s.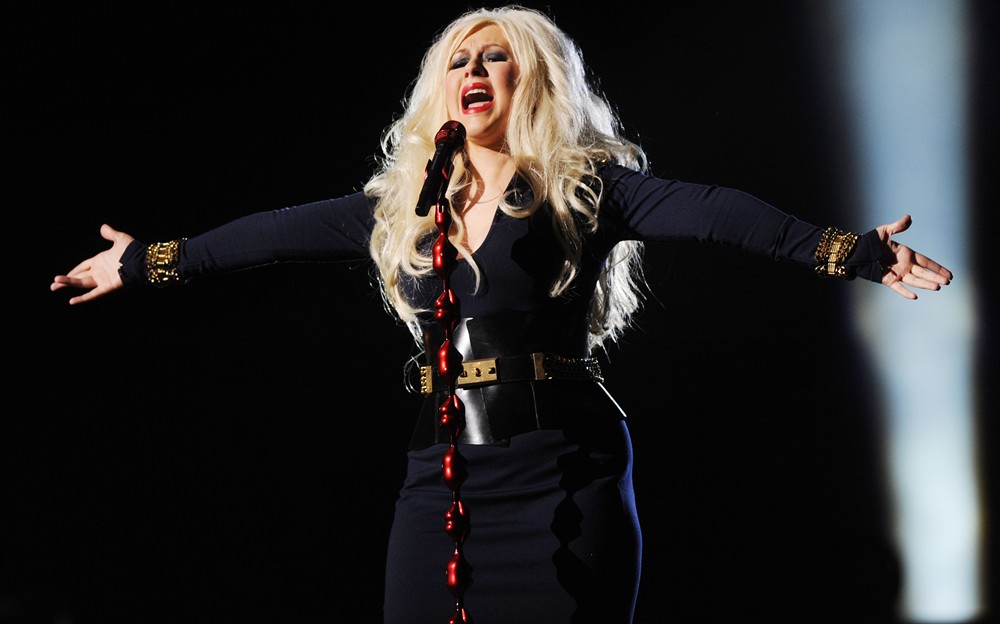 Christina Maria Aguilera was born on December 19, 1980, in Staten Island, New York. As a child, she has always dreamed of becoming a singer. She won her first talent show performing Whitney Houston's I Wanna Dance With Somebody. When she was 12, she got a chance to audition for The All New Mickey Mouse Club where she got the part and stayed there for a few years until the show ended. In 1998, she was chosen to perform the feature song Reflection for the animated film Mulan. In the same week, she signed with RCA Records.
In 1999, Aguilera released her self-titled debut album, which topped the American and Canadian Billboard charts. She is a recipient of the Grammy Award for Best New Artist. Her breakthrough hit was the single Genie in a Bottle.
Christina Aguilera had her follow-up studio albums Stripped (2002) and Back to Basics (2006). She then expressed that she wanted a much bigger control over her music so she intentionally fostered a more adult image. Her singles Dirrty and Beautiful made her Stripped album one of the steadiest-selling albums of 2003 which sold 4.2 million copies. Back to Basics also made a name as it debuted at number one on the Billboard charts and eventually topped the charts in fourteen countries around the world. Her fourth studio album called Bionic was released in April 2010.
Aguilera was married to music marketing executive Jordan Bratman. She gave birth to son Max Liron Bratman in 2008 and it was reported that she got paid $1.5 million by People Magazine for her baby pictures. Forbes ranked it fifth in the list of the most expensive celebrity baby photos.
Earnings & Financial Data
?
The below financial data is gathered and compiled by TheRichest analysts team to give you a better understanding of Christina Aguilera Net Worth by breaking down the most relevant financial events such as yearly salaries, contracts, earn outs, endorsements, stock ownership and much more.
Choose Year
Earnings 2019
Earnings 2018
Earnings 2017
Earnings 2016
Earnings 2015
Earnings 2014
Earnings 2013
Earnings 2012
Earnings 2011
Earnings 2010
Earnings 2008
Earnings 2007
Earnings 2006
Earnings 2005
Earnings 2004
Earnings 2003
Earnings 2002
Earnings 2001
Earnings 2000
Earnings 1999
Earnings 2019
Asset
Jan. 2019
Current value of Christina Aguilera's website christinaaguilera.com
$49,500
Earnings 2018
Ticket Sales
Nov. 2018
Ticket sales of Christina Aguilera's Liberation Tour (approximately 73,973 tickets sold)
$8,390,000
Others
Jul. 2018
Sales of the video Life of the Party as herself
$7,590,000
Record Sales
Jun. 2018
Record sales of the album Liberation (approximately 350 thousand copies sold)
$455,000
Box Office Sales
May. 2018
Worldwide box office sales of the movies Zoe as Jewels and Life of the Party as herself
$66,150,000
Box Office Sales
May. 2018
Worldwide box office sales of the movie Life of the Party as herself
$65,860,000
Earnings 2017
Others
Oct. 2017
Sales of the video The Emoji Movie as the voice of Akiko Glitter
$16,690,000
Salary
Sep. 2017
Salary from the television show The Voice as one of the show's coaches
$17,000,000
Box Office Sales
Jul. 2017
Worldwide box office sales of The Emoji Movie as the voice of Akiko Glitter
$217,780,000
Earnings 2016
Salary
May. 2016
Salary from the tenth season of the television show The Voice as one of the show's coaches
$17,000,000
Earnings 2015
Others
Sep. 2015
Sales of the video Pitch Perfect 2 as herself
$42,680,000
Box Office Sales
May. 2015
Worldwide box office sales of the movie Pitch Perfect 2 as herself
$287,640,000
Earnings 2014
Ticket Sales
Jun. 2014
Ticket sales of Christina Aguilera's Back to Basic Tour (approximately 134,335 tickets sold)
$48,200,000
Earnings 2013
Salary
Dec. 2013
Salary from the fourth season of the television show The Voice as one of the show's coaches
$12,500,000
Asset
2013
Value of the Mulholland Estates she bought in Beverly Hills
$10,000,000
Earnings 2012
Salary
Dec. 2012
Salary from the third season of the television show The Voice as one of the show's coaches
$17,000,000
Record Sales
2012
Record sales of the album Lotus (approximately 290 thousand copies sold)
$377,000
Salary
2012
Salary for every episode of the television show The Voice as one of the show's coaches
$225,000
Earnings 2011
Others
Mar. 2011
Sales of the video Burlesque as Ali Rose
$40,940,000
Sale of Asset
Feb. 2011
Selling price of Christina Aguilera and former husband Jordan Bratman's home at 513 Doheny Rd, Beverly Hills, California 90210
$13,500,000
Salary
2011
Salary for every episode of the television show The Voice as one of the show's coaches
$225,000
Performance Fee
2011
Earnings from a private four-song concert for a Spanish multi-millionaire
$3,200,000
Earnings 2010
Others
Sep. 2010
Sales of the video Get Him to the Greek as herself
$31,660,000
Box Office Sales
Jun. 2010
Worldwide box office sales of the movies Get Him to the Greek as herself and Burlesque as Ali Rose
$182,010,000
Performance Fee
2010
Earnings from her performance at a private party of investor Charles Brandes
$1,000,000
Record Sales
2010
Record sales of the album Bionic (approximately 438 thousand copies sold)
$569,400
Record Sales
2010
Record sales of the soundtrack album Burlesque with Cher (approximately 817 thousand copies sold)
$980,000
Earnings 2008
Others
Jul. 2008
Sales of the video Shine a Light as herself
$4,130,000
Box Office Sales
Apr. 2008
Worldwide box office sales of the movie Shine a Light as herself
$16,170,000
Others
Feb. 2008
Sales of the video album Back to Basics: Live and Down Under (approximately 80 thousand copies sold)
$104,000
Royalties
Jan. 2008
Amount she received after selling the first photos of her first born Max
$1,500,000
Record Sales
2008
Record sales of the compilation album Keeps Gettin' Better: A Decade of Hits (approximately 832.5 thousand copies sold)
$1,080,000
Earnings 2007
Asset
Feb. 2007
Purchase value of Christina Aguilera and former husband Jordan Bratman's home at 513 Doheny Rd, Beverly Hills, CA 90210 from Ozzy and Sharon Osbourne
$11,500,000
Earnings 2006
Asset
2006
Purchase value of a Banksy painting in her collection
$43,500,000
Record Sales
2006
Record sales of the album Back to Basics (approximately 3,470,661 copies sold)
$4,510,000
Ticket Sales
2006
Ticket sales of the Back to Basics Tour (approximately 134,335 tickets sold)
$95,100,000
Earnings 2005
Performance Fee
2005
Performance fee for singing a three song set for Russian billionaire Andrey Melnichenko's wedding
$3,600,000
Earnings 2004
Others
Oct. 2004
Sales of the video album Stripped Live in the U.K. (approximately 220 thousand copies sold)
$286,000
Box Office Sales
Oct. 2004
Worldwide box office sales of the movie Shark Tale as the voice of the Rastafarian jellyfish
$371,920,000
Earnings 2003
Ticket Sales
Sep. 2003
Ticket sales of the Justified and Stripped Tour with American recording artist Justin Timberlake (approximately 267,088 tickets sold)
$15,990,000
Sponsorship
2003
Earnings from opening the summer sale at London's Harrods store and her appearance in an advertisement for MAC Cosmetics Viva Glam V campaign
$300,000
Earnings 2002
Asset
Oct. 2002
Purchase value of Christina Aguilera's Beverly Hills home
$2,750,000
Record Sales
2002
Record sales of the album Stripped (approximately 7.88 million copies sold)
$10,240,000
Earnings 2001
Others
Jun. 2001
Sales of the video album My Reflection (approximately 115 thousand copies sold)
$149,500
Ticket Sales
Feb. 2001
Ticket sales of Christina Aguilera in Concert (approximately 17,561 tickets sold)
$448,880
Record Sales
2001
Record sales of the compilation album Just Be Free (approximately 128 thousand copies sold)
$166,400
Others
2001
Sales of the video album My Reflection (approximately 115 thousand copies sold)
$149,500
Earnings 2000
Ticket Sales
2000
Gross revenue of Christina Aguilera in Concert
$448,880
Record Sales
2000
Record sales of the album My Kind of Christmas (approximately 1.04 million copies sold)
$1,350,000
Record Sales
2000
Record sales of the album Mi Reflejo (approximately 866 thousand copies sold)
$1,120,000
Earnings 1999
Others
Dec. 1999
Sales of the video album Genie Gets Her Wish (approximately 100 thousand copies sold)
$130,000
Record Sales
1999
Record sales of the album Genie Gets Her Wish (approximately 1 million copies sold)
$1,300,000
Record Sales
1999
Record sales of the album Christina Aguilera (approximately 14 million copies sold)
$18,200,000
Show all earnings