Statistics
Source of Wealth:

Newspaper and Comics

Age:

59

Birth Place:

Washington, D.C., USA

Marital Status:

Married (Melissa Richmond)

Full Name:

William Boyd Watterson II

Nationality:

American
Date of Birth:

July 5, 1958

Occupation:

Cartoonist

Education:

George Washington University Law School, Kenyon College

Children:

1 (Violet)
About William Boyd Watterson II
With a net worth of $100 million, Bill Watterson is an American cartoonist. William 'Bill' Boyd Watterson was born on 5th July 1958 in Washington, D.C.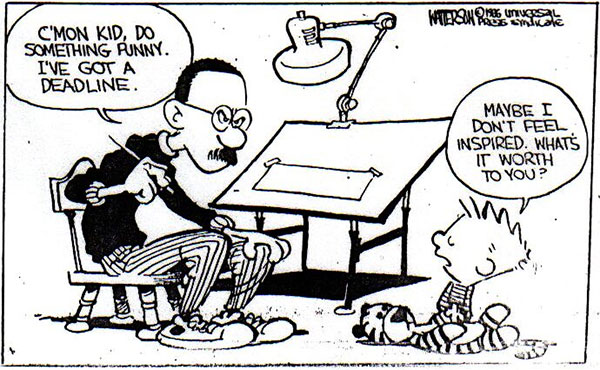 He has made his wealth by creating "Calvin and Hobbes" one of the most popular cartoons ever, which was published from 1985 to 1995. Before doing "Calvin and Hobbes", Bill designed grocery advertisements for four years. He also served for Target: The Political Cartoon Quarterly. His cartoons were influenced by his belief and values. Watterson's cat, Sprite was the inspiration for the personality and physical features of Hobbes. He got the "Reuben Award", for the cartoonist of the year in 1986 and then again in 1988. Bill received many awards for his Calvin and Hobbes such as the Harvey Award, Max and Moritz Prize, Adamson Award and many more. In 1992, he was awarded the Eisner Award for Best Comic Strip Collection.
Watterson was born in Washington, D.C. A patent examiner James G. Watterson was his father. Her mother Kathryn Watterson became a city Council Member when the family shifted to Chagrin Falls, Ohio. During his childhood, he used to spend hours alone making cartoons and drawing. Watterson drew his first cartoon at an early age of eight. By this time, he was spending most of his spare time drawing and cartooning. He also made cartoons for his High School newspaper and yearbook.
Bill was married to Melissa and in the year 2005, they shifted to Cleveland from Chagrin Falls. Bill came out his brief autobiography as well in 1980. After the success of Calvin and Hobbes, he took up painting.
Earnings & Financial Data
?
The below financial data is gathered and compiled by TheRichest analysts team to give you a better understanding of Bill Watterson Net Worth by breaking down the most relevant financial events such as yearly salaries, contracts, earn outs, endorsements, stock ownership and much more.
Choose Year
Earnings 2015
Earnings 2012
Earnings 2009
Earnings 2015
Book Sales
Apr. 2015
Sales of the "Calvin and Hobbes" books (approximately 23 million copies sold)
$3,450,000,000
Earnings 2012
Sale of Asset
May. 2012
Sale of a copy of Teaching with Calvin and Hobbes on eBay
$34,000
Sale of Asset
May. 2012
Selling price of an original 1986 comic strip by Bill Watterson
$203,150
Earnings 2009
Sale of Asset
Dec. 2009
Sale of a copy of Teaching with Calvin and Hobbes
$10,000
Show all earnings
Looking for an AD FREE EXPERIENCE on TheRichest?
Get Your Free Access Now!