Statistics
Source of Wealth:

Publishing

Age:

52

Birth Place:

Bloomington, Indiana, United States

Marital Status:

Married (Benjamin D. Egnatz)

Full Name:

Meggin Patricia Cabot

Nationality:

American
Date of Birth:

February 1, 1967

Occupation:

Writer and Author

Education:

Indiana University and Bloomington High School South
About Meggin Patricia Cabot
Meggin Patricia Cabot, popularly known as Meg Cabot has a net worth of $80 million. Cabot was born in Bloomington, Indiana on February 1, 1967. She is an American author who writes romantic and paranormal fiction books for teenagers and adults. In her early years, Meg Cabot used to write under several pen names but now writes exclusively under her real name, Meg Cabot.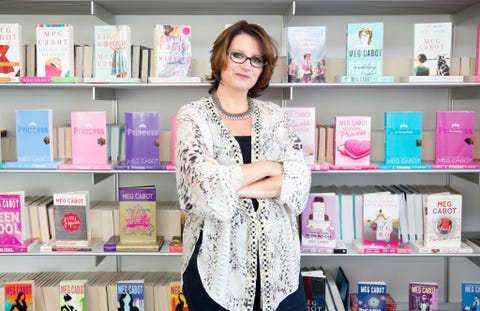 An immensely popular writer among the teens, her most famous work was The Princess Diaries which was later made into two extremely popular movies by Walt Disney films. The Princess Diaries series has been published in more than 40 countries. The first book of the series was published in October 2000. It spent a record 38 weeks on New York Times Bestseller for Children. Meg Cabot has been the recipient of several awards which include the coveted New York Public Library Books award for the teenage readers. The American Library Association Quick Pick award for the Reluctant Readers, The Tennessee Volunteer State award, Book Sense Pick Award among several others. Meg Cabot has several Bestsellers to her name and has more than 25 million copies of her several creations for children and adult in print all over the world.
Earnings & Financial Data
?
The below financial data is gathered and compiled by TheRichest analysts team to give you a better understanding of Meg Cabot Net Worth by breaking down the most relevant financial events such as yearly salaries, contracts, earn outs, endorsements, stock ownership and much more.
Choose Year
Earnings 2019
Earnings 2009
Earnings 2019
Asset
May. 2019
Estimated value of Meg Cabot's website megcabot.com
$25,200
Earnings 2009
Book Sales
Dec. 2009
Sales of Meg Cabot's books (approximately 2,309,844 copies sold)
$15,550,000
Earning Turned Donation
Jan. 2009
Money raised from the Tiara Auction for the benefit of the New York Public Library
$15,000
Royalties
2009
Estimated earnings from her books (£12.1 million)
$15,700,000