Heather Paige Kent Net Worth
Statistics
Source of Wealth:

Film and Television

Age:

49

Birth Place:

The Bronx, New York, U.S.

Marital Status:

Married (Terry DuBrow)

Full Name:

Heather Paige Kent

Nationality:

American
Date of Birth:

January 5, 1969

Ethnicity:

Russian, Austrian, Polish and Jewish

Occupation:

Actress

Education:

Syracuse University

Children:

4 (Collette, Katarina, Nicholas, and Maxilia)
About Heather Paige Kent
Heather Paige Kent has an estimated net worth of $20 million. Heather Paige Kent is an American actress who is noted for her roles on television. Born on the 5th of January, 1959, she is from the Bronx but grew up in Chappaqua, New York. She has a Jewish family background and is a fifth generation American.
Kent received her BFA in 1990 from the Syracuse University. She performed in the CBS drama That's Life between 2000 and 2002. Her performance as Lydia DeLucca was praised by many of the show's viewers. She is also the composer of the title song of the show, "Learnin' As I Go", which was featured in the second season. Since February 2012, she is appearing in "The Real Housewives of Orange County".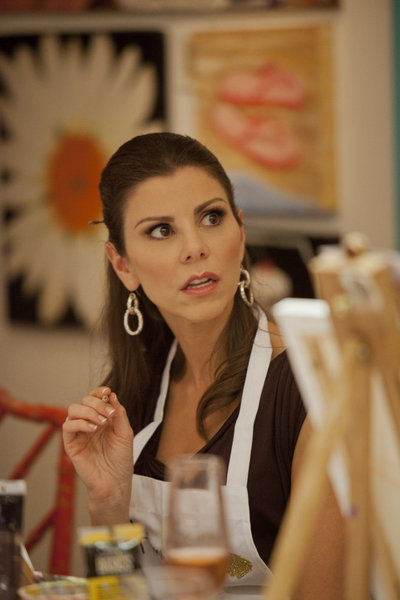 Heather Paige Kent is also known as Heather Dubrow. She debuted in movies in 2002 with "Now You Know". She married Terry DuBrow in 1999 and has been with him ever since. Her husband is a plastic surgeon of Newport Beach while she is currently a stay-at-home-mom. The couple has four children; Collette, Katarina, Nicholas, and Maxilia.
In her career, Heather has worked in many projects. She appeared in an episode of Married with Children where she played the character of Cherise. She can also be seen in Life with Roger, The Norm Show, Stark Raving Mad, The First $20 Million Is Always the Hardest, Now You Know, Surviving Suburbia, Hot in Cleveland and some others.
Heather Paige Kent may be a very beautiful woman but she has shown that she does not rely on these to get by. She has proved to be a fine performer in the shows that she has been cast in. She has been in the business for almost two decades and has proven her abilities on multiple occasions.
Earnings & Financial Data
?
The below financial data is gathered and compiled by TheRichest analysts team to give you a better understanding of Heather Paige Kent Net Worth by breaking down the most relevant financial events such as yearly salaries, contracts, earn outs, endorsements, stock ownership and much more.
Choose Year
Earnings 2012
Earnings 2002
Earnings 2012
Sale of Asset
Dec. 2012
Sale of Heather Paige Kent's ocean-view Newport Coast home
$16,450,000
Earnings 2002
Box Office Sales
Jun. 2002
Box office sales of the movie The First $20 Million Is Always the Hardest as Claudia Goss
$5,490