Statistics
Source of Wealth:

Film, Television and Theater

Age:

38

Birth Place:

Houston, Texas, USA

Weight:

119 lbs (54 kg)

Marital Status:

Married (Vincent Kartheiser)

Full Name:

Kimberly Alexis Bledel

Nationality:

American
Date of Birth:

September 16, 1981

Ethnicity:

Danish, Scottish, English, Irish, Welsh, distant French and German

Occupation:

Actress, Producer and Model

Education:

New York University's Tisch School of the Arts

Children:

1
About Kimberly Alexis Bledel
Alexis Bledel is an actress with an estimated net worth of $9 million. She is not only an actress but model and a producer as well. She is famous for her roles in the Gilmore Girls TV series, as Rory Gilmore (a daughter of a single mother) and in Sisterhood of Traveling Pants movies as Lena Kaligaris.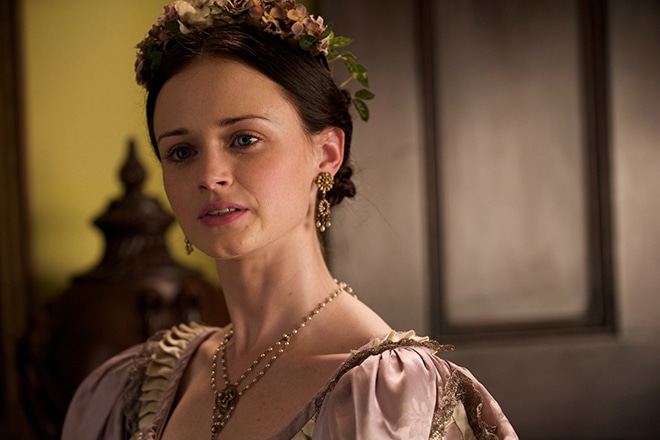 Bledel has also had roles in films including Tuck Everlasting, which happened to be her debut film, Sin City, Rushmore and in I'm Reed Fish. In itherTV series, she has featured in ER, Mad Men and played the lead role in Us & Them.
Alexis Bledel was born on the 16th of September, 1981 in Houston, Texas. As a child, her parents encouraged her to overcome shyness by trying community theater and later on she appeared in local productions such as The Wizard of Oz and Our Town. She then worked as a fashion model before joining Page Parkes Center of Modeling and Acting.
Alexis Bledel has won Young Artist Awards, Family Television Awards and Teen Choice Awards.
Earnings & Financial Data
?
The below financial data is gathered and compiled by TheRichest analysts team to give you a better understanding of Alexis Bledel Net Worth by breaking down the most relevant financial events such as yearly salaries, contracts, earn outs, endorsements, stock ownership and much more.
Choose Year
Earnings 2016
Earnings 2015
Earnings 2013
Earnings 2011
Earnings 2010
Earnings 2009
Earnings 2008
Earnings 2007
Earnings 2006
Earnings 2005
Earnings 2002
Earnings 1998
Earnings 2016
Salary
Oct. 2016
Salary from four episodes of the television show The Gilmore Girls as Rory Gilmore
$3,000,000
Earnings 2015
Box Office Sales
Jul. 2015
Worldwide box office sales of the movie Jenny's Wedding as Kitty Friedman
$6,240
Earnings 2013
Others
Nov. 2013
Sales of the video Violet & Daisy as Violet
$11,190
Box Office Sales
Jun. 2013
Box office sales of the movies Violet & Daisy as Violet and The Brass Teapot as Payton
$24,190
Earnings 2011
Others
Aug. 2011
Sales of the video The Conspirator as Sarah Weston
$5,120,000
Box Office Sales
Apr. 2011
Worldwide box office sales of the movie The Conspirator as Sarah Weston
$15,910,000
Earnings 2010
Others
Jan. 2010
Sales of the video Post Grad as Ryden Malby
$2,470,000
Earnings 2009
Box Office Sales
Aug. 2009
Worldwide box office sales of the movies The Good Guy as Beth Vest and Post Grad as Ryden Malby
$6,670,000
Earnings 2008
Others
Nov. 2008
Sales of the video The Sisterhood of the Traveling Pants 2 as Lena Kaligaris
$15,510,000
Box Office Sales
Aug. 2008
Worldwide box office sales of the movie The Sisterhood of the Traveling Pants 2 as Lena Kaligaris
$44,350,000
Earnings 2007
Others
Feb. 2007
Sales of the video Zoom as Ace
$12,900,000
Earnings 2006
Box Office Sales
Aug. 2006
Worldwide box office sales of the movie Zoom as Ace and box office sales of the movie I'm Reed Fish as Kate Peterson
$12,510,000
Earnings 2005
Box Office Sales
Feb. 2005
Worldwide box office sales of the movies Sin City as Becky, The Sisterhood of the Traveling Pants as Lena Kaligaris Bride and Prejudice as Georgina "Georgie" Darcy
$226,030,000
Earnings 2002
Box Office Sales
Oct. 2002
Worldwide box office sales of the movie Tuck Everlasting as Winnie Foster Jackson
$19,340,000
Earnings 1998
Box Office Sales
Dec. 1998
Worldwide box office sales of the movie Rushmore as a student
$19,080,000
Show all earnings