Statistics
Source of Wealth:

Film and Television

Age:

58

Birth Place:

Grayshott, Hampshire, England

Weight:

76 kg (167 lbs)

Marital Status:

Married (Livia Giuggioli)

Full Name:

Colin Andrew Firth, CBE

Nationality:

British
Date of Birth:

September 10, 1960

Ethnicity:

English, some Scottish and Ulster-Scots (Northern Irish)

Occupation:

Actor

Education:

Barton Peveril Sixth Form College

Children:

3 (Will, Matteo and Luca)
About Colin Andrew Firth, CBE
Colin Andrew Firth has an estimated net worth of $25 million. He was born on September 10, 1960, in Grayshott, Hampshire, England. Firth is an English film, television, and theatre actor, acting in films that have earned more than $936 million worldwide. Throughout his career, Firth has won various awards, including Golden Globe Award, Academy Award, BAFTA, and the Screen Actors Guild, and more.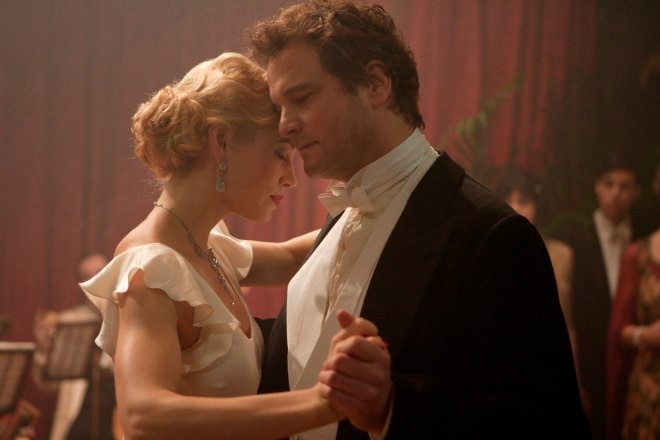 Among his best-known films are Pride and Prejudice, The English Patient, The King's Speech and Mamma Mia. 
Firth is also involved in numerous charitable organizations, including the Make Poverty History, Amnesty International, Make Trade Fair, Out Of The Blue, and Survivor International. As if this isn't enough with all his other interests, he also supports special causes, such as conservation, creative arts, human rights, and poverty.
Earnings & Financial Data
?
The below financial data is gathered and compiled by TheRichest analysts team to give you a better understanding of Colin Firth Net Worth by breaking down the most relevant financial events such as yearly salaries, contracts, earn outs, endorsements, stock ownership and much more.
Choose Year
Earnings 2018
Earnings 2017
Earnings 2016
Earnings 2015
Earnings 2014
Earnings 2013
Earnings 2012
Earnings 2011
Earnings 2010
Earnings 2009
Earnings 2008
Earnings 2007
Earnings 2006
Earnings 2005
Earnings 2004
Earnings 2003
Earnings 2002
Earnings 2001
Earnings 1999
Earnings 1998
Earnings 1997
Earnings 1996
Earnings 1995
Earnings 1994
Earnings 1989
Earnings 1987
Earnings 2018
Others
Oct. 2018
Sales of the video Mamma Mia! Here We Go Again as Harry
$17,680,000
Box Office Sales
Jul. 2018
Worldwide box office sales of the movies The Happy Prince as Reggie Turner, The Mercy as Donald Crowhurst, Mamma Mia! Here We Go Again as Harry and Kursk as Commodore David Russell
$404,620,000
Asset
Jan. 2018
Purchase value of Colin Firth's Range Rover, Mercedes Benz and Dodge vehicles
$1,200,000
Earnings 2017
Box Office Sales
Sep. 2017
Worldwide box office sales of the movie Kingsman: The Golden Circle as Harry Hart
$410,900,000
Others
Jan. 2017
Sales of the videos Loving as the film's producer, Bridget Jones's Baby as Mark Darcy and Kingsman: The Golden Circle as Harry Hart
$26,930,000
Earnings 2016
Box Office Sales
Jun. 2016
Worldwide box office sales of the movies Genius as Maxwell Perkins, Loving as the film's producer and Bridget Jones's Baby as Mark Darcy
$230,590,000
Earnings 2015
Others
May. 2015
Sales of the videos Kingsman: The Secret Service as Harry Hart/Galahad and Eye in the Sky as the film's producer
$41,040,000
Box Office Sales
Feb. 2015
Worldwide box office sales of the movies Kingsman: The Secret Service as Harry Hart/Galahad and Eye in the Sky as the film's producer
$449,270,000
Earnings 2014
Others
May. 2014
Sales of the videos Gambit as Harry Deane, The Railway Man as Eric Lomax, Devil's Knot as Ron Lax, Magic in the Moonlight as Stanley or Wei Ling Soo and Before I Go to Sleep as Ben Lucas
$4,650,000
Box Office Sales
Apr. 2014
Worldwide box office sales of the movies The Railway Man as Eric Lomax, Magic in the Moonlight as Stanley or Wei Ling Soo and Before I Go to Sleep as Ben Lucas
$94,500,000
Earnings 2013
Box Office Sales
Apr. 2013
Box office sales of the movie Arthur Newman as Arthur Newman or Wallace Avery
$207,850
Earnings 2012
Box Office Sales
Nov. 2012
Worldwide box office sales of the movie Gambit as Harry Deane
$14,210,000
Others
Mar. 2012
Sales of the video Tinker Tailor Soldier Spy as Bill Haydon
$9,180,000
Earnings 2011
Box Office Sales
Sep. 2011
Worldwide box office sales of the movie Tinker Tailor Soldier Spy as Bill Haydon and box office sales of the movie Main Street as Gus LeRoy
$81,470,000
Salary
Feb. 2011
Estimated minimum payout from the movie The King's Speech as King George VI
$1,000,000
Earnings 2010
Box Office Sales
Nov. 2010
Worldwide box office sales of the movie The King's Speech as King George VI
$414,210,000
Others
Nov. 2010
Sales of the videos A Christmas Carol as Fred and A Single Man as George Falconer
$72,850,000
Earnings 2009
Box Office Sales
Oct. 2009
Worldwide box office sales of the movies St Trinian's as Geoffrey Thwaites, A Christmas Carol as Fred, Dorian Gray as Lord Henry Wotton, A Single Man as George Falconer and box office sales of the movie St Trinian's 2: The Legend of Fritton's Gold as Geoffrey Thwaites
$401,610,000
Earnings 2008
Others
Dec. 2008
Sales of the video Mamma Mia! as Harry Bright
$151,740,000
Box Office Sales
Jun. 2008
Worldwide box office sales of the movies And When Did You Last See Your Father? as Blake Morrison, Then She Found Me as Frank, The Accidental Husband as Richard Bratton, Mamma Mia! as Harry Bright and Easy Virtue as Jim Whittaker
$669,910,000
Earnings 2007
Box Office Sales
Aug. 2007
Worldwide box office sales of the movie The Last Legion as Aurelius Antonius
$23,360,000
Earnings 2006
Others
May. 2006
Sales of the video Nanny McPhee as Cedric Brown
$42,760,000
Box Office Sales
Jan. 2006
Worldwide box office sales of the movie Nanny McPhee as Cedric Brown
$128,750,000
Earnings 2005
Box Office Sales
Oct. 2005
Worldwide box office sales of the movie Where the Truth Lies as Vince Collins
$3,480,000
Earnings 2004
Box Office Sales
Nov. 2004
Worldwide box office sales of the movie Bridget Jones: The Edge of Reason as Mark Darcy
$263,890,000
Earnings 2003
Box Office Sales
Dec. 2003
Worldwide box office sales of the movies Girl with a Pearl Earring as Johannes Vermeer, Love Actually as Jamie Bennett and What a Girl Wants as Henry Dashwood
$342,770,000
Earnings 2002
Box Office Sales
May. 2002
Worldwide box office sales of the movie The Importance of Being Earnest as Jack Worthing
$17,290,000
Asset
Jan. 2002
Purchase value of Colin Firth's luxury home in London, United Kingdom
$2,700,000
Earnings 2001
Box Office Sales
Apr. 2001
Worldwide box office sales of the movie Bridget Jones's Diary as Mark Darcy
$281,930,000
Earnings 1999
Box Office Sales
Jul. 1999
Box office sales of the movie My Life So Far as Edward Pettigrew
$635,620
Earnings 1998
Box Office Sales
Dec. 1998
Worldwide box office sales of the movie Shakespeare in Love as Lord Wessex
$289,320,000
Earnings 1997
Box Office Sales
Sep. 1997
Worldwide box office sales of the movies A Thousand Acres as Jess Clark and Fever Pitch as Paul Ashworth
$13,870,000
Earnings 1996
Box Office Sales
Nov. 1996
Worldwide box office sales of the movie The English Patient as Geoffrey Clifton
$231,980,000
Earnings 1995
Box Office Sales
Mar. 1995
Box office sales of the movie Circle of Friends as Simon Westward
$23,390,000
Earnings 1994
Box Office Sales
Aug. 1994
Box office sales of the movie The Advocate as Richard Courtois
$602,330
Earnings 1989
Box Office Sales
Sep. 1989
Box office sales of the movies Apartment Zero as Adrian LeDuc and Valmont as Valmont
$2,400,000
Earnings 1987
Box Office Sales
Sep. 1987
Box office sales of the movie A Month in the Country as Tom Birkin
$443,520
Show all earnings