Cristiano Ronaldo Net Worth
Statistics
Source of Wealth:

Sports, Football

Age:

34

Birth Place:

Funchal, Madeira, Portugal

Weight:

171 lbs (77.5 kg)

Marital Status:

Single

Full Name:

Cristiano Ronaldo dos Santos Aveiro

Nationality:

Portuguese
Date of Birth:

February 5, 1985

Ethnicity:

Portuguese

Occupation:

Professional Football Player

Children:

4 (Alana Martina dos Santos Aveiro, Cristiano Ronaldo Jr., Eva Maria Dos Santos, Mateo Ronaldo)
About Cristiano Ronaldo dos Santos Aveiro
Portuguese footballer Cristiano Ronaldo has an estimated net worth of $450 million. In 2009, Cristiano Ronaldo joined Real Madrid from Manchester United for a transfer fee of $132 million, which made him the most expensive soccer player in the history of the sport. He currently plays as a winger or striker for the Juventus Football Club and is the captain of the Portuguese national team.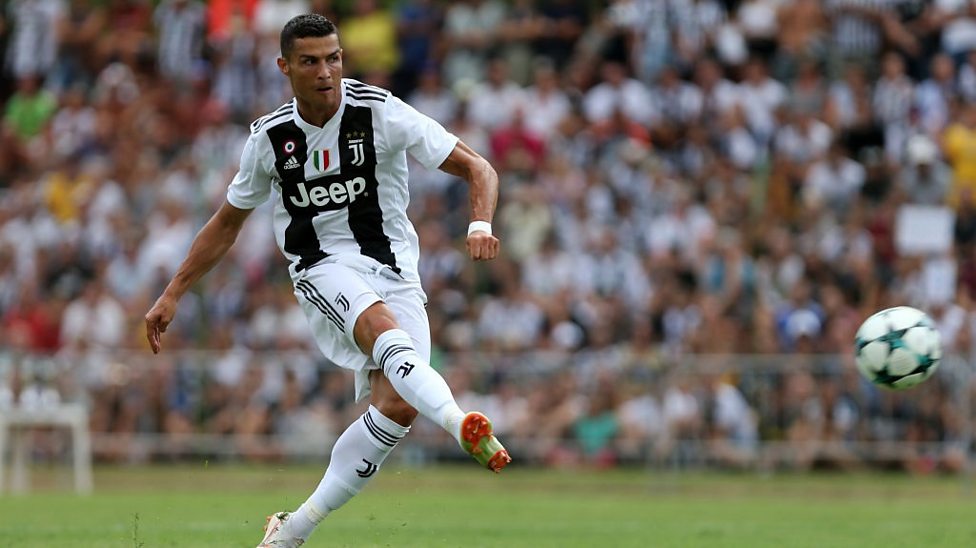 Ronaldo is one of the highest-paid football players with high salaries and bonuses annually. He is also one of the top earners off the thanks to deals with Nike, Castrol, Konami, and others. He is the second football player when it comes to endorsement earnings, trailing only David Beckham.
In 2012, Cristiano Ronaldo became the first player in La Liga history to score 40 goals in two seasons. The Portuguese winger has more Twitter followers than any other athlete in the world and Facebook's most popular athlete with around 322 million followers. He became the most expensive footballer in history after moving from Manchester United to Real Madrid in a transfer worth $131.6 million (€93.9 million). The team has won four Champions League and two Spanish league while he made an incredible 450 goals in 428 games.
Born Cristiano Ronaldo dos Santos Aveiro on February 5, 1983, he is no relation to Brazilian soccer star Ronaldo. His father, Jose Dinis, named him after his favorite actor Ronald Reagan, who was the US president at that time.
Earnings & Financial Data
?
The below financial data is gathered and compiled by TheRichest analysts team to give you a better understanding of Cristiano Ronaldo Net Worth by breaking down the most relevant financial events such as yearly salaries, contracts, earn outs, endorsements, stock ownership and much more.
Choose Year
Earnings 2019
Earnings 2018
Earnings 2017
Earnings 2016
Earnings 2015
Earnings 2014
Earnings 2013
Earnings 2012
Earnings 2011
Earnings 2010
Earnings 2009
Earnings 2008
Earnings 2007
Earnings 2004
Earnings 2003
Earnings 2019
Sale of Asset
2019
Selling price of his mansion in Alderley Edge, Cheshire
$2,840,000
Earnings 2018
$108 Million
Sale of Asset
Dec. 2018
Selling price of Cristiano Ronaldo's five-bedroom, three-story brick house in the affluent English village of Alderley Edge, just 15 miles away from his former playing ground at Old Trafford
$4,100,000
Sponsorship
Jun. 2018
Earnings from endorsement deals with Herbalife, EA Sports and American Tourister, along with a growing line of CR7 branded products including shoes, underwear, fragrance, jeans, a children's line (for which he models with his son), a line of hotels and soon-to-open restaurants in Brazil
$47,000,000
Earnings
Jun. 2018
Salary and bonus with the Real Madrid Football Club for the year 2018
$61,000,000
Contract
Jun. 2018
Cristiano Ronaldo's lifetime contract with Nike
$1,000,000,000
Royalties
2018
Earnings from every sponsored post on his Instagram account
$750,000
Earnings
2018
Earnings from salary/winnings
$61,000,000
Asset
2018
Listing price of his Madrid mansion
$7,200,000
Asset
2018
Purchase value of his white Mercedes Benz AMG S65
$251,730
Transfer Fees
2018
Transfer fee from the Real Madrid Football Club to the Italian Club Juventus
$133,100,000
Earnings 2017
$93 Million
Asset
2017
Value of his Bugatti Chiron
$3,000,000
Sponsorship
2017
Earnings from endorsements
$35,000,000
Earnings
2017
Earnings from salary/winnings
$58,000,000
Royalties
2017
Earnings from every sponsored post on his Instagram account
$400,000
Earnings 2016
$88 Million
Sponsorship
Dec. 2016
Money earned from his Instagram post to Nike
$5,800,000
Earnings
Dec. 2016
Earnings from salary/winnings
$56,000,000
Sponsorship
2016
Earnings from endorsements
$32,000,000
Earnings 2015
$79.6 Million
Earnings
2015
Earnings from salary/winnings
$52,600,000
Sponsorship
2015
Earnings from endorsements
$27,000,000
Earnings 2014
$80 Million
Sponsorship
May. 2014
Earnings from his off-field endorsements that includes Nike, Herbalife, Castrol, and Samsung
$21,000,000
Asset
May. 2014
Purchase value of his Lamborghini Aventador, Ferrari in Manchester and Jacob & Co. watch
$833,000
Asset
May. 2014
Purchase value of his villa in La Finca— an exclusive community in Madrid built by architect Joaquin Torres
$7,000,000
Sponsorship
2014
Earnings from endorsements
$28,000,000
Earnings
2014
Earnings from salary/winnings
$52,000,000
Earnings 2013
$44 Million
Asset
Oct. 2013
Listing price of his 8,600-square-foot luxury mansion in Madrid
$7,200,000
Sponsorship
Jul. 2013
Earnings from endorsement deals with KFC, Herbalife, Jacob & Co.,Motorola, Banco
$21,000,000
Earnings
2013
Earnings from salary/winnings
$23,000,000
Earnings 2012
$43.5 Million
Earnings
2012
Earnings from salary/winnings
$21,000,000
Sponsorship
2012
Earnings from endorsements
$21,000,000
Asset
2012
Value of his Lamborghini Aventador
$285,081
Earnings 2011
$38 Million
Asset
2011
Value of his Ferrari 599 GTO
$410,000
Earnings 2010
$36 Million
Earnings 2009
Transfer Fees
Jul. 2009
Transfer fee from Manchester United to Real Madrid Football Club
$132,000,000
Asset
2009
Value of his Koenigsegg CCX
$545,568
Asset
2009
Value of his Audi RS6
$82,700
Earnings 2008
Asset
2008
Value of his Rolls-Royce Phantom Drophead Coupe
$469,900
Earnings 2007
Asset
Dec. 2007
Purchase value of Cristiano Ronaldo's five-bedroom, three-story brick house in the affluent English village of Alderley Edge, just 15 miles away from his former playing ground at Old Trafford
$5,100,000
Earnings 2004
Asset
2004
Value of his Mercedes-Benz C-Class Sports Coupe
$28,250
Earnings 2003
Transfer Fees
Aug. 2003
Transfer fee from Sporting CP to Manchester United Football Club
$21,610,000
Show all earnings