Statistics
Source of Wealth:

Sports, Track and Field

Age:

35

Birth Place:

Lexington, Kentucky, U.S.

Weight:

177 lbs (80.29 kg)

Marital Status:

Married (Shoshana Boyd)

Full Name:

Tyson Gay

Nationality:

American
Date of Birth:

August 9, 1982

Ethnicity:

African-American

Occupation:

Track and Field Sprint Athlete

Education:

Barton County Community College

Children:

1 (Trinity)
About Tyson Gay
Tyson Gay is an American track and field sprint athlete who has brought a lot of honors for his country. Tyson's net worth currently stands at $12 million.
Tyson was born on 9th August 1982 in Lexington, Kentucky. He is famous as an athlete in the 100 meter and 200-meter categories. He holds the American record of running the 100 meter in just 9.69 seconds. This achievement makes Tyson the second fastest athlete of all time. He has covered 200 meters in only 19.58 seconds. He was the 5th fastest athlete in this event. He created history in 100 meters by running at 9.68 at the 2008 Olympic Trials. This made him the fastest man at that time. However, this achievement was not marked as a world record, because he was wind assisted.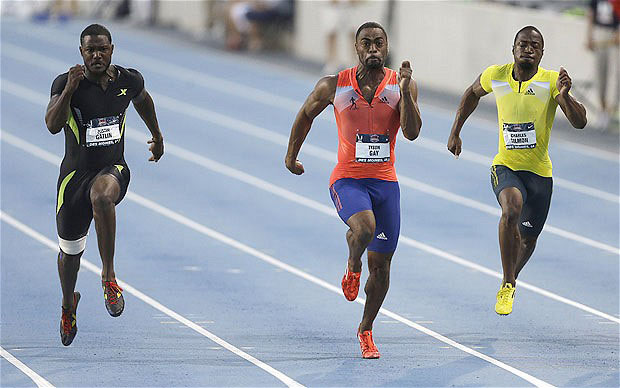 Tyson Gay has many other achievements to his credit. He has won many international competitions like the Osaka World Championship in 2007. He won the gold medal here in 100 meters, 200 meters and 4x100 meter relay. This made Tyson the second man to win all the three events in the same World Championship. He broke the record of Maurice Greene after winning these events. He has also won the silver medal in the World Championship of 2009 by completing 100 meters in 9.71 seconds.
Gay has been given the "Jesse Owens Award" and the "IAAF World Athlete of the Year" Award in 2007.
Tyson's parents are Daisy Gay and Greg Mitchell. He is married to Shoshana Boyd. The couple has one daughter. He lives in Clermont, a suburb of Orlando, Florida with his family.
Earnings & Financial Data
?
The below financial data is gathered and compiled by TheRichest analysts team to give you a better understanding of Tyson Gay Net Worth by breaking down the most relevant financial events such as yearly salaries, contracts, earn outs, endorsements, stock ownership and much more.
Choose Year
Earnings 2016
Earnings 2014
Earnings 2016
Asset
Oct. 2016
Purchase value of Tyson Gay's home on a quiet, tree-lined cul-de-sac in Lexington, Kentucky
$150,000
Asset
Oct. 2016
Purchase value of Tyson Gay's home in Winter Garden, Florida
$750,000
Earnings 2014
Event
May. 2014
Prize money Tyson Gay won for finishing second in Birmingham and his wins in Lausanne and New York
$26,000
Looking for an AD FREE EXPERIENCE on TheRichest?
Get Your Free Access Now!