Statistics
Source of Wealth:

Sports (Basketball)

Age:

26

Birth Place:

Washington, D.C., United States

Weight:

180 lbs (82 kg)

Marital Status:

Single

Full Name:

Quinn Alexander Cook

Nationality:

American
Date of Birth:

March 23, 1993

Ethnicity:

African-American

Occupation:

Basketball Player

Education:

Duke University
About Quinn Alexander Cook
Quinn Alexander Cook is an American professional basketball player who plays for the Los Angeles Lakers of the National Basketball Association or NBA.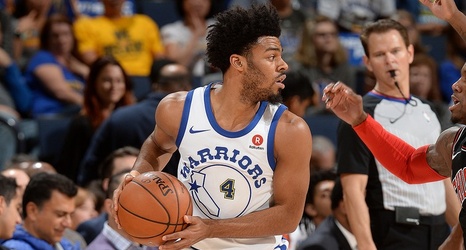 He previously played college basketball for the Duke University and became one of the top-rated basketball players in the class of 2011. He was able to play an important role in the championship games of the Golden State Warriors in 2018 because of a slew of injuries that four of their All-Stars experienced during the regular season and the playoffs opening rounds. Quinn currently has a net worth of $500 thousand.
Earnings & Financial Data
?
The below financial data is gathered and compiled by TheRichest analysts team to give you a better understanding of Quinn Cook Net Worth by breaking down the most relevant financial events such as yearly salaries, contracts, earn outs, endorsements, stock ownership and much more.
Choose Year
Earnings 2019
Earnings 2018
Earnings 2017
Earnings 2016
Earnings 2015
Earnings 2019
Salary
Jun. 2019
Base salary with the Golden State Warriors for the year 2019
$3,000,000
Contract
Jun. 2019
A two-year contract with the Golden State Warriors
$6,000,000
Earnings 2018
Salary
Jan. 2018
Base salary with the Golden State Warriors for the year 2018
$1,540,000
Earnings 2017
Salary
Jan. 2017
Base salary with the Golden State Warriors for the year 2017
$14,830
Contract
Jan. 2017
A two-year contract with the Golden State Warriors
$1,560,000
Earnings 2016
Salary
Sep. 2016
Base salary with the New Orleans Pelicans for the fourth quarter of the year 2016
$15,980
Contract
Sep. 2016
A two-year contract with the New Orleans Pelicans
$1,330,000
Contract
Jun. 2016
Base salary with the New Orleans Pelicans for the third quarter of the year 2016
$31,970
Contract
Jun. 2016
A ten-day contract with the New Orleans Pelicans
$31,970
Salary
Mar. 2016
Base salary with the New Orleans Pelicans for the second quarter of the year 2016
$31,970
Contract
Mar. 2016
A ten-day contract with the New Orleans Pelicans
$31,970
Salary
Jan. 2016
Base salary with the New Orleans Pelicans for the first quarter of the year 2016
$31,970
Contract
Jan. 2016
A ten-day contract with the New Orleans Pelicans
$31,970
Earnings 2015
Contract
Jan. 2015
A one-year contract with the Cleveland Cavaliers
$525,090
Show all earnings